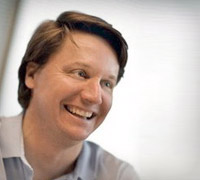 Meeting People Where They Are
Patrick Johnson believes peer-to-peer mentorship is key to a successful church stewardship ministry.
Patrick Johnson of GenerousChurch sees stewardship as a multi-faceted part of what the church is about. He heard Tim Keller, Pastor of Redeemer Presbyterian Church in New York, explain it this way: "If you really look at it, stewardship cuts across every aspect of church life."
This is how Patrick envisions this woven into every church:
Worship: How we steward our money, when we give—it's an act of worship.
Missions: Well, what fuels missions? Generosity does. When we are good stewards, we're able to give, and that funds missions.
Discipleship: In the affluent country we live in, one of the biggest barriers to being a fully devoted follower of Jesus is that we're hung up on money. God said you can't serve me and money, so there's a discipleship component to it.
That's one reason the need for stewardship training can't be ignored. Another reason is that many people are in trouble financially. Patrick explained that pastors are being awakened to that need in a new way right now. When the economy was booming, it seemed like people had it together even when they didn't. But the economic crisis has been sobering for many.
"The economic meltdown has raised the sights of leaders to see where their people are," he said. Patrick recently traveled to Phoenix to meet with a church and found out the average person in their Financial Peace University class was spending 138% of their income!
He mentioned another pastor in Nebraska who kept hearing ads for debt relief on the radio and found himself wondering, Why would anybody need these? All of a sudden, it dawned on him, It's my people—a certain percentage of my people are in trouble.
But whether or not someone is struggling financially, financial discipleship is a vital part of overall spiritual health.
Three Types of Stewards
Patrick finds you can break down the church into three basic types of stewards:
Struggling: Those who are living paycheck to paycheck.
Solid: People who either made good financial choices or have financial margin or savings. They're on solid footing and may be preparing for retirement.
Surplus: They have more than they need and are dealing with the complexities of wealth.
Those who are struggling often get the most attention because they have immediate needs. Those with surplus get plenty of attention—but only during a fundraiser. The solid stewards often get inadvertently ignored.
Patrick finds it important to meet each of these groups where they are. In each group, he believes peer-to-peer mentorship is key. For example, people with surplus face a lot of issues others don't face. He's seen a lot of growth by having surplus stewards mentor other surplus stewards.
For the middle group, he recommends Crown as a spiritual component, Financial Peace University as a holistic approach, as well as studies like The Treasure Principles and Beyond Wealth.
And while preaching on money is important, it's also helpful to establish a generosity, stewardship vocabulary that the pastor can tie in when appropriate. Then, you can bring up giving within the context of another message without it seeming out of place.
People are more open when they can sense that you want something for them, not from them. That's why it's important to make sure mentioning money is not always connected to an "ask," so people let and keep their guard down.
Once you start talking about money in the context of stewardship, you'll never have to dread bringing it up again!
Financial Peace University is one of the ways Dave Ramsey locks arms with churches to help them teach their congregations about stewardship. The principles within it can help bring people back to God's view of money management and cultivating a culture of lasting generosity. Discover today how FPU can help your congregation.
More About Patrick Johnson
How generous is your church? It's not an easy question to answer, but Patrick Johnson of GenerousChurch has helped churches all over the country become more generous. Patrick also shares a helpful look at five attributes of a generous church in this video.