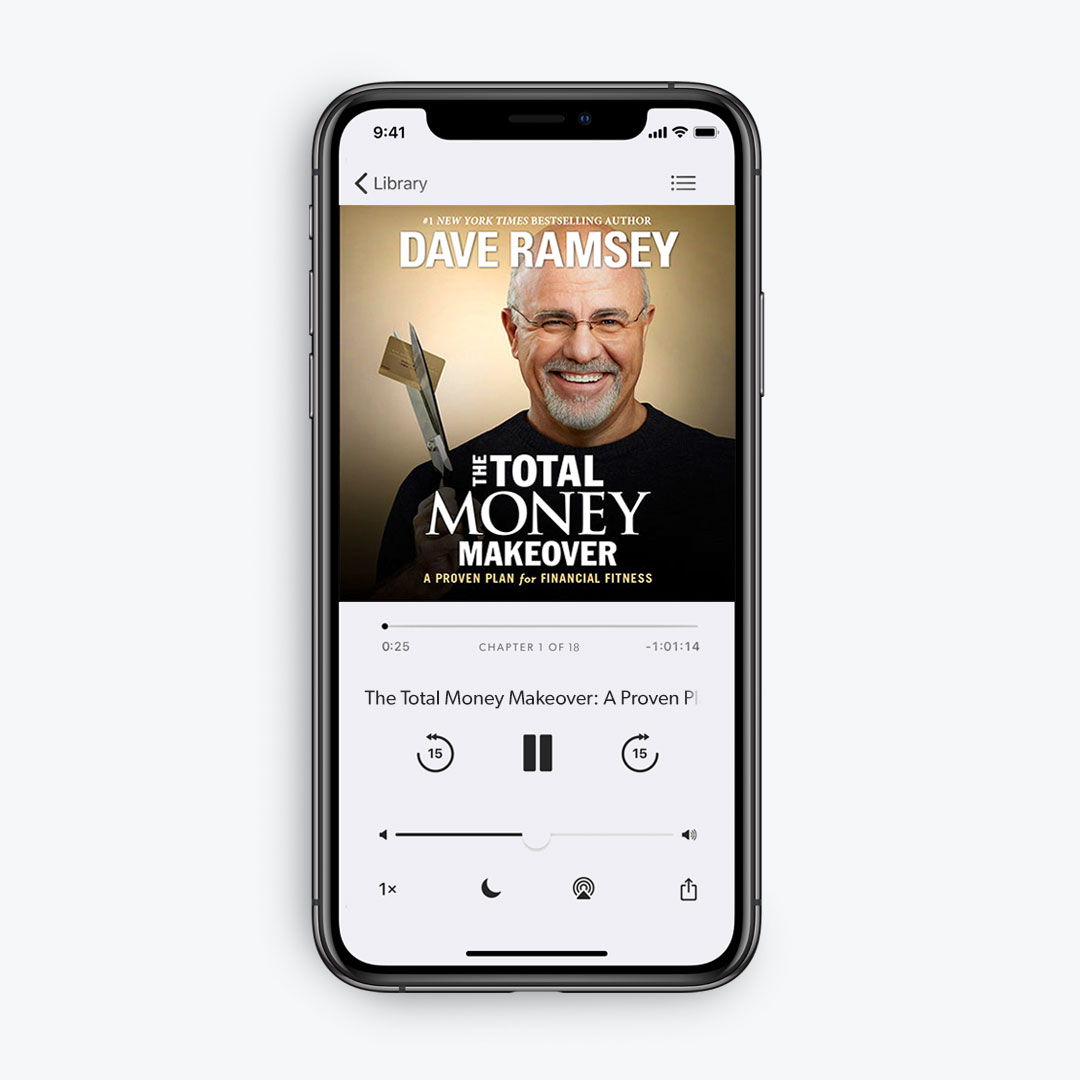 The Total Money Makeover by Dave Ramsey (MP3 Audiobook Download)
New York Times best-seller
Description
Bonus Livestream Information: After checkout, you will receive an email with information about your free access to the Smart Money Livestream, live from San Antonio, TX | November 15th, 2018
Note: This abridged audiobook MP3 download is narrated by Dave Ramsey and runs 3 hours and 41 minutes.
In Dave's New York Times best-seller, he lays out seven organized, easy-to-follow steps that will lead you out of debt and into a total money makeover. This downloadable MP3 format means no shipping and no waiting.
Dave condenses his 20 years of financial teaching and counseling into 7 organized, easy-to-follow steps that will lead you out of debt and into a Total Money Makeover. Plus, you'll read over 50 real-life stories from people just like you who have followed these principles and are now winning with their money. It is a plan designed for everyone, regardless of income or age.
With The Total Money Makeover, you'll be able to:
Design a sure-fire plan for paying off ALL debt.
Recognize the 10 most dangerous money myths.
Secure a big, fat nest egg for emergencies and retirement.
Positively change your life and your family tree!
About Dave Ramsey
Product Details
Read By: Dave Ramsey
Format: MP3 Audiobook
Release Date: Sep 17, 2013
Length: 3 hours, 41 minutes
Chapters: 13
Language: English
Genre: Personal Finance, Debt
Target Audience: People who want to pay off debt, build wealth and win with money
SKU: MP3-TMMOOLP
Shipping & Delivery
Immediate Download (Audio)
To get your downloadable product, simply complete your order and then open the order confirmation email you will receive at checkout. Scroll down to the bottom of the receipt to a section called "eShipments." Click on the link BELOW the title of the product you purchased that contains the downloadable product(s). A dialogue box will appear. Select "Save File to Disk" and select your desktop as the destination. Go to your desktop and find your downloadable goods. You are done!
Some files have been zipped (compressed) to decrease download times. Both Windows and Mac OS have built-in software that will convert the zipped file into a usable file when you click on the file to open it.
Additional download instructions for your specific device can be found on our Digital Downloads FAQ page