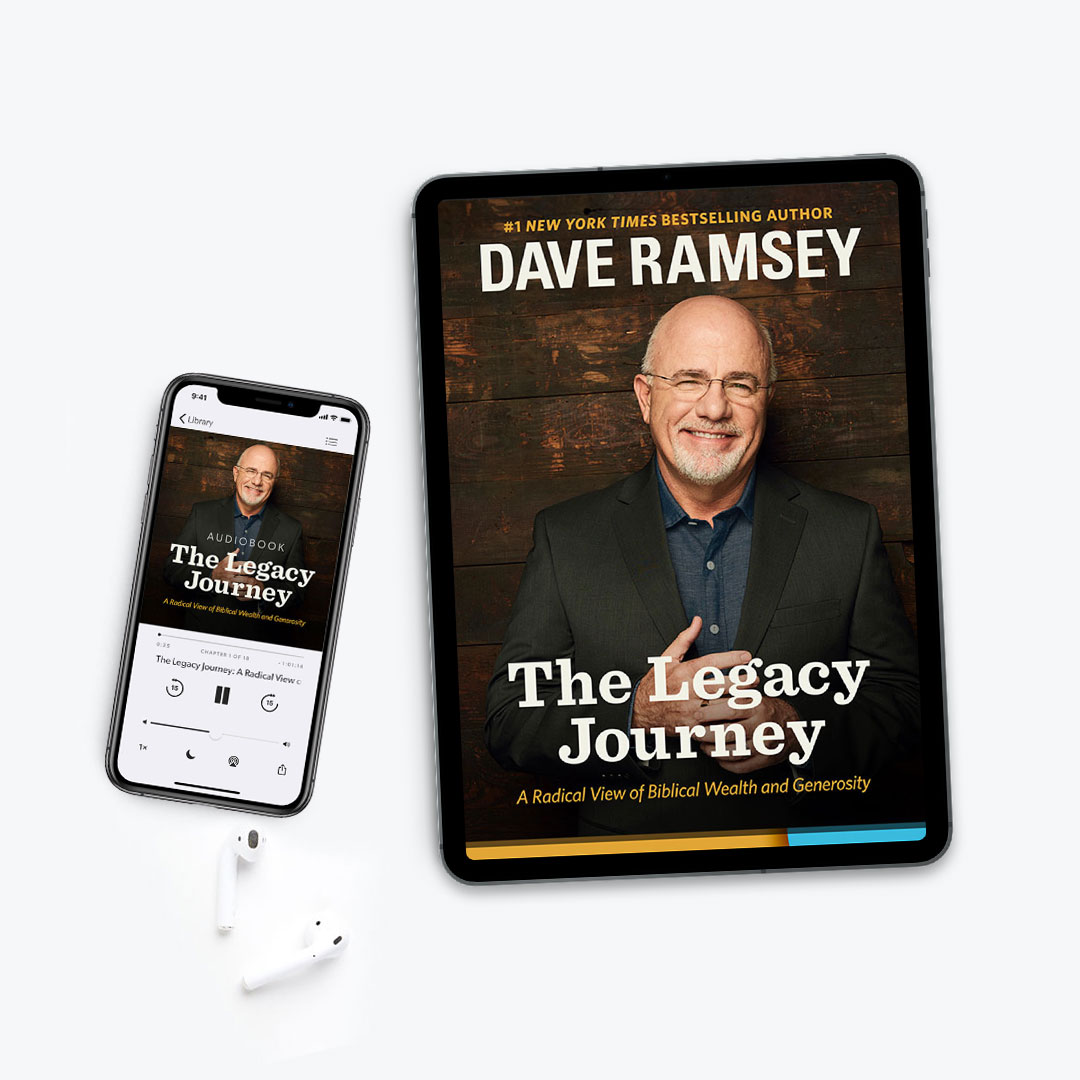 The Legacy Journey - Audiobook + E-Book
Your journey starts today…
Description
Audiobook Download Instructions
Your digital audiobook copy of The Legacy Journey will be available as a download link in your order confirmation email after check-out.
This eBook offers all three of the following formats:
Kindle (.Mobi): This format is compatible with the Amazon Kindle as well as the Kindle app for iPad, iPhone, iPod Touch, Mac and PC.
ePub: This format is compatible with the iPad, Sony Reader, iPhone, Kobo, Nook, BeBook, Desktop Computer and other eBook Readers.
About this Bundle
In this bundle, you'll receive the Legacy Journey in both the eBook and Audiobook formats. The unabridged audiobook download is read by Dave Ramsey and runs 6 hours and 4 minutes and you can choose from three available eBook formats (iPad/iPhone, Kindle, Nook).
Overview
What does the Bible really say about money? About wealth? How much does God expect you to give to others? How does wealth affect your friendships, marriage, and children? How much is "enough"?
In The Legacy Journey, Dave Ramsey, takes you deep into God's Word, revealing His perspective on wealth, your personal and family legacy, and how He wants to use you to further His kingdom work around the world. You can truly live—and leave—a legacy. The journey starts today.
About Dave Ramsey
Shipping & Delivery
Immediate Download (Audio)
Download instructions for your specific device can be found on our Digital Downloads FAQ page
Immediate Download (E-book)
To get your downloadable product, simply complete your order and then open the order confirmation email you will receive at checkout. Scroll down to the bottom of the receipt to a section called "eShipments." Click on the link BELOW the title of the product you purchased that contains the downloadable product(s). A dialogue box will appear. Select "Save File to Disk" and select your desktop as the destination. Go to your desktop and find your downloadable goods. You are done!
Some files have been zipped (compressed) to decrease download times. Both Windows and Mac OS have built-in software that will convert the zipped file into a usable file when you click on the file to open it.
Additional download instructions for your specific device can be found on our Digital Downloads FAQ page