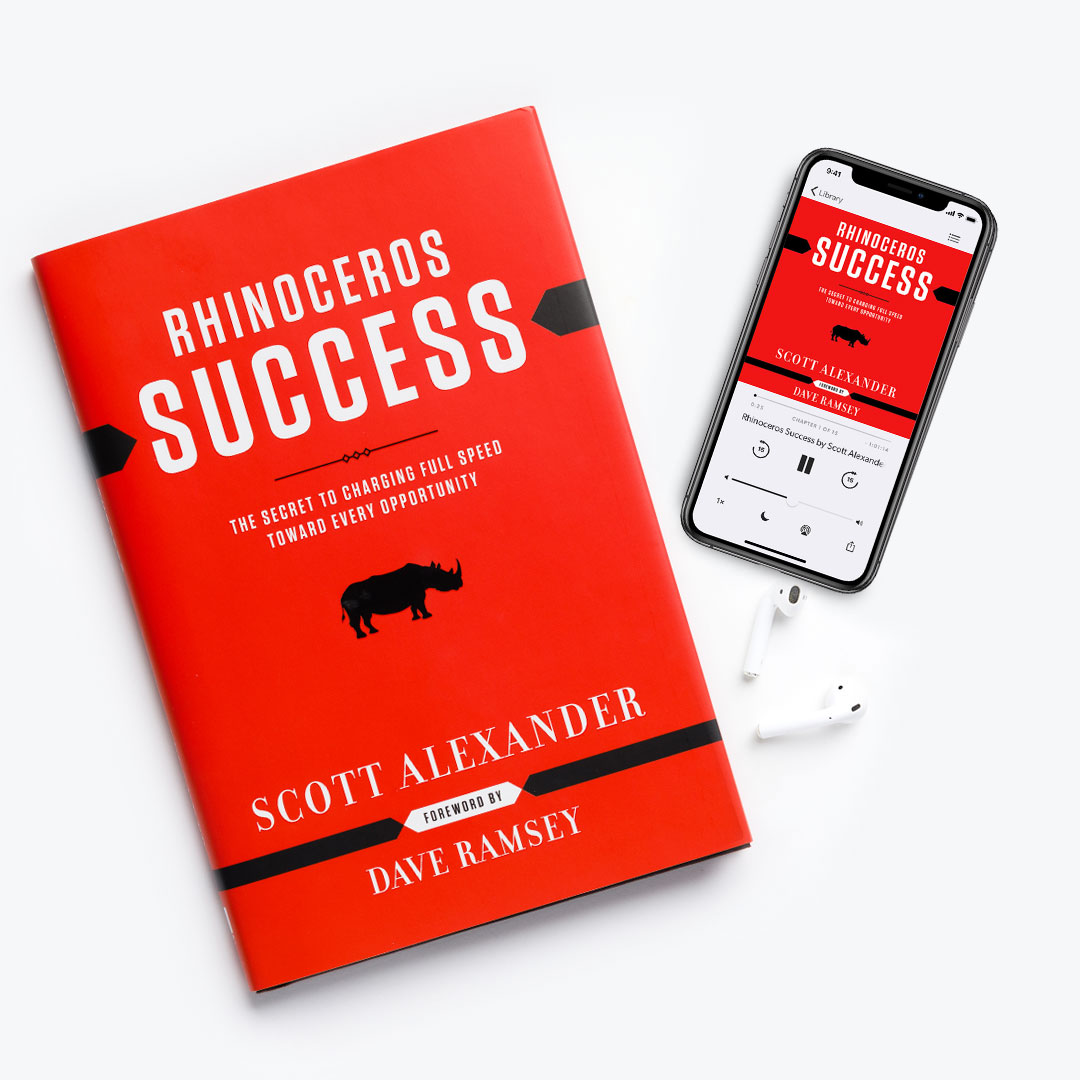 Rhinoceros Success - Hardcover + Audiobook (MP3 Download)
Includes Digital Audiobook Download!
Description
Audiobook Download Instructions
Your digital audiobook copy of Rhinoceros Success will be available as a download link in your order confirmation email after check-out.

About this Bundle
Get both the hardcover book and MP3 audiobook in this special online bundle only at DaveRamsey.com! Get ready to go Rhino!
Overview
Success is difficult but…
Tomorrow morning, you could wake up as a full-grown rhinoceros and:
Charge your way to success
Use audacity to reach your goals
Be happier than you've ever been before
Make your life an exciting adventure
Have the persistence and tenacity necessary for success
Never worry again
Succeed at the world's most profitable hobby
Achieve more and have a better balance in the six major areas of your life: financial, work, physical, family, social and spiritual
Scott Alexander has discovered the REAL secret of success: becoming a rhinoceros. Read it and go rhino! That's all there is between you and everything you've ever wanted to do or become in your life. CHARGE!
Shipping & Delivery
Physical Shipping
All physical products will be processed and ready to ship within 2-3 business days (often even faster). The total delivery time depends on the service you chose and where your order is being delivered. You may see multiple shipping options to choose from during checkout. Our default choice will always be the most economical, but not necessarily the fastest.
Immediate Download (Audio)
To get your downloadable product, simply complete your order and then open the order confirmation email you will receive at checkout. Scroll down to the bottom of the receipt to a section called "eShipments." Click on the link BELOW the title of the product you purchased that contains the downloadable product(s). A dialogue box will appear. Select "Save File to Disk" and select your desktop as the destination. Go to your desktop and find your downloadable goods. You are done!
Some files have been zipped (compressed) to decrease download times. Both Windows and Mac OS have built-in software that will convert the zipped file into a usable file when you click on the file to open it.
Additional download instructions for your specific device can be found on our Digital Downloads FAQ page