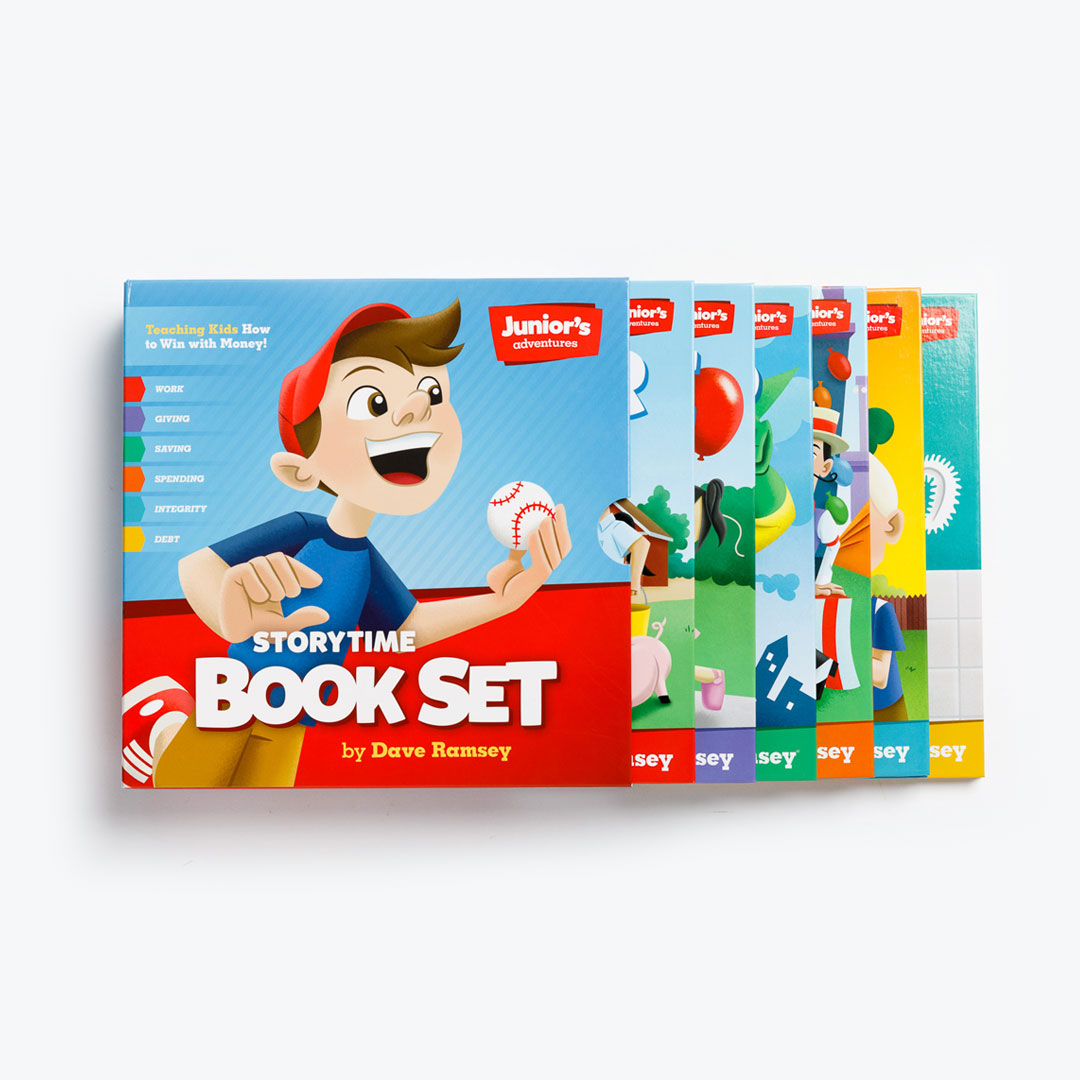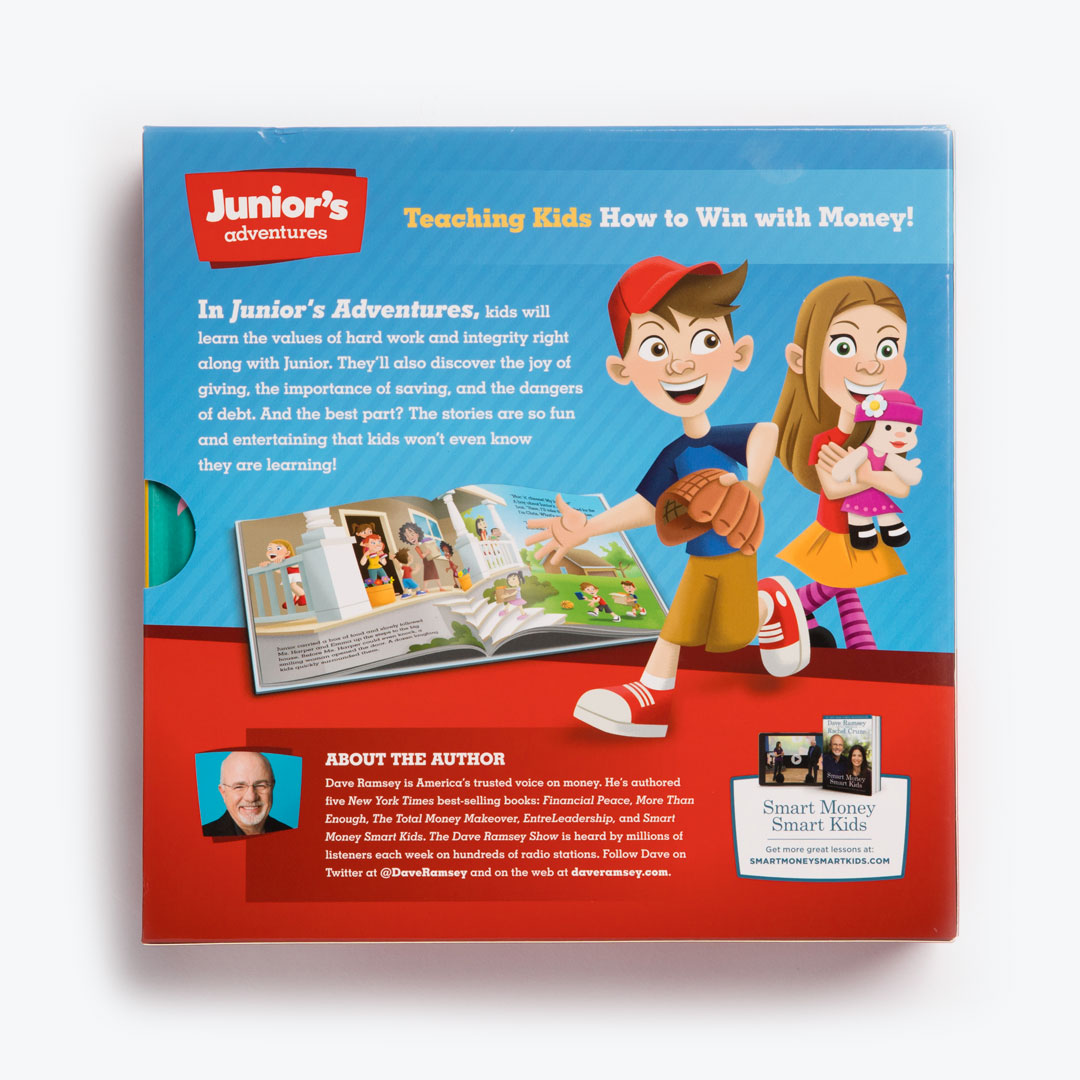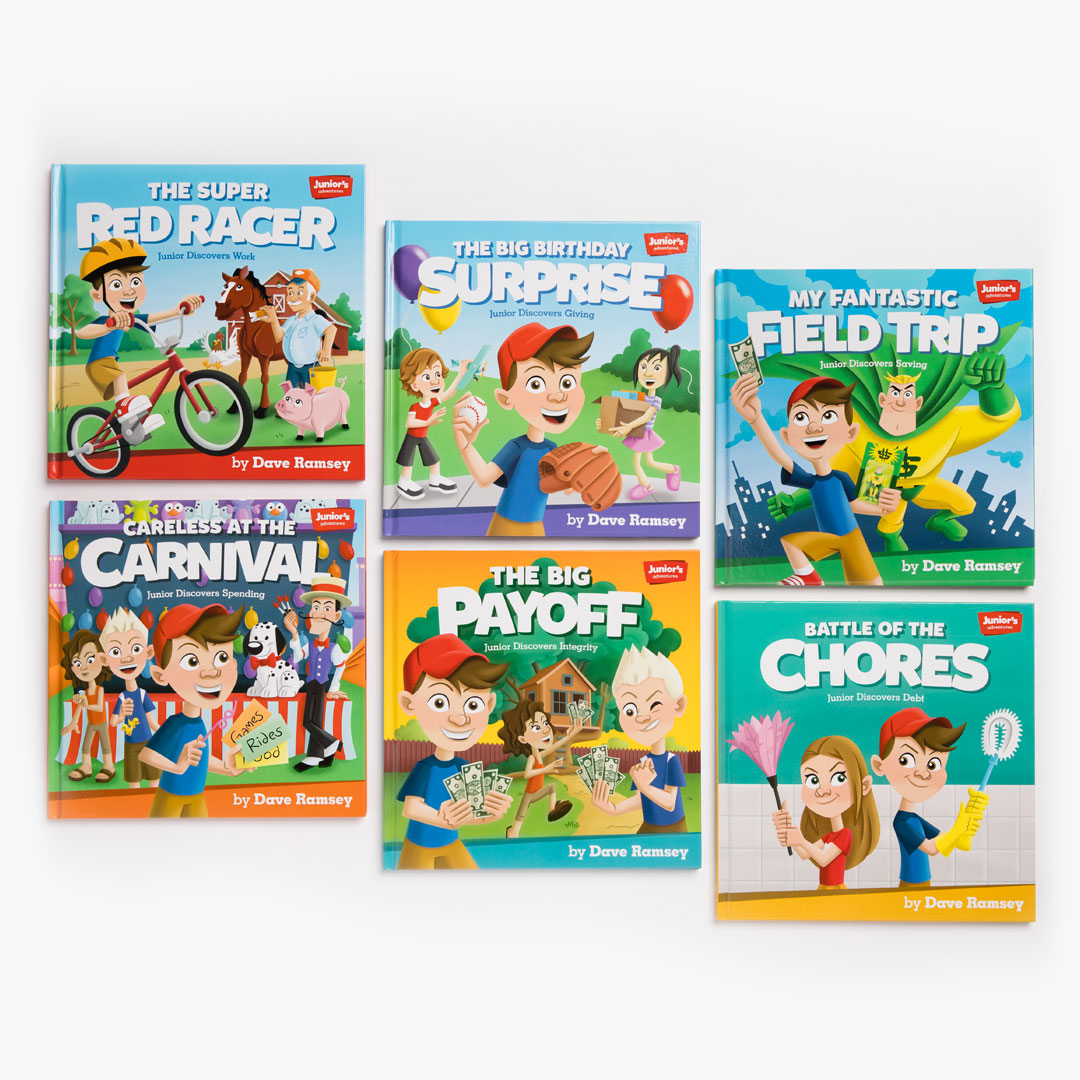 Junior's Adventures: Storytime Book Set
Teaching Kids How to Win with Money!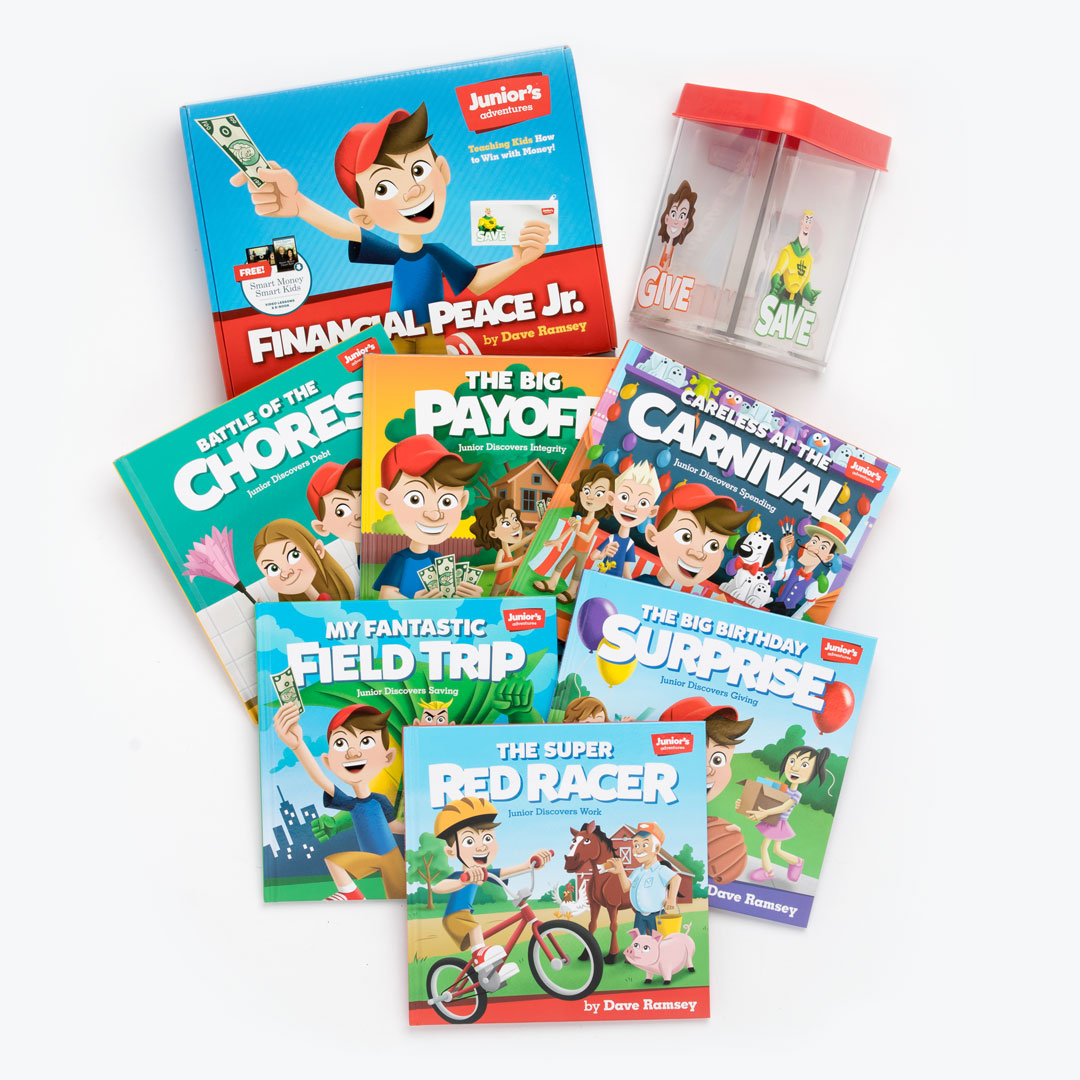 More for Your Money
Description
Part of the Junior's Adventures series, the Storytime Book Set teaches kids the values of hard work, integrity, giving, saving, and avoiding debt. Kids will join Junior as he learns—sometimes the hard way—how to handle money.
Kids ages 3-10 will immediately relate to Junior in these brightly illustrated stories. The Storytime Book Set comes with these six hardback stories:
The Super Red Racer (Work)

Junior really, really wants an awesome new bike, but he doesn't have the money to buy it. So, what does he do? He goes to work to earn the money! Join him on his adventure to learn the rewards of hard work.

Careless at the Carnival (Spending)

Junior and his friends learn the hard way that it's not wise – or fun – to spend all their money at once. This book teaches children a valuable lesson in budgeting their money and spending it wisely.

The Big Birthday Surprise (Giving)

Find out what Junior's big birthday surprise is and how he learns a lesson about giving to others on his special day. This book teaches children about the many ways to give to others—not only with their money but also with their time.

My Fantastic Fieldtrip (Saving)

Hop on the school bus with Junior and his class as they take an exciting fieldtrip to learn about money from their favorite cartoon character, Dollar Bill! This book teaches children the benefits of planning ahead for big expenses and unexpected emergencies.

The Big Pay-Off (Integrity)

When you were a kid, did you daydream about finding a bunch of money and imagine all the things you could buy with it? What would you have done if the money you found actually belonged to someone else? This story teaches your kids the value of doing what is right, even though they may be tempted to do otherwise.

Battle of the Chores (Debt)

When you were a kid, did you ever borrow money from your brother or sister? Did they make your life miserable until you paid them back? In this book, Junior learns that being in debt to someone is not fun! This story teaches your child the value of working for money and the disadvantages of borrowing money.
Here's What People Are Saying
Before we could all get together and read one of these books, my kids picked them up and started reading them alone. My 9 year old picks one to read every night before bed. I read them to my 3 year old at nap time. Even my older kids have enjoyed them. More importantly, they are picking up on the ideas of saving and giving before spending, working to earn money when they want something and being honest.
My kids are enjoying this book set. The stories are simple yet engaging. After we read each book, we talk about the life lesson learned. Perfect!
My three boys, 8, 6 & 6, love these books. Last night, after reading about Junior's orphanage experience, my youngest said, "O.K., Dad, I'm going to get some toys now." (to give away!) Great stuff. My nine year old daughter loves them too. Excellent value. I highly recommend them.
I bought these as a Christmas gift for my 5 year old nephew. My sister-in-law says he asks every night to "read the books that teach him to save money!" She said they were a GREAT gift!
Our five year old daughter enjoys the colorful, lively stories and we enjoy the peace experienced while doing household chores, shopping and traveling. Gone are the tantrums and power struggles over "Can I have...?" Now it is "Can you afford it?" And when she asks for extra chores - it brings a smile to the household!
Product Details
Includes: 6 Hardcover Books: The Super Red Racer, The Big Birthday Surprise, My Fantastic Field Trip, Careless at the Carnival, The Big Payoff, Battle of the Chores, Gift Box
Target Audience: Ages 3-10
Dimensions: 9 x 2.2 x 9 inches
SKU: 9781937077884OLP
Shipping & Delivery
Physical Shipping
All physical products will be processed and ready to ship within two business days (often even faster). The total delivery time depends on the service you select and where your order is being delivered. You may see multiple shipping options to choose from during checkout. Our default choice will always be the most economical, but not necessarily the fastest.