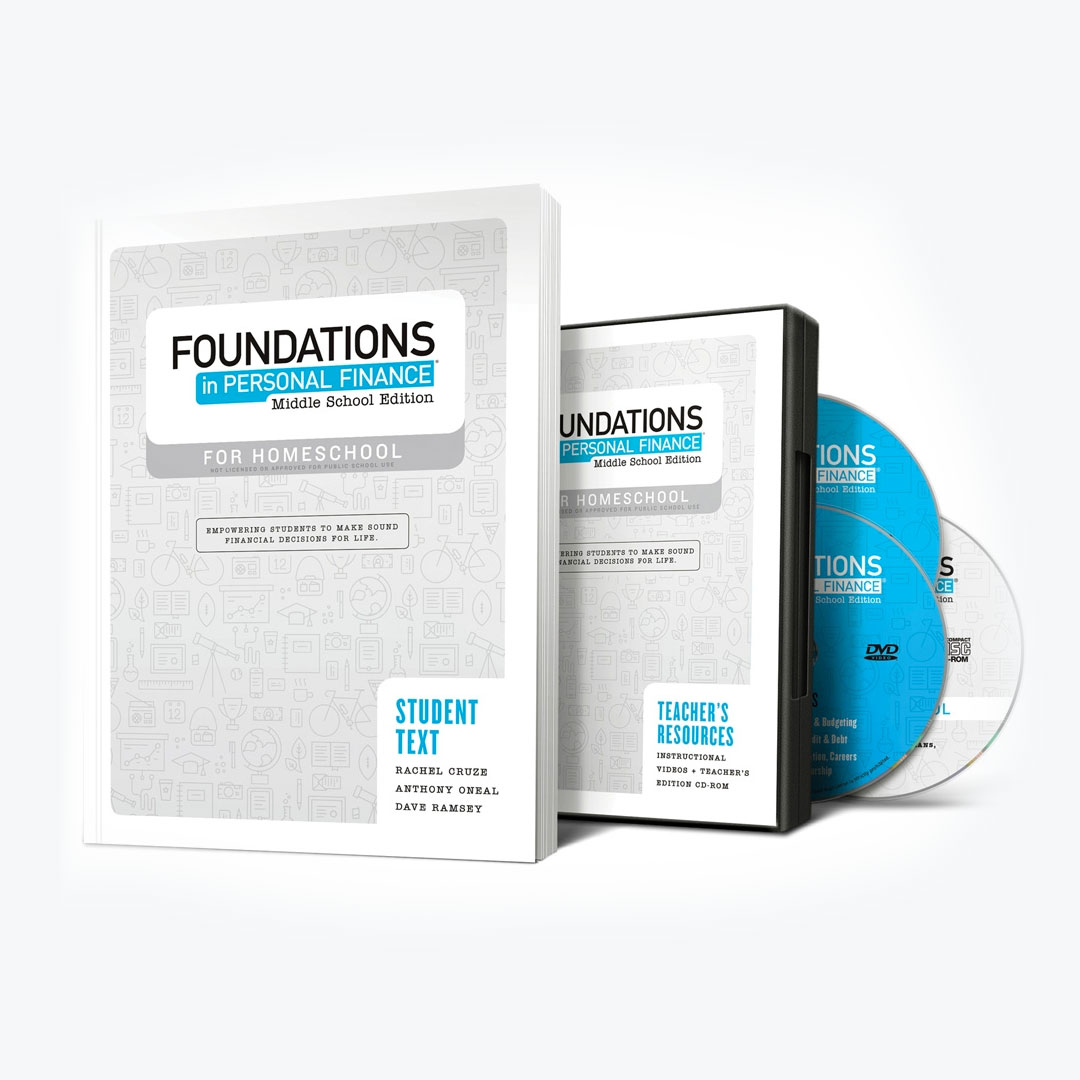 Foundations in Personal Finance: Middle School Edition for Homeschool Teacher/Student Pack
Transform the Way Students Approach Money
Description
Foundations in Personal Finance: Middle School Edition for Homeschool is a turnkey personal finance curriculum that engages middle school students and transforms the way they approach money altogether.
With an eye-catching design and unique teaching illustrations, Foundations in Personal Finance: Middle School Edition for Homeschool will easily hold the attention of your students. Everything needed to equip you to teach personal finance is provided, including a student text, teacher resources, age-specific activities, and 22 video lessons taught by our Foundations team of experts.
This set includes:
Digital Teacher's Edition
This resource on CD-ROM provides a variety of reproducible materials allowing teachers to adapt the curriculum to the needs of their class experience. The digital resources include lesson plans, a 9-week syllabus, student text answer keys, learning activities, case studies, a Scripture reference list, pre- and post-tests plus summative assessments for each chapter, and parent resources.
Video Lessons
This set of two DVDs includes 22 lessons with more than three and a half hours of relevant and engaging instruction featuring a variety of presentation formats.
Student Text
The Foundations in Personal Finance: Middle School Edition for Homeschool student text is an engaging 144-page soft-cover consumable. The six chapters include 22 lessons with opportunities for pre-teaching, teaching, reflection, application, review, learning extension, and both formative and summative assessments. Each lesson includes a Scripture reference to reinforce the biblical principles related to personal finance. The student text is aligned with state and national standards for financial literacy.
Note: Foundations in Personal Finance for Homeschool is licensed for use in private, homeschool settings only. This item does not meet constitutional guidelines for use in public education.
Curriculum Features
Flexible, turnkey personal finance curriculum
Stand-alone chapters that can be used in any order
Over three hours of video instruction given by the Foundations team of experts
144-page student text with added Scripture references in each lesson
The student text includes more than twenty-five activities including one-minute reflections and journal questions as well as math and word problems
Scripture reference guide for additional study of biblical teaching related to finances
Digital Teacher's Edition that includes additional learning activities for each chapter
Case studies provided to engage students in practical application of financial principles
Parent guide to promote ongoing interaction with financial topics
Pre- and post-tests for the course as a whole as well as a summative assessment
Aligned with the National Standards for Financial Literacy
Download a sample lesson!
Click to watch
an overview
FAQs
What is Foundations in Personal Finance: Middle School Edition?
Foundations in Personal Finance is the premier curriculum for teaching middle school students about money. This supplemental curriculum (designed by teachers for teachers) consists of six stand-alone chapters featuring 22 lessons, which weave together humor and real-life stories to educate and reinforce sound principles for managing money.
How is the Middle School Edition different than the High School Edition?
Think of the Middle School Edition as a simplified introduction to the High School Edition! The Middle School Edition will break down topics like money and relationships, debt, saving, and investing in a way that's relevant and applicable to students in grades 6 through 8. The High School Edition, geared toward 9-12th graders, takes those concepts to the next level to help them get ready for life after graduation.
What are the benefits of Foundations in Personal Finance?
The most important benefit is that students are empowered and equipped to make smart financial decisions! Teens who have taken Foundations in Personal Finance have gone on to do things like buy their first car with cash, save up a $500 emergency fund, and graduate from college completely debt-free! These students took the lessons to heart and changed their lives because of it.
How much class time is needed?
Foundations in Personal Finance: Middle School Edition has syllabi options for 6-,9-, or 18-week terms. This means you can customize the classroom experience to meet your specific needs.
How does Foundations in Personal Finance correlate to my state's standards and benchmarks?
This curriculum meets all national and state standards and benchmarks for personal finance. Click
here
for a correlation to the standards in your particular state.
Shipping & Delivery
Physical Shipping
All physical products will be processed and ready to ship within two business days (often even faster). The total delivery time depends on the service you select and where your order is being delivered. You may see multiple shipping options to choose from during checkout. Our default choice will always be the most economical, but not necessarily the fastest.