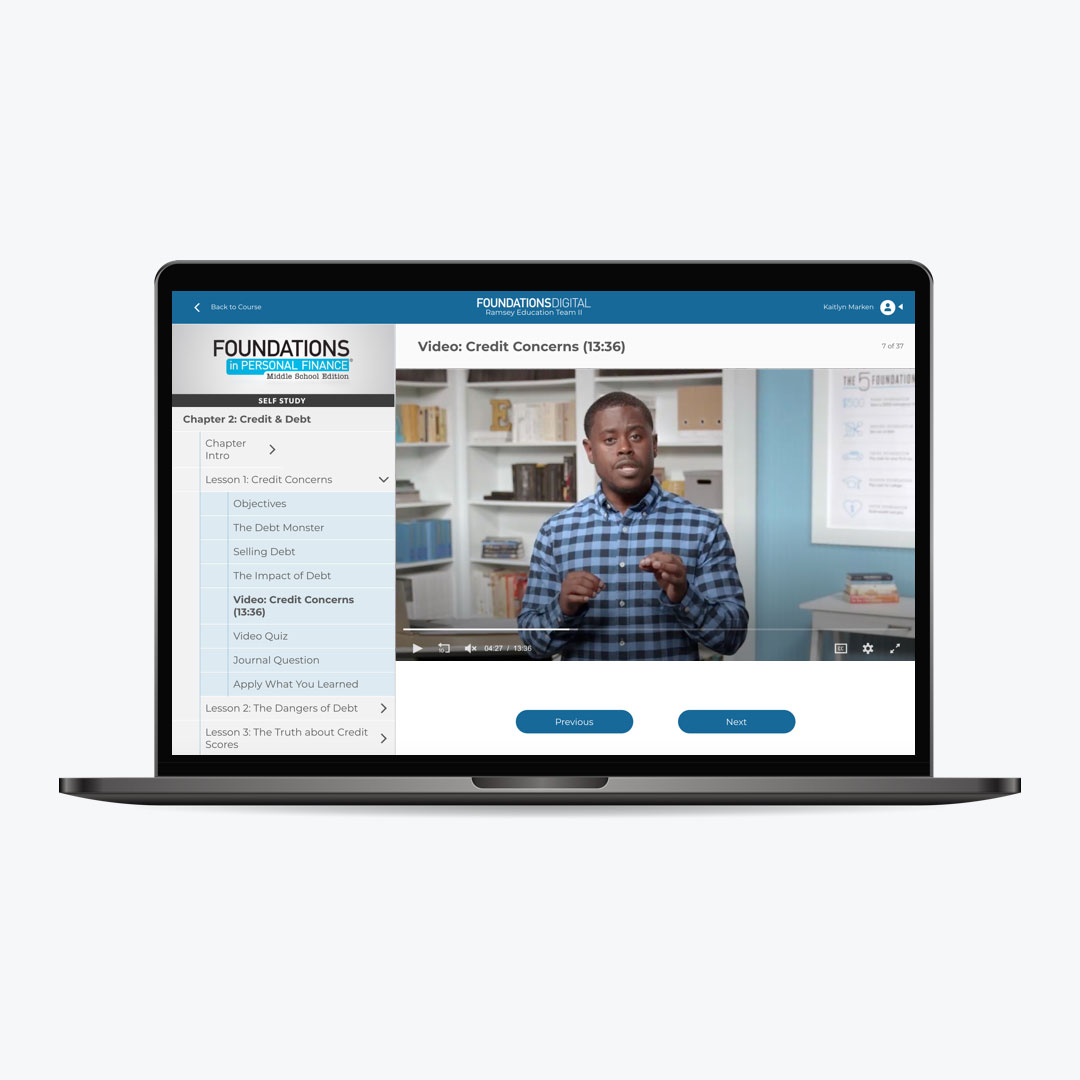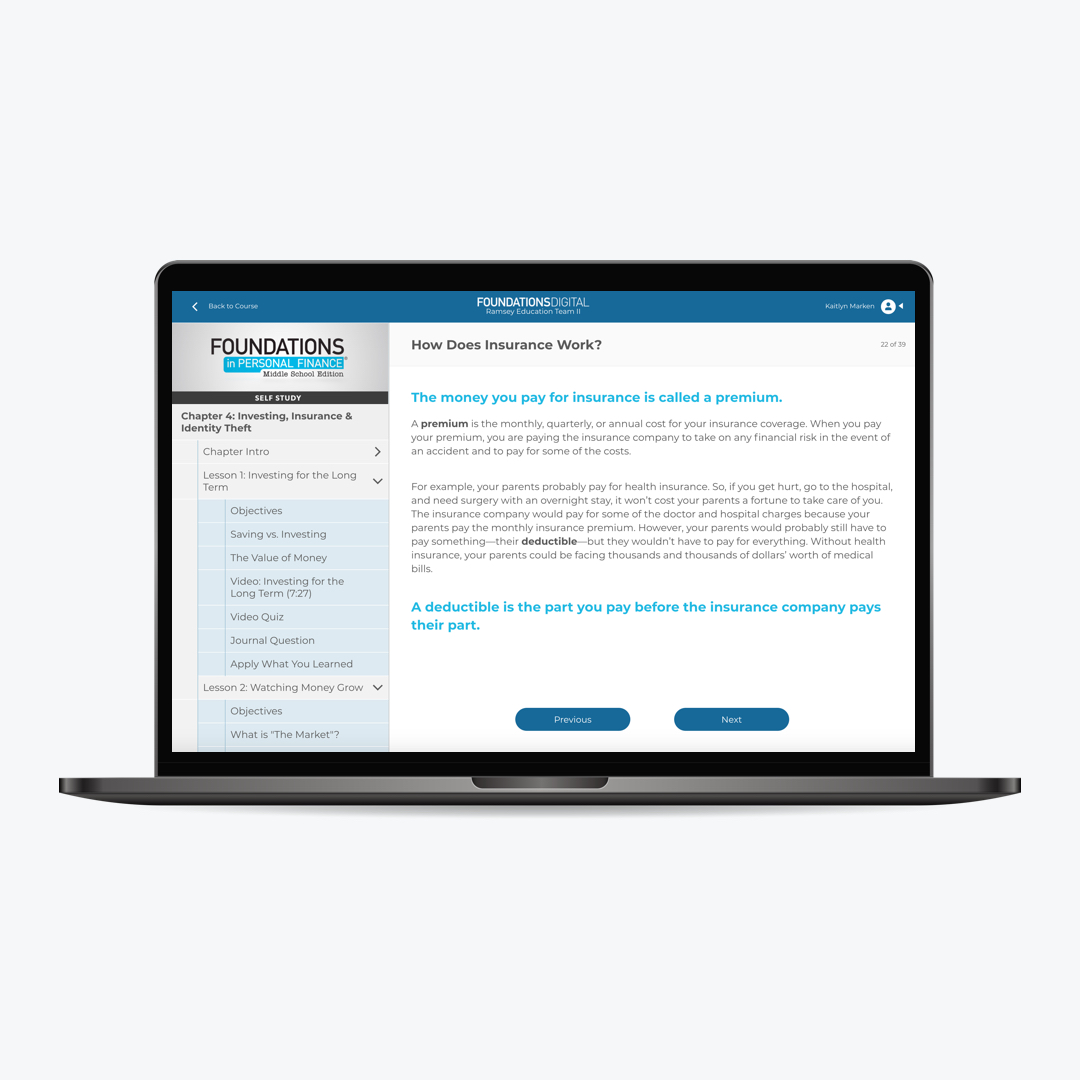 Foundations in Personal Finance: Middle School Edition for Self-Study
Online Course for Grades 6–8
Description
Middle schoolers across the country are learning the truth about debt, how to make a budget that works, and how investing early will help them build wealth. Our online course Foundations in Personal Finance: Middle School Edition for Self-Study will keep your students engaged with videos featuring #1 bestselling authors Dave Ramsey, Rachel Cruze and Anthony ONeal.
With auto-graded assessments, engaging video content and—best of all—no need for an instructor, this self-paced online course can easily fit into even the busiest of schedules. Dave and his team of experts will do all the teaching, and you can have peace of mind about your child's financial future.
As a precursor to Foundations in Personal Finance: High School Edition, this online curriculum offers timely and relevant personal finance lessons for your middle school students.
How It Works:
Once you purchase the curriculum, you'll receive a link and a unique online class code. Follow the instructions on the email to register. You'll have access to the online course for one year beginning when you first redeem the class code.
If I have multiple children can they all use the same copy of the curriculum?
The Self-Study edition of the curriculum is intended for one student as the assessments included in the course can only be completed once.
Curriculum Features:
Fully digital content—all you need is a computer or tablet and internet access
Stand-alone chapters that can be used in any order
Here's What People Are Saying
My 11-year-old daughter and 13-year-old son LOVED the Foundations in Personal Finance: Middle School Homeschool Edition. I know they feel more prepared for their futures and capable with the money they are handling already. We have educated at home for 8 years and they have never had such a positive response to a curriculum before!
How do missionary kids in South Sudan begin to learn the basics of personal finance? By studying Foundations in Personal Finance: Middle School Homeschool Edition. The 8 middle schoolers on our team have little exposure to the realities and challenges of handling money that so many of their peers experience. We are grateful for this tool that is helping to prepare our kids for their eventual transition back into life in North America.
This course was our son's favorite! He would complete 5 lessons a day by choice instead of asking to play video games! We are so excited to teach him important life skills and he is already starting to invest at 11 years old now. We will definitely be keeping this course for future kids and referring back to it in upcoming years!
Customer Ratings and Reviews
Product Details
Secular Content: Yes
Number of Assessments: 27
Number of Chapters: 6
Certificate of Achievement: Yes
Hours of Video: 3.5
Approximate Time Needed to Complete the Course: 20-30 hours
Applicable for School Credit: Each state is different; Please check with your child's umbrella school for any questions related to credit.
Course Overview:
Chapter 1: Saving & Budgeting

Introduces personal finance concepts; explores what it means to be smart with money; emphasizes three reasons to save money; compares simple interest and compound interest; explains the purpose of a budget; identifies the difference between debit and credit cards; explores how to talk about money and money goals; and highlights the importance and benefits of giving and serving others.

Chapter 2: Credit & Debt

Identifies terms associated with debt; evaluates the financial impact of debt on a household budget; examines the elements of a credit report and credit score; highlights the importance of avoiding debt; identifies ways to stay out of debt; explores the cost of a college education and the long-term cost of student loan debt; and explains ways to pay for college without going into debt.

Chapter 3: Education, Careers, & Entrepreneurship

Examines the importance of exploring career options that line up with personal skills and interests; introduces career options and highlights their varying, post-secondary education requirements; explains the impact education can have on income; examines various types of income and taxes; identifies elements of employer benefits; introduces the topic of entrepreneurship; and explores the risks and benefits associated with starting your own business

Chapter 4: Investing, Insurance, & Identity Theft

Explains the difference between saving and investing; introduces investing as a way to build wealth; highlights the impact of compound interest and introduces the time-value of money; explores different types of investments; identifies different types of insurance; examines the impact of and problems associated with identity theft; and examines ways to protect yourself from identity theft.

Chapter 5: Global Economics

Explains the differences between various economic systems; examines the movement of goods and services; explores supply and demand; explains the chain of production and gross domestic product; highlights the differences between developed and developing countries; explores global economics and trade matters; and examines the impact of scarcity and rationing.

Chapter 6: Marketing & Consumerism

Introduces consumerism and spending habits; explores the impact of marketing, product placement, and peer pressure on consumer behavior; explains the concept of economic incentives; compares contentment and discontentment in regard to consumerism; explores various consumer protection agencies and laws; and identifies ways to be a wise consumer.
FAQs
Are there assessments?
Yes! The Self-Study edition includes pre-chapter and post-chapter assessments that can be taken once. These are auto-graded, so students can see their score as soon as they finish the test.
I have multiple children. Can they all use the same copy of the curriculum?
The Self-Study edition of the curriculum is intended for one student as the assessments included in the course can only be completed once. 
How long do I have to activate my course?
You can take all of the time you need to activate your course (don't forget about it though!) but once activated you have one year to complete your course before your access expires.
Shipping & Delivery
Online Access Code
When you purchase a voucher item, you'll receive an email after completing your order. In this email you'll be provided both a link and a unique online access code. To access your product, click on the link and enter your unique voucher code when prompted.