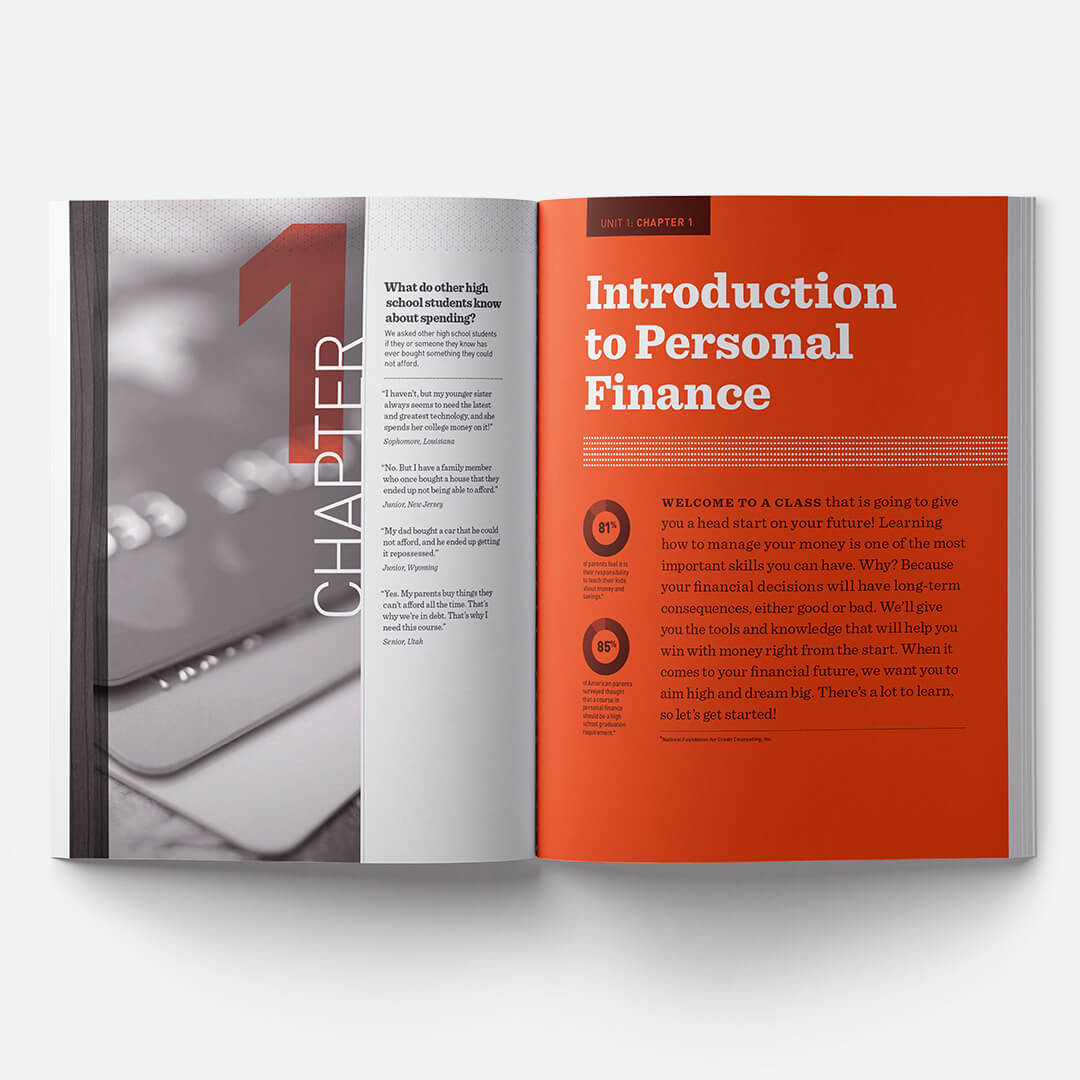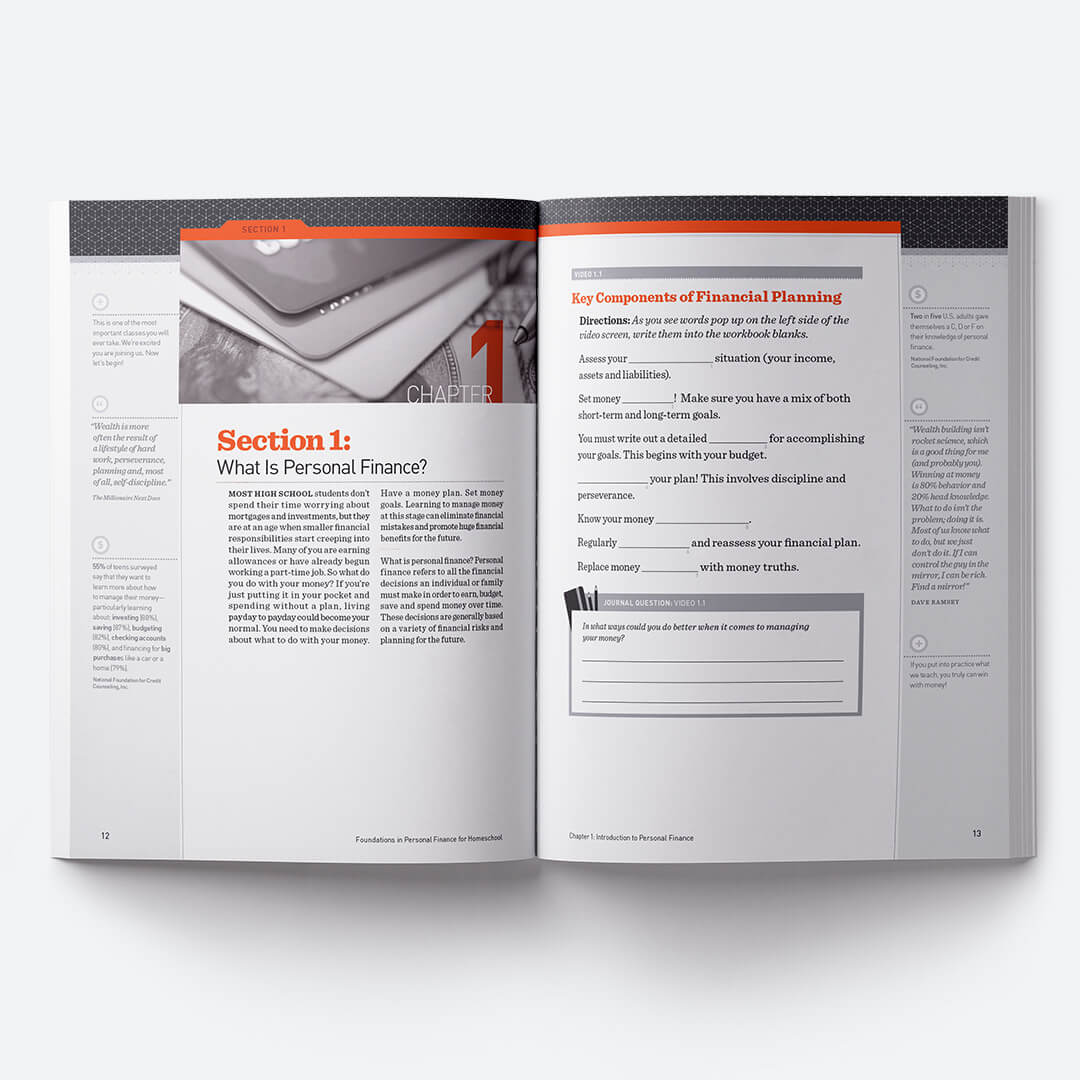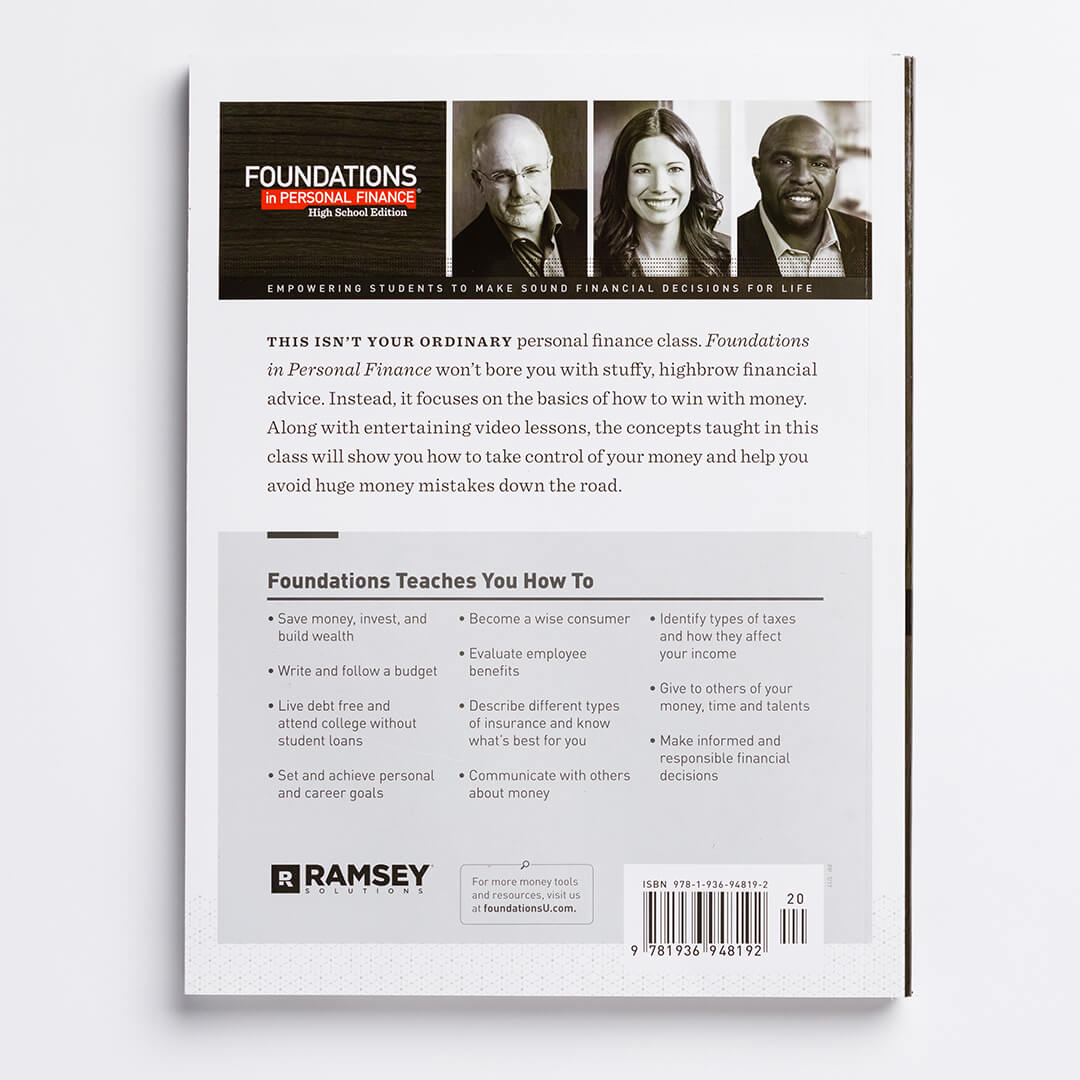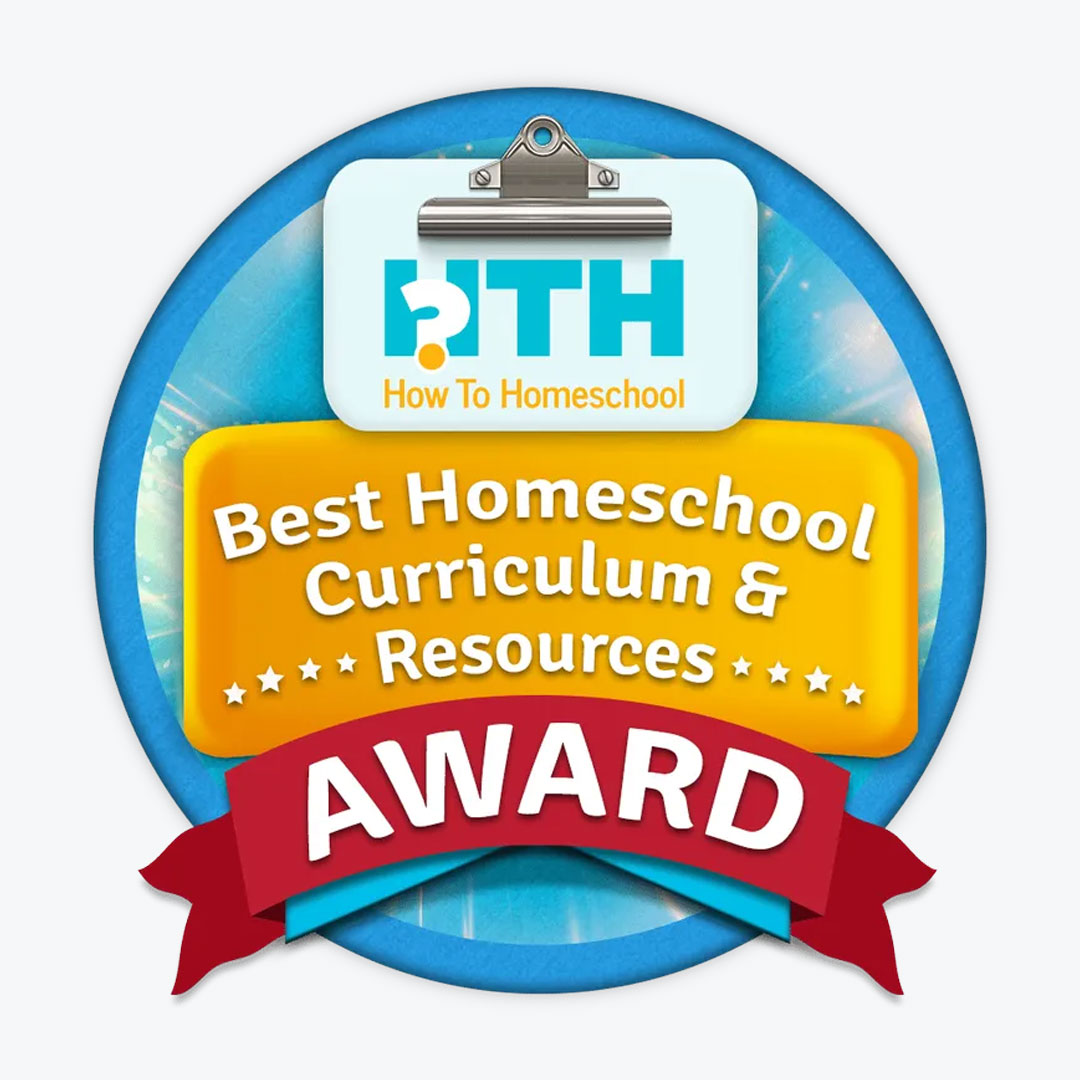 Foundations in Personal Finance: High School Edition for Homeschool Teacher/Student Pack
Named to "Best Homeschool Curriculum and Products" by How To Homeschool
Description
Homeschooling is a big commitment, but it's also a priceless investment in the lives of your kids. And when it comes to teaching them personal finance principles, we're here to help! Foundations in Personal Finance: High School Edition for Homeschool is designed as a complete curriculum—saving you time and preparing you with everything you need for a life-changing learning experience. The curriculum includes a student text, teacher resources and video lessons by our Foundations team. Our team serves as the financial experts (so you don't have to be), giving you more time and energy to focus on your student(s)––aka your family.
The curriculum includes more than 35 activities that provide personal finance knowledge and life skills in a student-centered, competency-based approach to learning. The activities are also linked with our blended learning website, foundationsU.
The Foundations series currently includes editions for both high school and middle school grade levels. The high school edition can be used either as a stand-alone curriculum or as a deeper dive into financial literacy after completing Foundations in Personal Finance: Middle School Edition for Homeschool.
Curriculum Features:
Meets standards and benchmarks in all 50 states
Meets all Jump$tart national standards
Stand-alone chapters that can be used in any order
Case studies to engage students in real-world application of financial principles
Parent guide to encourage ongoing interaction with financial topics
Pre- and post-tests for the course as a whole, as well as a summative assessment
Scripture reference guide for additional study of biblical teaching related to finances
International Shipping:
We now ship to Canada! Speak with one of our Ramsey Care advisors at 1-888-227-3223 to get a shipping quote and additional help processing your order.
Preview Chapter One
Here's What People Are Saying
This curriculum has changed how our whole family views finances. My teenage boys have an emergency fund, have paid cash for their first vehicles, are saving for college and are debt free. Every high school student should be required to take this class. It's excellent!
This is a fantastic program and my 14-year-old son loves it! He does a unit/section every Friday and does so happily. I would encourage anyone to buy this curriculum without hesitation.
This is a high quality, very educational program this is also both engaging and entertaining. The content is age-appropriate, yet way ahead of their years, in teaching about ALL matters of personal finance and awareness and self-accountability and responsibility. I can't recommend this curriculum enough, students and parents alike will benefit from this!
Product Details
Chapter 1: Introduction to Personal Finance
Chapter 2: Saving
Chapter 3: Budgeting
Chapter 4: Debt
Chapter 5: Life After High School
Chapter 6: Consumer Awareness
Chapter 7: Bargain Shopping
Chapter 8: Investing & Retirement
Chapter 9: Insurance
Chapter 10: Money & Relationships
Chapter 11: Careers & Taxes
Chapter 12: Giving
FAQs
What is Foundations in Personal Finance: High School Edition for Homeschool?
Foundations in Personal Finance is the premier curriculum for teaching high schoolers about money––and it has already empowered more than 4 million students! The curriculum reinforces 21st century learning skills through activities requiring students to analyze, integrate and apply new information to real-life problems and activities. The material is presented in an interactive format, requiring students to take an active role while watching lessons. Our goal is to equip students with the skills and knowledge needed to make sound financial decisions for life!
How much class time is needed?
The curriculum includes 12 chapters of interactive, comprehensive materials that can be implemented as a semester-long course. Or–– since each chapter is stand-alone––Foundations can also be used as a supplemental resource. So, it simply depends on your preference!
How much preparation is required for each chapter?
Forget those endless nights of activity-planning! We've done the work for you! Our team of educators and financial experts has strategically provided lesson plans and activities that will make your prep time seem like a dream. The curriculum is turnkey, which means all the videos, assessments, activities, lesson plans and syllabi are included. The only thing you need to do is become familiar with the materials.
Do I need to be a financial wizard to teach the material?
No! In fact, no prior knowledge is required. Our Foundations team of experts provides all the information you need to have a dynamic and engaging teaching experience.
What age level is appropriate for Foundations in Personal Finance?
Foundations in Personal Finance: High School Edition for Homeschool is designed for high school students in grades 9 through 12.
Shipping & Delivery
Physical Shipping
All physical products will be processed and ready to ship within two business days (often even faster). The total delivery time depends on the service you select and where your order is being delivered. You may see multiple shipping options to choose from during checkout. Our default choice will always be the most economical, but not necessarily the fastest.