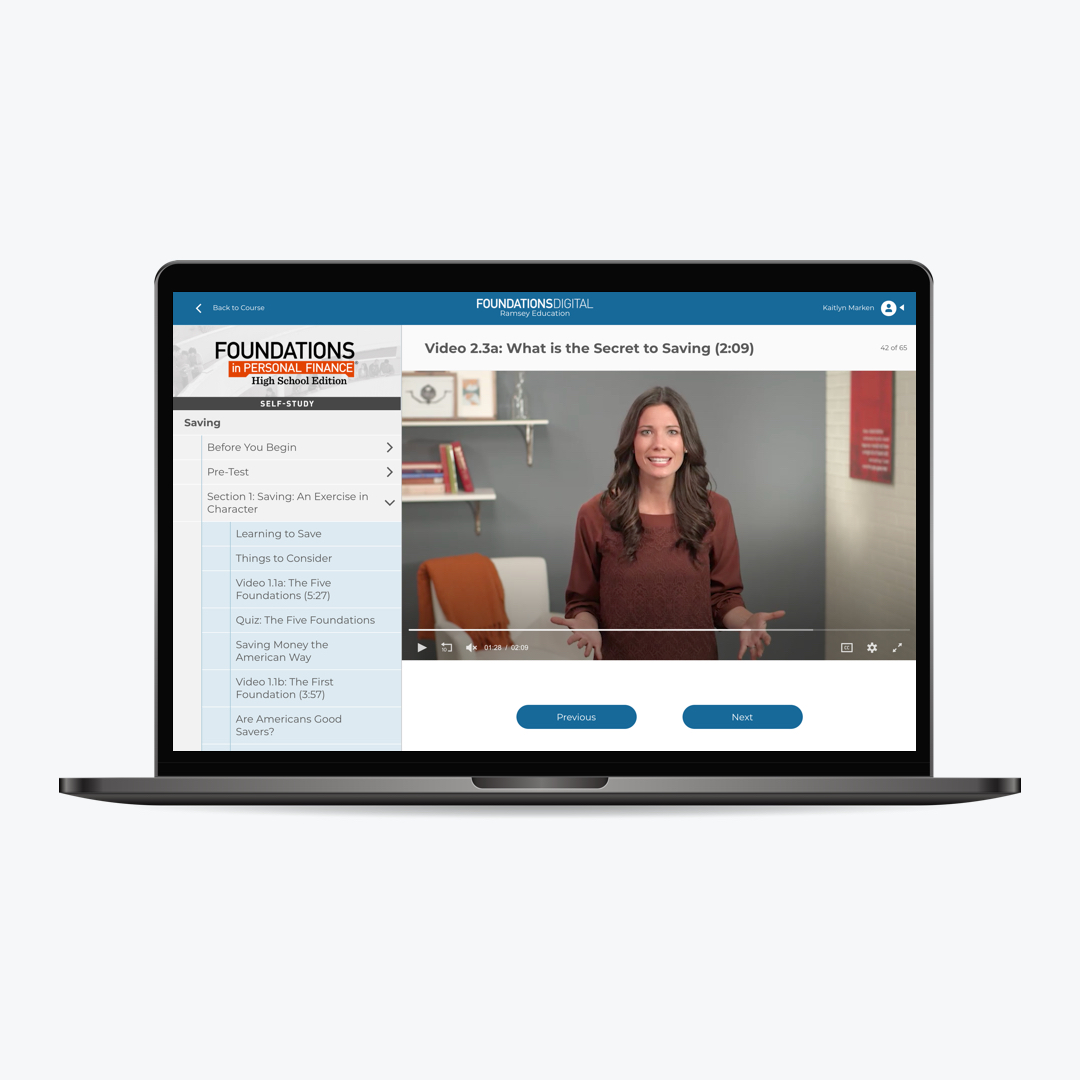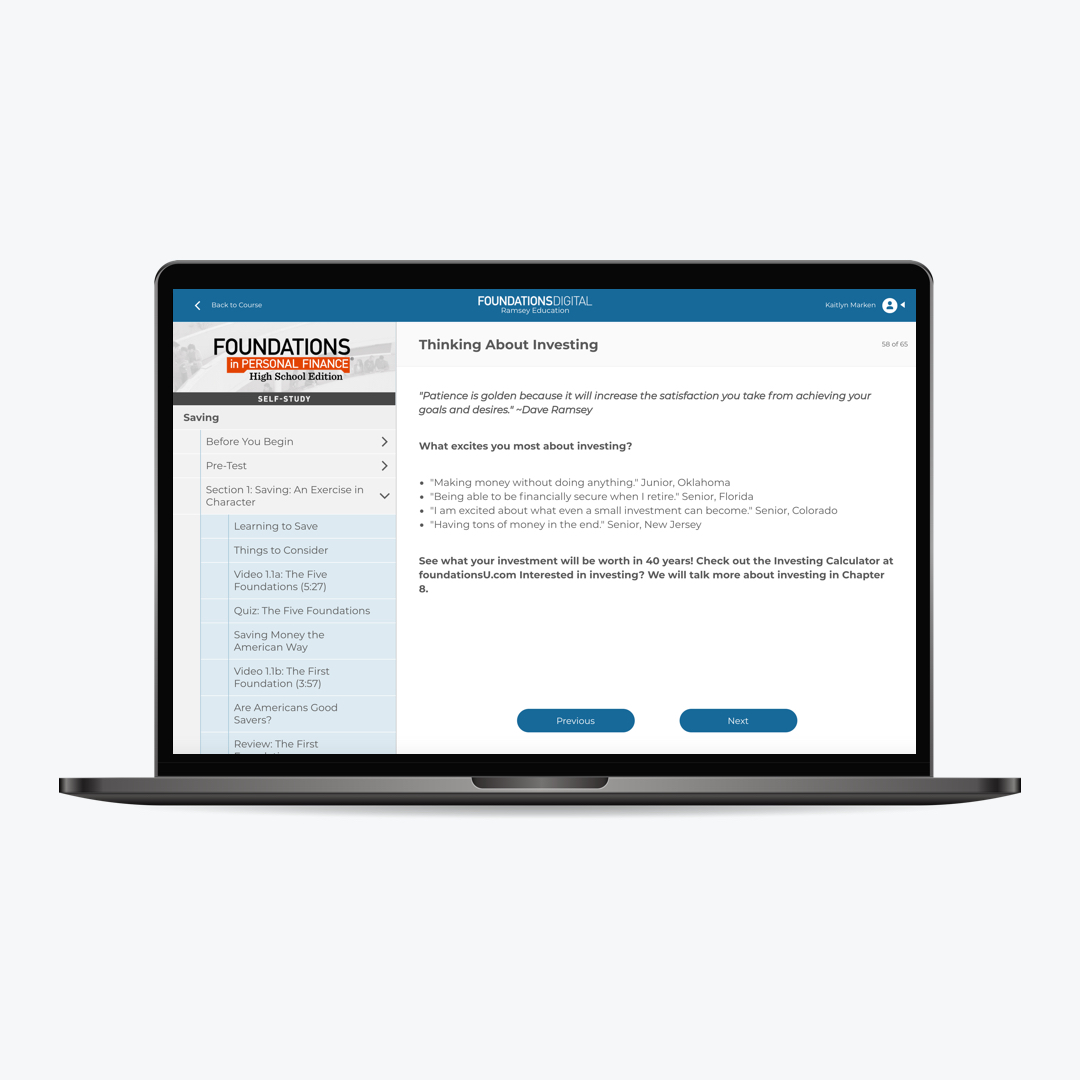 Foundations in Personal Finance: High School Edition for Self-Study
Online Course for Grades 9–12
Description
We know preparing your child to enter the real world is an intimidating task. Taxes, insurance, credit, debt—how are you supposed to teach kids about these complicated and confusing topics when most people barely understand them themselves?
To make matters worse, only a handful of states require students to take a stand-alone course in personal finance before graduation. But it's so important that teens learn how to make smart decisions with their money. That's why we've taken Foundations in Personal Finance—a personal finance curriculum that has helped nearly 5 million students learn to handle money the right way—and put it in a fully digital online format for students who aren't able to take the class at their school.
With auto-graded assessments, engaging video content, and best of all, no need for an instructor, this self-paced online course can easily fit into even the busiest of schedules. Dave Ramsey and his team of experts will do all the teaching, and you can have peace of mind about your child's financial future.
How It Works:
Once you purchase the curriculum, you'll receive a link and a unique online voucher code. Follow the instructions on the email to register. You'll have access to the online course for one year beginning when the voucher code is first redeemed.
If I have multiple children can they all use the same copy of the curriculum?
The Self-Study edition of the curriculum is intended for one student as the assessments included in the course can only be completed once.
Curriculum Features:
Fully digital content—all you need is a computer or tablet and internet access
Stand-alone chapters that can be used in any order
Access to foundationsU, our blended learning site with additional tools and activities
Customer Ratings and Reviews
Product Details
Number of Assessments: 121
Number of Chapters: 12
Certificate of Achievement: Yes
Hours of Video: 12
Approximate Time Needed to Complete the Course: 50-60 hours
Applicable for School Credit: We provide educational content. We do not provide course credit; however, you may submit a request for course credit to your teen's school or education system. Once your teen completes the course in its entirety, you may email help@ramseyeducation.com to request a certificate of completion. Please allow 2-3 business days for delivery of the certificate. The awarding of course credit is at the school's or education system's discretion.
Course Overview:
Chapter 1: Introduction to Personal Finance

Introduces the topic of personal finance, explores the evolution of the American credit industry, and highlights the importance of both knowledge and behavior when it comes to managing money.

Chapter 2: Saving

Emphasizes the importance of saving and explains the three reasons to save: emergencies, large purchases, and wealth building.

Chapter 3: Budgeting

Explores the purpose and process of writing a budget and the basics of banking, including balancing and reconciling a checking account.

Chapter 4: Debt

Identifies the devastating costs of using debt as a financial tool, debunks credit myths, explains the elements of a credit score, identifies organizations that maintain consumer credit records, and summarizes major consumer credit laws.

Chapter 5: Life After High School

Explores 21st Century post-secondary education and career options, highlights the importance of avoiding debt as a young adult, and explains how to cash flow a college education.

Chapter 6: Consumer Awareness

Identifies factors that influence consumer behavior and the effect of inflation on buying power.

Chapter 7: Bargain Shopping

Highlights the importance of bargain shopping as part of a healthy financial plan and identifies important negotiation strategies.

Chapter 8: Investing and Retirement

Establishes basic investing guidelines, describes and compares various types of investments, and identifies elements of employer benefits and retirement plans.

Chapter 9: Insurance

Identifies the purpose of financial risk management as well as the appropriate and most cost-effective risk management strategies.

Chapter 10: Money and Relationships

Identifies the differences among people's values and attitudes as they relate to money and highlights communication strategies for discussing financial issues.

Chapter 11: Careers and Taxes

Examines the importance of pursuing a career in line with your strengths, the elements of effective goal setting, the best practices of successful people, and types of income and taxes.

Chapter 12: Giving

Highlights the importance of giving of your time, talents, and money in order to serve others and leave a lasting legacy.

Chapter 13: Global Economics

Explains and examines the differences between various economic systems, movement of goods and services, supply and demand, chain of production, gross domestic product and the impact of scarcity and rationing.
FAQs
Will the student be provided with a certificate for completing the course?
All students who pass the 20-question Full Course Assessment with a score of 80% or above will receive a Certificate of Achievement.
How is this different from the Homeschool Edition of the curriculum?
While the Homeschool Edition of the curriculum requires an instructor, the Self-Study does not. Students can work through the material all on their own!
Are there assessments?
Yes! The Self-Study edition includes pre-chapter and post-chapter assessments that can be taken once. These are auto-graded, so students can see their score as soon as they finish the test.
I have multiple children. Can they all use the same copy of the curriculum?
The Self-Study edition of the curriculum is intended for one student as the assessments included in the course can only be completed once. 
How long do I have to activate my course?
You can take all of the time you need to activate your course (don't forget about it though!) but once activated you have one year to complete your course before your access expires.
Shipping & Delivery
Online Access Code
When you purchase a voucher item, you'll receive an email after completing your order. In this email you'll be provided both a link and a unique online access code. To access your product, click on the link and enter your unique voucher code when prompted.