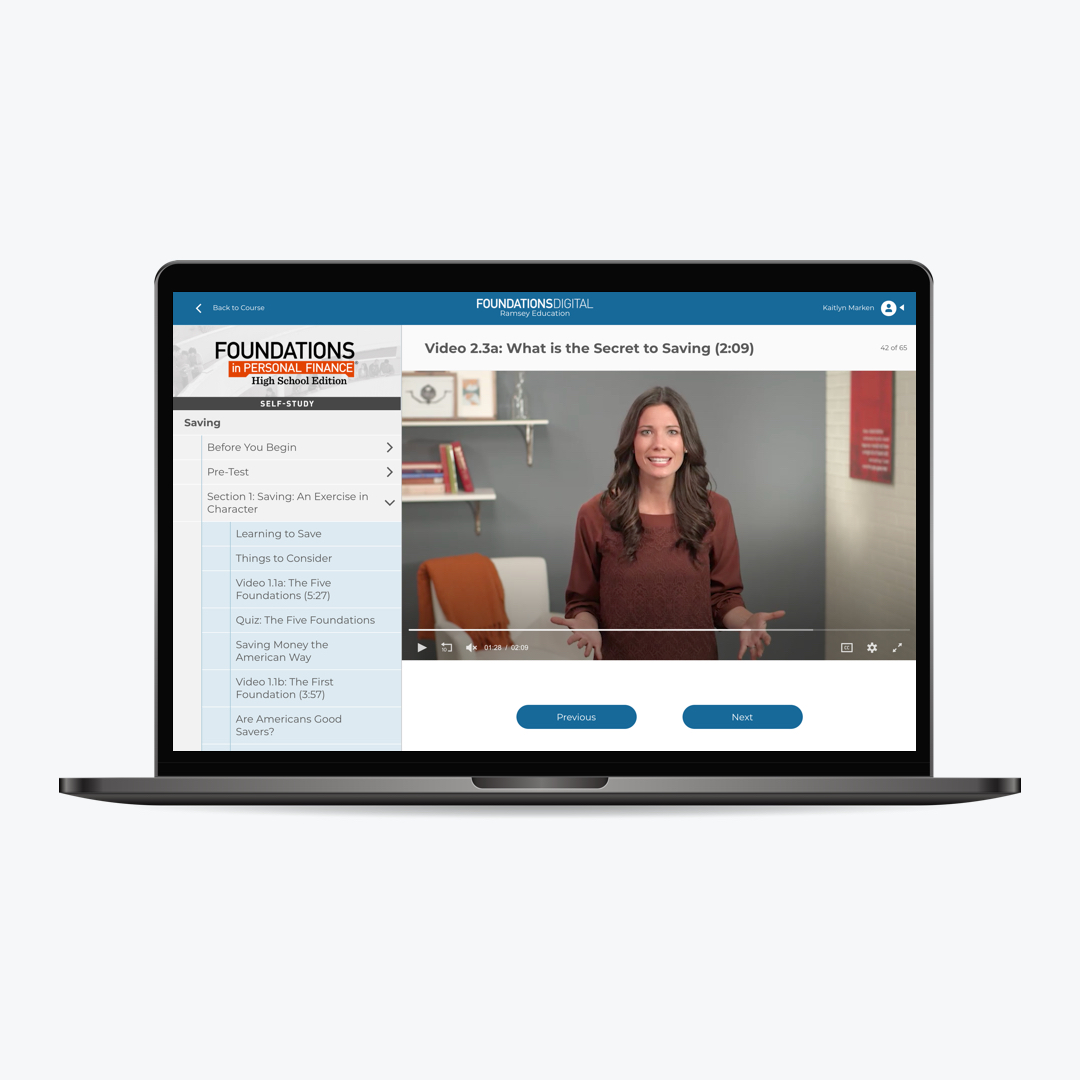 Foundations in Personal Finance: High School Edition for Self-Study
For Grades 9–12
Description
Course Overview
Dave Ramsey's comprehensive personal finance curriculum, Foundations in Personal Finance: High School Edition is now offered as a complete self-study in a fully online format. Unique from our other Foundations curricula, this curriculum does not require an instructor and is perfect for the go-getter student who wants to learn about personal finance at their own pace. Foundations in Personal Finance: High School Edition for Self-Study provides a full complement of new features, including auto-graded assessments, embedded video lessons and a flexible LMS that can be used on desktops, laptops and tablets. Students will receive a full year of online access to complete the course.
Instructions for Course Access:
Once you have purchased the curriculum, a voucher code will be emailed to you. Follow the instructions on the email to register for your class and get access to your specific course.
Here's What People Are Saying
This curriculum has changed how our whole family views finances. My teenage boys have an emergency fund, have paid cash for their first vehicles, are saving for college and are debt free. Every high school student should be required to take this class. It's excellent!
This is a fantastic program and my 14-year-old son loves it! He does a unit/section every Friday and does so happily. I would encourage anyone to buy this curriculum without hesitation.
This is a high quality, very educational program this is also both engaging and entertaining. The content is age-appropriate, yet way ahead of their years, in teaching about ALL matters of personal finance and awareness and self-accountability and responsibility. I can't recommend this curriculum enough, students and parents alike will benefit from this!
Shipping & Delivery
Online Access Code
When you purchase a voucher item, you will receive an email after completing your order. In this email you will be provided both a link and a unique online access code. To access your product, click on the link and enter your unique voucher code when prompted.