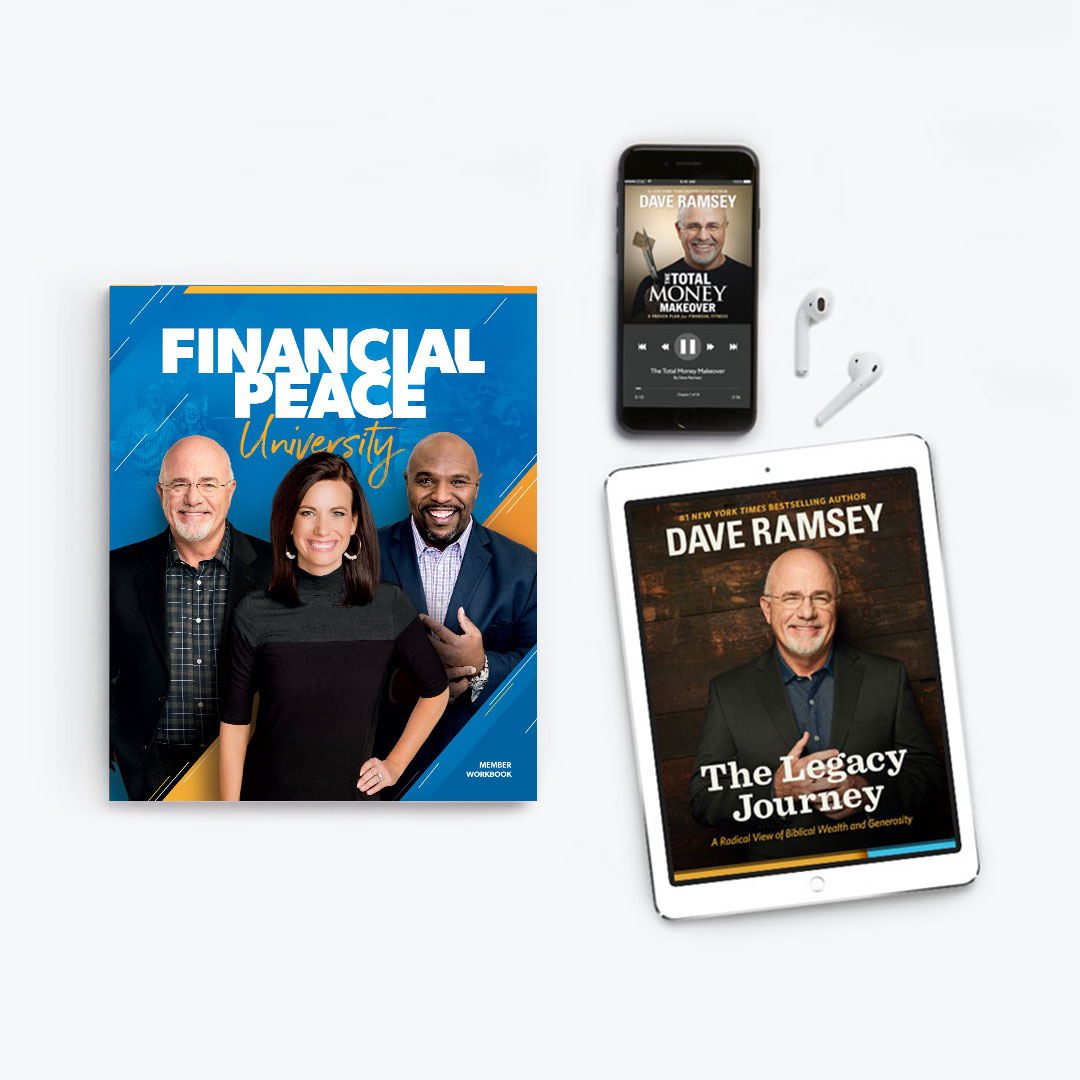 Financial Peace University - Turnaround Bundle
Includes Financial Peace University, 1 Audiobook, 1 E-Book, and 1 Budgeting Guide
Description
Sick and tired of living paycheck to paycheck? We get it. This one-of-a-kind bundle will help you take control of your money and find financial peace. With the Financial Turnaround Bundle, you'll learn how to live on less than you make, work hard, steadily pay off your debts, and take control of your finances once and for all. You'll also learn how to create a budget that actually works. The Financial Turnaround Bundle gives you a one-year membership to Financial Peace University, the EveryDollar Guide to Budgeting, The Legacy Journey e-book, and The Total Money Makeover audiobook. You can finally be at peace with your money.
With the Financial Turnaround Bundle, you'll gain the confidence and motivation to:
Take control of your money
Create a budget that works for you
Save big for emergencies . . . and the future
Navigate finances in every area of your life
Invest in your future

Financial Peace members get exclusive access to:
Financial Peace University lessons taught by Dave Ramsey, Rachel Cruze and Chris Hogan! Coming soon: four newly updated lessons
NEW! Member workbook for all nine lessons (This item will ship in late December)
Subscription to EveryDollar Plus, our premium budgeting tool ($99/year value)
Access to expert financial coaches and an online community for encouragement and accountability
Digital tools to help you stay motivated
Instant updates to content and features as we add them
NEW! Dave Ramsey's six-lesson course, The Legacy Journey
NEW! The six-lesson course, Smart Money Smart Kids
FREE - The Total Money Makeover Audiobook - MP3 Download
FREE - EveryDollar Guide to Budgeting - PDF Download
FREE - The Legacy Journey E-Book
Delivery:
After purchase, you will receive the products from this bundle in the following methods:
Financial Peace University - Class Materials will be shipped to your door.
**The newly updated Financial Peace University Course Workbook will be shipped in late December.

The Total Money Makeover Audiobook, The Legacy Journey - E-book and EveryDollar Guide to Budgeting PDF will be available for immediate download from your confirmation email after checking out.
Click to watch
an overview
What's Included?
Join a Local Group for Your Greatest Life-Change

Online Access to Lessons and Tools

EveryDollar Plus ($99 Value)

Newly Updated Course Workbook (Free Shipping)

The Total Money Makeover by Dave Ramsey (MP3 Audiobook Download)

The Legacy Journey by Dave Ramsey (E-Book)

EveryDollar Guide to Budgeting
About Dave Ramsey
About Rachel Cruze
About Chris Hogan
FAQs
What does my membership include?
After you purchase your membership, you'll be able to register for a local group and you'll get immediate access to your online account, which includes all nine video lessons, financial coaching assistance, digital tools, and a 12-month subscription to EveryDollar Plus. We will also mail you the member workbook that follows along with each video lesson. (No worries, shipping is free!) Your membership also includes The Legacy Journey, Dave's six-lesson course on building wealth, planning for your future, and setting future generations up for success.
Does my membership cover my spouse?
Yes! Only one membership is needed per household.
How long does a membership last?
Memberships last one year.
What if my membership expired?
No worries! When you log into your financialpeace.com account, you'll be prompted to renew your membership at a discounted price for six months.
Can I purchase Financial Peace University if I don't live in the United States?
Not yet, but we're working on a solution for you!
Can I get Financial Peace University in another language?
We only offer Financial Peace University in English at this time.
How do I find groups in my area?
Click the "See available groups in your area" link above to search by address, city, state or ZIP code.
How do I register for a group?
After checkout, you will receive an email with an access code to financialpeace.com. Once you have activated your account, you will be able to register for a group.
How often does a group meet? For how long?
Groups meet once a week for nine weeks to watch and discuss each video lesson together. Each week, groups typically meet for about 90 minutes.
What if I miss one week of my group?
No biggie! You can watch the lesson you missed from your online account. However, you must attend eight of the nine weeks to qualify for a graduation certificate.
What if there isn't a group in my area or one that fits my schedule?
Don't let that keep you from changing your life! Purchase your membership now and start working through the lessons and activities at your own pace. You can join an in-person group at any time if one becomes available for you.
Is there childcare available for groups?
Some groups offer childcare, and others do not. After you purchase your membership, you'll be able to view the details of each group before registering for that group.
Shipping & Delivery
Physical Shipping
All physical products will be processed and ready to ship within 2-3 business days (often even faster). The total delivery time depends on the service you chose and where your order is being delivered. You may see multiple shipping options to choose from during checkout. Our default choice will always be the most economical, but not necessarily the fastest.
Online Access Code
When you purchase a voucher item, you will receive an email after completing your order. In this email you will be provided both a link and a unique online access code. To access your product, click on the link and enter your unique voucher code when prompted.