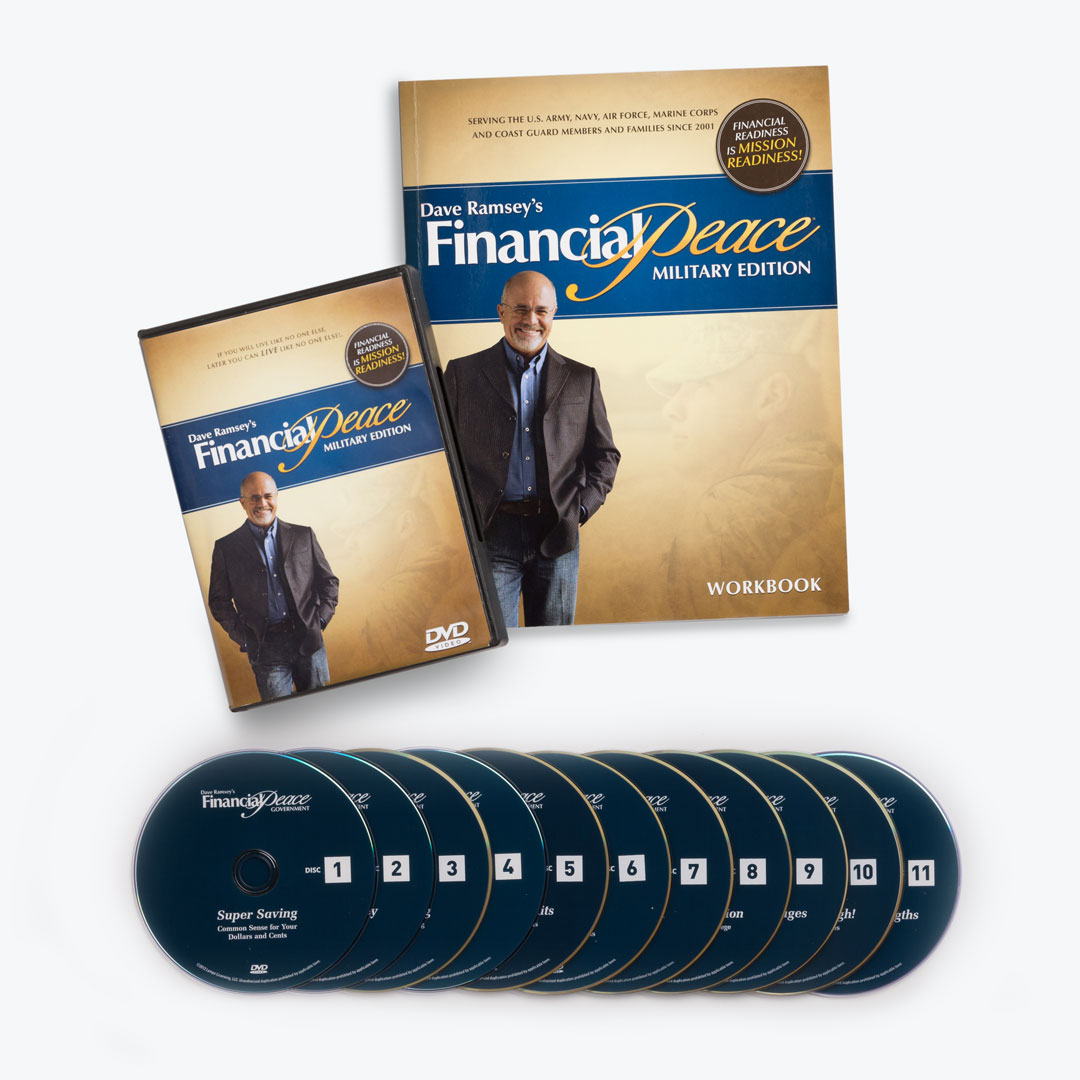 Financial Peace Military Home Study Kit
Dave's Most Popular Military Class in a Home Study Version!
Description
Financial Peace Military Home Study is a 12-lesson course with a bonus lesson that will teach you how to take control of your money. Through teaching from Dave Ramsey, you will experience positive behavior change, accountability and support.
What are the benefits of Financial Peace Military?
Learn financial responsibility using Dave Ramsey's Baby Steps.
Eliminate debt using the debt snowball method.
Attend any class in the future as many times as you would like and take advantage of continuing accountability and support.
Learn how to spend every dollar on paper with the zero-based budget planner.
Beat debt or build wealth by establishing a plan to take control of your finances.
The Financial Peace Military Home Study Kit includes:
Financial Peace Military Workbook
Your week-by-week guidebook during the course. Includes helpful tips, questions, and a complete set of monthly budgeting forms.


Financial Peace Military DVD Library
All 12 FPM lessons on DVD: Dave does all the teaching! Plus one Bonus Lesson.


Military Resource Center
Access to our free online toolkit with downloadable audio lessons, the EveryDollar budgeting tool, the Ask Dave forum and more!


Budgeting Forms
Complete set of monthly budgeting forms.
Caution:
This home study kit is licensed for the exclusive use by the individual or family that purchased the home study kit. The written products, images, or DVDs may not be used by anyone other than the original purchaser.
About Dave Ramsey
Shipping & Delivery
Physical Shipping
All physical products will be processed and ready to ship within two business days (often even faster). The total delivery time depends on the service you chose and where your order is being delivered. You may see multiple shipping options to choose from during checkout. Our default choice will always be the most economical, but not necessarily the fastest.