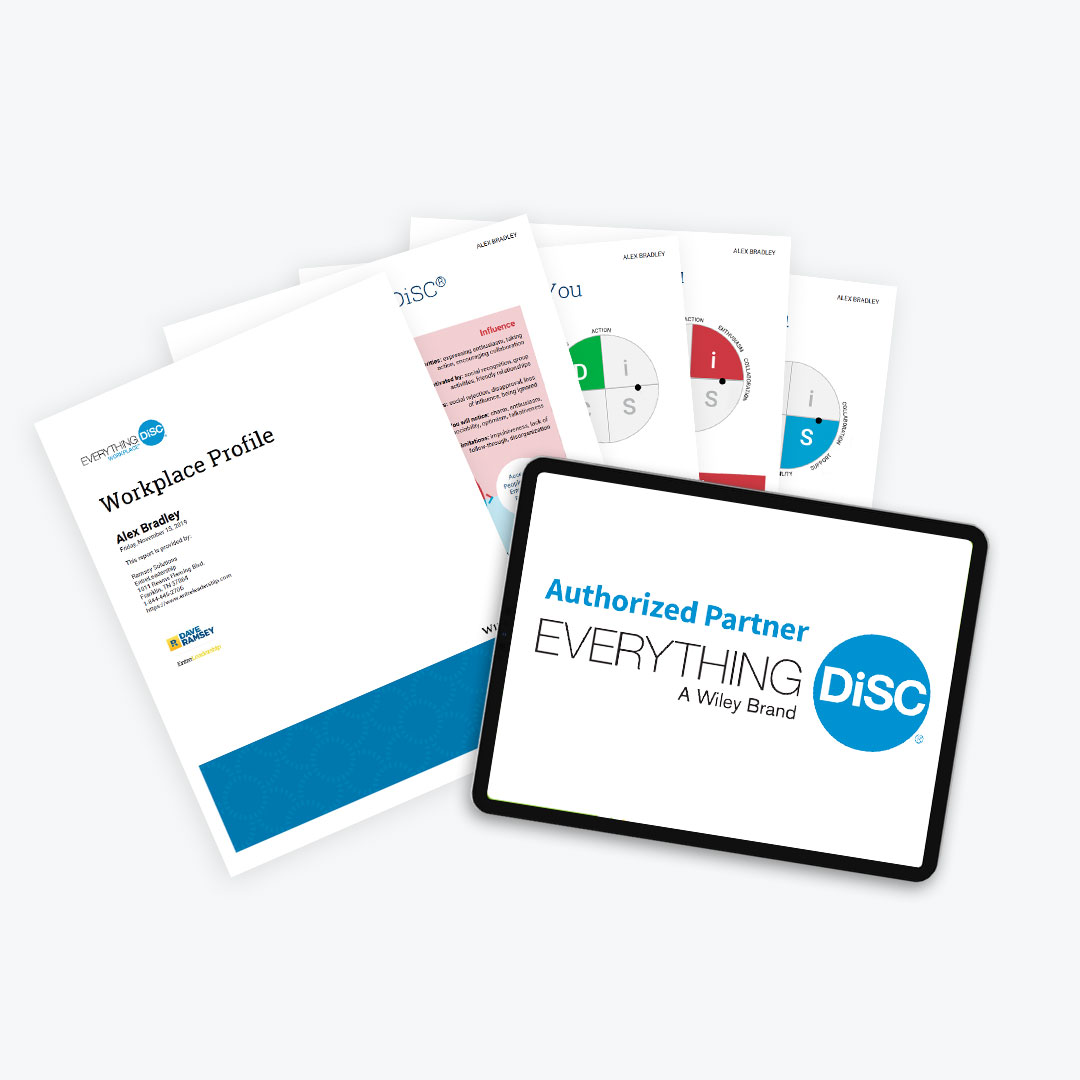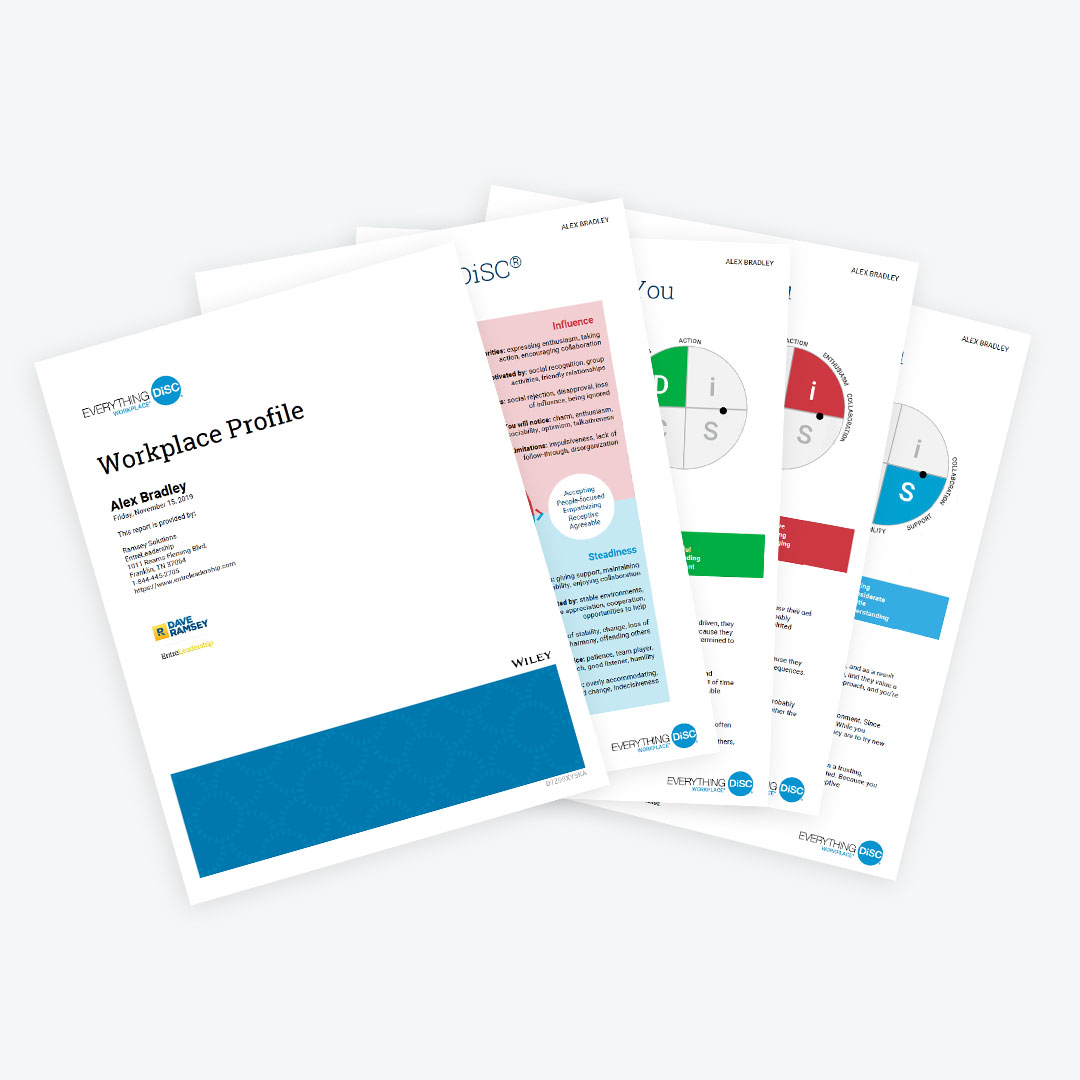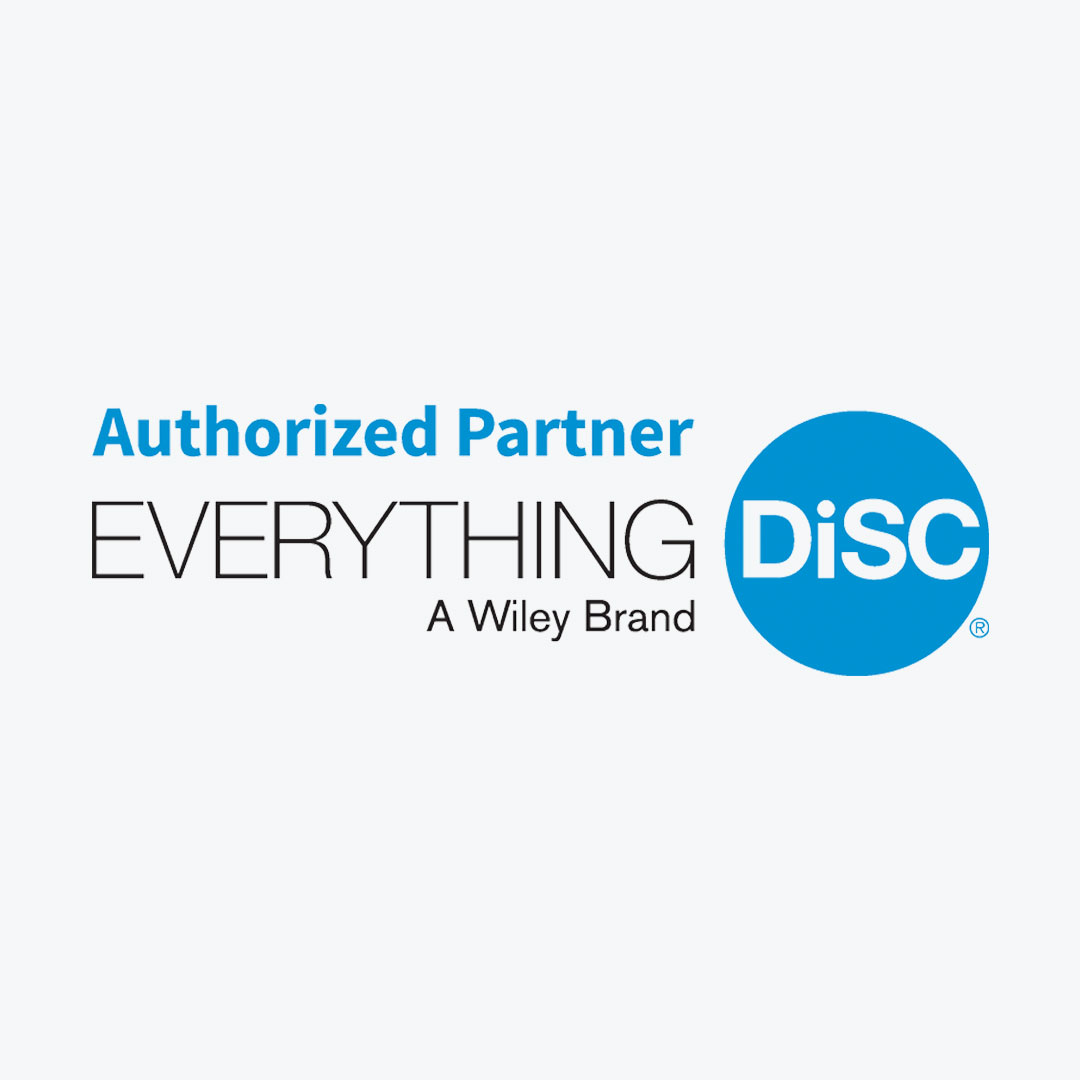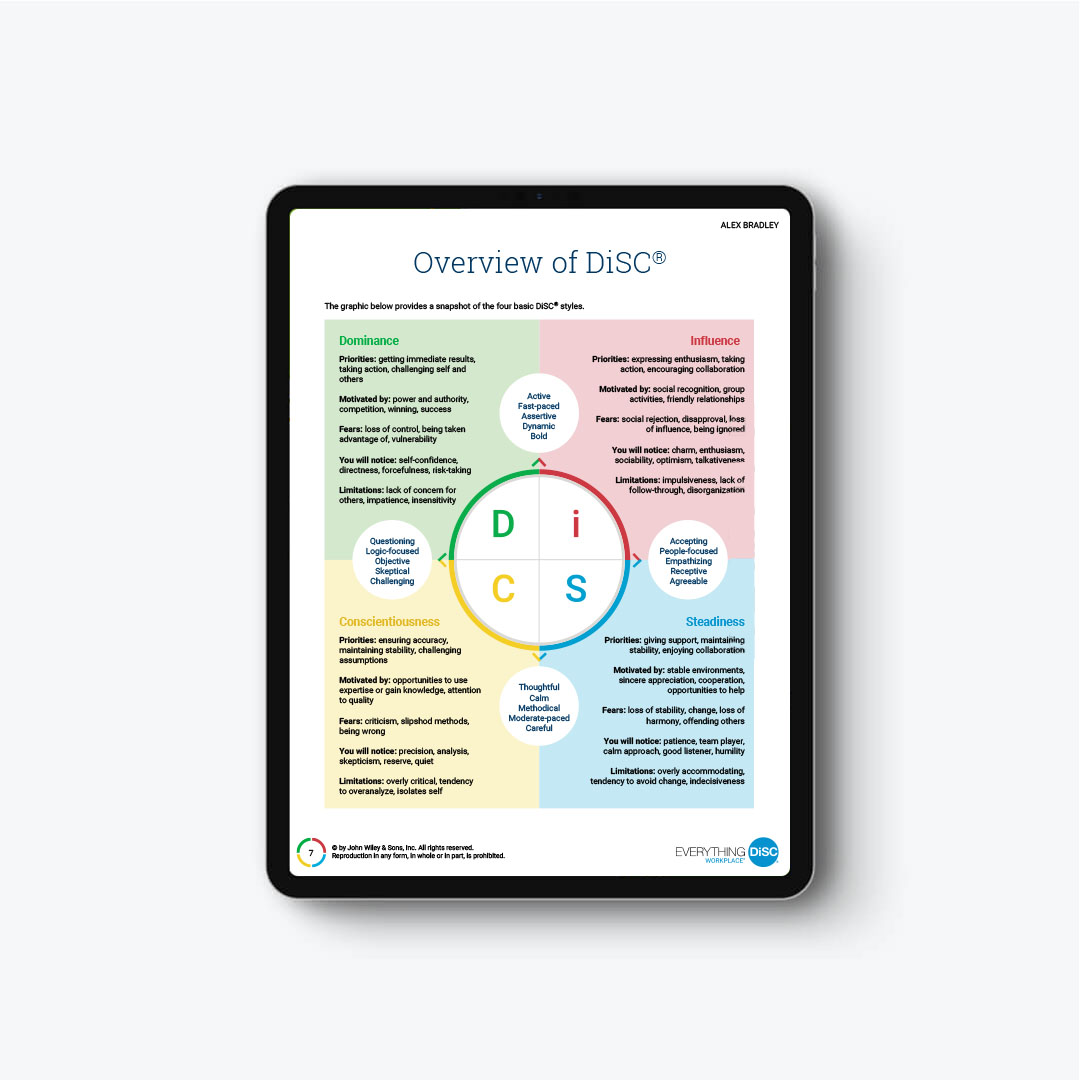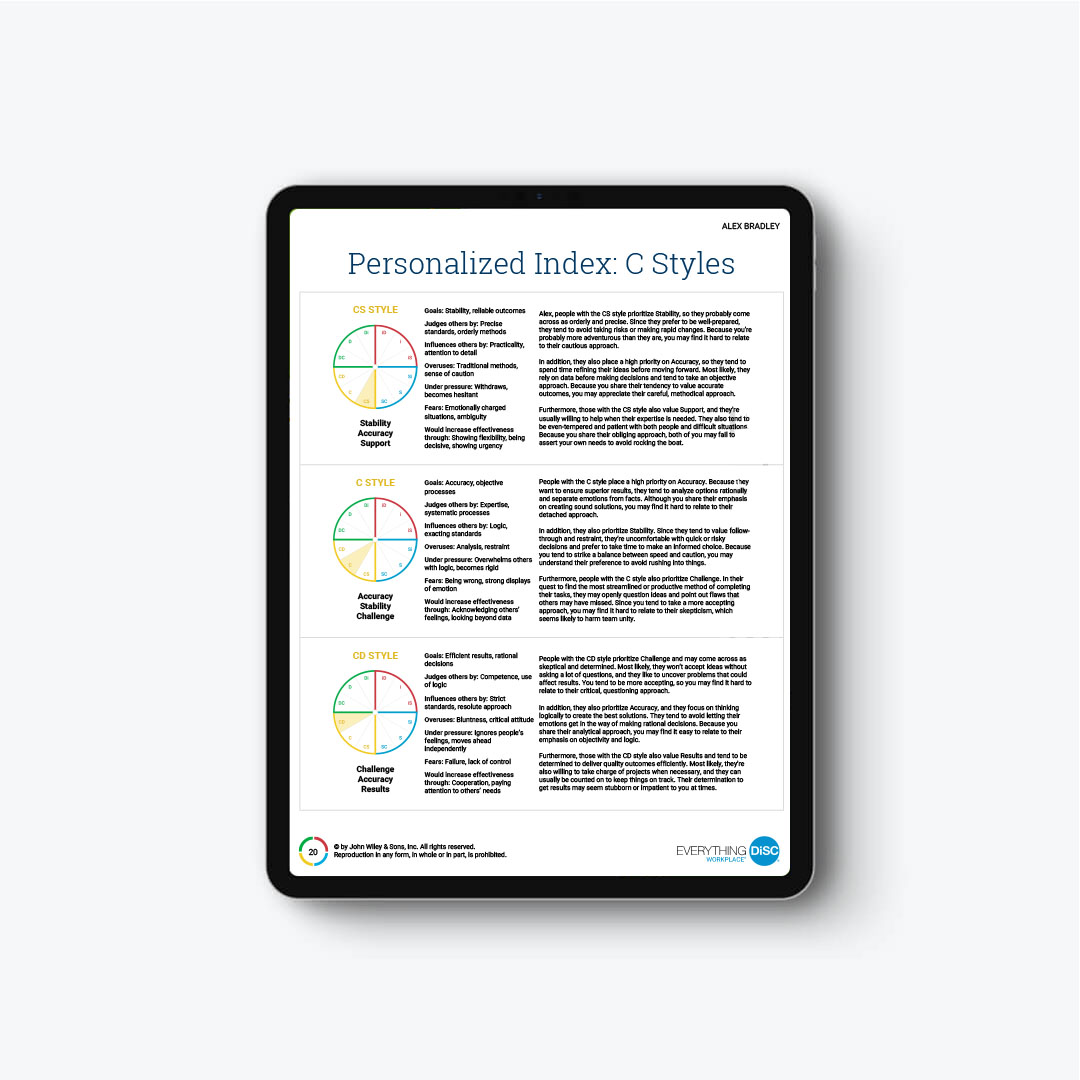 Everything DiSC Workplace Profile Assessment
Discover Your Unique Communication Style and Get Personalized Insights
Description
There's no way around it: True leaders know how to communicate well with others, and they know how to navigate projects with different personalities. They must understand their own personality and know how to share ideas with other personality types.
It's important to understand the why behind your workplace priorities and preferences, because this helps you grow personally and helps your coworkers connect with you better. The DiSC® model is a simple tool that's been helping people make these connections for over 30 years.
The DiSC letters stand for Dominance, Influence, Steadiness/Stabilizing and Conscientiousness/Cautious. This assessment will show you where you fall on the map of these four personality traits.
The Everything DiSC Workplace Profile Assessment includes:
An online voucher code to take your profile assessment at your own convenience
An in-depth (15-minute) assessment about your preferences and priorities
A 20-page personalized report that breaks down your communication style
Helpful insights to help you grow and connect with different DiSC profile personalities
A personal DiSC® style map to share with coworkers
What makes this profile assessment unique? With more personalized insights and strategies to help you connect more with the personality types you least understand, you'll notice it makes a distinct difference in the way you communicate as a coworker and a leader.
If you want to order a quantity of 10 or more, please contact us at 888.227.3223.
The Everything DiSC Workplace Profile Assessment is powered by Wiley.
Preview a Sample Personalized Report!
Download this free example of the type of customized report you can get following your assessment!
Here's What People Are Saying
After listening to just about all the Entreleadership podcasts and reading both Entreleadership and Financial Peace, I definitely connected with the way Dave and his team run their organization. We had all our team take the DISC, and we discussed it one-on-one with everyone to see how their personal strengths and goals could fit in line with where our company is headed. All-in-all, the DISC has been an amazingly accurate test given how simple it is to administer, and we'll be integrating it into our hiring process soon.
Dave's DISC analysis has helped me realize my personal strengths and how this new awakening can help me be a better person. I can't stop thinking about it! Thank you!
This product was purchased for our whole staff to take and the results were so insightful! Some of the tips were EXACTLY what my coworkers were feeling and this assessment put it in words that were easy to communicate to others. Our staff is deepening their level of understanding with one another and our communication and team work is more intentional from person to person.
Use this assessment tool during your next interview. It's quick, informative, inexpensive, and very easy to use. I use it when I know I that I want to learn more about the candidate.
The DISC test was easy to take and has honestly helped me to understand myself better, see the differences in the communicating style of those around me, and see how I can better communicate in the future. Things that were hurtful to me before, I now see are actually just differences in our personalities. It's still a work in progress, but I would truly recommend these "Insights" to everyone!
Customer Ratings and Reviews
Shipping & Delivery
Online Access Code
When you purchase a voucher item, you'll receive an email after completing your order. In this email you'll be provided both a link and a unique online access code. To access your product, click on the link and enter your unique voucher code when prompted.