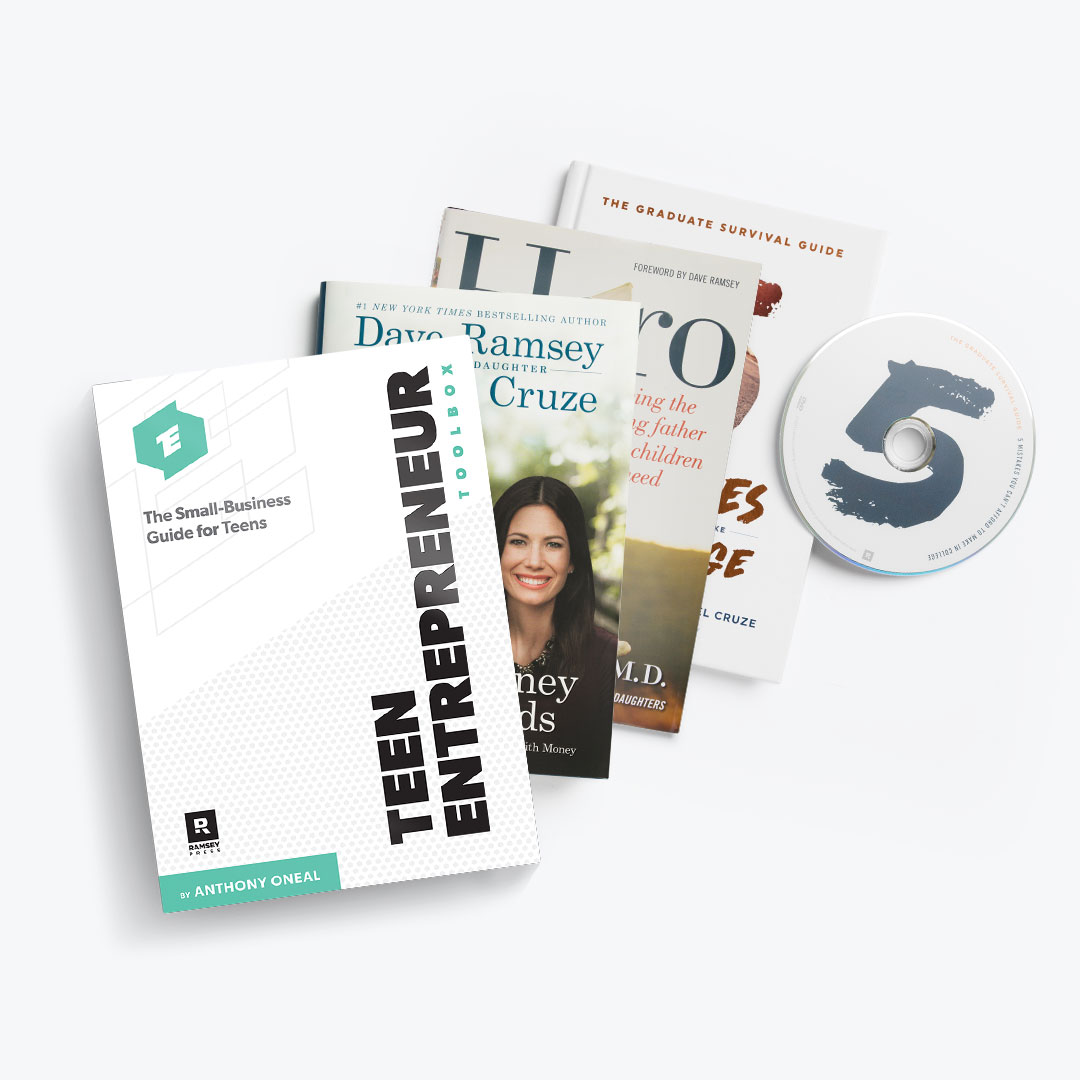 New! Teen Bundle
Exclusive bundle! Everything you need to teach your kids about money and business.
Description
Get Dave's #1 New York Times best-seller, Smart Money Smart Kids, national best-seller The Graduate Survival Guide, Hero, and the BRAND-NEW Teen Entrepreneur Toolbox. This is everything parents need to teach their kids about money, business and how to avoid debt!
As a parent, you want to set your kids up for success and teach them skills they'll need to become successful adults! This all-in-one bundle is a must-have for parents.

Preorder today and get over $40 in FREE bonus items including:
Smart Money Smart Kids by Dave Ramsey & Rachel Cruze (Audiobook) - $21.99 Value
The Go-Getter by Peter B. Kyne (E-Book) - $14.99 Value
How to Set Goals Video Stream - $4.99 Value
*Bonus items will be available immediately after checkout from your order confirmation email.
*The Teen Bundle is a preorder item and will ship on April 23.
What's Included?
New! Teen Entrepreneur Toolbox

The Graduate Survival Guide - Hardcover Book + DVD

Smart Money Smart Kids - Hardcover Book

Hero: Being the Strong Father Your Children Need - Hardcover Book
About Dave Ramsey
About Rachel Cruze
About Anthony ONeal
Product Details
Author: Anthony ONeal, Dave Ramsey, Rachel Cruze, Dr. Meg Meeker
Publisher: Ramsey Press, Regnery Publishing
Language: English
Audience: Preteens, Teens and Parents
SKU: TEENBUNDLEOLP
Shipping & Delivery
Physical Shipping
All physical products will be processed and ready to ship within 2 business days (often even faster). The total delivery time depends on the service you chose and where your order is being delivered. You may see multiple shipping options to choose from during checkout. Our default choice will always be the most economical, but not necessarily the fastest.