Foundations in Personal Finance: Middle School Edition
Homeschool
More Than a Curriculum,
It's Hope for the Future.
Equipping and Inspiring Students for Life
Thanks to intentional homeschool parents like you, teens across the country have learned the truth about debt, how to make a budget that works, and how investing early will help them build wealth. Foundations in Personal Finance: Middle School Edition for Homeschool will hold your students' attention with its eye-catching design and unique teaching illustrations. It contains everything needed to save you time and fully equip you to teach the materials. The curriculum includes a student text, teacher resources, and lessons delivered via video by our Foundations team.
Our team includes #1 best-selling authors Rachel Cruze and Dave Ramsey, as well as dynamic youth speaker Anthony ONeal. The Foundations team serves as experts for you, using humor and real-life stories to educate and reinforce the money principles taught in the lessons. Our blended learning website, foundationsU.com, also includes a deeper dive into some of the teen entrepreneur stories featured in the curriculum.
As a precursor to Foundations in Personal Finance: High School Edition for Homeschool, this curriculum offers timely and relevant personal finance lessons for your middle school students.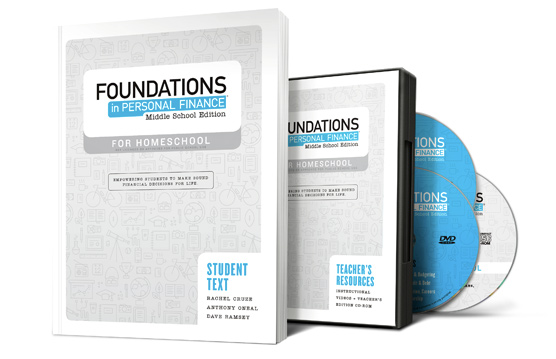 Curriculum Features
Flexible, turnkey personal finance curriculum
Stand-alone chapters that can be used in any order
Over three hours of video instruction given by the Foundations team of experts
144-page student text with added Scripture references in each lesson
The student text includes more than twenty-five activities including one-minute reflections and journal questions as well as math and word problems
Scripture reference guide for additional study of biblical teaching related to finances
Digital Teacher's Edition that includes additional learning activities for each chapter
Case studies provided to engage students in practical application of financial principles
Parent guide to promote ongoing interaction with financial topics
Pre- and post-tests for the course as a whole as well as a summative assessment
Aligned with the National Standards for Financial Literacy
Experience Lesson One for Free
Walk through these three easy steps to experience the course.
Download Sample of Lesson 1
Sample Pages

(PDF)
Download Sample Lesson Plan
Sample Plan

(PDF)
View Lesson 1 Video
Watch Video
Chapter Summaries
Foundations in Personal Finance: Middle School Edition for Homeschool is presented in six distinct chapters, featuring a total of twenty-two lessons. Each lesson is supported by video content taught by Rachel Cruze, Anthony ONeal, and Dave Ramsey. These experts, along with host Ken Coleman, weave together humor and real-life stories to educate and reinforce sound principles for managing money.
Chapter 1: Saving & Budgeting
Introduces personal finance concepts; explores what it means to be smart with money; emphasizes three reasons to save money; compares simple interest and compound interest; explains the purpose of a budget; identifies the difference between debit and credit cards; explores how to talk about money and money goals; and highlights the importance and benefits of giving to serve others.
Chapter 2: Credit & Debt
Identifies terms associated with debt; evaluates the financial impact of debt on a household budget; examines the elements of a credit report and credit score; highlights the importance of avoiding debt; identifies ways to stay out of debt; explores the cost of a college education and the long-term cost of student loan debt; and explains ways to pay for college without going into debt.
Chapter 3: Education, Careers, & Entrepreneurship
Examines the importance of exploring career options that line up with personal skills and interests; introduces career options and highlights their varying, post-secondary education requirements; explains the impact education can have on income; examines various types of income and taxes; identifies elements of employer benefits; introduces the topic of entrepreneurship; and explores the risks and benefits associated with starting your own business.
Chapter 4: Investing, Insurance, & Identity Theft
Explains the difference between saving and investing; introduces investing as a way to build wealth; highlights the impact of compound interest and introduces the time-value of money; explores different types of investments; identifies different types of insurance; examines the impact of and problems associated with identity theft; and examines ways to protect yourself from identity theft.
Chapter 5: Global Economics
Explains the differences between various economic systems; examines the movement of goods and services; explores supply and demand; explains the chain of production and gross domestic product; highlights the differences between developed and developing countries; explores global economics and trade matters; and examines the impact of scarcity and rationing.
Chapter 6: Marketing & Consumerism
Introduces consumerism and spending habits; explores the impact of marketing, product placement, and peer pressure on consumer behavior; explains the concept of economic incentives; compares contentment and discontentment in regard to consumerism; explores various consumer protection agencies and laws; and identifies ways to be a wise consumer.
Meet the Foundations Team
Rachel Cruze

As a seasoned communicator and Ramsey Personality, Rachel Cruze has been speaking to groups as large as 10,000 for more than a decade. She co-authored the #1 New York Times best-selling book Smart Money Smart Kids with her dad, Dave Ramsey.

Anthony ONeal

Since 2003, Anthony ONeal has helped thousands of students succeed with money in their work and personal lives. Now Anthony has joined Ramsey Solutions to spread this encouraging message to students nationwide as a Ramsey Personality.

Dave Ramsey

America's trusted voice on money and business, Dave has authored seven best-selling books including The Total Money Makeover and Smart Money Smart Kids. The Dave Ramsey Show is heard by more than 11 million listeners each week on more than 550 radio stations and through digital outlets.

Ken Coleman

An acclaimed interviewer and broadcaster, Ken Coleman is the host of The Dave Ramsey Show Video Channel, Dave Ramsey live events, and the top-rated EntreLeadership Podcast. In 2013, Ken released his first book, One Question: Life-Changing Answers from Today's Leading Voices.