Homeschool
More Than a Curriculum,
It's Hope for the Future.
Equipping and Inspiring Teens for Life
Homeschooling is a big commitment, but you're making a great investment in the lives of your kids. And when it comes to teaching them personal finance principles, we're here to help. Foundations in Personal Finance: High School Edition for Homeschool is designed as a complete curriculum, saving you time and equipping you with everything you need for a dynamic learning experience. The curriculum includes a student text, teacher resources, and lessons delivered via video by our Foundations team. Our team serves as the financial experts so you don't have to be, giving you back time to focus on your student(s).
In addition, more than thirty-five activities are included in the curriculum, which focus on providing personal finance knowledge and life skills in a student-centered, competency-based approach to learning. The activities also utilize our blended learning website, foundationsU.com.
The Foundations series currently includes editions for both high school and middle school grade levels. The high school edition can be used either as a stand-alone curriculum or as a deeper dive into financial literacy from the Foundations in Personal Finance: Middle School Edition for Homeschool.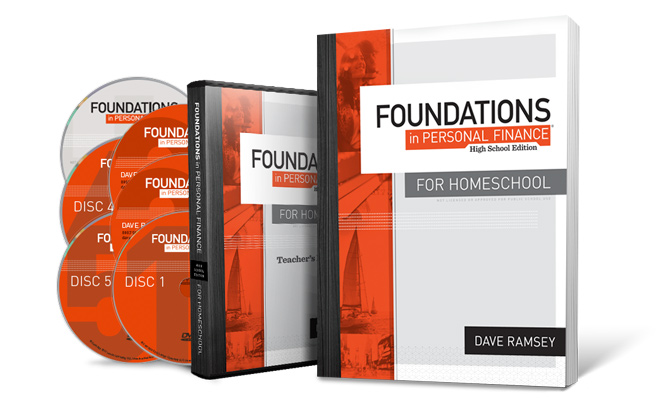 Curriculum Features
Comprehensive, flexible, turnkey personal finance curriculum
Teaching delivered via video by the Foundations team of experts
Homeschool version of student text with added Scripture references
150-plus-page digital teacher's guide
Meets standards and benchmarks in all 50 states
Meets all Jump$tart national standards
Blended learning site with calculators, tools, and resources
35-plus student activities
Experience Chapter 1 for Free
Walk through these three easy steps to experience the course.
Download Sample of Chapter 1
Sample Pages

(PDF)
Download Sample Lesson Plan
Sample Plan

(PDF)
View Chapter 1 Video
Watch Video
What is Personal Finance?
Chapter Summaries
Foundations in Personal Finance: High School Edition for Homeschool is designed in four distinct units. Each unit contains three chapters taught on video by Dave Ramsey and his team of experts. The instructors creatively weave together humor and real-life stories that educate and reinforce sound principles of managing money. While watching on video, students follow along using the student text.
Unit 1: Saving & Budgeting
Chapter 1: Introduction to Personal Finance
Introduces the topic of personal finance, explores the evolution of the American credit industry, and highlights the importance of both knowledge and behavior when it comes to managing money.
Chapter 2: Saving
Emphasizes the importance of saving and explains the three reasons to save: emergencies, large purchases, and wealth building.
Chapter 3: Budgeting
Explores the purpose and process of writing a budget and the basics of banking, including balancing and reconciling a checking account.
Unit 2: Credit & Debt
Chapter 4: Debt
Identifies the devastating costs of using debt as a financial tool, debunks credit myths, explains the elements of a credit score, identifies organizations that maintain consumer credit records, and summarizes major consumer credit laws.
Chapter 5: Life After High School
Explores 21st Century post-secondary education and career options, highlights the importance of avoiding debt as a young adult, and explains how to cash flow a college education.
Chapter 6: Consumer Awareness
Identifies factors that influence consumer behavior and the effect of inflation on buying power.
Unit 3: Financial Planning & Insurance
Chapter 7: Bargain Shopping
Highlights the importance of bargain shopping as part of a healthy financial plan and identifies important negotiation strategies.
Chapter 8: Investing & Retirement
Establishes basic investing guidelines, describes and compares various types of investments, and identifies elements of employer benefits and retirement plans.
Chapter 9: Insurance
Identifies the purpose of financial risk management as well as the appropriate and most cost-effective risk management strategies.
Unit 4: Income, Taxes, & Giving
Chapter 10: Money & Relationships
Identifies the differences among people's values and attitudes as they relate to money and highlights communication strategies for discussing financial issues.
Chapter 11: Careers & Taxes
Examines the importance of pursuing a career in line with your strengths, the elements of effective goal setting, the best practices of successful people, and types of income and taxes.
Chapter 12: Giving
Highlights the importance of giving of your time, talents, and money in order to serve others and leave a lasting legacy.
Meet the Foundations Team
Dave Ramsey

America's trusted voice on money and business, Dave has authored seven best-selling books including The Total Money Makeover and Smart Money Smart Kids. The Dave Ramsey Show is heard by more than 11 million listeners each week on more than 550 radio stations and through digital outlets.

Rachel Cruze

As a seasoned communicator and Ramsey Personality, Rachel Cruze has been speaking to groups as large as 10,000 for more than a decade. She co-authored the #1 New York Times best-selling book Smart Money Smart Kids with her dad, Dave Ramsey.

Chris Hogan

A popular and dynamic speaker on the topics of personal finance, retirement, and leadership, Chris Hogan helps people across the country develop successful strategies to manage their money, both in their personal lives and businesses. His #1 best-selling book, Retire Inspired: It's Not an Age; It's a Financial Number, released in January 2016.