Thanks to all of the amazing teachers across the country who entered! Check out the winners of this year's prizes below.
2017 Giveaway Winners
Congratulations to all!
Jordana F.

,

Illinois

$5,000 Vacation for Two

Melanie B.

,

Colorado

$5,000 vacation for two

Tracy D.

,

Oregon

$10,000 Teacher Lounge Makeover

Christy M.

,

Georgia

School Assembly with Anthony ONeal

Debra S.

,

Kentucky

$1,000 Gift Card
Anna V.

,

Texas

$1,000 Gift Card

Sally C.

,

Kansas

$1,000 Gift Card

Carol J.

,

Florida

Case of Graduate Survival Guide Books

Marcie K.

,

Colorado

Case of Graduate Survival Guide Books

Erin B.

,

Tennessee

Case of Graduate Survival Guide Books
More than a curriculum, it's hope for the future.
Ramsey Solutions created the Foundations in Personal Finance curriculum to empower students to make sound financial decisions now and for the rest of their lives. For more information about the Foundations products, visit us at daveramsey.com/school.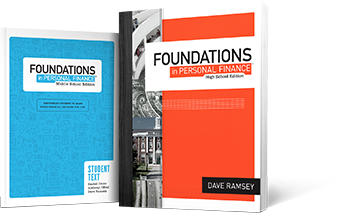 For free samples of Foundations, contact our team of curriculum advisors at 800.781.8914!
Dave Ramsey's Teacher Appreciation Giveaway
Official Rules
Copyright 2017 Lampo Licensing, LLC, all rights reserved
Who Is Eligible: You must be a legal resident of one of the 50 United States or the District of Columbia, and at least 18 years of age. You must also be employed as a certified teacher in a public or private high school, middle school, elementary school or equivalent home school cooperative. United States and Tennessee laws will govern this sweepstakes. NO PURCHASE NECESSARY. Product purchases or other interactions with The Lampo Group, LLC ("Lampo") or Churchill Mortgage will not increase your chances of winning. VOID WHERE PROHIBITED BY LAW.
Who Is Not Eligible: Executives, owners, and employees of Lampo or of radio stations carrying The Dave Ramsey Show®; ELP's or vendors of The Lampo Group, LLC; any executive or employee of Churchill Mortgage; persons working on this sweepstakes at any level in any capacity or working for any outside companies or agencies involved in this sweepstakes, or if any of your immediate family members fall into any of these categories you are not eligible. Immediate family is defined as spouse, children, and parents.
How to Enter: The sweepstakes may be entered two ways. All entries will be treated equally regardless of entry method. Limit one entry per person. Enter by either method (1) or (2), below:

(1) Completing and submitting the entry form, during the entry period, at one of the following URL's:

daveramsey.com/school/finlit17/teacher
daveramsey.com/school/finlit17/teachergiveaway
daveramsey.com/school/finlit17/giveaway
daveramsey.com/school/finlit17/teacherappreciation
daveramsey.com/school/finlit17/appreciation
daveramsey.com/school/teacher

(2) Mailing your entry to The Lampo Group, LLC, Attn: Financial Literacy Month Sweepstakes, Education Solutions Department, 1749 Mallory Lane, Brentwood, Tennessee 37027. Your mailing must include the correct address, your name, address, telephone number, email, school or other institution at which you teach, and a simple statement affirming your desire to be entered in to the Teacher Appreciation Giveaway sweepstakes.
Entry Period: Entries will be accepted from March 31, 2017 (12:00 a.m. CDT), through April 30, 2017 (11:59 p.m. CDT) ("Entry Period").
Drawing: The winners shall be drawn by Lampo at random via computer program on or around May 5, 2017.  The grand prize winner is the first name drawn having met all requirements for entry and availability rules. All other prize winners will be the next names randomly drawn following selection of the grand prize winner(s). No substitution, transfer, or assignment of prizes is permitted, except that we reserve the right to substitute a prize of equivalent value in the event the offered prize is unavailable. Odds of winning depend upon the number of eligible entries. Random drawing of winners will take place on or about May 5, 2017. If prizes are not claimed or forfeited, Lampo may or may not randomly draw alternate winners.
Prizes: The following prizes are awarded to winners meeting the requirements of these terms: a. Grand Prize(s): One grand prize winner will receive $5,000.00 toward a vacation of the winner's choosing at Premium Resorts of Cook Travel.  A second grand prize winner for an additional $5000.00 vacation will be selected if the total number of sweepstakes entries equals or exceeds 5,000 on or before April 14, 2017.  Grand prize(s) are limited to vacations through Premium Resorts of Cook Travel* and cannot be used in any other fashion. The vacation(s) must be booked by December 1, 2017; however, vacation and travel dates do not have to take place before December 1, 2017. b. Other Prizes: The following prizes will also be awarded: - One winner will receive $10,000.00 toward the winner's employer's teacher's lounge cosmetic makeover at the winning school's campus. Makeover prize money shall be used to purchase items to improve the cosmetic nature of the school's teacher lounge, such as new lamps, flooring, furniture, pillows, wall hangings, décor items, coffee maker(s), or other related cosmetic items. If winning school does not have a teacher's lounge, funds shall be used to improve library, invest in new classroom technology, or improve the school's athletic fields. Any other use of prize money will require prior written approval by Ramsey Solutions before the prize is distributed. Request must be submitted in writing to Ramsey Solutions. The winnings shall be payable only to the school or entity that owns the teacher's lounge or other facility to be improved with these funds. In no event shall Lampo pay any funds to the individual teacher winning the makeover prize. - One winner will receive one Anthony ONeal school assembly. Assembly is defined as a thirty minute presentation by Anthony ONeal at the winning school's campus. The presentation will be on an age-appropriate, mutually agreeable topic. Assembly to be scheduled on a date mutually agreeable to both the winning school and Anthony ONeal. Assembly must be held within twelve (12) months of the date of winner notification. Failure to do so may result in the forfeit of the school assembly prize. Anthony ONeal's travel expenses will be paid by sponsor. - Three winners will receive one of three $1,000 gift cards. - Three alternate winners will each receive one of three cases of The Graduate Survival Guide. * Neither Lampo nor Churchill Mortgage is affiliated with Premium Resorts of Cook Travel.
Announcement of Winners: Winners will be announced on or before May 31, 2017, via telephone call to the winners' schools or cooperatives. Lampo reserves the right to notify winners by e-mail and/or by a later telephone call if circumstances require.
Winner's Obligations: The prize winners are required to execute an affidavit of eligibility as well as a sponsors' release and all other documents or forms. Winner shall also be required to show proof of employment as a certified teacher under these rules. Non-compliance within these obligations may result in disqualification and selection of an alternate winner. Return of any prize or prize notification as undeliverable may result in disqualification and selection of an alternate winner. Unless prohibited by law, the winner grants to Lampo the right to use and publish their names and appropriate images in print, and in any other media in connection with this sweepstakes, without any compensation for advertising and promotional purposes not as an endorsement of any product or business. The winner must sign and return an appropriate IRS form, if applicable, before receiving a prize. To avoid forfeiture and disqualification, all obligations stated in this section must be fulfilled within seven (7) business days from notification of winning.
Incomplete or Multiple Entries: One entry per person. Multiple automated entries, or entries submitted by others on your behalf, entries submitted by you in more than one entry method, or entries submitted by you using different identities or addresses, may be considered fraudulent, rendering you ineligible for any prize on any day. Incomplete entries will not be eligible to win.
Cumulative Prizes: The total value of all prizes awarded during this sweepstakes will be $29,398.80 or $24,398.80 depending upon the number of entries. The teacher lounge makeover is valued at $10,000.00. The vacation packages are valued at $5,000.00 each, the gift cards are worth $1,000 each, and the ONeal Assembly is valued at $4,000.00. The Graduate Survival Guide cases are valued at $799.60 each.
Entries Not Received: The Lampo Group, LLC, and Churchill Mortgage shall not be responsible for lost, late, or misdirected entries; or for any computer, online, telephone or technical malfunctions that may occur. All entries become the property of The Lampo Group, LLC, and will not be returned. Odds of winning a prize will depend on the number of eligible entries received. Neither product purchases nor email or mobile opt-ins will increase an individual's chances of winning.
Taxes: All taxes on prizes are the responsibility of the prize winners. Winners must sign an IRS form W-9 before receiving any prize. Pursuant to IRS Circular 230, these Rules nor any other communication regarding this sweepstakes are for the purpose of helping you avoid any penalties that may be imposed by federal tax law, and no affected taxpayer may use this sweepstakes or its rules in that manner.
Entrant's Agreement: By entering, you agree to abide by the terms of these official rules and by the decisions we make regarding this sweepstakes, which are final and binding on all matters. If you do not agree to that, please do not enter. Receipt of prizes is dependent upon full, timely completion of all requirements.
Signing Documents: If you win, you will be required to sign an affidavit of eligibility and a release before you receive your prize. If you decide you would rather not sign the release which we submit to you, you will not receive your prize.
Entrant's release: Entrants, agree that (a) any and all disputes, claims and causes of action arising out of, or connected with, the sweepstakes or any prize shall be resolved individually, without resort to any form of class action, and exclusively by the appropriate court located in Williamson County, Tennessee; (b) any and all claims, judgments, and awards shall be limited to actual out-of-pocket costs incurred, including costs associated with entering but in no event attorney's fees; and (c) under no circumstances will entrant be permitted to obtain awards for, and entry hereby waives all rights to claim punitive, incidental and consequential damages and any other damages, other than out-of-pocket expenses, and any and all rights to have damages increased or multiplied. SOME JURISDICTIONS PROHIBIT EXLCUSION OF LIABILTIY FOR INCIDENTIAL OR CONSEQUENTIAL DAMAGES, SO PORTIONS OF THE ABOVE MAY NOT APPLY TO YOU. All issues or questions concerning validity, construction, interpretation or enforceability of these rules, entrant's rights or obligations, or the rights or obligations of the sponsor, shall be governed by, and construed in accordance with the laws of the State of Tennessee, without regard to any choice of law rules.
Termination of Sweepstakes: We reserve the right, at our sole discretion, to disqualify anyone who tampers with the entry process, and to cancel, terminate, modify, or suspend the sweepstakes if anything required for its conduct should malfunction or be deemed illegal. Should this sweepstakes be terminated prior to the end of any entry period, which we may do at our sole discretion, a notice will be posted on www.daveramsey.com/school/finlit17/teacher.
Jurisdiction and Venue: Tennessee law applies to this sweepstakes. Void where prohibited for any reason. All disputes resulting in legal action shall be resolved in the courts of Williamson County, Tennessee and Entrant consents to the exclusive jurisdiction of those courts. Should sponsors find it necessary to seek legal assistance to enforce their rights, their damages, if any, shall include its reasonable legal expenses and fees.
Disclaimer:  Sponsors assume no responsibility for anything that happens outside of our control to delay or prevent your entry, and we assume no responsibility for anything within our control that delays or prevents your entry except where by the exercise of ordinary care we could have kept it from happening or promptly corrected it. Sponsor assumes no liability whatsoever related to the prize, including any tax or other issues associated with acceptance, use of the prize, or contracting with the prize provider. Sponsor is not responsible for any tax implications of the acceptance of any prize and makes no representation regarding the tax implications of accepting the prize or using any service of prize provider. The prizes offered are not the result of any endorsement of a service or business. Sponsors assume no responsibility for any prize other than to deliver the prize to the winners upon completion of all requirements.
Winners' List: For a list of winners, send a self-addressed, stamped envelope to The Lampo Group, LLC, 1749 Mallory Lane, Brentwood, Tennessee 37027, Attn. Teacher Appreciation Giveaway, Education Solutions Department. Requests received later than six months following the last drawing date will not be filled.
The Sponsor(s): This sweepstakes is co-sponsored by us, The Lampo Group, LLC, 1749 Mallory Lane, Brentwood, Tennessee 37027, and Churchill Mortgage, 761 Old Hickory Blvd, Ste #400 Brentwood, Tennessee 37027
Privacy: Any personal information submitted in this giveaway is for the purpose of administering this giveaway. No personally identifiable information collected shall be resold or otherwise shared with third parties for marketing or sales purposes. For more information on our privacy policy and security practices applicable to this giveaway please see the privacy policy found at www.daveramsey.com/school/finlit17/teacher.
Rights claimed: Copyright 2017 by Lampo Licensing, LLC, and all rights are reserved. All rights to our trademarks and trade names owned by Lampo Licensing, LLC, and its affiliates, are likewise reserved.
Privacy Policy
Our Policy Behind Our Privacy Policy
We refuse to make you read through pages and pages of boring text about a policy that does nothing but trick you into not reading it. Because we have every intention of protecting your privacy, we have made our privacy policy clear and concise enough that you will read it and feel comfortable using our site. We're here to help you, not put you to sleep!
Respecting the privacy and the security of your personal information is important to us. We realize that providing us with personal information is an act of trust. Therefore, we have created a Privacy Policy to show you the steps we have taken to secure that trust. Please take a few moments to read this policy carefully.
Collected Information
In certain instances, you may be asked to provide personal information on our site. This information is for administrative or transaction use only. We use it to fulfill orders you have placed, better understand and serve your needs, and provide services tailored to you.
Non-personally identifiable information may be collected by our web-based tools for the purpose of online advertising and is completely anonymous. This information may include such information as your IP address, date and time of visit, domain type, and their activity on our website. None of this information, individually or grouped together, can be traced back to you as an individual.
In web language, a cookie is used to store data on a computer's hard drive. Almost all websites utilize cookies to one extent or another. Some of our web-based tools utilize cookies. These cookies only collect and utilize non-personally identifiable information.
Use of Information
We do not use your information for any purpose without your consent. Your information will not be accessible to anyone other than our staff or business affiliates whose services you have requested. This information is specifically used by our affiliates to provide you with services you have requested and is not redistributed in any way. All that to say, we won't sell your information to all the spammers that clutter your inbox!
We make every effort to keep you informed of our own special events, news and offers. Periodically, we send announcements via email or direct mail. If you do not wish to be contacted by our office, simply click on the unsubscribe link found at the bottom of the email newsletter.
Note: We'll have to hand over the information you provide if we're ordered to do so by a court of law.
Security
We are determined to keep your information private. We have even added measures to protect your personal information during transactions. For example, when you supply us with your debit card or checking account information to make a purchase, we encrypt your information to ensure a safe and secure transaction. Your payment information is temporarily stored on a secure server before processing.
All of the customer data we collect is protected against unauthorized access. We use vendors that specialize in providing secure online payment solutions. None of your payment information can be accessed via the internet. Hey, we buy things online, too, so we understand how important this issue is to you!
Contact
Please contact us if you have any questions or concerns about our privacy policy. You are welcome to call our Customer Care Center at 888.22.PEACE between 8:30 a.m. and 5:30 p.m. CST to speak with a customer service representative. You may also contact us by e-mail at privacy@daveramsey.com.
The Lampo Group
1749 Mallory Lane
Brentwood, TN 37027
Still awake? Thanks for reading this privacy policy!