Make an Online Will
Take the worries out of creating your legal will and powers of attorney—in just 20 minutes or less.
Protect Your Family

You decide what happens to your stuff and your kids.

Peace of Mind

Your wishes will be handled exactly as you've decided with your will and durable powers of attorney.

Attorney-Built Documents

These documents will be legally binding in your state.
What's Included in Your Will Bundle
For $129, you'll be set up with a state-specific, legally binding will, financial power of attorney, and health power of attorney. All you have to do is print, get it signed by two witnesses, and get it notarized.
Last Will & Testament
This is where you'll list things like legal guardians if you have kids, the naming of your personal representative and beneficiaries, and any inheritance instructions. Thinking of setting up a will for your spouse? We've got you covered with a $69 mirror will option.
Medical Power of Attorney
Health power of attorney. Health care power of attorney. Medical power of attorney. Yep, they're all the same thing! This is where you'll name someone you trust to decide on medical treatments if you can't and document any additional end-of-life wishes. We recommend using this in place of a living will.
Finance Power of Attorney
If you were unable to make financial decisions like manage insurance policies and benefits or pay your bills or taxes, who could do it for you? That's where your financial power of attorney comes in. Name someone you would trust to carry out those financial tasks for you.
Learn More About Wills in Our Frequently Asked Questions
Sample Will Preview
Each state has unique requirements for a will. See what a sample will document would look like in your state.
You will be reviewing a sample set of Mama Bear Legal Forms documents. Any information you may have entered into the Mama Bear Legal Forms questionnaire has not been applied to these sample documents.
The actual content of these documents differs from state to state and will change based on information that you include in the Mama Bear Legal Forms questionnaire.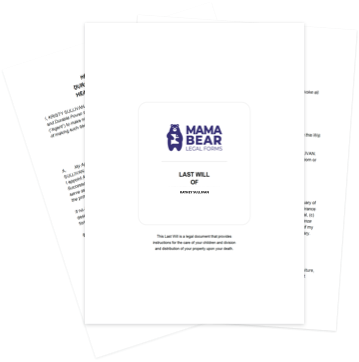 Why Dave Chose Mama Bear Legal Forms
Attorney-Built Documents
Attorneys have prepared these documents to make sure they're state-specific and legally binding.
Comprehensive Protection
Knock out three crucial documents all at once: your will, health power of attorney and finance power of attorney.
6 Months to Make Changes
Modify your will for free for up to 180 days until you're 100% satisfied.

My wife and I have two young daughters and wanted to be sure our wills were in place before we traveled for our anniversary. Way cheaper than an attorney and was really easy to complete! Just had them notarized at the bank this morning and we're set.
— Ryan

How It Works

1. Build Your Document

Make an account and fill out the form in minutes.



2. Save & Print

Save your progress, download and print your legal documents.



3. Sign & Make It Legal

Sign in front of witnesses and a notary and file in a safe place.


Create Your Will for $129
The Lampo Group, LLC, through daveramsey.com, provides advertising for third parties, including Mama Bear Legal Forms'. This form is provided as a direct link to Mama Bear Legal Forms site. Information submitted by you is collected, stored and/or used by Mama Bear Legal Forms' for the purpose of providing the documents you request. daveramsey.com, with your permission, collects only your name, email address, city and state. All other information, necessary for the generation of Will documents, submitted on this form is directly linked to Mama Bear Legal Forms' site and is in no way collected, reviewed or stored by daveramsey.com. Likewise, all documents are solely provided by Mama Bear Legal Forms' and are not generated or provided by daveramsey.com. The Lampo Group, LLC, is not a law firm and cannot provide legal advice. The Lampo Group, LLC does not warrant any sites, services or information provided by Mama Bear Legal Forms'.
Wills Frequently Asked Questions
Why do I need a will?
Most people need a will, regardless of the size of their estate, to provide instructions in two important areas. First, if you have minor children, the will names a guardian to take on their care if you pass away. Second, the will gives instruction for passing along any property you have to your loved ones or to a favorite charity.
If you die without a will, the laws of your state may control who inherits your property. State intestacy laws generally distribute property according to a formula based upon how closely a person is related to you. Failure to make a will can cause conflict and additional expense for your family and could leave your property to people you never intended.
Should I make a will now if I haven't had kids yet? If so, is there a way to account for that?
You can make a will now to pass your property to loved ones even if you don't have children. When children come along, you should update your will to include them and name a guardian to care for them if you pass away.
Do I have to make a new will if I move between states?
If you validly signed a will in your current state of residence, then it will probably be valid in your new state as well. Most states have laws that honor wills that are validly executed in another state. However, it is usually a good idea to update your will to reflect the laws in your new state.
Do I have to get a will notarized?
Wills always require two witnesses to be valid. Notarization is generally not required, but depending upon which state you reside in, having signatures notarized can streamline the administration of the will upon the signer's death.
Can I change or cancel my will?
You can revoke your will at any time by signing a new will or destroying your old will. A new will always has language in it that revokes any prior will. After signing a new will, it is generally a good idea to destroy your old will documents so that there is no confusion regarding which one applies.
When should I update my will?
You should update your will whenever your wishes change or after a big life event such as marriage, birth of a child, death of close family, or divorce. It is wise to review your will periodically just to make sure that it still reflects your wishes.
What happens to my stuff if I don't have a will?
We all have a will whether we realize it or not. If you have not signed a will, your state laws provide instructions for the distribution of your property through a process called intestacy. If you do not express your wishes for your property, state law will pass the property to beneficiaries according to the state's intestacy laws.
After I make a will, who should I give copies to?
After signing a will, you could give a copy of it to the person you have named as personal representative, or at least let them know where you keep your will so that he or she can gain access to it if needed.