Do You Need a Will?
Take our quick, free quiz and find out if an
online will works for you in less than five minutes!
What Your Customized Results Include:
This quiz will help you figure out exactly what you need when it comes to your personalized, legally binding will package—including state-specific will requirements and your powers of attorney options. You'll also have a chance to create a mirror will for your spouse if you're married.
Your results are customized based on the information you give us, like:
If you're married—Your will lets you name your spouse as beneficiary, plus, you can create a mirror will for them at checkout with just a few clicks.
If you have kids—You can state their legal guardians in your will.
If you have an existing will—You should update your will after any big life event (like a move, new baby or divorce).
If you have a large estate—It's a good idea to get some advice from an estate attorney.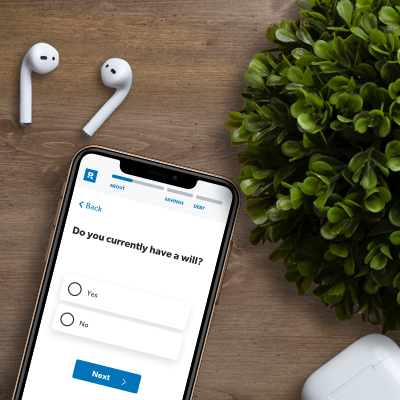 What to Expect
1. Take the Quiz

Answer a few simple questions so we can find out a bit about you. And it won't take more than five minutes!

2. Get Your Results

We'll work our magic and put together your customized results on what you need to be fully protected.

3. Take Action

If your estate is straightforward you can get started right away making your will online. Simple as that!
This site and its tools are provided for generalized informational and illustrative purposes only. The tools offered on this site are designed to provide accurate information, but your individual situation may necessitate analysis of additional factors not accounted for by this site or its tools. When making decisions regarding insurance coverage or considering the information provided by this tool, you should consult licensed professionals. The Lampo Group, LLC, and its affiliates, do not provide legal, accounting, insurance or other professional advice. The information generated by this tool depends upon the information you supply, and, therefore, we do not warrant any results or information generated by this tool.