Interested in Becoming a Volunteer?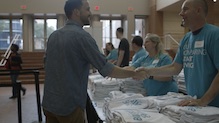 We are looking for fans who are on fire for Dave's life-changing message. The best volunteers are those with a ton of energy and a heart for serving others. Our volunteers aren't afraid to "get their hands dirty" and help however needed during the event.
You will get to rub elbows with Dave's team and have loads of fun. It will be an experience you will never forget!
Our expectations for volunteers:
Be on time.
Be enthusiastic.
Be ready to work and have fun!
Volunteer opportunities:
Questions
Answers
What is the time commitment?
Smart Money and Money & Marriage weeknight events
Time commitment is three hours prior to the event's start time to 45 minutes after the event ends (typically 4 p.m. to 10:15 p.m.).
EntreLeadership 1-Day weekday events
Time commitment is two hours prior to the event's start time to 45 minutes after the event ends (typically 6:30 a.m. to 4:30 p.m.).
Smart Conference Saturday events &
Business Boutique Thursday - Saturday events
Time commitment is one hour and 45 minutes prior to the event's start time to two hours after the event ends (typically 6:45 a.m. to 7:30 p.m.).
Top
What are the responsibilities?
Volunteers are trained to help with event registration and seating, assist attendees at product tables, and pack remaining event materials following the event. Volunteers represent Dave and should not take this responsibility lightly. They work hard and have a lot of fun serving event attendees!
Top
How do I sign up?
All volunteer applications are received online. One month before each event, we will select volunteers by confirming via email. If you do not receive a confirmation email on or before the one-month deadline, or if you submit your volunteer request after the deadline, we will place you on a waiting list and contact you if we need extra help.
Top
Is there a waiting list?
All volunteers are considered to be on the waiting list until they are confirmed. We finalize our volunteer list one month before each event, but we will contact replacements via email when we need extra help.
Please note: If you decide to register to attend an event before we contact you to volunteer, remember all registrations are non-refundable. However, registrations are transferable to a different event, and they also make great gifts!
Top
What should volunteers wear?
Dress comfortably in nice casual clothing, including long pants. We will provide you with an exclusive event T-shirt to keep and wear throughout the event. Please remember you will be representing the Dave Ramsey organization.
Top
Should volunteers bring food?
No. Breakfast and lunch will be provided for volunteers at Smart Conference, Business Boutique and EntreLeadership 1-Day events. Dinner will be provided for volunteers at Smart Money and Money & Marriage events.

Note: Most venues do not allow outside food.
Top
What is the minimum age to volunteer at the event?
The minimum age to volunteer is 18.
Top
Is childcare provided?
No.
Top
Do volunteers get to attend the event?
Yes. We will try to allow you participate as much as possible.
Top
Can I volunteer for multiple days at Business Boutique?
Yes. But you will need to sign up to volunteer separately for each day.
Top
If I volunteer one day at Business Boutique, can I attend the rest of the event?
No. If you sign up for one day, this does not give you free admission to the other days. But you are welcome to volunteer for all three days.
Top
Thank you for your interest in volunteering at
Dave Ramsey's live event
All volunteer positions for this event have been filled. We're sorry!
To find out where else Dave will be speaking this year, visit the See Dave LIVE! event page.