Get Involved
We love sharing the tools that empower people to escape the prison of debt and take control of their money! Our best supporters are those who have had their lives changed by this message.
If this sounds like you - join us!
Help Promote the Event
Tell your friends
If you're an FPU coordinator, radio listener or are just learning about Dave, we need you to help us spread the word about the event. You can help change people's lives and have an impact in your community.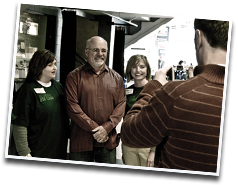 Share with a skeptic - even if it's your spouse!
We hear stories every day about spouses or neighbors that were drug to a lecture about finances and woke up at our event! Dave's message empowers and excites everyone from free-spirits to nerds because they find real tools to change their money and life!
Volunteer at an Event
Join us in changing lives!
We are looking for fans who are on fire for Dave's life-changing message. The best volunteers have a ton of energy and a heart for serving others. Our volunteers aren't afraid to "get their hands dirty" and help in any way possible. Find out how you can work at one of Dave's events.
get involved
Join the conversation online