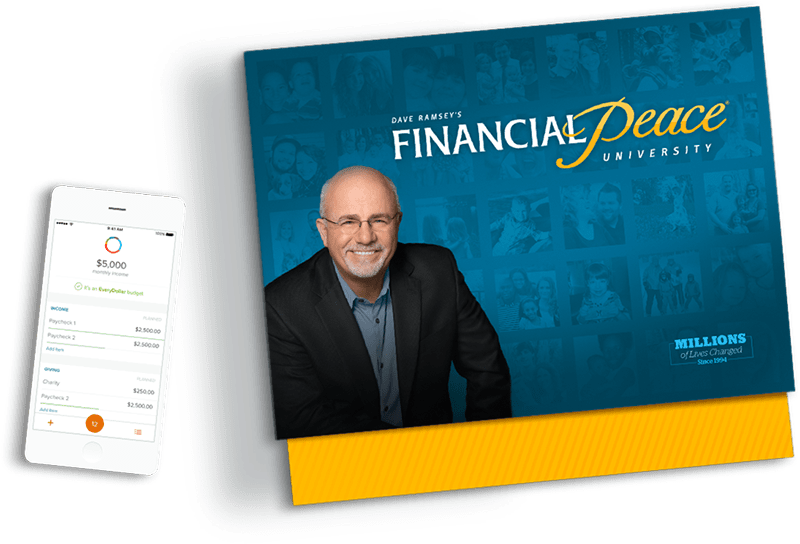 Never Worry About Money Again
Financial Peace University will help you take control of your money, plan for your future, and transform your life.
9 Lessons That Teach You How To Win With Money
Everything You Need to
Take Control of Your Money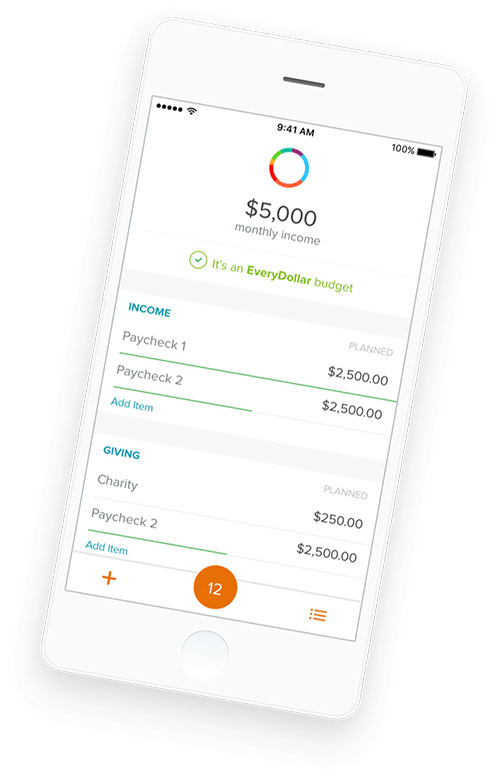 Track Spending
With Our Budgeting Tool
Connect your budget straight to your bank, sync across multiple devices, and enjoy anytime, anywhere access.
Learn From
Life-Changing Lessons
Watch entertaining videos, get your questions answered with financial coaching assistance, and stay on track with digital tools.
Budget, save and pay off debt.
Get on the same page with your spouse.
Identify which types of insurance you need.
Plan and save for major expenses.
Invest for your future, give generously, and more.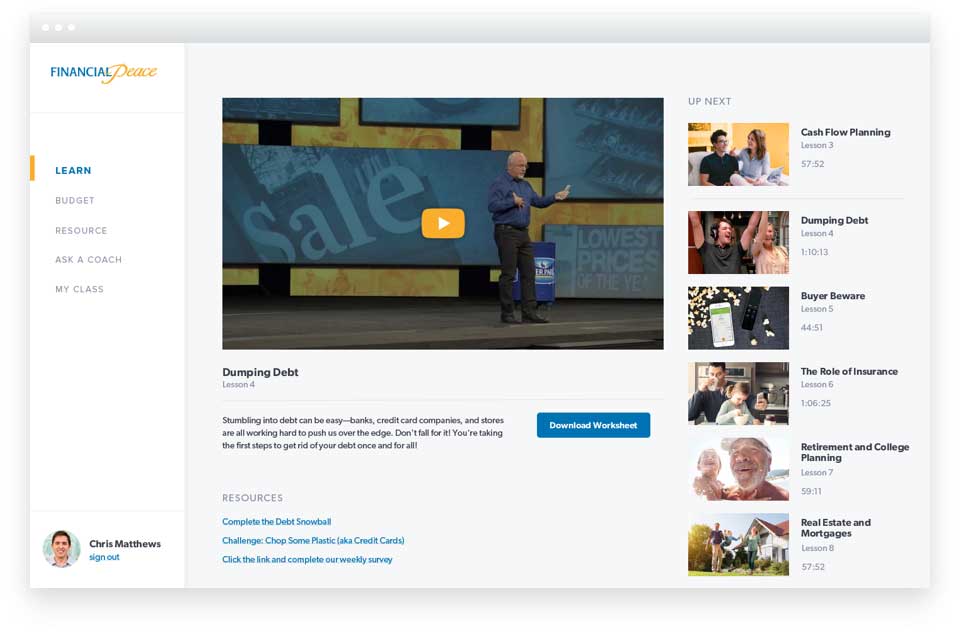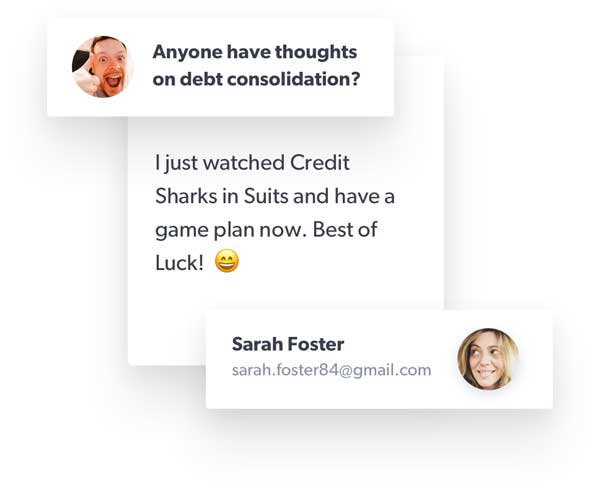 Take With a Group Nearby or Online at Home
Learn at your own pace by watching videos online and keep your progress moving forward with support from online community and financial coaches. Or join a group that meets near you and stay motivated by learning week by week with people just like you.
Did you know...?
Even though there are no groups currently near your location, you'll have access to Financial Peace University for an entire year! Start working the plan today and join a group when one becomes available.
You learn the same principles in the Online experience of Financial Peace University as you do with a group.
After checkout, you can start watching the lessons and using the tools and resources right away.
Dave has been there before. He gets it.
Dave Ramsey created Financial Peace University nearly 25 years ago after learning how to pay off debt, save and spend wisely, and build wealth. Today, millions have used the same principles to transform their lives.
Join the 5 Million People Who Have Taken Control of Their Money
Financial Peace University changed our life : ) It came as a gift when needed the most and has put us on the track to success!!
Smithmama
Port Huron, MI
I like the 13 week format much better. Have been co-teaching the class for years and there were a few changes they made that to me should have never been done. Number 1 they took out the testimonials on the DVD's. Everyone loved hearing those. Number 2 Dave has his guest speakers, 3 of them, doing part of the lecturing and just not the same. They just don't have the charisma and delivery impact that Dave has and just diminishes the series. Still love the course and still think it's a wonderful thing to get involved with but really wish they would go back to the old format.
Paul3214
Phoenix
excellent programs, would recommend to everyone wanting to control your own finances
yoyoco
pittsburgh, pa
This course has already had an amazing impact on me. It is truly life changing. Although I have found my way out of debt before, I always seemed to easily slip right back in. Not this time. The information presented and the drills the course takes me through has me processing my actions in a completely different manner, which will be beneficial for me in the long term. Thanks for creating such a dynamic and life changing (easy to follow) program. The cost is also the best ever. I am truly thankful that Dave thought it sensible enough to offer the course at a reasonable rate so as to not have us create more debt (like other previous programs I've done). Thank you so much. You're a life saver.
WizJ
Alexandria, VA
At first I was concerned with spending more $ when I was already having problems paying my bills. But, I took a leap of faith. This has been just what my husband and I needed. Thank you SO much!!
chmrdan
Ohio
Single mom, widowed with 2 kids, 11 and 15. Only debt is $16,000 in student loans. Home is paid for and college loans are my only debt. Started on Jan. 3 2010 and by end of Jan, paid down loan to 13,600 and by end of February, I will pay down an additional $2,000. My debt snowball will have me paid off by no later than July 2010. These loans would have taken me until Sept. 2019, had I paid the minimum payment. I should be debt-free by late summer of this year, having paid $16,000 off in about 8 months. My income totals $4,500 per month. What I love about the envelope system is that I have scrutinized my spending and whittled away excess waste. I did the plastectomy on my few credit cards and it felt awesome. I finally feel like I have a clear cut plan for my future and my childrens. I was doing everything backwards, funding the IRA and kids college instead of snowballing the debt. I started college mutual funds for my girls when they were just weeks old...and I've funded the IRA. I was just doing everything scatterbrained and without a concrete plan. I love FPU Revisited as well as Total Money Makeover. The quality of the FPU home kit is outstanding. This is the most valuable investment I have ever purchased. Now, I can't wait to whittle away at unnecessary spending, go crazy with yard sales and soon, be completely debt free. What a great lesson to get my girls involved in the whole budget process. Thank you and God Bless!!!
Jozee
Mogadore, OH
My wife and I have been half heartedly trying The Total Money Makeover. After purchasing FPU we were reluctant to get started. We finally got started, and it opened our eyes to where all the income is going. Now we both look forward to our weekly "date night" watching the lessons. Just after 3 weeks, our marriage is stronger, and we are behaving with money. Never would have thought how fun this could be. Thanks Dave!
Greenhead
Sioux Falls, SD
This is the 3rd FPU I have bought as a wedding gift. I am greatfull for Dave's teachings. The lucky couples have ALL been very impressed with the knowledge and are working though the baby steps. Thank you, Wink
Wink
Chandler , AZ
Dave Ramsey's Financial Peace University is amazing. My wife and I have changed the way we spend money. We are $75k in debt excluding our house and plan on repaying all of it back within 3 years (we have already paid off 1 credit card in only a few months). Dave's class changed our lives forever, Tomas
Tomas
Colorado Springs, CO
This past year has been the hardest and if it weren't for Dave Ramsey, I would be insane, depressed and unmotivated. Everything Dave Ramsey does has had a positive influence in my life!
argfusion99
Phoenix, AZ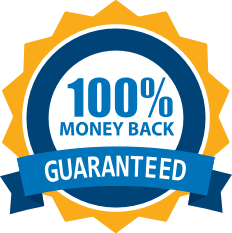 Our 100% Money Back Guarantee
Complete all nine lessons. Give it a real shot by following Dave's plan. If you aren't happy with your purchase within the first 90 days, we'll give you your money back.
You Can Do This.
Start Today!
You shouldn't feel overwhelmed and powerless over your money. You can be in control of your money and your future.
Interested in volunteering to be a Group Leader?