Never Worry About Money Again
Meet up with a local group for community, motivation, and accountability.
Watch the lesson videos in the comfort of your home and on your own schedule.
Meet with a group, enjoy at home, or do both. Switch at any point. It's up to you.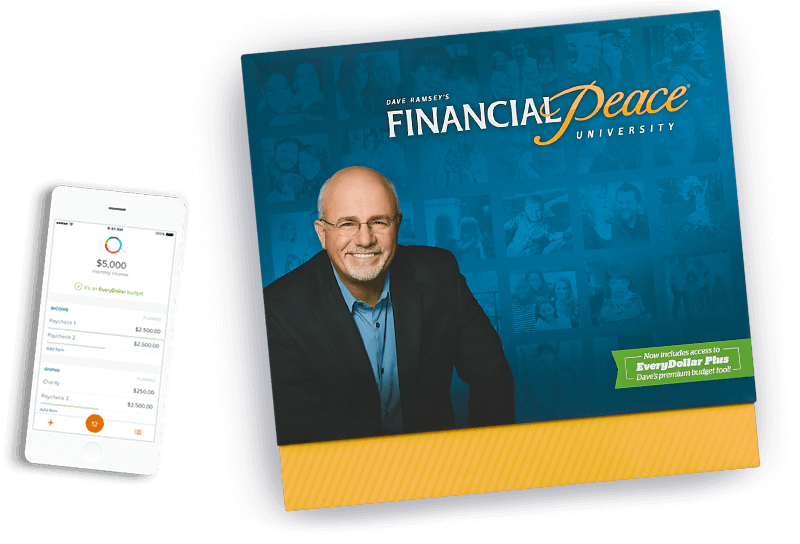 Financial Peace University
Never Worry About Money Again
Financial Peace University will help you take control of your money, plan for your future, and transform your life.
9 Lessons That Teach You How To Win With Money
Everything You Need to
Take Control of Your Money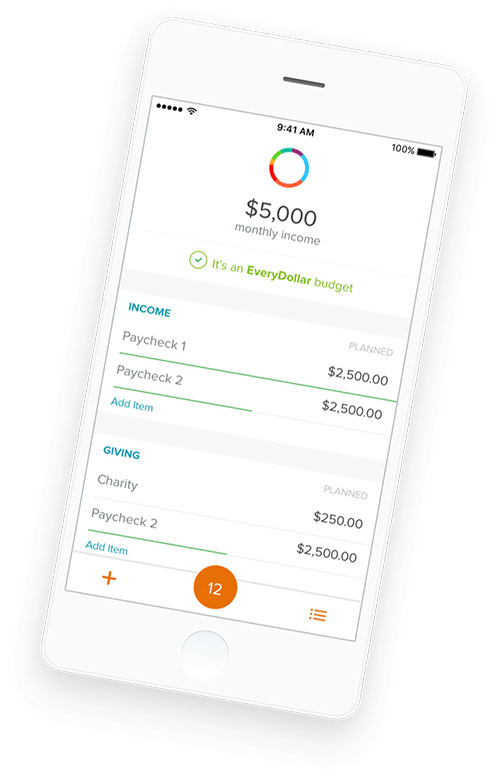 Track Spending
With Our Budgeting Tool
Connect your budget straight to your bank, sync across multiple devices, and enjoy anytime, anywhere access.
Learn From
Life-Changing Lessons
Watch entertaining videos, get your questions answered with financial coaching assistance, and stay on track with digital tools.
Budget, save and pay off debt.
Get on the same page with your spouse.
Identify which types of insurance you need.
Plan and save for major expenses.
Invest for your future, give generously, and more.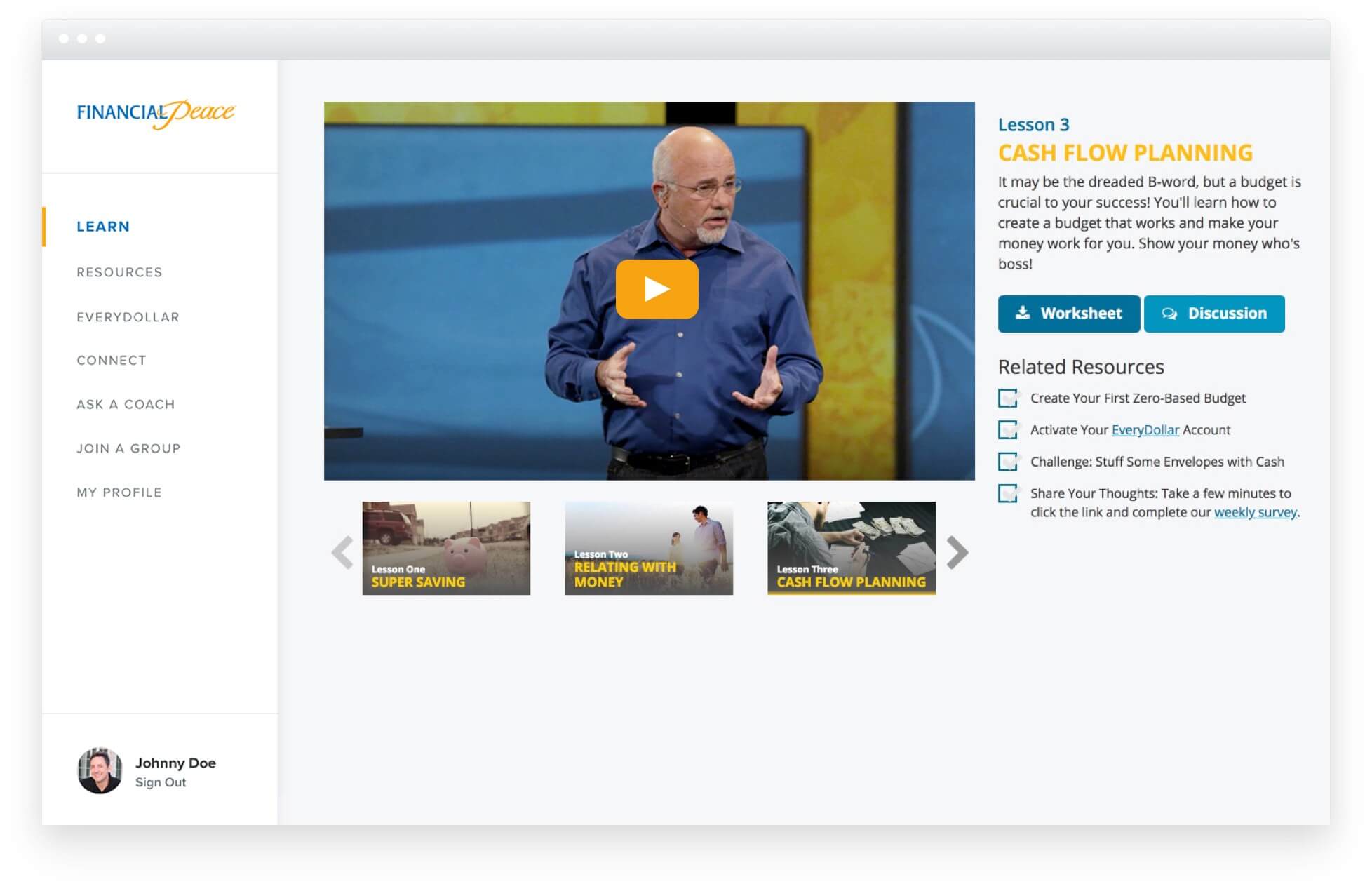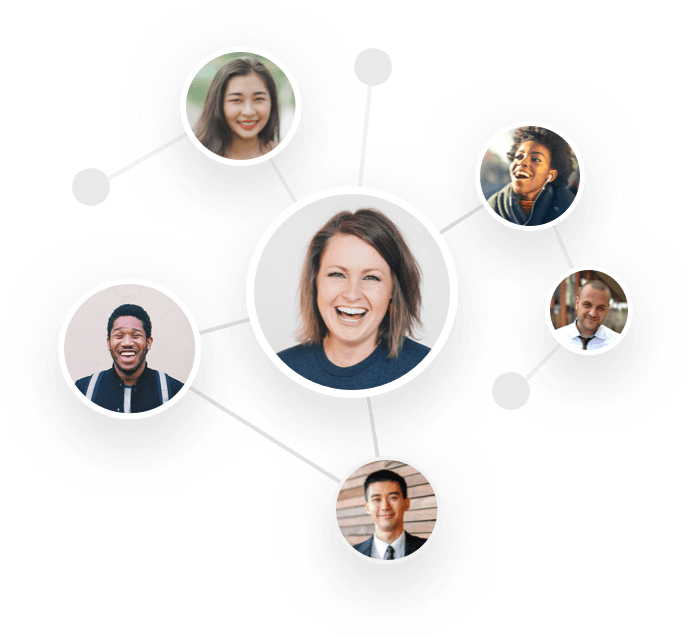 Take With a Group Nearby or Online at Home
Learn at your own pace by watching videos online and keep your progress moving forward with support from online community and financial coaches. Or join a group that meets near you and stay motivated by learning week by week with people just like you.
Did you know...?
Even though there are no groups currently near your location, you'll have access to Financial Peace University for an entire year! Start working the plan today and join a group when one becomes available.
You learn the same principles in the Online experience of Financial Peace University as you do with a group.
After checkout, you can start watching the lessons and using the tools and resources right away.
Dave has been there before. He gets it.
Dave Ramsey created Financial Peace University nearly 25 years ago after learning how to pay off debt, save and spend wisely, and build wealth. Today, millions have used the same principles to transform their lives.
Join the 5 Million People Who Have Taken Control of Their Money
My group was so cohesive and supportive of each and every member! I think this stemmed from strong FPU coordinators. Wayne and his wife are fantastic, down to earth, faithful people who gave so generously of their time.
Jeannine
Massapequa, NY
I love this program. Everything about it. Wish I knew about this 16 years ago when I joined the Marines. Everything I thought I knew about money, legacy, and budgeting were wrong. Glad I decided to finally see what everyone was saying about "Dave Ramsey". The Every dollar app is on point too. Overall this is a great program. I would like to see more information geared towards military as we live a bit differently than normal civilian life such as the TSP, PCS/PCA, deployments, SGLI, and SDP. The military tries to teach us coming up but it's a measles check mark in the box for them. After learning the Baby step program, I try to teach my guys as much as I can learn from FPU and his daily videos.
Casey
Camp Pendleton, CA
Graduates: Jamee (23) & Kyle (24), married 1 yr-- We started our financial peace journey by reading Financial Peace & Complete Guide to Money. We quickly signed up for FPU & started watching videos at home. Dave does a great job keeping the videos entertaining and simple to understand. We soon realized we needed to be part of a support group so we joined FPU at our church(Southeast Christian, Etown). We would not have been as motivated during our journey without our FPU class! It was great to be surrounded by other individuals making similar decisions when our friends weren't supportive of our life changes. Our FPU coordinators were great! We see them often at church & they still ask how our journey is going. We start training soon to lead FPU in Spring. We are excited to walk along others during their journey & encourage & pray for them. FPU has been part of a journey that transformed our lives as individuals & our marriage. We are thankful for FPU & to be DEBT FREE!
Kyle and Jamee
Elizabethtown, KY
I took this class with sincere interest in learning more about finances and hoping to walk away being better with money. As a single, 25 year old finishing up college, I want to build a good foundation for my life as my adulthood is just at the start! I anticipated gaining knowledge and wisdom from this class, but I didn't know I would become so inspired and motivated from it the way I was and still am! This was such a great framework of information and the community aspect of the class was awesome too. I am beyond grateful for this class and Dave Ramsey. It came at such a good time and I've made so much progress in things I didn't even know needed progress! This will impact the rest of my life. Now that's something good.
Becca
Providence, RI
Going through FPU and having the privilege of coordinating a few groups has been a life changing experience. I am extremely grateful for Dave and his team.
Wilfredo
Miramar, FL
I am a 2nd time Financial Peace University Graduate. I did learn all I needed to learn the first round but started another class purely for the motivation! The tools that Dave gives are so simple & it really sets you up for your financial best life! I think that it will really equip me with the tools I need as a future partner/mother/etc. My goal is to be debt free and build generational wealth. Thank you Dave!
Erika
Arlington, VA
I took the Financial Peace University class to figure out how to be an adult when it comes to my finances and wound up paying off $17,000 in 11 months by following the debt snowball method. I'm now student loan free! The class has sufficiently changed my life in unexpected ways and I'm more conscience of my spending and I worry so much less about money. As someone in my 20's, I keep buying this course for my friends to take so navigating the student loan debt and learning to budget stuff doesn't have to be so hard! It's been truly eye-opening to recognize my habits and begin to redirect them so that I'm in better control. It's been a little over a year since the class, but the difference in where I am today and how I navigate my world is incredible.
Erin
Denver, CO
It is great to have a group environment to go to and be able to bounce ideas off and learn from other peoples experience. We had taken the course back in 2003 and were on the Dave Ramsey Light plan. We have re-energized and this time plan on following a 100%. It is not an easy process to change our mindset and go contrary to public opinion. But we see the valley in running our lives and managing our money with a God-centered plan. And this class is great to do just that. Thank you for the class
Eddie an Gladys
Citrus Heights, CA
I am totally obsessed with the program! Our teacher was amazing!
Lacy
ANTHONY, KS
As I was trying to get some sleep after coming back from the hospital after the birth of my 2nd child (1st son), I pondered on how I was supposed to pay for all the bills that were coming our way. We had no plan. Dave Ramsey's FPU became the answer to my prayers. It gave us a way to get connected to each other and have a plan to attack our debt and future. I would strongly recommend this to anyone regardless if you're apprehensive of change. This program is a game-changer.
Ivan
Cincinnati, OH
All Reviews
You Can Do This.
Start Today!
You shouldn't feel overwhelmed and powerless over your money. You can be in control of your money and your future.
Interested in volunteering to be a Group Leader?