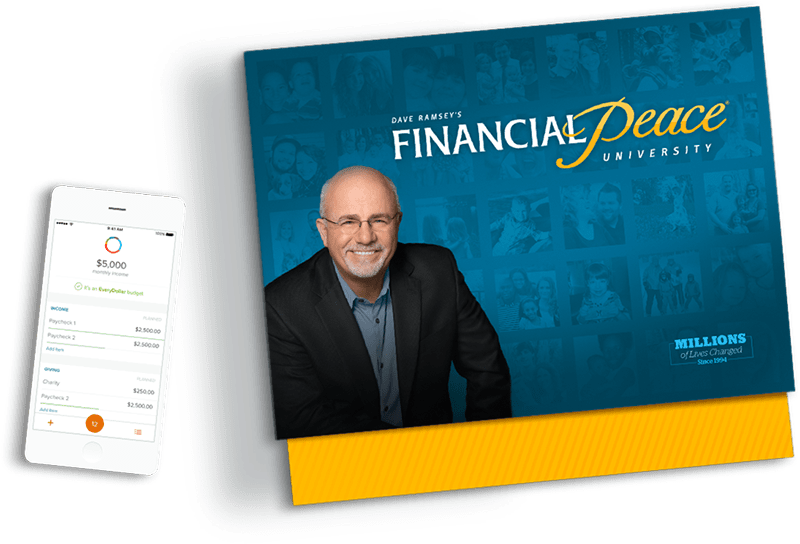 Never Worry About Money Again
Financial Peace University will help you take control of your money, plan for your future, and transform your life.
9 Lessons That Teach You How To Win With Money
Everything You Need to
Take Control of Your Money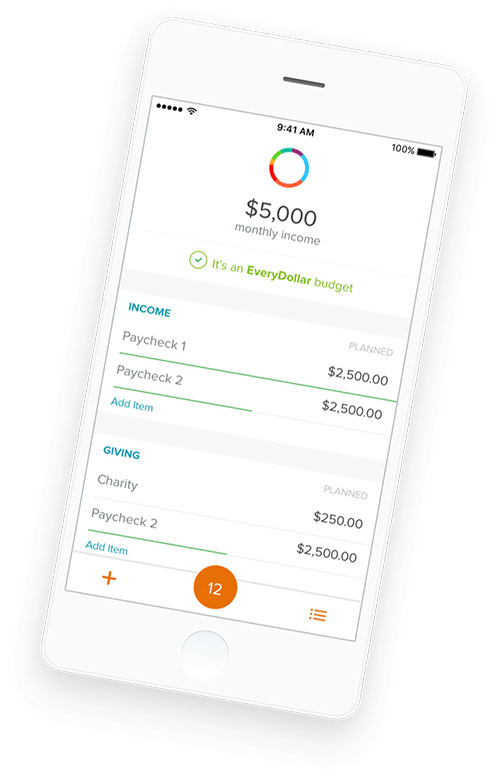 Track Spending
With Our Budgeting Tool
Connect your budget straight to your bank, sync across multiple devices, and enjoy anytime, anywhere access.
Learn From
Life-Changing Lessons
Watch entertaining videos, get your questions answered with financial coaching assistance, and stay on track with digital tools.
Budget, save and pay off debt.
Get on the same page with your spouse.
Identify which types of insurance you need.
Plan and save for major expenses.
Invest for your future, give generously, and more.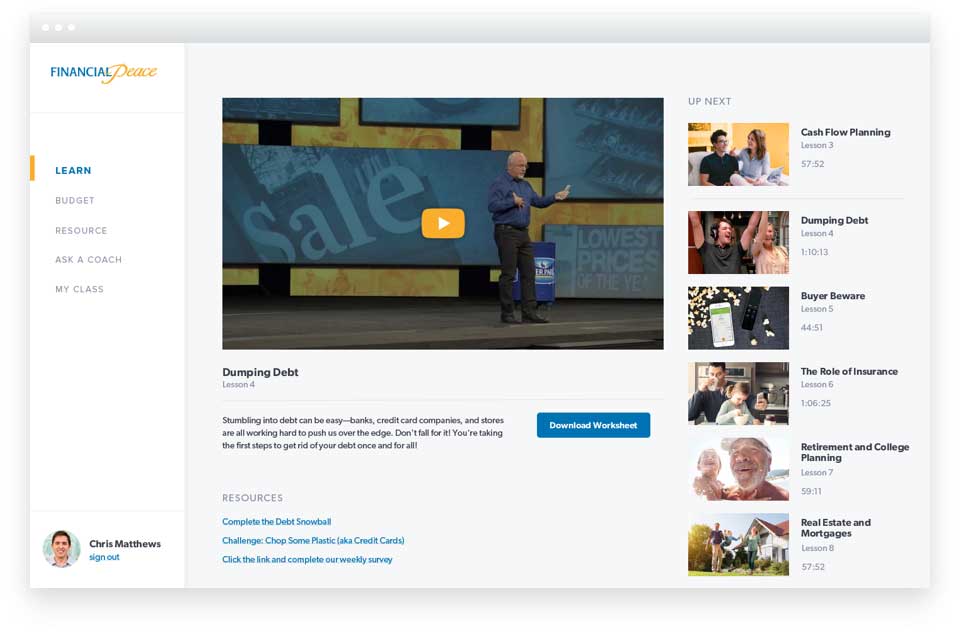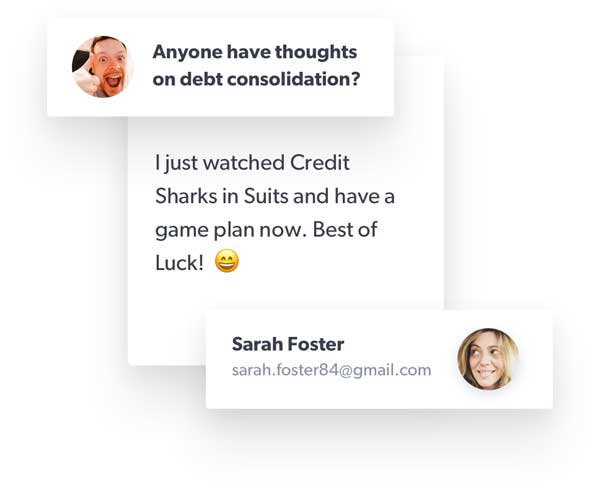 Take With a Group Nearby or Online at Home
Learn at your own pace by watching videos online and keep your progress moving forward with support from online community and financial coaches. Or join a group that meets near you and stay motivated by learning week by week with people just like you.
Did you know...?
Even though there are no groups currently near your location, you'll have access to Financial Peace University for an entire year! Start working the plan today and join a group when one becomes available.
You learn the same principles in the Online experience of Financial Peace University as you do with a group.
After checkout, you can start watching the lessons and using the tools and resources right away.
Dave has been there before. He gets it.
Dave Ramsey created Financial Peace University nearly 25 years ago after learning how to pay off debt, save and spend wisely, and build wealth. Today, millions have used the same principles to transform their lives.
Join the 5 Million People Who Have Taken Control of Their Money
My wife and I both love the kit and purchased it in lieu of the Financial Peace Life Time Memebership (for myself) because I knew with my travel schedule I would miss 3-4 classes. It would be nice to obain credit for the classes that I watch at home using this kit when I miss, but instead I have to watch class on-line with a slow connection in rural Iowa. The Financial Peach University LIft Time Membership I purchased was for my single sister, Sharon, who didn't have the cash to take your class. She needed hope and tools to succeed financially very badly. Coaching an older sister is a challenge, so I am taking the class with her. Thanks for your efforts and God Bless.
Walleyeboy
Van Meter, IA
The best thing about this program is being urged to take Baby Steps. I am the type of person who wants this done yesterday...but I didn't get to this position overnight and it is going to take me time to get out of this hole I've dug. The class is showing me how to get out and stay out of the Debt Hole with Baby Steps. Thanks for breaking this monster down into tiny parts so we can overcome it!
BabySteps2010
Everett, WA
This Program is full of great Ideas and information maybe the government should purchase the program and use it as a guideline for creating a budget and getting out of debt
Jer1
Eagle Mountain Utah
It's not education - though it is. It's not studying - though it is. It's really opportunity. I've got three (count 'em - three!) college degrees and through all that study no one ever taught me how to handle money. I'm in my 50's and just learning this! I needed this DECADES ago. Don't miss this opportunity! It doesn't cost - it PAYS!
BoltUpright
Okemos, MI
This product, put into practice, is life changing.
maherrmann
Tucson
Bought for use by employees whom want to act thier wage. So far it has been very well recieved.
Hydroman
Covington, Ga
FPU changed our lives and we are on our way to being DEBT FREE!!
Montroy
Fort Worth, TX
Due to work schedule of my wife and I and the amount of time I travel going to a class was not an option. However, I wanted to go through the program with Dave. I listen to Dave on the radio daily and I like his approach and the no BS way he presents the material. My purchase of this home study course has given me what I wanted, well almost, I can not ask a question and get an immediate response. But then you have access to the website and can ask your questions. We are going through the course at our pace and can see how it has started changing our financial life.
Donwraysx4
Martinsville, IN
I have battled with debt for my entire life, and have taught my bad habits to my children. Through the Financial Peace University online, I have now learned to have a better relationship with my money. As a Christian, I love that this course is based on the Bible. There is so much wisdom to be learned from the Bible. I hope that I can pass the lessons on to my children, so they can experience the peace of winning the battle against debt! Thank you Dave Ramsey for showing me the path to peace!! I strongly recommend this course to everyone!
Mwhite
New Hampshire
My husband and I have been married 20 years and never operated on a budget. Our only regret is that we didn't do this years ago! We are now both on the same page and I don't have the feeling of guilt and worry that I used to have when trying to make ends meet. Cannot wait to be debt free!
Weezer
Council Bluffs, IA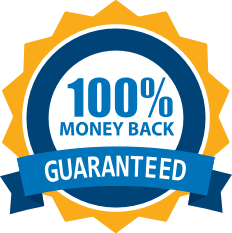 Our 100% Money Back Guarantee
Complete all nine lessons. Give it a real shot by following Dave's plan. If you aren't happy with your purchase within the first 90 days, we'll give you your money back.
You Can Do This.
Start Today!
You shouldn't feel overwhelmed and powerless over your money. You can be in control of your money and your future.
Interested in volunteering to be a Group Leader?