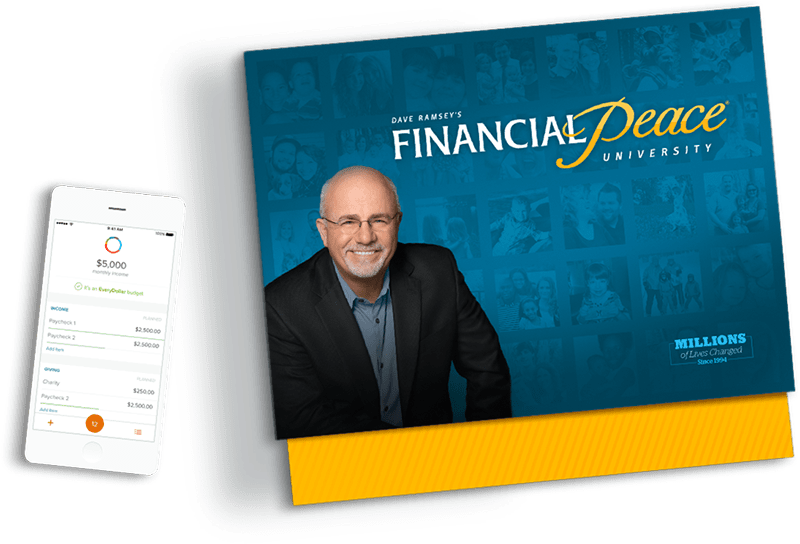 Never Worry About Money Again
Financial Peace University will help you take control of your money, plan for your future, and transform your life.
9 Lessons That Teach You How To Win With Money
Everything You Need to
Take Control of Your Money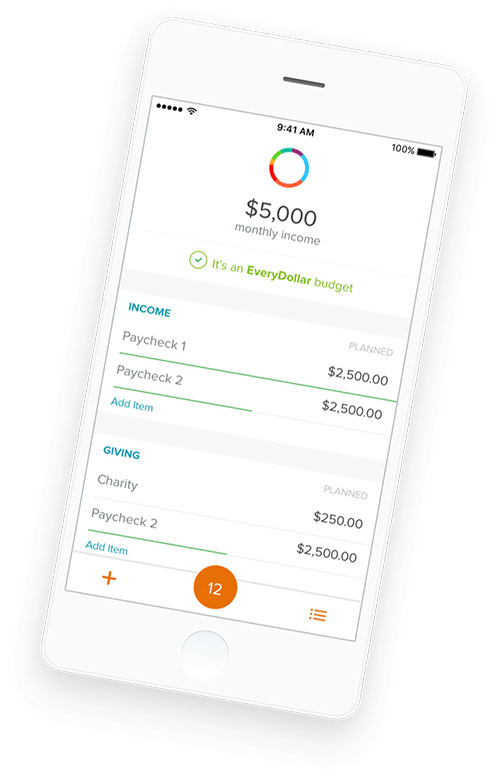 Track Spending
With Our Budgeting Tool
Connect your budget straight to your bank, sync across multiple devices, and enjoy anytime, anywhere access.
Learn From
Life-Changing Lessons
Watch entertaining videos, get your questions answered with financial coaching assistance, and stay on track with digital tools.
Budget, save and pay off debt.
Get on the same page with your spouse.
Identify which types of insurance you need.
Plan and save for major expenses.
Invest for your future, give generously, and more.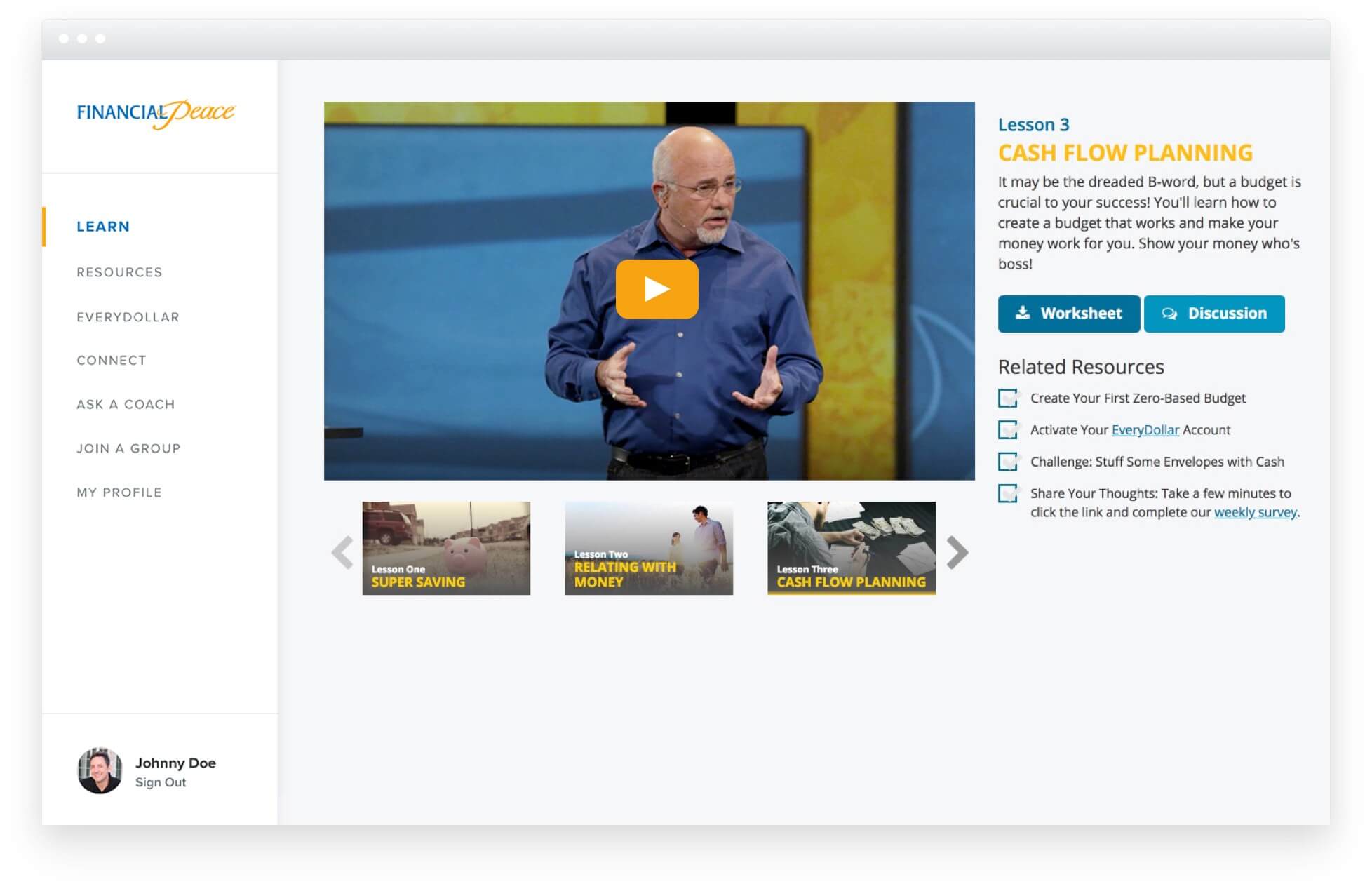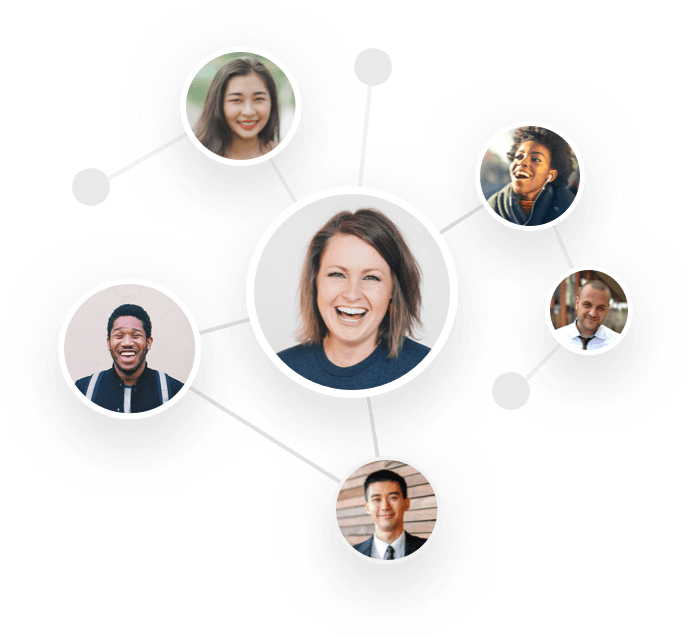 Take With a Group Nearby or Online at Home
Learn at your own pace by watching videos online and keep your progress moving forward with support from online community and financial coaches. Or join a group that meets near you and stay motivated by learning week by week with people just like you.
Did you know...?
Even though there are no groups currently near your location, you'll have access to Financial Peace University for an entire year! Start working the plan today and join a group when one becomes available.
You learn the same principles in the Online experience of Financial Peace University as you do with a group.
After checkout, you can start watching the lessons and using the tools and resources right away.
Dave has been there before. He gets it.
Dave Ramsey created Financial Peace University nearly 25 years ago after learning how to pay off debt, save and spend wisely, and build wealth. Today, millions have used the same principles to transform their lives.
Join the 5 Million People Who Have Taken Control of Their Money
I love this stuff and look forward to the future. Now I just have to persuade my free spirit husband. He does like the online classes because Dave is funny and entertaining!
TexasNerd
Texas
Our grown children recommended we do this thing called Financial Peace University. They had completed the course with their future spouses as a condition they had set prior to marriage. So my spouse and I are doing this. Taking this course has done a number of things. Dave says spouses will fight about the budget. Well, we haven't. Yet. This course has created almost a laser focus on our budget that we never have had. We now know where every penny goes because we tell it to go there versus it slipping through our fingers. I gave the sample disc to my office mate at work. She's 40-ish and single. She watched it last weekend and came to work fired up. Thanks, Dave.
rosie1
Frydek, TX
It has been said before, I know, but Financial Peace University has changed our lives! Starting the program has obviously not increased our income, but it has helped us do things with the money we make that we never thought possible. I would NEVER have believed we could eliminate almost $4000 worth of debt in 5 weeks! For once in our lives, we look forward to payday not because we NEED the money, but because we are excited to see what we will be able to do with it for the next 2 weeks!
Cajacajo
Roscommon, MI
We are just into the 4th Lesson but we can already see that FPU is transforming our lives, finances and marriage. We live in a very sparse and rural area, so the on-line course is perfect for us. It is simple to do and you are given plenty of time to complete it. I love the way the lessons are broken down so you feel you are accomplishing something. We highly recommend Financial Peace University to everyone.
kwcook
Valentine, TX
This valuable course not only is helping my husband and I get our finances in order, but also has given us common goals to work toward together. This has given us the light at the end of the tunnel that we can make this work and as we enter into our retirement years in about 30 years, we can live a comfortable life and still be able to give.
Sparklyglitterqueen
Rock Hill, SC
The program is very educational and life changing. It has changed the way I see money and spend it.
Amynewbie
Queens , NY
This class blows my mind. I am not quite halfway through, but have already learned A WHOLE LOT ! I really like the convenience of taking the class when it fits into my schedule - and being able to watch when I am alert and focused.
LookUp
Brevard, NC
52 years of greed and big payments, now bankrupt, broke, and starting over. Your financial plan is just what I needed, provided hope, gave my family a plan and possible future. The only negitive is I wish I did this years ago I would be set by now instead of starting completly over.
raz1226
boyne city, Mi
I am very please with the Home study program. I took the class at a church two years ago and have wanted the videos for 2-3 years! Now that I have them I am excited to review them and I want to transform other members of my family. I could not be able to do as well as I am doing during the 2009 town turn in the economy if it had not been for taking this program 2 yrs ago. Be cause I had emergency savings and some budding mutual fund investments... I was able to support myself through unexpected (or sort of expected) job loss at the end of 2009!!!! I would have been desperate with out Dave's advice!! Now I amaze my friends!
Tiger
Houston, Texas
Gave this as a gift to my son 24yrs old and his bride. Just starting out they now have a plan that will have them handle their finances responsibly from the start. Both have expressed that they are really greatfull for having this enrollment in your course. It has changed their way of looking at their money and how they handle it. They are looking forward to a life together that is not only debt free but money issue arguments free. I'd say thats 95%+ of the battle headed off at the pass. The rest is intimate and I do not know of any course that I would recommend, for that they are on their own. Thanks for providing a resource of such great value. JC
Gratitude
Atl. GA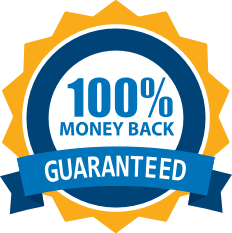 Our 100% Money Back Guarantee
Complete all nine lessons. Give it a real shot by following Dave's plan. If you aren't happy with your purchase within the first 90 days, we'll give you your money back.
You Can Do This.
Start Today!
You shouldn't feel overwhelmed and powerless over your money. You can be in control of your money and your future.
Interested in volunteering to be a Group Leader?