Never Worry About Money Again
Meet up with a local group for community, motivation, and accountability.
Watch the lesson videos in the comfort of your home and on your own schedule.
Meet with a group, enjoy at home, or do both. Switch at any point. It's up to you.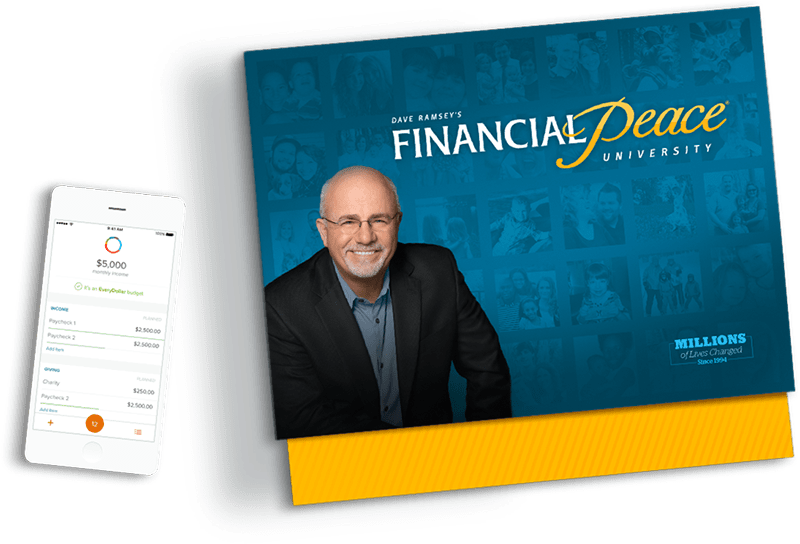 Financial Peace University
Never Worry About Money Again
Financial Peace University will help you take control of your money, plan for your future, and transform your life.
9 Lessons That Teach You How To Win With Money
Everything You Need to
Take Control of Your Money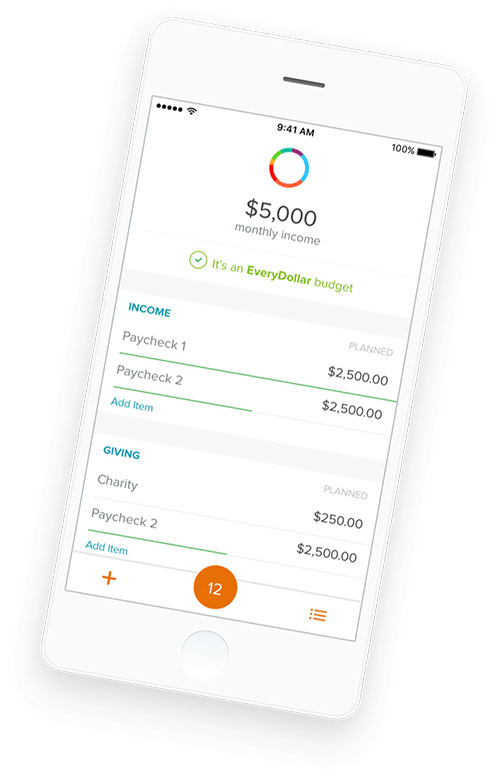 Track Spending
With Our Budgeting Tool
Connect your budget straight to your bank, sync across multiple devices, and enjoy anytime, anywhere access.
Learn From
Life-Changing Lessons
Watch entertaining videos, get your questions answered with financial coaching assistance, and stay on track with digital tools.
Budget, save and pay off debt.
Get on the same page with your spouse.
Identify which types of insurance you need.
Plan and save for major expenses.
Invest for your future, give generously, and more.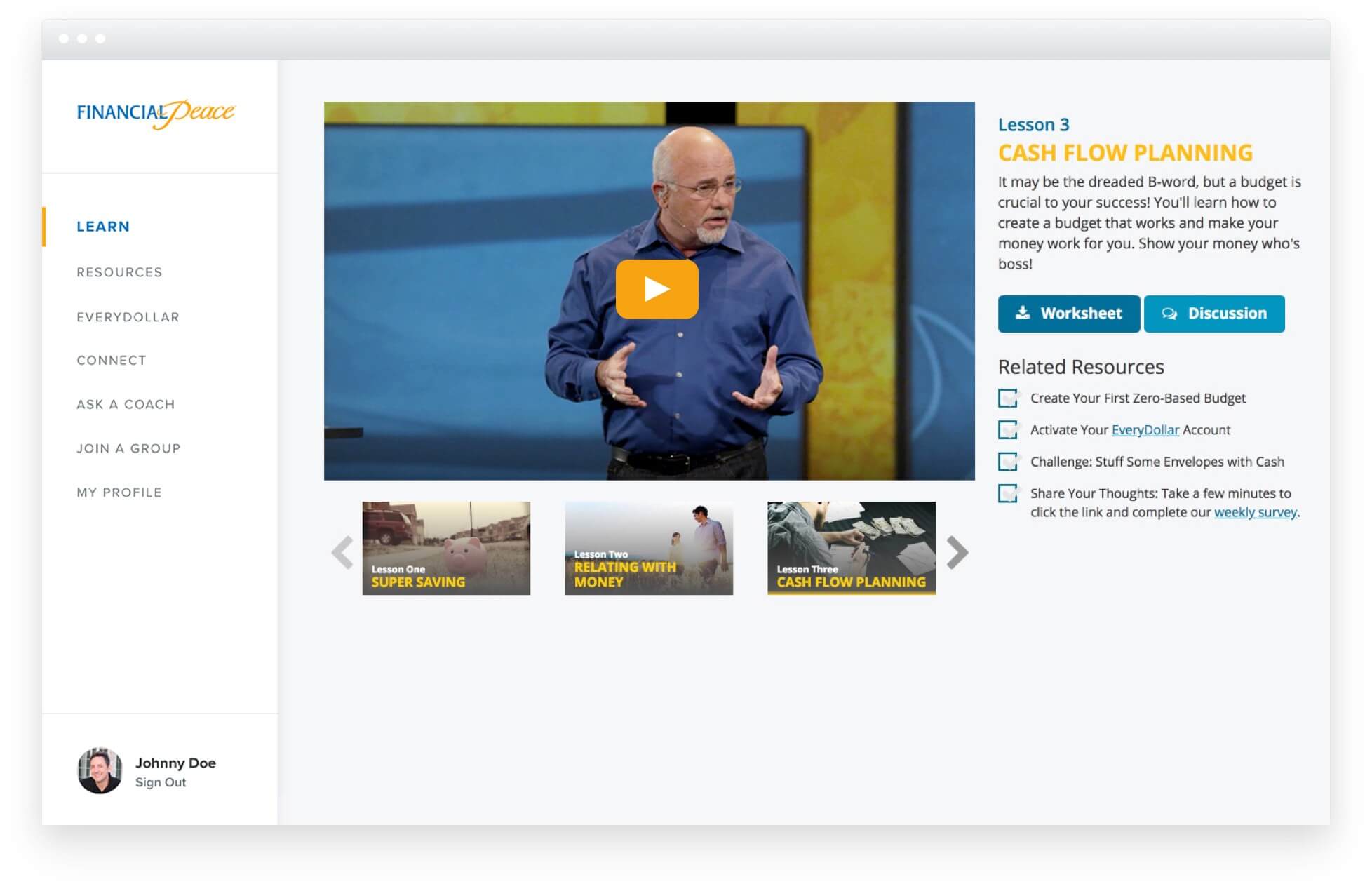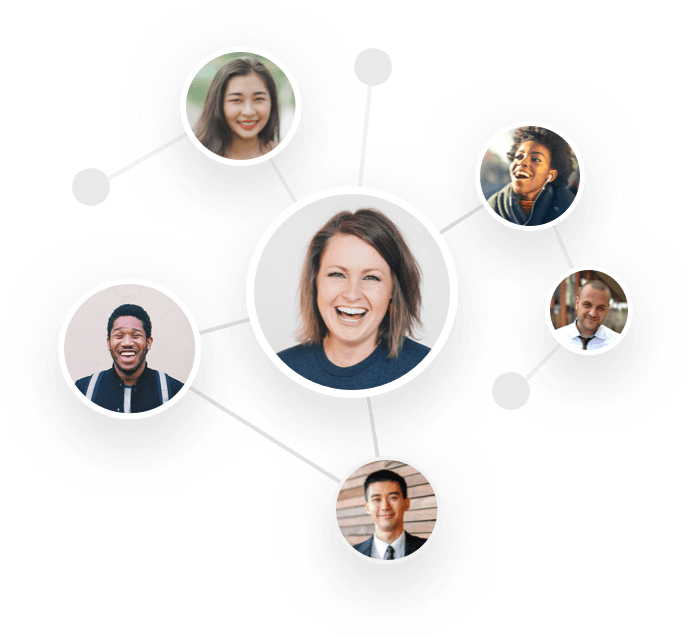 Take With a Group Nearby or Online at Home
Learn at your own pace by watching videos online and keep your progress moving forward with support from online community and financial coaches. Or join a group that meets near you and stay motivated by learning week by week with people just like you.
Did you know...?
Even though there are no groups currently near your location, you'll have access to Financial Peace University for an entire year! Start working the plan today and join a group when one becomes available.
You learn the same principles in the Online experience of Financial Peace University as you do with a group.
After checkout, you can start watching the lessons and using the tools and resources right away.
Dave has been there before. He gets it.
Dave Ramsey created Financial Peace University nearly 25 years ago after learning how to pay off debt, save and spend wisely, and build wealth. Today, millions have used the same principles to transform their lives.
Join the 5 Million People Who Have Taken Control of Their Money
I've bought these cd's for mom who wants to improve her finacial standing in her old age, she is 78. She listens to them repeatedly.
Evey
Burlington, NC
Back in 2006, my net worth is -$500K, with house underwater coupled with housing market in a mess, home payment is 75% of my take home pay. I was too broke and struggling with our expenses as I'm the only one working and my wife staying home taking care of our 2 kids. I prayed to God for wisdom and guidance and later heard about Financial Peace University from our local church. We wanted to attend but couldn't afford the $100 sign up fee for the class. A family in the church sponsored 5 families and we were one of the blessed ones to avail and attend it. We attended the whole class, followed the baby steps, budgeting, worked double jobs and paid off all debts. Fast forward 10 years to now, our net worth is $1M with 2 properties (1 is rental and self paying w/ income), no debt except house (we're in California) 5-6 months emergency fund in place and working on the final steps of our financial steps. Still not there but slowly but surely we'll get there still in late our 30s. With the principles learned from Dave Ramsey it has given us peace, knowledge and stability with our finances. I've read other finance books they're ok but Dave Ramsey's FPU is hands down the best out there and covers everything you need to know to get your finances in a row. If ever our current church would do this program, we would gladly sponsor 5 families who need to learn about FPU.
rexb
Hayward, CA
fix web site to get around it better have a hard time singing in to web site
jacklgott
az
As busy, working parents, my husband and I could not see a way we could be at peace while spending even more time away from our two small children each week for 13 weeks. The Home Study option gave us the opportunity to get a financial education while our little ones were sleeping just upstairs. It's great that the Kit includes two formats - DVD and CD. We listen to the CDs as we do our weekly chores around the house. We watch the DVDs for 45 min each Sunday evening. We haven't made much progress through the Baby Steps yet but how we think about money as a couple has been completely transformed. I'm the nerd and, in the past, I put together a budget each year and gave it to my free spirit husband have a look. He glanced at it and said "whatever you say honey"". Each month I would track our expenses by category and tell my free spirit about our progress and he would say ""whatever you say honey"". But now we both look at the budget and we both track our expenses. We don't make more money but we make more of our money each month. We'll be through Baby Step 1 within 1 month and solidly on our way through Baby Step 2 by the end of the summer. The Home Study Kit is the best of the both worlds - Financial Peace University and no extra time away from our kids. Not only would we recommend the program but we believe so firmly in the message that we plan to begin saving to purchase Financial Peace Home Study Kits to give as gifts to others interested in enriching their lives financially and spiritually."
NittanyLionsFan
Fallston, MD
We are pleased with the speed of delivery and the tools we have learned already about how to manage our money. We are just beginning...but the future looks bright!
ondria
troy,IL
Tried to present it to pastor for church he had a problem with the wealth building part which got into a slight disagreement.
ShellyO
Chicago, IL
My husband and I have really enjoyed this online course. The lessons we have learned together are helping us get out of debt and move down the path toward financial freedom. Dave presents realistic, practical, valuable, and compelling concepts and supporting facts for his perspective on how to handle money, and what it takes to walk the path to financial freedom.
PrisKelly
Houston, TX
My husband, myself and 3 of our children (ages 14, 17, 25) went thru the course last fall. We were so impressed with the material that we purchased the home series to do with our 22 year old who was away at school and couldn't attend previously. We have only started with the 22 year old but I have high hopes it will do wonders for him as it did for us. Like Dave, we were swinging high on the real estate bubble with leveraging everything after we made a few million. We had hoped to make many more millions but the bubble burst and we quickly went thru our 2 years of living expenses in savings (which seemed very reasonable at the time....but we didn't realize the big bucks would come to a screeching halt for years!). Our monthly bills totalled about $25,000.00. Unfortunately, we did have to file bankruptcy but still our monthly debt was around $12,000.00. Since going thru Dave's class our monthy bills are now down to $6,000.00! Still higher than we would like but we are keepin' on keepin' to lower that even further. Thank you Dave for giving the financial lessons we all should have been taught in childhood!
Nikayla
Alabama
"Even though my husband and I have just started, it's taken a while to get him here. Now that we are here we are both so excited to be on our way to PEACE - financially, and spiritually together. Thank you so much Mr. Ramsey for listening to God's call on your heart to help so many. <<>><"
Bluelapiz
El Lago, TX
excellent programs, would recommend to everyone wanting to control your own finances
yoyoco
pittsburgh, pa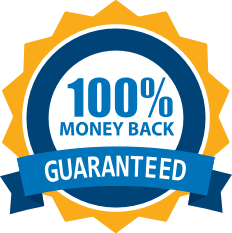 Our 100% Money Back Guarantee
Complete all nine lessons. Give it a real shot by following Dave's plan. If you aren't happy with your purchase within the first 90 days, we'll give you your money back.
You Can Do This.
Start Today!
You shouldn't feel overwhelmed and powerless over your money. You can be in control of your money and your future.
Interested in volunteering to be a Group Leader?