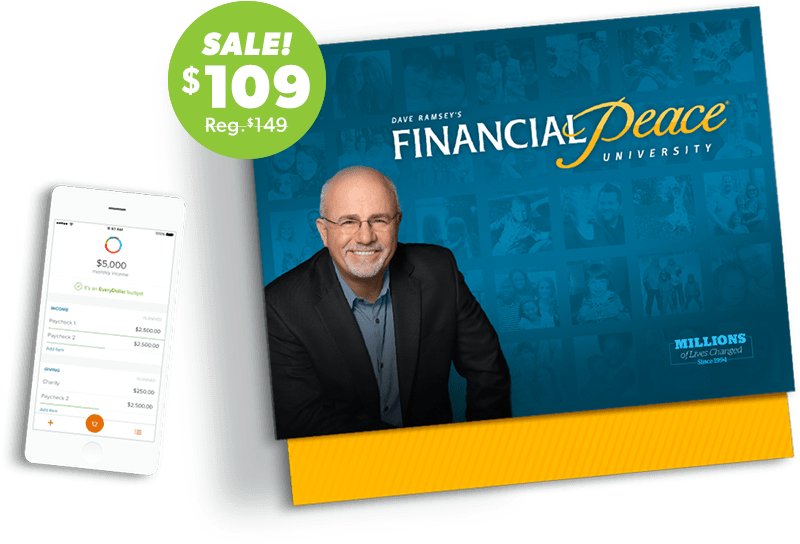 Never Worry About Money Again
Financial Peace University will help you take control of your money, plan for your future, and transform your life.
9 Lessons That Teach You How To Win With Money
Everything You Need to
Take Control of Your Money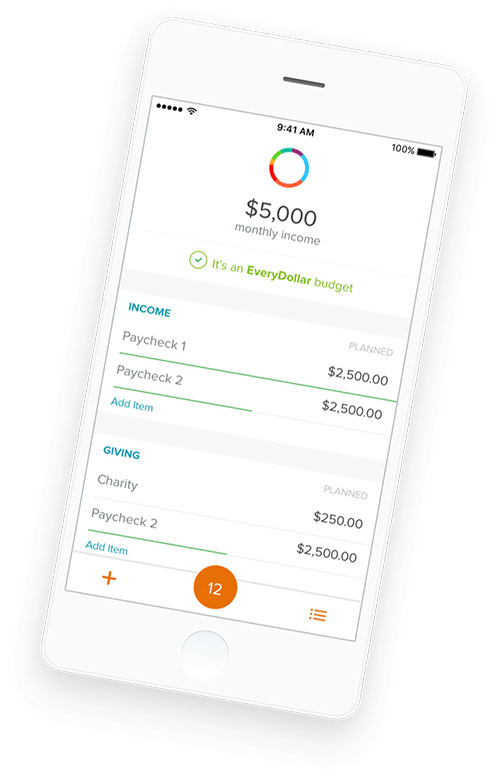 Track Spending
With Our Budgeting Tool
Connect your budget straight to your bank, sync across multiple devices, and enjoy anytime, anywhere access.
Learn From
Life-Changing Lessons
Watch entertaining videos, get your questions answered with financial coaching assistance, and stay on track with digital tools.
Budget, save and pay off debt.
Get on the same page with your spouse.
Identify which types of insurance you need.
Plan and save for major expenses.
Invest for your future, give generously, and more.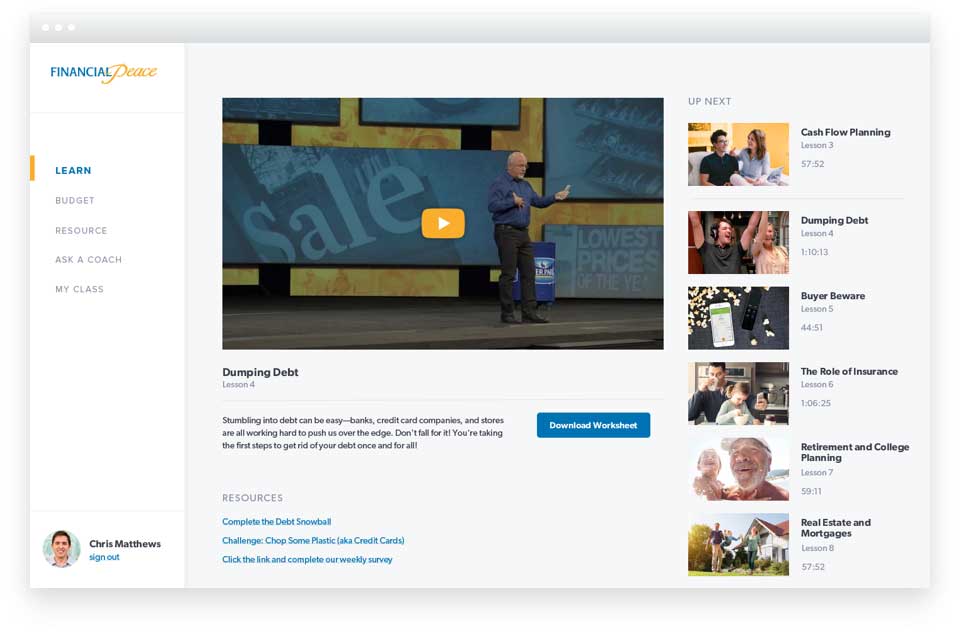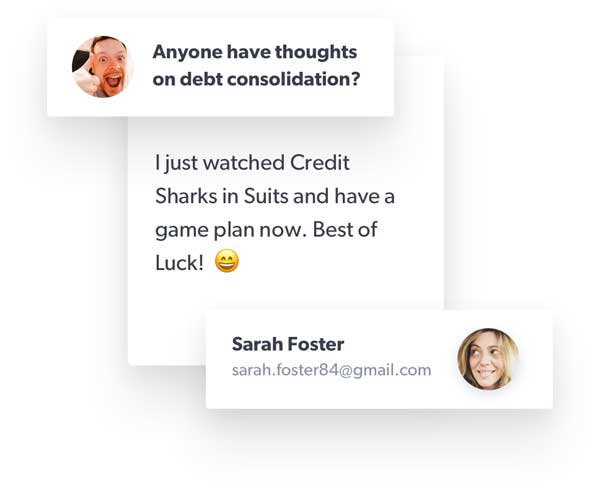 Take With a Group Nearby or Online at Home
Learn at your own pace by watching videos online and keep your progress moving forward with support from online community and financial coaches. Or join a group that meets near you and stay motivated by learning week by week with people just like you.
Did you know...?
Even though there are no groups currently near your location, you'll have access to Financial Peace University for an entire year! Start working the plan today and join a group when one becomes available.
You learn the same principles in the Online experience of Financial Peace University as you do with a group.
After checkout, you can start watching the lessons and using the tools and resources right away.
Dave has been there before. He gets it.
Dave Ramsey created Financial Peace University nearly 25 years ago after learning how to pay off debt, save and spend wisely, and build wealth. Today, millions have used the same principles to transform their lives.
Join the 5 Million People Who Have Taken Control of Their Money
This program has made a huge difference in my life. I am still working through it, and I am not yet debt free, but I have hope that one day I will be and I know the changes that I have to make to get there. Dave has motivated me, educated me, and provided me with the tools to change my financial future. For that I am grateful!
nseais
Pennsylvania
The best thing about this program is being urged to take Baby Steps. I am the type of person who wants this done yesterday...but I didn't get to this position overnight and it is going to take me time to get out of this hole I've dug. The class is showing me how to get out and stay out of the Debt Hole with Baby Steps. Thanks for breaking this monster down into tiny parts so we can overcome it!
BabySteps2010
Everett, WA
Everyone should have to learn this before getting out of High school.
Buck
Dallas
Tried to present it to pastor for church he had a problem with the wealth building part which got into a slight disagreement.
ShellyO
Chicago, IL
FPU has brought hope to my family. Although we have been working on the goal to become debt free for years, it always felt like we were not making any progress. The Debt Snowball tool opened our eyes to the reality that it IS possible to get out of debt. We are so excited to be teaching these principles to our children so that they don't fall into the same debt trap we did. The videos are insightful and entertaining, the tools are easy to use, and the entire program is easy to understand. A heartfelt THANK YOU to Dave Ramsey and his standout team for executing such a life altering line of products.
Dynamic
Sanford, FL
I was a little skeptical before taking this class about some of the principles taught, especially about student loans and credit score. Me and my wife are still in lesson 3 and baby step 2 and my attitude is slowly changing towards debt (all debt). Praying to God for perseverance, strength and courage to implement the plan.
KevinnNisy
Huntingdon Valley PA
We are amazed at all the specific examples provided for us to take real charge of our finances. We chuckled when we read (and heard Dave) list the pitfalls that most people fall into because it was as though he was describing everything we did and he does not even know us!!! My husband and I are grateful to Dave and the insights he has chosen to share with us; he has provided God's scripture verses as proof that God never intended for us to be broke, yoked to debt, and living miserably. There is true freedom when we do things (all things including financial) God's way.
AbbyKea
Naples, Florida
I have purchased this kit for every one of my friends that has a baby. The ones that do it all thank me for introducing them to a plan for the rest of their life.
goatpastthebarepatch
Kosovo
This product is one of the best investments that I have made in a long time. I call it an investment, not a purchase, because the knowledge and tools provided in the Financial Peace University will help you with all of your financial decisions and planning throughout your life. It will pay for itself ten folds within the first few months of reading and applying the lessons learned. Highly recommended.
AlanPun
Clermont, FL
I love this system, i was raised to save money for a rainy day. But when i recently moved to a new city i went through my savings so quickly and realized it was time to buckle down on my budget. After, taking FPU at a local church I've been saving so much money and God has blessed me so much financially! Budgeting was difficult at first but after telling my money where to go it's getting easier. I encourage anyone and everyone to have Financial Peace it will change your life for the better!
bspellmon
Oklahoma City, OK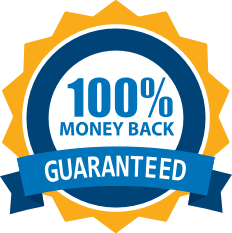 Our 100% Money Back Guarantee
Complete all nine lessons. Give it a real shot by following Dave's plan. If you aren't happy with your purchase within the first 90 days, we'll give you your money back.
You Can Do This.
Start Today!
You shouldn't feel overwhelmed and powerless over your money. You can be in control of your money and your future.
Interested in volunteering to be a Group Leader?