Never Worry About Money Again
Meet up with a local group for community, motivation, and accountability.
Watch the lesson videos in the comfort of your home and on your own schedule.
Meet with a group, enjoy at home, or do both. Switch at any point. It's up to you.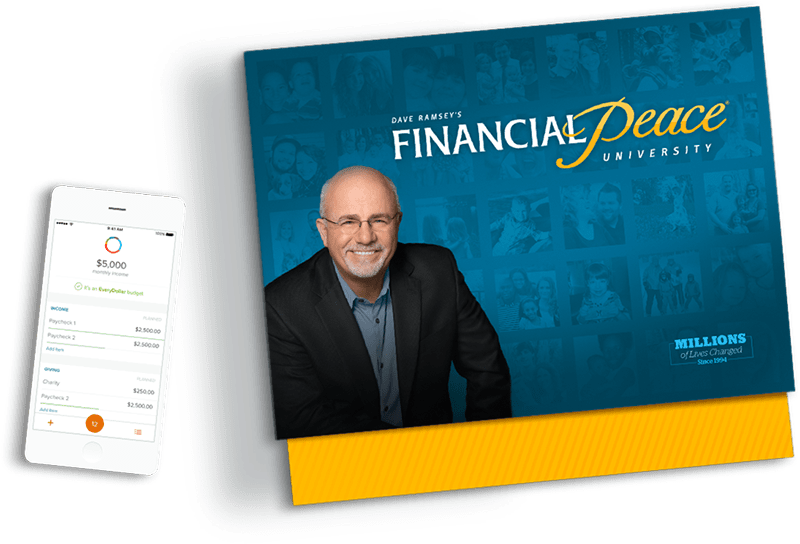 Financial Peace University
Never Worry About Money Again
Financial Peace University will help you take control of your money, plan for your future, and transform your life.
9 Lessons That Teach You How To Win With Money
Everything You Need to
Take Control of Your Money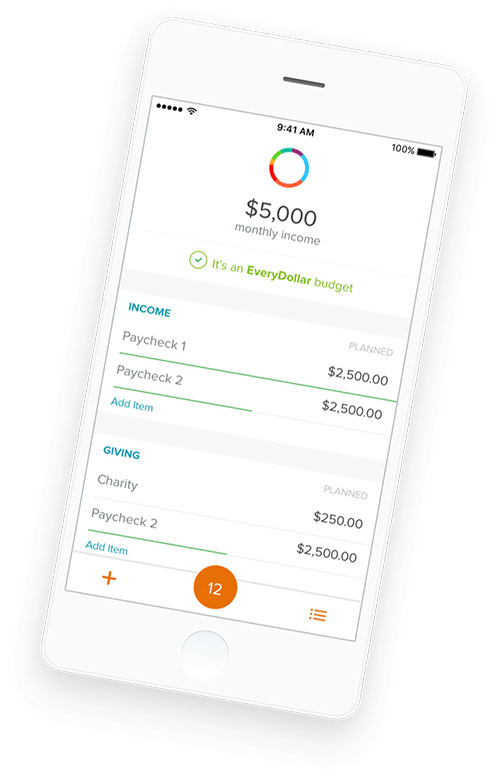 Track Spending
With Our Budgeting Tool
Connect your budget straight to your bank, sync across multiple devices, and enjoy anytime, anywhere access.
Learn From
Life-Changing Lessons
Watch entertaining videos, get your questions answered with financial coaching assistance, and stay on track with digital tools.
Budget, save and pay off debt.
Get on the same page with your spouse.
Identify which types of insurance you need.
Plan and save for major expenses.
Invest for your future, give generously, and more.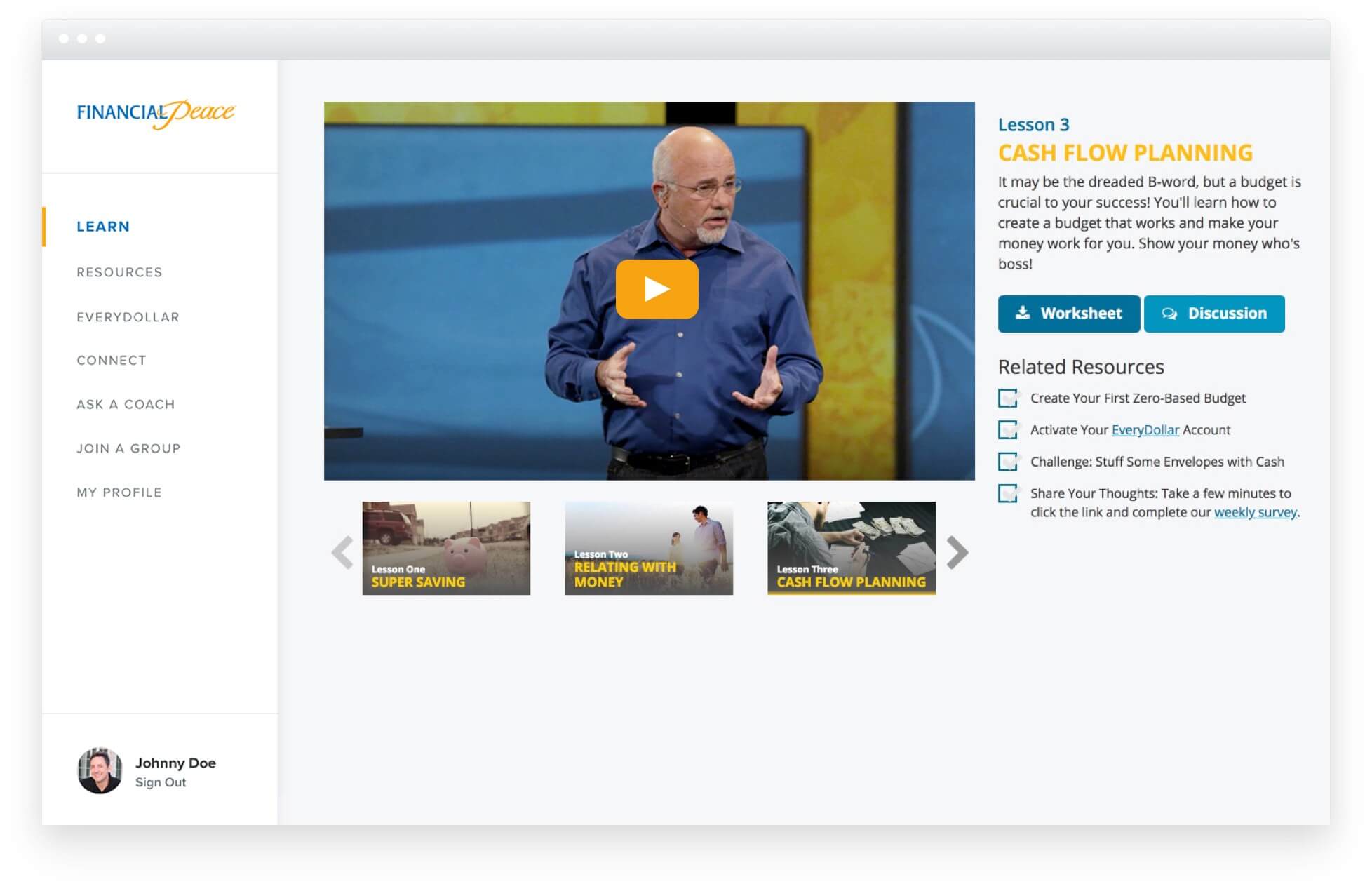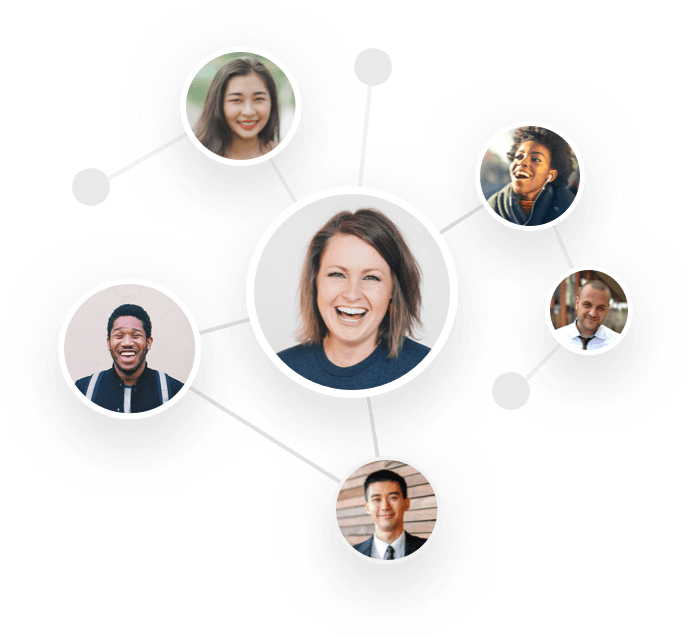 Take With a Group Nearby or Online at Home
Learn at your own pace by watching videos online and keep your progress moving forward with support from online community and financial coaches. Or join a group that meets near you and stay motivated by learning week by week with people just like you.
Did you know...?
Even though there are no groups currently near your location, you'll have access to Financial Peace University for an entire year! Start working the plan today and join a group when one becomes available.
You learn the same principles in the Online experience of Financial Peace University as you do with a group.
After checkout, you can start watching the lessons and using the tools and resources right away.
Dave has been there before. He gets it.
Dave Ramsey created Financial Peace University nearly 25 years ago after learning how to pay off debt, save and spend wisely, and build wealth. Today, millions have used the same principles to transform their lives.
Join the 5 Million People Who Have Taken Control of Their Money
This program is what it took for us to get the ball rolling. We knew what to do, but just didn't until now.
jakebrake
bloomfield, ia
FPU is the best financial advice ever. It will change the way you think and respond to life. It will teach you all the myths out there and the truth about them. Furthermore, it will help you devise a plan no matter where you are at in your financial life. Warning: This product will change your life! If you do not want to change, do not purchase it.
FPUUnited
Frederick, MD
We have been changed by FPU! We went from no plan and no clue to having financial goals and seeing the path to real financial peace. We have been called crazy by friends and family for living without credit cards, a mortgage and without a car payment. I think that they are crazy for living with debt. This online course is a great way to do FPU on your own schedule or if you can't find a class in your area. You will be changed by this!
ProfessorB
Ocala, Fl
Dave Ramsey's program has changed my life. In just over one month I managed to pay off all my credit card debt and am now working towards my car and student loans. I was so exited about this program I have shared it with my friends and family. First the first time, my mom has finally gained control of her money and has built up her emergency fund. Thank you Dave.
DreamsofParis
Orlando,FL
Dave has help me get out of debt, stay out of debt & save, save save! I bought the financial peach dvd set for a young couple on the island. I am passing it forward. I highly recommend Dave to all. Everyone can benefit from his knowledge (the school of hard knocks). Thanks Dave.
Beachcombers
Edisto Beach, SC
We bought this package for my 20-y-o niece, who lives in Mississippi after she asked for advice on budgeting & couponing. I offered to pay for her to go through FPU to her if she was ever interested and heard back from her within 24 hours that she would LOVE to take it! She's been doing so great keeping up with the lessons and sends me updates every week. I'm so proud of her to be starting out the right way - no debt from college and already living on a budget! My DH & I are 8-time FPU coordinators here in Tulsa, have been debt-free except the house for 2 years now, and are excited to share it with our extended family! Thanks, Dave!
sassykatg
Tulsa, OK
No matter what you think you know about finances, if you watch this series I guarantee you'll learn something.
Normaltraffic
Lagrange, KY
I hesitated to purchase because the program was made for everyone but me. I listen regularly to radio show at first as entertainment but shortly realized that this product is a life changing project. I took the pledge for change for me and my family. Thank you and god bless all of us.
SunfishintheDesert
New Mexico
I am still taking the classes, but I absolutely love them! They are funny and give valuable information. Dave doesn't talk over you head or ask you to do things that hard to do. It is just common sense stuff. I can't wait to see how I can start living my life and not have to worry about money. This was one of the best decisions I've ever made!
margie525
Stewartstown, PA
Dave Ramseys' online course has truly made an impact in bettering my life. A day does not go by, that I do not somehow relate my day back to a teaching from this course. My fiancé is blown away by how my attitude towards money has changed. For 12 years he has been telling me we need to be dedicated and grow our value. After watching this class I know how and now I tell him the same thing. We are on a better financial path and its all thanks to this class. I have told all my friends and family about this class, and they are are all getting excited about making changes. Thank you Dave Ramsey for bettering not only my live but, our lives.
CookingChar
Helendale, CA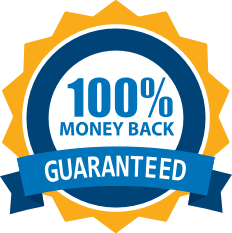 Our 100% Money Back Guarantee
Complete all nine lessons. Give it a real shot by following Dave's plan. If you aren't happy with your purchase within the first 90 days, we'll give you your money back.
You Can Do This.
Start Today!
You shouldn't feel overwhelmed and powerless over your money. You can be in control of your money and your future.
Interested in volunteering to be a Group Leader?