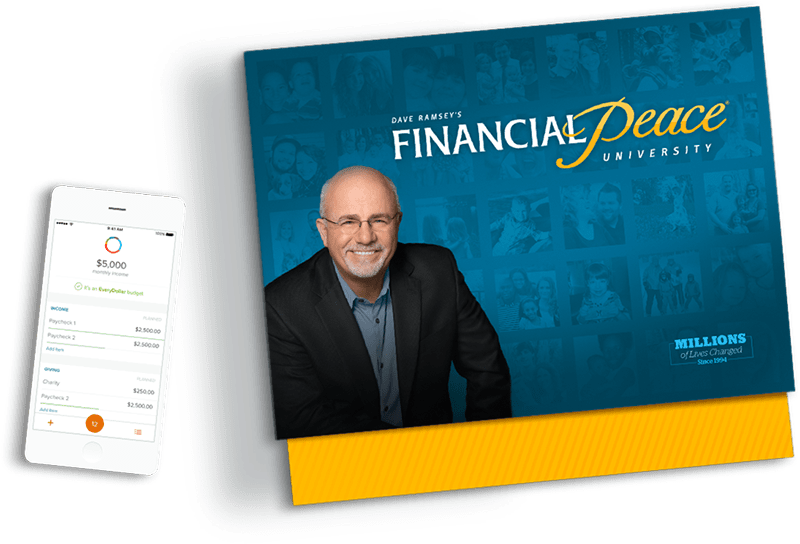 Never Worry About Money Again
Financial Peace University will help you take control of your money, plan for your future, and transform your life.
9 Lessons That Teach You How To Win With Money
Everything You Need to
Take Control of Your Money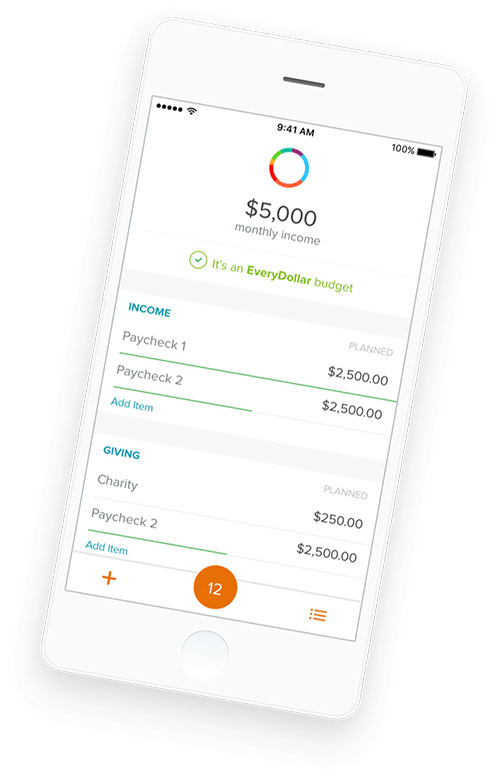 Track Spending
With Our Budgeting Tool
Connect your budget straight to your bank, sync across multiple devices, and enjoy anytime, anywhere access.
Learn From
Life-Changing Lessons
Watch entertaining videos, get your questions answered with financial coaching assistance, and stay on track with digital tools.
Budget, save and pay off debt.
Get on the same page with your spouse.
Identify which types of insurance you need.
Plan and save for major expenses.
Invest for your future, give generously, and more.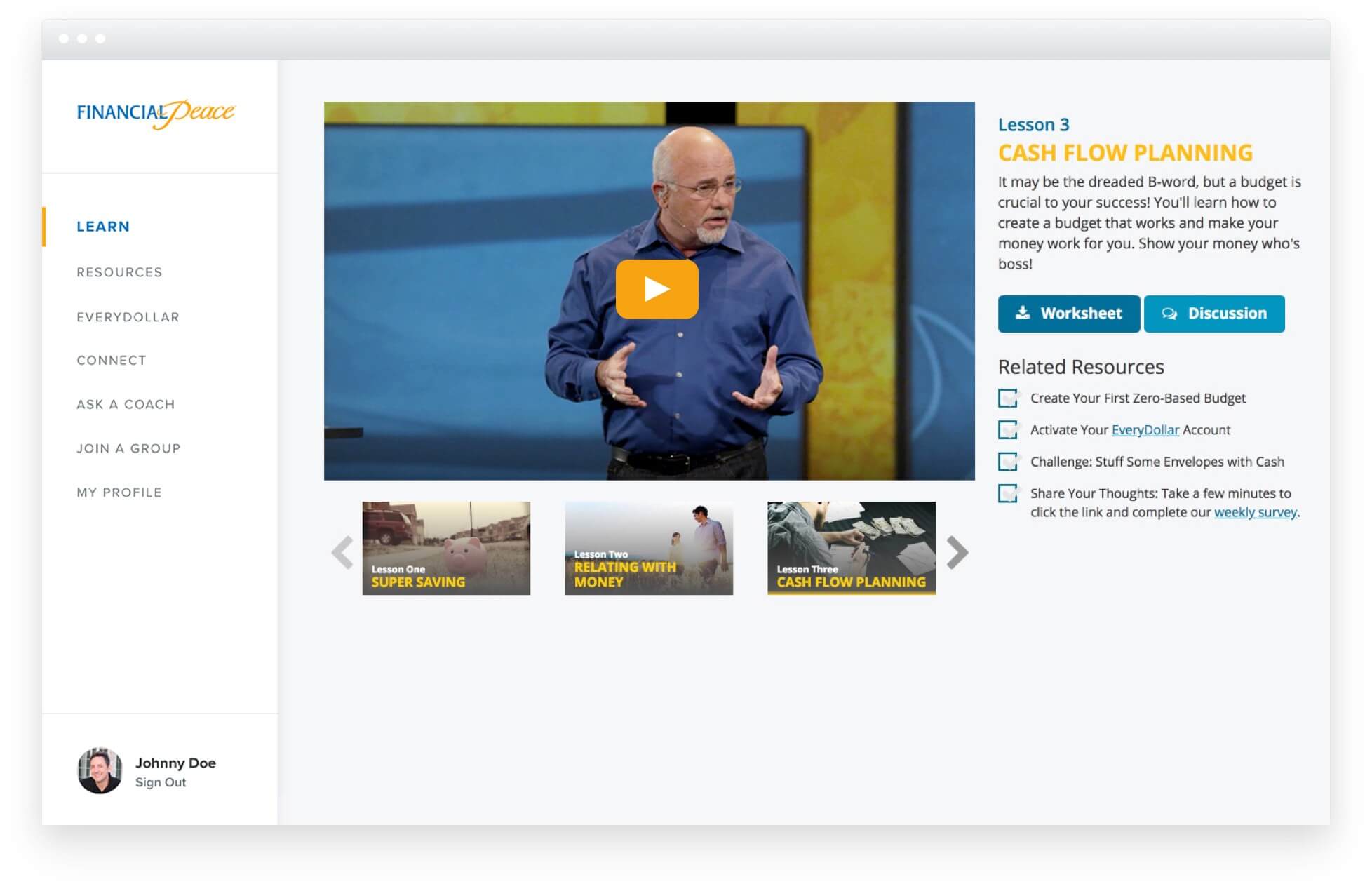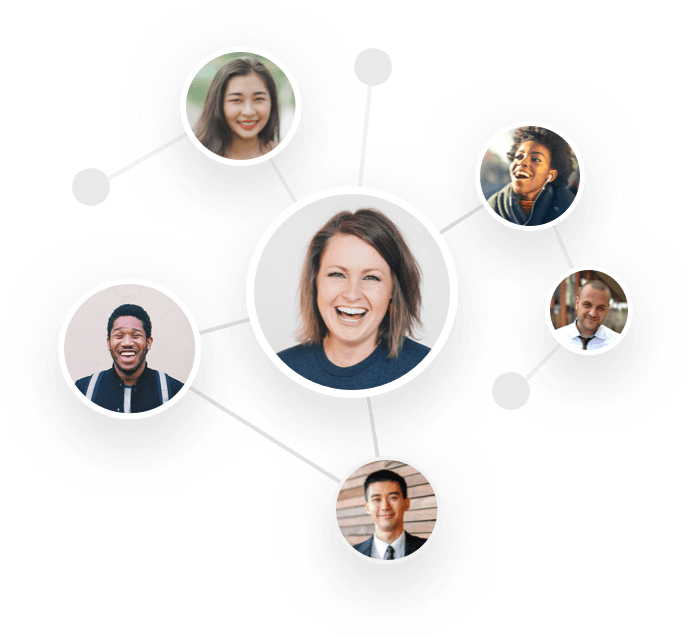 Take With a Group Nearby or Online at Home
Learn at your own pace by watching videos online and keep your progress moving forward with support from online community and financial coaches. Or join a group that meets near you and stay motivated by learning week by week with people just like you.
Did you know...?
Even though there are no groups currently near your location, you'll have access to Financial Peace University for an entire year! Start working the plan today and join a group when one becomes available.
You learn the same principles in the Online experience of Financial Peace University as you do with a group.
After checkout, you can start watching the lessons and using the tools and resources right away.
Dave has been there before. He gets it.
Dave Ramsey created Financial Peace University nearly 25 years ago after learning how to pay off debt, save and spend wisely, and build wealth. Today, millions have used the same principles to transform their lives.
Join the 5 Million People Who Have Taken Control of Their Money
My wife and I have been watching the videos intensely. The very first class caused the best conversation/fight. After that we had to ask if every week we were going to be scheduling a fight every week. It has forced us to talk about issues we didn't know we had. We talked about fears and dreams but we were able to make plan that dealt with both. I would and have recommended this program to everyone who I think would be willing to do it.
Ubetchyah
Lowell, Oregon
I received the kit very quickly - Just what we needed. Could not wait to get started.......to date - I have listened to all the CD's in the car and am working my way through the program on-line. It make such a difference in the way we think and act. I wish we would have done this 25yrs ago. Thank You Dave Ramsey, God Bless.
tattered
Northwest GA
My wife and I were married for 13 years before we took Financial Peace University classes at our church. I realized early on that I had been putting a heavy burden on her shoulders by having her pay bills and make all the financial decisions. Much has changed since then and we know now that we were missing a critical piece that the foundation of our marriage needed - Financial Peace. Now we're a team. We pay bills together. We plan our cash flow and our savings together. We dream big together and we're pulling in the same direction finally - true north!
betterthanideserve
Columbus, GA
OH MY!!! This program was put together so well and in such an order that I was amazed. The information and it's delivery was educating, inspiring, motivating, funny, complete and total truth. Yes, I am telling anybody that will listen and those who won't. BUY THIS PROGRAM AND FOLLOW IT!!! And stay pumped while follwing by listening to the Dave on iheartradio. This stuff works!!!
DebtGoneFREEDOM
Columbus, OH
My husband has always made a nice salary, but we never saved money. I started my own business a few years ago and I came to the realization of money. Some of my clients started sharing how Dave Ramsey had help. I bought the program and made my son's participate. For the first time the family is now more money conscious. We have a budget and I am looking forward to saving and paying for a vacation cash next year and for the retirement and beyond. Thanks
LisaGG1
Houston, TX
Great program. I have totally turned my finances around. I'm amazed how quick things happen during Baby Step 2. I would and do recommend this to anyone.
ramseyfan2010
Illinois
It has been said before, I know, but Financial Peace University has changed our lives! Starting the program has obviously not increased our income, but it has helped us do things with the money we make that we never thought possible. I would NEVER have believed we could eliminate almost $4000 worth of debt in 5 weeks! For once in our lives, we look forward to payday not because we NEED the money, but because we are excited to see what we will be able to do with it for the next 2 weeks!
Cajacajo
Roscommon, MI
"After the first week of using the money envelope system I could tell I was saving more money. Dave is absolutely right about being more emotionally attached when you pay with cash. I started realizing how much I was actually spending on food and stuff that is not necessary. Listening to the audio was a blast! I looked forward to it every time I got in the car. I would laugh all the way to work. Dave is hilarious! Totally worth every penny!"
Hanh
Houston, TX
This is the 3rd FPU I have bought as a wedding gift. I am greatfull for Dave's teachings. The lucky couples have ALL been very impressed with the knowledge and are working though the baby steps. Thank you, Wink
Wink
Chandler , AZ
High quality product and great price...working on the life changing part :)
vern
mi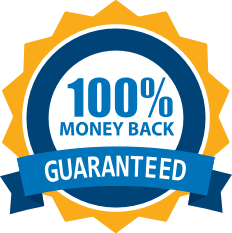 Our 100% Money Back Guarantee
Complete all nine lessons. Give it a real shot by following Dave's plan. If you aren't happy with your purchase within the first 90 days, we'll give you your money back.
You Can Do This.
Start Today!
You shouldn't feel overwhelmed and powerless over your money. You can be in control of your money and your future.
Interested in volunteering to be a Group Leader?
Before you go...
We want to make sure you have a chance to sign up for a FREE lesson with Rachel Cruze! Catch her live on June 26 and learn how to save $1,000 fast.
Don't Miss It!