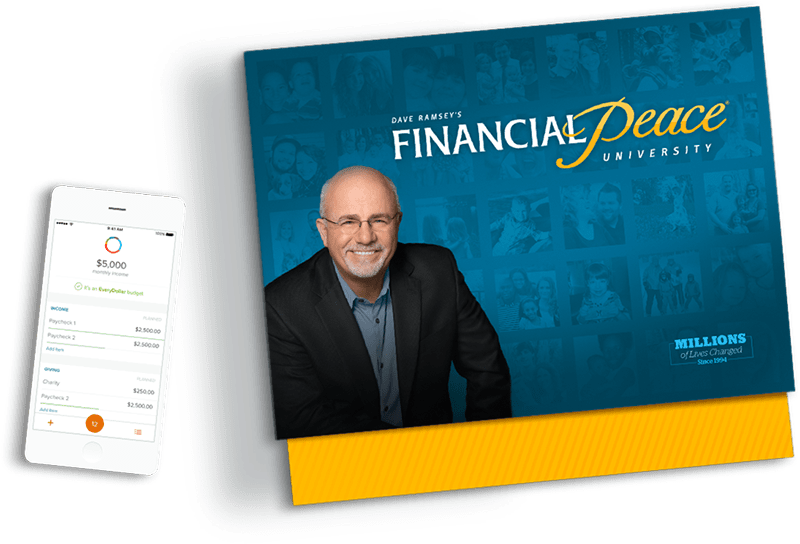 Never Worry About Money Again
Financial Peace University will help you take control of your money, plan for your future, and transform your life.
9 Lessons That Teach You How To Win With Money
Everything You Need to
Take Control of Your Money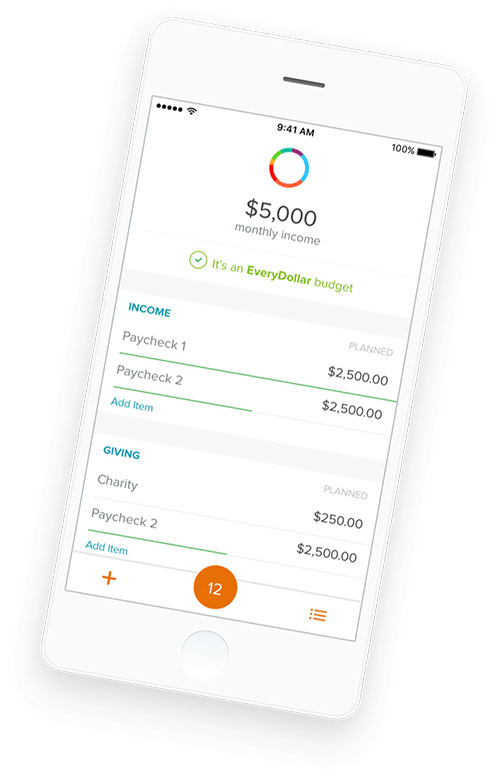 Track Spending
With Our Budgeting Tool
Connect your budget straight to your bank, sync across multiple devices, and enjoy anytime, anywhere access.
Learn From
Life-Changing Lessons
Watch entertaining videos, get your questions answered with financial coaching assistance, and stay on track with digital tools.
Budget, save and pay off debt.
Get on the same page with your spouse.
Identify which types of insurance you need.
Plan and save for major expenses.
Invest for your future, give generously, and more.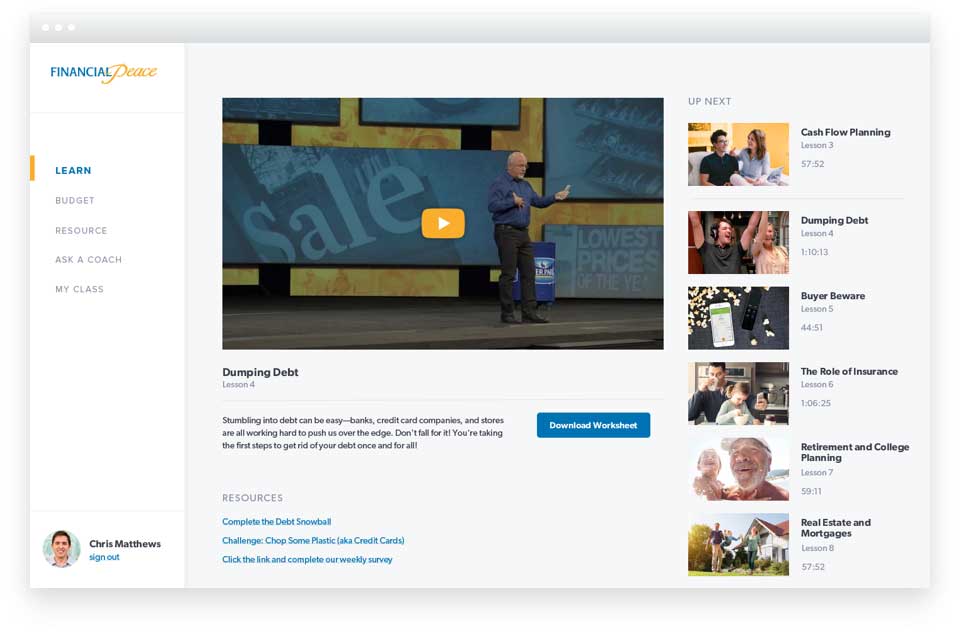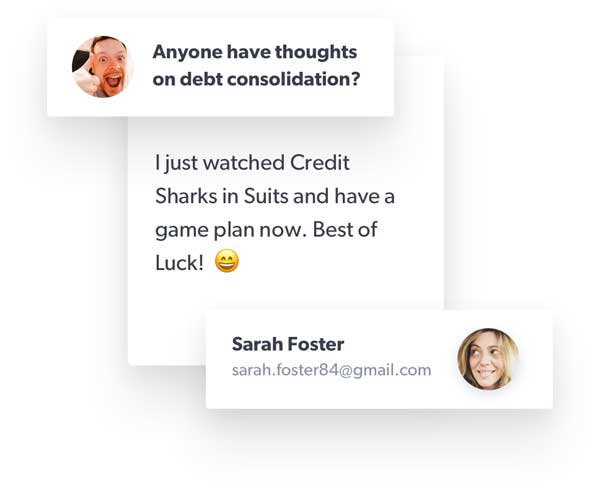 Take With a Group Nearby or Online at Home
Learn at your own pace by watching videos online and keep your progress moving forward with support from online community and financial coaches. Or join a group that meets near you and stay motivated by learning week by week with people just like you.
Did you know...?
Even though there are no groups currently near your location, you'll have access to Financial Peace University for an entire year! Start working the plan today and join a group when one becomes available.
You learn the same principles in the Online experience of Financial Peace University as you do with a group.
After checkout, you can start watching the lessons and using the tools and resources right away.
Dave has been there before. He gets it.
Dave Ramsey created Financial Peace University nearly 25 years ago after learning how to pay off debt, save and spend wisely, and build wealth. Today, millions have used the same principles to transform their lives.
Join the 5 Million People Who Have Taken Control of Their Money
I really wished this class was around when I was 19 years old; I would have been better educated about money. I have already shared this with a few friends and intend to spread the word more! THANK GOD FOR FPU!
CamRich
Rockville, MD
I like the 13 week format much better. Have been co-teaching the class for years and there were a few changes they made that to me should have never been done. Number 1 they took out the testimonials on the DVD's. Everyone loved hearing those. Number 2 Dave has his guest speakers, 3 of them, doing part of the lecturing and just not the same. They just don't have the charisma and delivery impact that Dave has and just diminishes the series. Still love the course and still think it's a wonderful thing to get involved with but really wish they would go back to the old format.
Paul3214
Phoenix
Actually, I am a big big believer in this program. It is something that my corporation recommends and many people have benefitted from it. Unfortunately, I still cannot get signed in. I sent a request to support shortly after I purchased the program, and was told that they needed to reset my username/password because of a change in the required number of characters needed in a password. That was before Christmas.....i'm still waiting. I'm sure that I will be thrilled to death once I get to actually begin the program....please, please, please, get me so I can sign in!
mn10
north carolina
Financial Peace University changed our life : ) It came as a gift when needed the most and has put us on the track to success!!
Smithmama
Port Huron, MI
We made a major lifestyle change in deciding to follow God into ministry. Our income was cut dramatically. We had no debt but needed to learn to live on significantly less money. Financial Peace showed us the way and is giving us peace I the process.
kelcorsmom
West Des Moines, IA
I'm really loving my new kit already! I immediately switched my wallet over to the Designer Envelope System. I love using it! I love all the tools and have been using the budgeting spreadsheet since before I became a member. The only two gripes I have are with the wallet I have: The card slots are way too tight and I could barely get my license in there. I have other membership cards (CostCo, Starbucks, etc) that I put in there, but it's really hard to get them out. Also, there are a few envelopes, and then a plastic pouch and then a few extra places to write on in case you run out of space on the envelopes. It's great, but you can't move them. You'd have to take apart the whole thing, reorder them and then carefully put it back together. It'd be great to have an easier way to reorganize the wallet.
Teka
Santa Cruz, CA
Single mom, widowed with 2 kids, 11 and 15. Only debt is $16,000 in student loans. Home is paid for and college loans are my only debt. Started on Jan. 3 2010 and by end of Jan, paid down loan to 13,600 and by end of February, I will pay down an additional $2,000. My debt snowball will have me paid off by no later than July 2010. These loans would have taken me until Sept. 2019, had I paid the minimum payment. I should be debt-free by late summer of this year, having paid $16,000 off in about 8 months. My income totals $4,500 per month. What I love about the envelope system is that I have scrutinized my spending and whittled away excess waste. I did the plastectomy on my few credit cards and it felt awesome. I finally feel like I have a clear cut plan for my future and my childrens. I was doing everything backwards, funding the IRA and kids college instead of snowballing the debt. I started college mutual funds for my girls when they were just weeks old...and I've funded the IRA. I was just doing everything scatterbrained and without a concrete plan. I love FPU Revisited as well as Total Money Makeover. The quality of the FPU home kit is outstanding. This is the most valuable investment I have ever purchased. Now, I can't wait to whittle away at unnecessary spending, go crazy with yard sales and soon, be completely debt free. What a great lesson to get my girls involved in the whole budget process. Thank you and God Bless!!!
Jozee
Mogadore, OH
I first listened to these in preparation for the class series my husband was leading. I expected them to be somewhat helpful but boring. Instead I found highly applicable advice, presented in a way that made it enjoyable to listen to in the car. I got in the habit of listening before class, watching the same info for class, and then listening again the week after class. Since the class has ended I have pulled out and listened to them again. I am purchasing the set for our grown, married and in debt kids! I hope they will take the classes in their area after listening.
MaryO
Tampa, Fl
This program is what it took for us to get the ball rolling. We knew what to do, but just didn't until now.
jakebrake
bloomfield, ia
i got the spanish version for my brother in debt Si
MEXICLE
kansas city kansas
You Can Do This.
Start Today!
You shouldn't feel overwhelmed and powerless over your money. You can be in control of your money and your future.
Interested in volunteering to be a Group Leader?