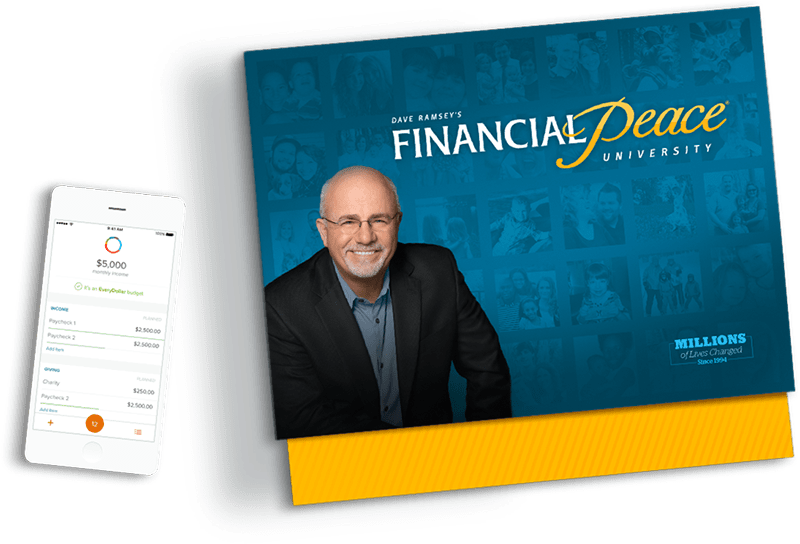 Never Worry About Money Again
Financial Peace University will help you take control of your money, plan for your future, and transform your life.
9 Lessons That Teach You How To Win With Money
Everything You Need to
Take Control of Your Money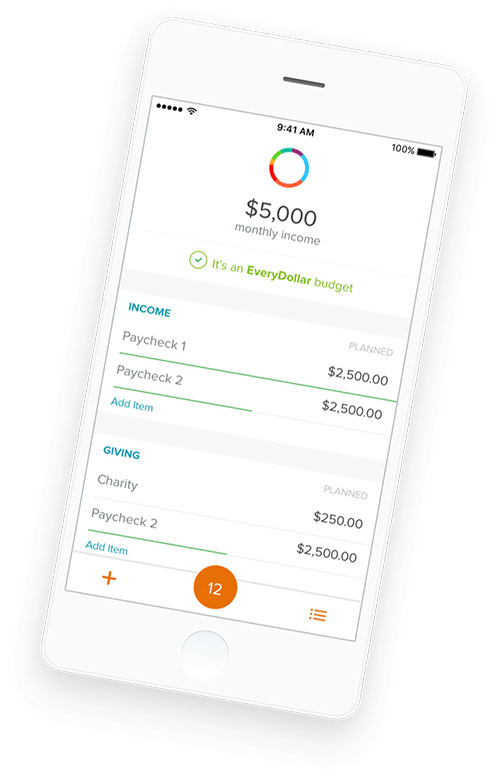 Track Spending
With Our Budgeting Tool
Connect your budget straight to your bank, sync across multiple devices, and enjoy anytime, anywhere access.
Learn From
Life-Changing Lessons
Watch entertaining videos, get your questions answered with financial coaching assistance, and stay on track with digital tools.
Budget, save and pay off debt.
Get on the same page with your spouse.
Identify which types of insurance you need.
Plan and save for major expenses.
Invest for your future, give generously, and more.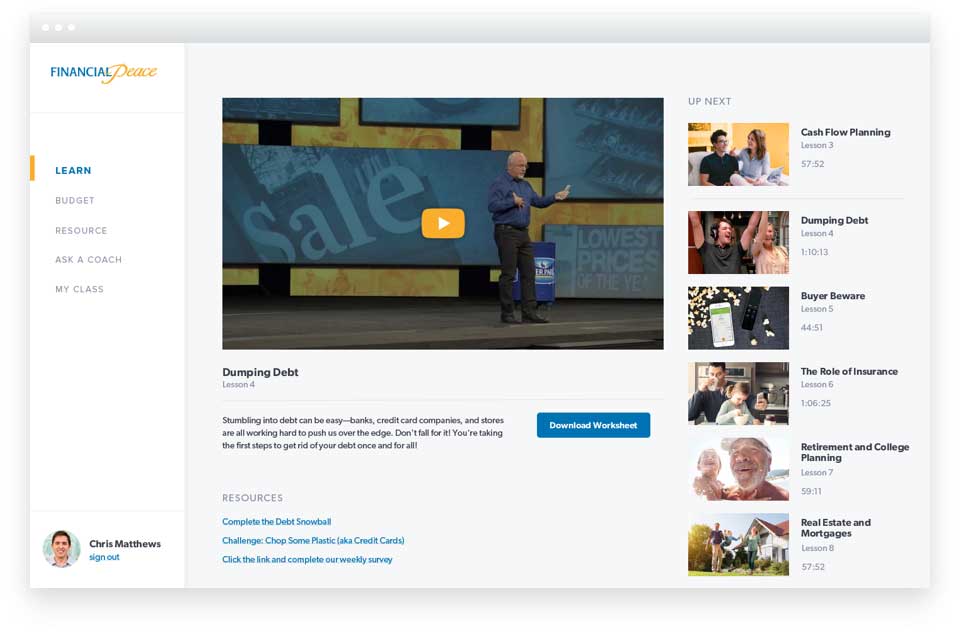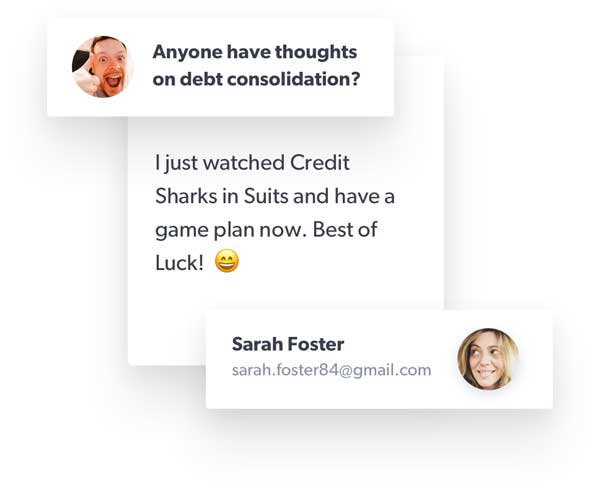 Take With a Group Nearby or Online at Home
Learn at your own pace by watching videos online and keep your progress moving forward with support from online community and financial coaches. Or join a group that meets near you and stay motivated by learning week by week with people just like you.
Did you know...?
Even though there are no groups currently near your location, you'll have access to Financial Peace University for an entire year! Start working the plan today and join a group when one becomes available.
You learn the same principles in the Online experience of Financial Peace University as you do with a group.
After checkout, you can start watching the lessons and using the tools and resources right away.
Dave has been there before. He gets it.
Dave Ramsey created Financial Peace University nearly 25 years ago after learning how to pay off debt, save and spend wisely, and build wealth. Today, millions have used the same principles to transform their lives.
Join the 5 Million People Who Have Taken Control of Their Money
This information is excellent. I was sad though to not be able to see the presenters. I tend to learn best with the visual reinforcements. It was my mistake and I just don't want others to go through the initial disappointment that I did. Though we are not in a financial bind, this program is driving an important organization process and has provided a detailed knowledge of where our resources go. We can now be more purposeful with them. Thank you.
HappyCouple2
Michigan
I only wish I had this information earlier in my life, and I strongly recommend your program to everyone in this country. It would revolutionise our economy not to mention lifestyle. Thanks so much for your program jim
Lazer
Longwood Fla
Because of Dave's direct and energetic approach to a topic such as budgeting, we are finally moving in the right direction! I have read several of Dave's books in the past and always appreciated his advice. Since recently getting married and waking up to lots and lots of debt in our marriage my husband has been overwhelmed. This video series has caught his attention in a way that reading could not. Thanks again Dave! We just scheduled our first live classes to really immerse ourselves in our new budget plan/skills. CCB, The Woodland's TX
CCB36
The Woodlands, TX
I like the 13 week format much better. Have been co-teaching the class for years and there were a few changes they made that to me should have never been done. Number 1 they took out the testimonials on the DVD's. Everyone loved hearing those. Number 2 Dave has his guest speakers, 3 of them, doing part of the lecturing and just not the same. They just don't have the charisma and delivery impact that Dave has and just diminishes the series. Still love the course and still think it's a wonderful thing to get involved with but really wish they would go back to the old format.
Paul3214
Phoenix
We went through the Total Money Makeover after continuously overdrafting our checking account. Overdrafting on my wifes birthday was the final straw. We have had great sucess: Our credit cards are gone and shredded. We said bye-bye to our student loan debt, credit card debt, car loan. We paid off approximately $15,000 in debt. We now have money in the bank with a fully funded 3-6 months expenses. We accomplished all of these things in about 8 months. Its amazing how much money you can save when you stop being childish with you money. We bought this package for my sister who is at a point in her life where she is just staying afloat and is stuck in the debt swamp. She has finally identified that she is not getting ahead and is ready for a change. We hope that this gift will change her life as it has changed ours. Thanks Dave A & G from B-HAM
AGBHAM
Birmingham, AL
My husband and I have been married 20 years and never operated on a budget. Our only regret is that we didn't do this years ago! We are now both on the same page and I don't have the feeling of guilt and worry that I used to have when trying to make ends meet. Cannot wait to be debt free!
Weezer
Council Bluffs, IA
This Program is full of great Ideas and information maybe the government should purchase the program and use it as a guideline for creating a budget and getting out of debt
Jer1
Eagle Mountain Utah
I got caught up in the credit card rewards life. Yes, I have lots of airline miles, but through Dave's teaching I now live in the world of no credit card debt. Cash or debit card is my new way! It makes sticking to my budget a whole lot easier, and I know longer have questions, as to where the money is going. Thanks Dave!!!
Hercules
San Antonio, Texas
I have purchased this kit for every one of my friends that has a baby. The ones that do it all thank me for introducing them to a plan for the rest of their life.
goatpastthebarepatch
Kosovo
I appreciate the option of using online resources while waiting for the local class to start. There is no delay in getting the information and starting to put it into action. Sometimes there were issues with the videos but I was able to go back into them and 'resume', not sure if this was a personal internet issue or an issue with the website/server.
virn32
Lewiston, ME
You Can Do This.
Start Today!
You shouldn't feel overwhelmed and powerless over your money. You can be in control of your money and your future.
Interested in volunteering to be a Group Leader?