Never Worry About Money Again
Meet up with a local group for community, motivation, and accountability.
Watch the lesson videos in the comfort of your home and on your own schedule.
Meet with a group, enjoy at home, or do both. Switch at any point. It's up to you.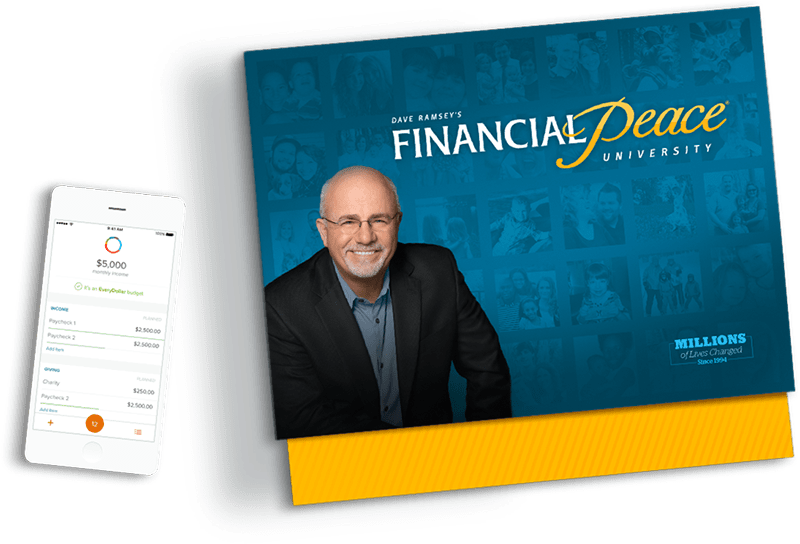 Financial Peace University
Never Worry About Money Again
Financial Peace University will help you take control of your money, plan for your future, and transform your life.
9 Lessons That Teach You How To Win With Money
Everything You Need to
Take Control of Your Money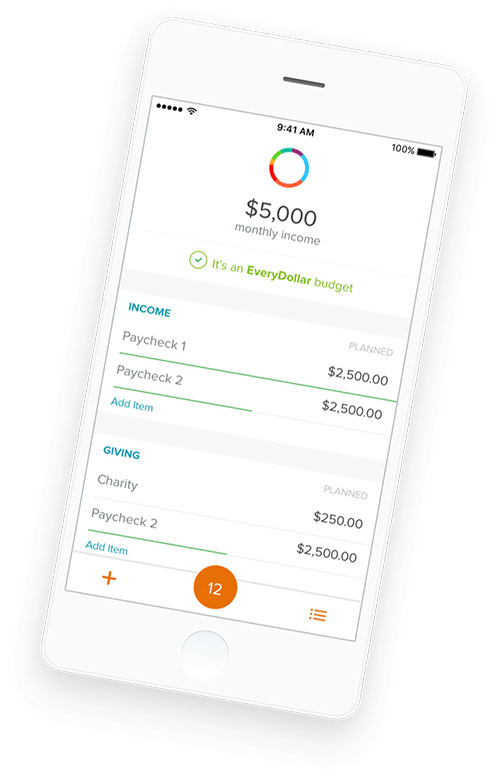 Track Spending
With Our Budgeting Tool
Connect your budget straight to your bank, sync across multiple devices, and enjoy anytime, anywhere access.
Learn From
Life-Changing Lessons
Watch entertaining videos, get your questions answered with financial coaching assistance, and stay on track with digital tools.
Budget, save and pay off debt.
Get on the same page with your spouse.
Identify which types of insurance you need.
Plan and save for major expenses.
Invest for your future, give generously, and more.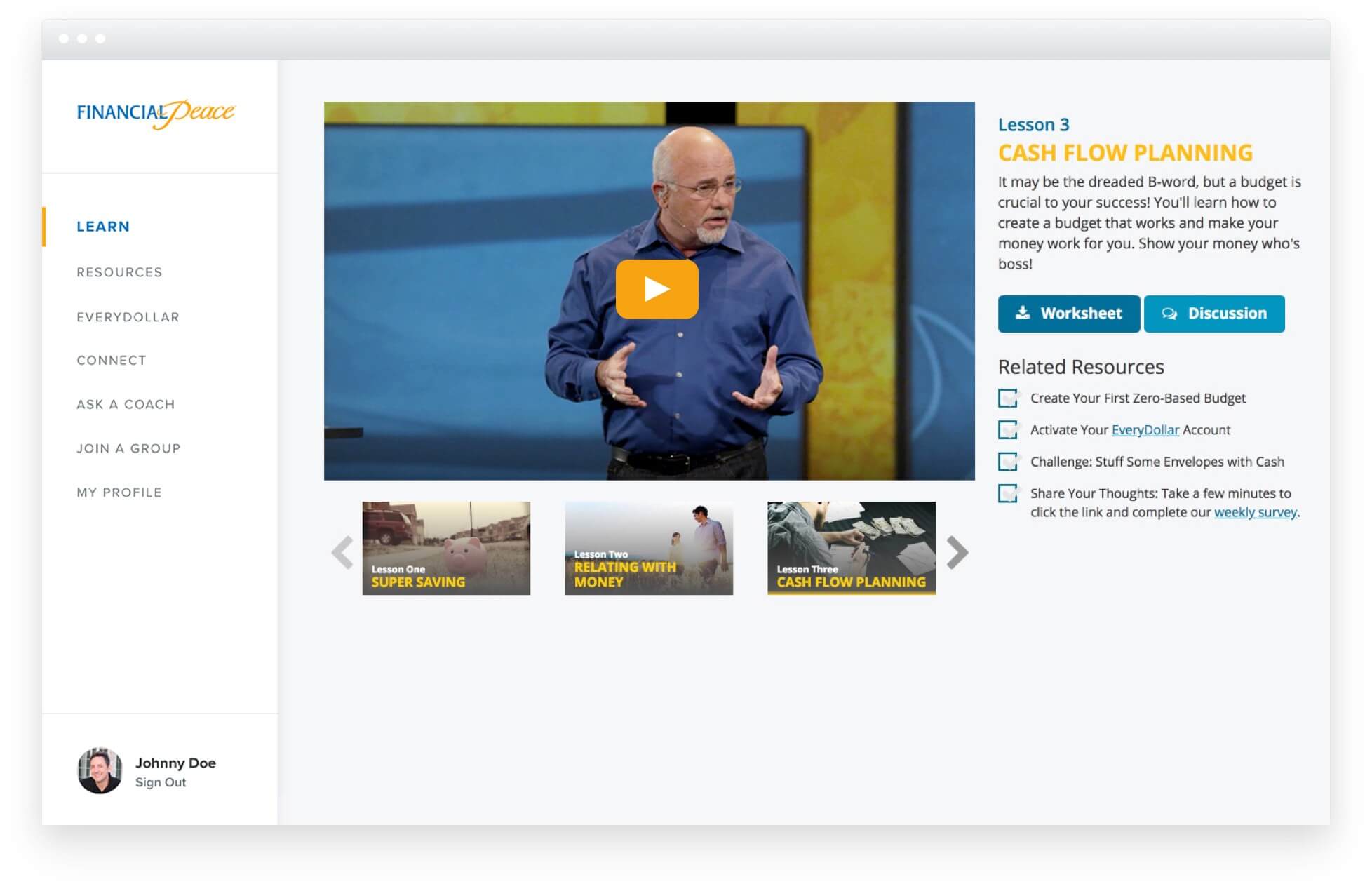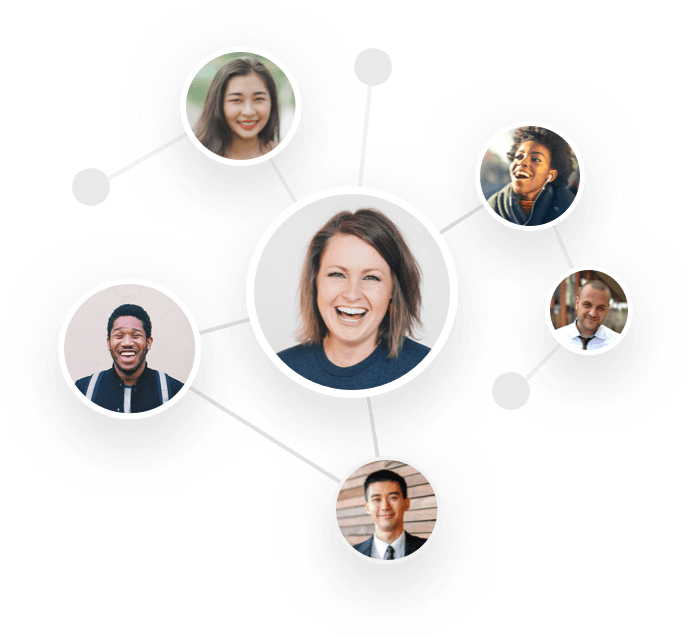 Take With a Group Nearby or Online at Home
Learn at your own pace by watching videos online and keep your progress moving forward with support from online community and financial coaches. Or join a group that meets near you and stay motivated by learning week by week with people just like you.
Did you know...?
Even though there are no groups currently near your location, you'll have access to Financial Peace University for an entire year! Start working the plan today and join a group when one becomes available.
You learn the same principles in the Online experience of Financial Peace University as you do with a group.
After checkout, you can start watching the lessons and using the tools and resources right away.
Dave has been there before. He gets it.
Dave Ramsey created Financial Peace University nearly 25 years ago after learning how to pay off debt, save and spend wisely, and build wealth. Today, millions have used the same principles to transform their lives.
Join the 5 Million People Who Have Taken Control of Their Money
I have purchased this kit for every one of my friends that has a baby. The ones that do it all thank me for introducing them to a plan for the rest of their life.
goatpastthebarepatch
Kosovo
Due to work schedule of my wife and I and the amount of time I travel going to a class was not an option. However, I wanted to go through the program with Dave. I listen to Dave on the radio daily and I like his approach and the no BS way he presents the material. My purchase of this home study course has given me what I wanted, well almost, I can not ask a question and get an immediate response. But then you have access to the website and can ask your questions. We are going through the course at our pace and can see how it has started changing our financial life.
Donwraysx4
Martinsville, IN
We took the class several years ago and reduced our debt by $50,000 and then fell off the horse. We are ready to get back on track with gazelle intensity and knock out the remaining debt and change our family tree!
curtis9023
Kearney, MO
FPU is the best financial advice ever. It will change the way you think and respond to life. It will teach you all the myths out there and the truth about them. Furthermore, it will help you devise a plan no matter where you are at in your financial life. Warning: This product will change your life! If you do not want to change, do not purchase it.
FPUUnited
Frederick, MD
It's a life changing product, every family needs to go this.
CKMFamily
Anaheim,CA
My wife and I were married for 13 years before we took Financial Peace University classes at our church. I realized early on that I had been putting a heavy burden on her shoulders by having her pay bills and make all the financial decisions. Much has changed since then and we know now that we were missing a critical piece that the foundation of our marriage needed - Financial Peace. Now we're a team. We pay bills together. We plan our cash flow and our savings together. We dream big together and we're pulling in the same direction finally - true north!
betterthanideserve
Columbus, GA
My husband and I are in health care and work erratic hours. It's never the same days of the week making attending a FPU a difficulty. We are enjoying going through this as we have time. We will definitely pass along to others or our church.
jmgeb
dayton ohio
My wife and I have been through Financial Peace. Our youngest daughter took a class in school and she an I saw Dave live. Now its time to spend Sunday evenings together as the rest of the family watch the videos and discuss them at home. What better family time could we have than Financial Peace?
DSones
Orlando, FL
I have learned so much through Dave Ramsey. He is realistic, puts things in plain simple English and makes it very easy to follow. I would tell anyone with financial troubles to hop on board with Dave, or if you just want to save more money.
canadian63
South Bend, IN
Because of Dave's direct and energetic approach to a topic such as budgeting, we are finally moving in the right direction! I have read several of Dave's books in the past and always appreciated his advice. Since recently getting married and waking up to lots and lots of debt in our marriage my husband has been overwhelmed. This video series has caught his attention in a way that reading could not. Thanks again Dave! We just scheduled our first live classes to really immerse ourselves in our new budget plan/skills. CCB, The Woodland's TX
CCB36
The Woodlands, TX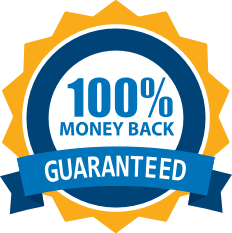 Our 100% Money Back Guarantee
Complete all nine lessons. Give it a real shot by following Dave's plan. If you aren't happy with your purchase within the first 90 days, we'll give you your money back.
You Can Do This.
Start Today!
You shouldn't feel overwhelmed and powerless over your money. You can be in control of your money and your future.
Interested in volunteering to be a Group Leader?