Never Worry About Money Again
Meet up with a local group for community, motivation, and accountability.
Watch the lesson videos in the comfort of your home and on your own schedule.
Meet with a group, enjoy at home, or do both. Switch at any point. It's up to you.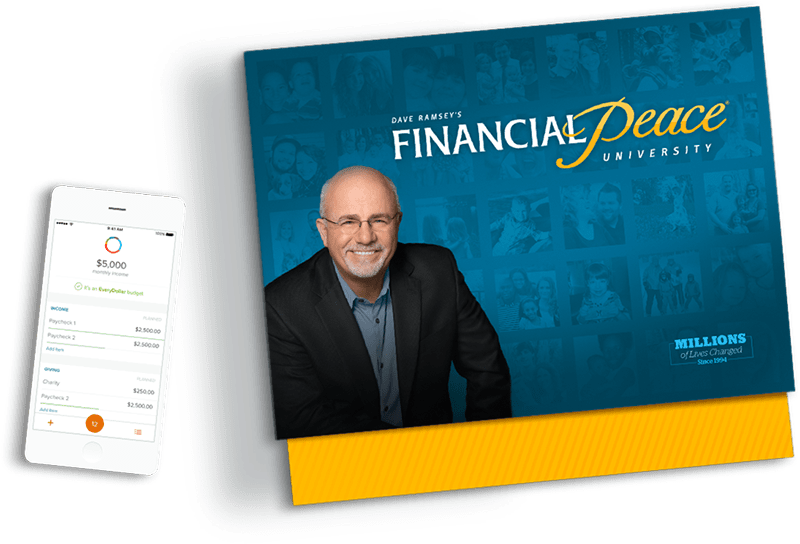 Financial Peace University
Never Worry About Money Again
Financial Peace University will help you take control of your money, plan for your future, and transform your life.
9 Lessons That Teach You How To Win With Money
Everything You Need to
Take Control of Your Money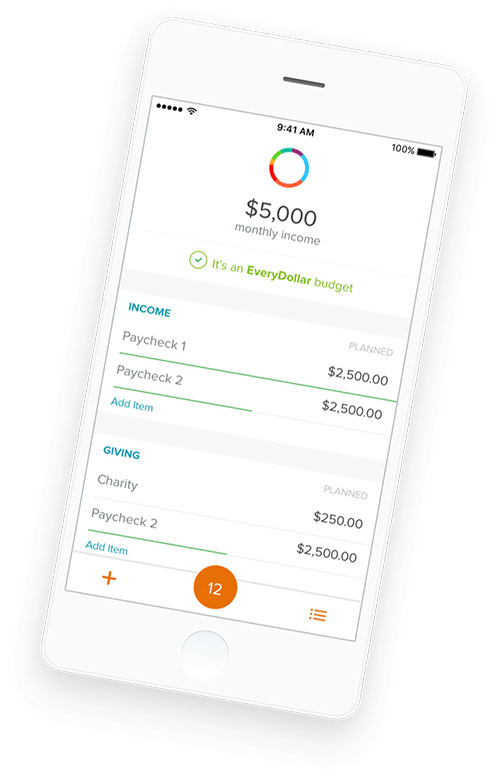 Track Spending
With Our Budgeting Tool
Connect your budget straight to your bank, sync across multiple devices, and enjoy anytime, anywhere access.
Learn From
Life-Changing Lessons
Watch entertaining videos, get your questions answered with financial coaching assistance, and stay on track with digital tools.
Budget, save and pay off debt.
Get on the same page with your spouse.
Identify which types of insurance you need.
Plan and save for major expenses.
Invest for your future, give generously, and more.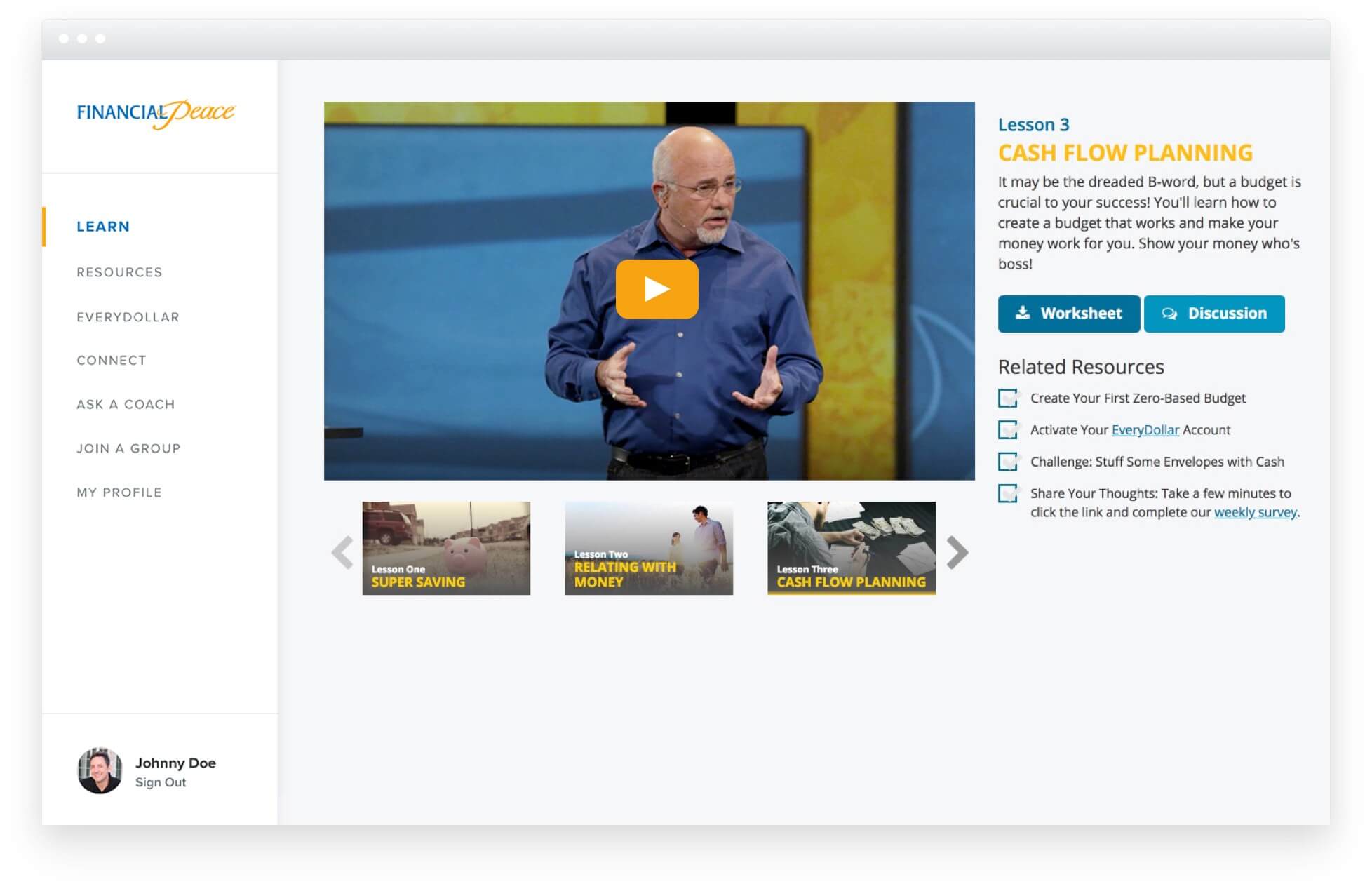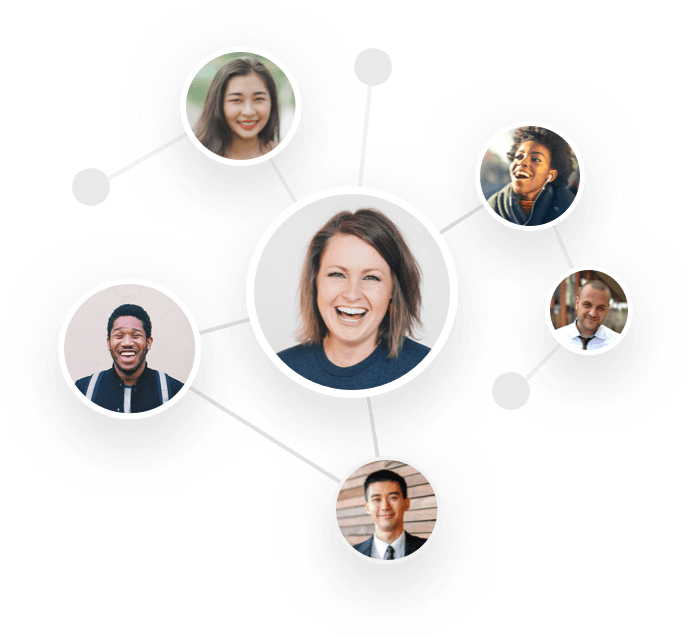 Take With a Group Nearby or Online at Home
Learn at your own pace by watching videos online and keep your progress moving forward with support from online community and financial coaches. Or join a group that meets near you and stay motivated by learning week by week with people just like you.
Did you know...?
Even though there are no groups currently near your location, you'll have access to Financial Peace University for an entire year! Start working the plan today and join a group when one becomes available.
You learn the same principles in the Online experience of Financial Peace University as you do with a group.
After checkout, you can start watching the lessons and using the tools and resources right away.
Dave has been there before. He gets it.
Dave Ramsey created Financial Peace University nearly 25 years ago after learning how to pay off debt, save and spend wisely, and build wealth. Today, millions have used the same principles to transform their lives.
Join the 5 Million People Who Have Taken Control of Their Money
Everyone should have to learn this before getting out of High school.
Buck
Dallas
We were fed up with being broke all the time. Neither of us had ever been taught how to budget and have lots of debt. Dave's system is very simple to execute with discipline. We have the motivation and drive to do this and are very excited!
Juli61
Martinez, CA
I have recently started Financial Peace University with my husband. I also purchased a kit for my son and his girlfriend. We are all taking the class together. What better way to build a family bond. Thank you Dave!
KarenK
Guyton, Georgia
Dave Ramsey's program has changed my life. In just over one month I managed to pay off all my credit card debt and am now working towards my car and student loans. I was so exited about this program I have shared it with my friends and family. First the first time, my mom has finally gained control of her money and has built up her emergency fund. Thank you Dave.
DreamsofParis
Orlando,FL
FPU is the best investment my husband and I have made in ourselves this year! I grew up with a mother who worked in the financial industry so I knew how money worked, however, I had no clue how to set a proper budget. I always had bills paid, however never had any extra. Now, my husband and I are fully equipped to have a strong financial future! This program works, you just have to work the program!! So thankful for FPU, and Dave Ramsey!
Coley
Jefferson City, MO
My husband and I have really enjoyed this online course. The lessons we have learned together are helping us get out of debt and move down the path toward financial freedom. Dave presents realistic, practical, valuable, and compelling concepts and supporting facts for his perspective on how to handle money, and what it takes to walk the path to financial freedom.
PrisKelly
Houston, TX
The program is very educational and life changing. It has changed the way I see money and spend it.
Amynewbie
Queens , NY
The FPU program has not only changed our financial problem, but has also made us realize where we lacked on other Biblical areas. Thanks Dave.
EasyCreditFailure2
Blackfoot, ID
I started listening to your radio show in December 2011 and it has changed my way of thinking financially and in life. I bought the total money makeover and finished it, and now i purchased the fpu home edition, im finishing up the financial peace book and half way through the audio cd's. I thought i did a good job financially planning our debt, but your plan gave me specific direction and guidelines which was exactly what I needed. Plus i feel your teaching has gotten my wife to start thinking about our finances more and preparing to change our family tree. thanks dave
moneymover
riverside, ca
My husband and i took this course 8 years ago, and my sister is now getting married. We purchased the course and are enjoying retaking it with them! Great to be reminded and refreshed and watch them learn for the first time! I see hope and excitement! We are glad to "pay-it-forward" - someone shared it with us, we are sharing with them.
LlamaMama
Goshen, IN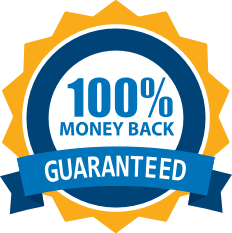 Our 100% Money Back Guarantee
Complete all nine lessons. Give it a real shot by following Dave's plan. If you aren't happy with your purchase within the first 90 days, we'll give you your money back.
You Can Do This.
Start Today!
You shouldn't feel overwhelmed and powerless over your money. You can be in control of your money and your future.
Interested in volunteering to be a Group Leader?