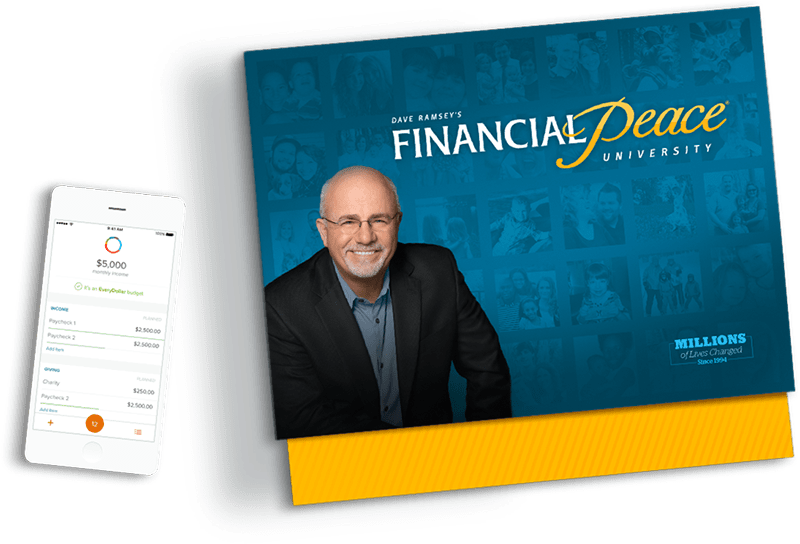 Never Worry About Money Again
Financial Peace University will help you take control of your money, plan for your future, and transform your life.
9 Lessons That Teach You How To Win With Money
Everything You Need to
Take Control of Your Money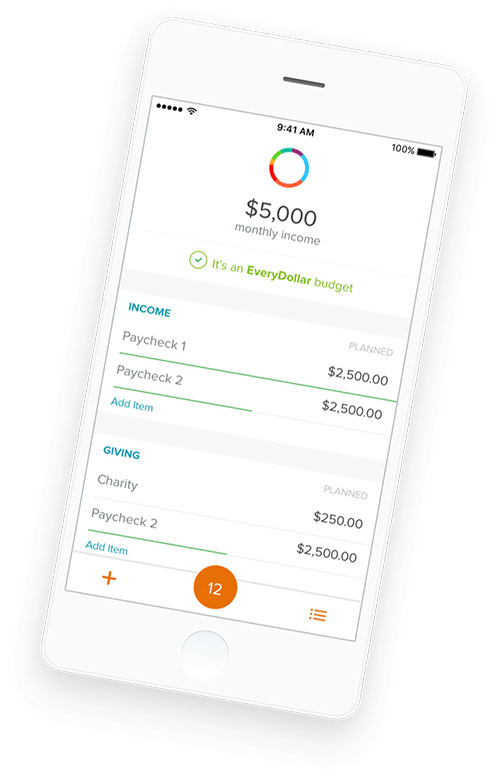 Track Spending
With Our Budgeting Tool
Connect your budget straight to your bank, sync across multiple devices, and enjoy anytime, anywhere access.
Learn From
Life-Changing Lessons
Watch entertaining videos, get your questions answered with financial coaching assistance, and stay on track with digital tools.
Budget, save and pay off debt.
Get on the same page with your spouse.
Identify which types of insurance you need.
Plan and save for major expenses.
Invest for your future, give generously, and more.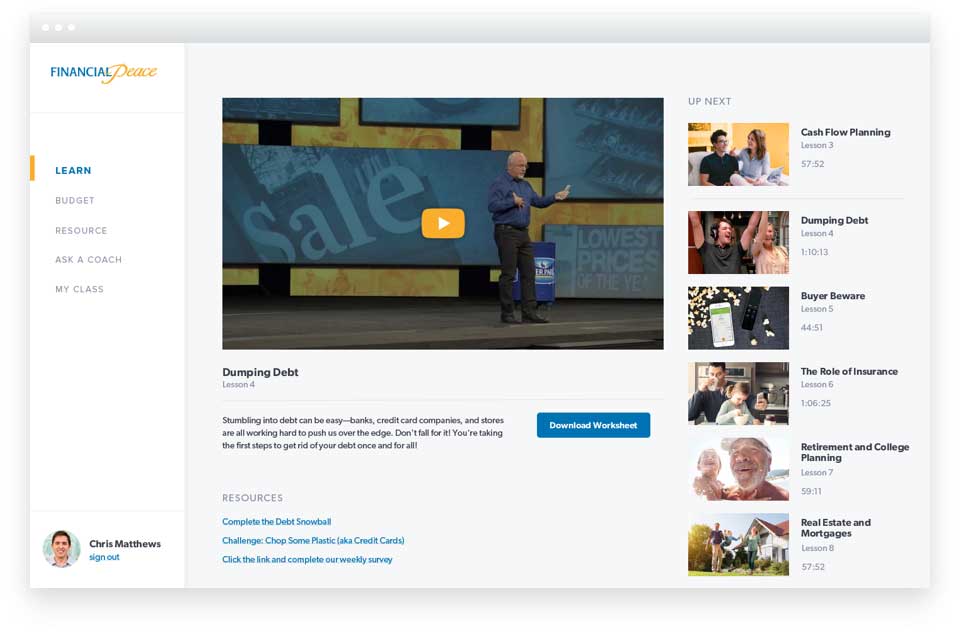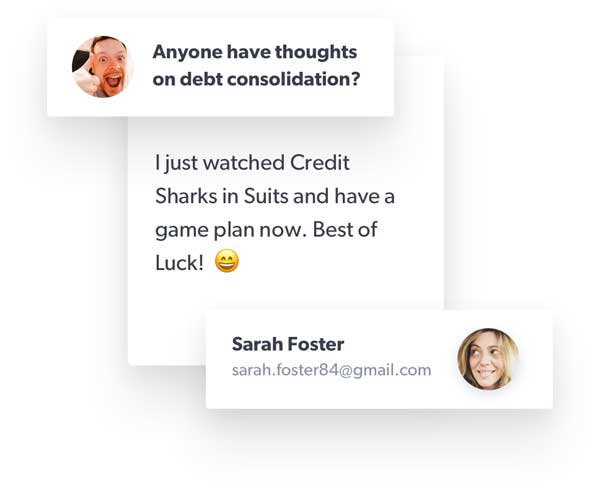 Take With a Group Nearby or Online at Home
Learn at your own pace by watching videos online and keep your progress moving forward with support from online community and financial coaches. Or join a group that meets near you and stay motivated by learning week by week with people just like you.
Did you know...?
Even though there are no groups currently near your location, you'll have access to Financial Peace University for an entire year! Start working the plan today and join a group when one becomes available.
You learn the same principles in the Online experience of Financial Peace University as you do with a group.
After checkout, you can start watching the lessons and using the tools and resources right away.
Dave has been there before. He gets it.
Dave Ramsey created Financial Peace University nearly 25 years ago after learning how to pay off debt, save and spend wisely, and build wealth. Today, millions have used the same principles to transform their lives.
Join the 5 Million People Who Have Taken Control of Their Money
Dave Ramsey is entertaining whle he shows you, step by step, how to gwt out of debt, why you want to be out of debt and how good things will happen to you when you get out from under the debt monster. It is nothing short of wonderful!!
lisadparker
granada hills, california
I like the 13 week format much better. Have been co-teaching the class for years and there were a few changes they made that to me should have never been done. Number 1 they took out the testimonials on the DVD's. Everyone loved hearing those. Number 2 Dave has his guest speakers, 3 of them, doing part of the lecturing and just not the same. They just don't have the charisma and delivery impact that Dave has and just diminishes the series. Still love the course and still think it's a wonderful thing to get involved with but really wish they would go back to the old format.
Paul3214
Phoenix
I am very please with the Home study program. I took the class at a church two years ago and have wanted the videos for 2-3 years! Now that I have them I am excited to review them and I want to transform other members of my family. I could not be able to do as well as I am doing during the 2009 town turn in the economy if it had not been for taking this program 2 yrs ago. Be cause I had emergency savings and some budding mutual fund investments... I was able to support myself through unexpected (or sort of expected) job loss at the end of 2009!!!! I would have been desperate with out Dave's advice!! Now I amaze my friends!
Tiger
Houston, Texas
My son requested this for his birthday. He and his family are going through the class and give great reviews. I pray it will be able to help him to gain financial security.
ConnieGG
Lexington
Helpful and Easy to follow and apply to real life!
LeahMarie5324
Grand Rapids, Mi
This past year has been the hardest and if it weren't for Dave Ramsey, I would be insane, depressed and unmotivated. Everything Dave Ramsey does has had a positive influence in my life!
argfusion99
Phoenix, AZ
My husband has always made a nice salary, but we never saved money. I started my own business a few years ago and I came to the realization of money. Some of my clients started sharing how Dave Ramsey had help. I bought the program and made my son's participate. For the first time the family is now more money conscious. We have a budget and I am looking forward to saving and paying for a vacation cash next year and for the retirement and beyond. Thanks
LisaGG1
Houston, TX
My only regret is that I did not have this during out first year of marriage. This has been a true blessing for our relationship and has been a real eye opener. We have also implanted Rachel's ideas for our 4 kids. I am a free spirit spender and I could see my kids becoming that way and needed a quick change in that behavior! You should attend FPU when u r engaged!
AnnaH
Cincinati
My husband and I are in health care and work erratic hours. It's never the same days of the week making attending a FPU a difficulty. We are enjoying going through this as we have time. We will definitely pass along to others or our church.
jmgeb
dayton ohio
I love this program and is very helpful in planning your finances and saving for the future.
jcurtsin40
Lexington, KY
You Can Do This.
Start Today!
You shouldn't feel overwhelmed and powerless over your money. You can be in control of your money and your future.
Interested in volunteering to be a Group Leader?