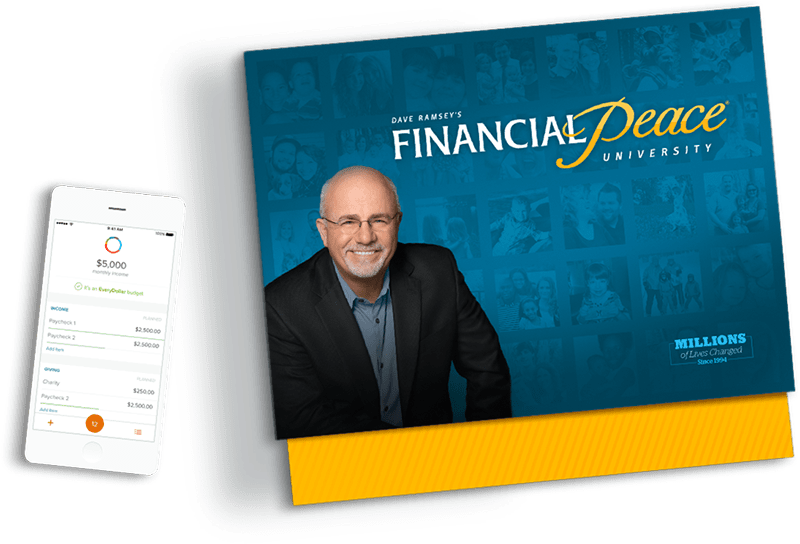 Never Worry About Money Again
Financial Peace University will help you take control of your money, plan for your future, and transform your life.
9 Lessons That Teach You How To Win With Money
Everything You Need to
Take Control of Your Money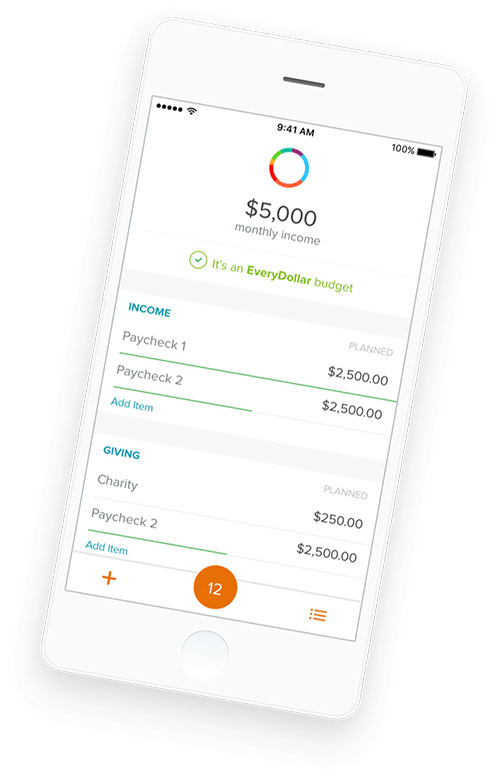 Track Spending
With Our Budgeting Tool
Connect your budget straight to your bank, sync across multiple devices, and enjoy anytime, anywhere access.
Learn From
Life-Changing Lessons
Watch entertaining videos, get your questions answered with financial coaching assistance, and stay on track with digital tools.
Budget, save and pay off debt.
Get on the same page with your spouse.
Identify which types of insurance you need.
Plan and save for major expenses.
Invest for your future, give generously, and more.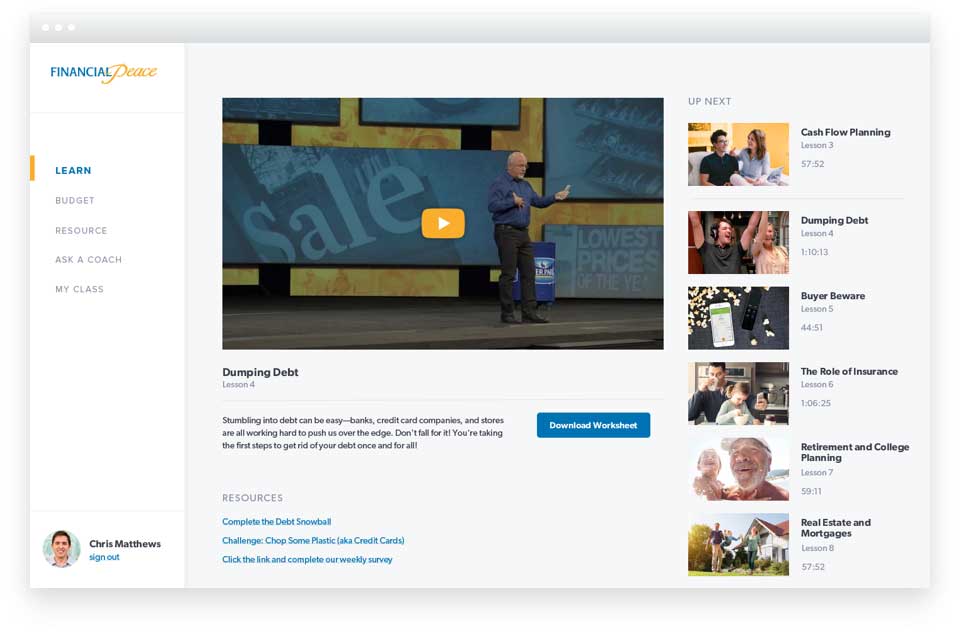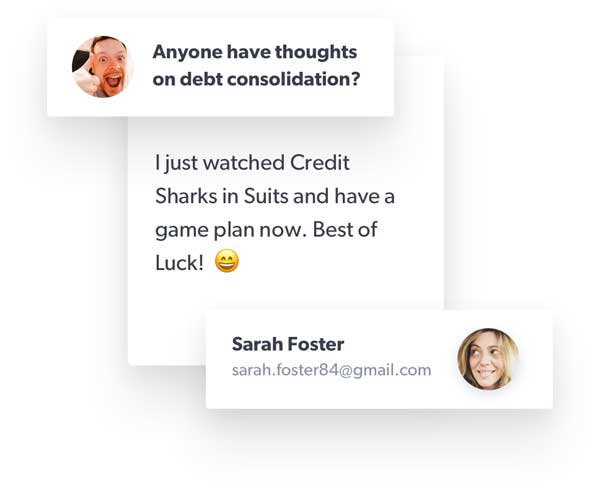 Take With a Group Nearby or Online at Home
Learn at your own pace by watching videos online and keep your progress moving forward with support from online community and financial coaches. Or join a group that meets near you and stay motivated by learning week by week with people just like you.
Did you know...?
Even though there are no groups currently near your location, you'll have access to Financial Peace University for an entire year! Start working the plan today and join a group when one becomes available.
You learn the same principles in the Online experience of Financial Peace University as you do with a group.
After checkout, you can start watching the lessons and using the tools and resources right away.
Dave has been there before. He gets it.
Dave Ramsey created Financial Peace University nearly 25 years ago after learning how to pay off debt, save and spend wisely, and build wealth. Today, millions have used the same principles to transform their lives.
Join the 5 Million People Who Have Taken Control of Their Money
My husband and I really enjoyed watching the class online, whenever we were able, vs traveling 20+ miles to a class in the middle of a WI winter! We are both on the same page with our finances now and our future is looking up!
jimmernpickle
Wisconsin
This is the 3rd FPU I have bought as a wedding gift. I am greatfull for Dave's teachings. The lucky couples have ALL been very impressed with the knowledge and are working though the baby steps. Thank you, Wink
Wink
Chandler , AZ
My wife and I have been half heartedly trying The Total Money Makeover. After purchasing FPU we were reluctant to get started. We finally got started, and it opened our eyes to where all the income is going. Now we both look forward to our weekly "date night" watching the lessons. Just after 3 weeks, our marriage is stronger, and we are behaving with money. Never would have thought how fun this could be. Thanks Dave!
Greenhead
Sioux Falls, SD
We were fed up with being broke all the time. Neither of us had ever been taught how to budget and have lots of debt. Dave's system is very simple to execute with discipline. We have the motivation and drive to do this and are very excited!
Juli61
Martinez, CA
About 4 years ago my wife and I hit rock bottom and almost lost everything we have. This was a big eye-opener for us and we knew we had to change our lifestyle and how we manage finances. Someone told us about Dave Ramsey's Total Money Makeover, and so we bought that CD. Once we got our budget figured out and how to manage it we immediately began to see a change. Within 2 years we have paid off both our cars and have no other debt other than our house mortgage. We are now only a few months away from having our fully funded emergency fund, and so we decided to get the entire Financial Peace University pack and lifetime membership because we want to be prepared to start investing and truly preparing for the future. We also want to make sure we teach our children how to do the same as they grow up. This program is amazing! It will change your life! It will bring peace and harmony to any home and marriage that is struggling with life and finances! It is, like I say, a life-saver! Thanks Dave, you inspire us all!
Tooner
Murray, UT
FPU is the best financial advice ever. It will change the way you think and respond to life. It will teach you all the myths out there and the truth about them. Furthermore, it will help you devise a plan no matter where you are at in your financial life. Warning: This product will change your life! If you do not want to change, do not purchase it.
FPUUnited
Frederick, MD
If you know you need to get started, get started!!! This is a great tool. Lots to learn. Gives you a plan - a road map of how to move forward and leave your bad habits and debt behind. We are at the beginning of the process, but Dave's coaching and tools give us the confidence that we can do it!
Marti
Hershey, PA
Great program. I have totally turned my finances around. I'm amazed how quick things happen during Baby Step 2. I would and do recommend this to anyone.
ramseyfan2010
Illinois
Dave Ramsey has not only helped me take my financial savings/planning/strategies to the next level but has given me the words to help share this knowledge with others to open their eyes and change their lives.
HollyG
San Antonio, TX
We took the class several years ago and reduced our debt by $50,000 and then fell off the horse. We are ready to get back on track with gazelle intensity and knock out the remaining debt and change our family tree!
curtis9023
Kearney, MO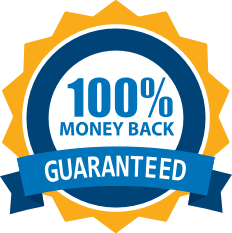 Our 100% Money Back Guarantee
Complete all nine lessons. Give it a real shot by following Dave's plan. If you aren't happy with your purchase within the first 90 days, we'll give you your money back.
You Can Do This.
Start Today!
You shouldn't feel overwhelmed and powerless over your money. You can be in control of your money and your future.
Interested in volunteering to be a Group Leader?