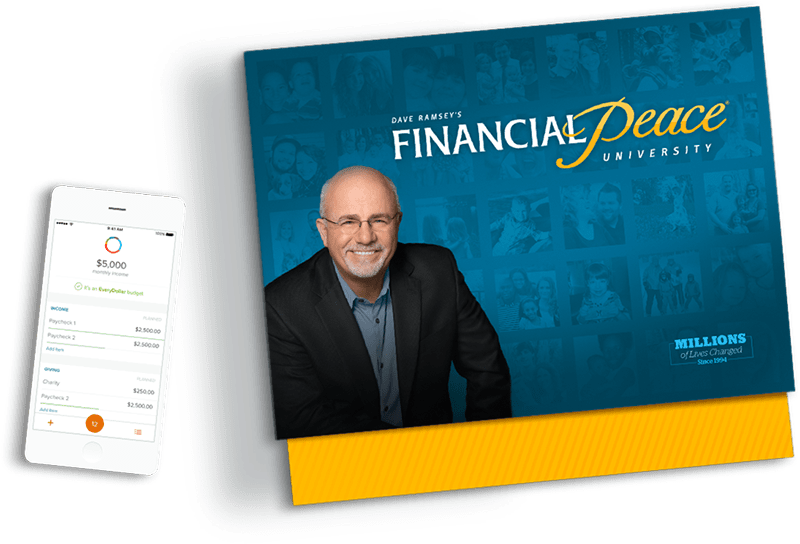 Never Worry About Money Again
Financial Peace University will help you take control of your money, plan for your future, and transform your life.
9 Lessons That Teach You How To Win With Money
Everything You Need to
Take Control of Your Money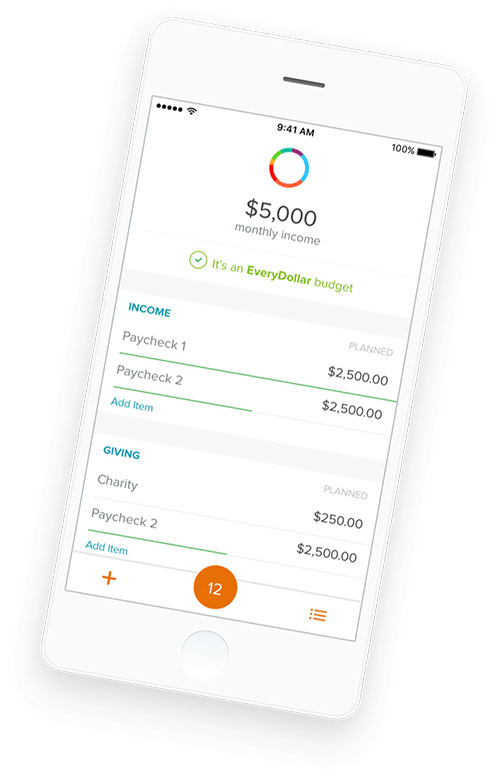 Track Spending
With Our Budgeting Tool
Connect your budget straight to your bank, sync across multiple devices, and enjoy anytime, anywhere access.
Learn From
Life-Changing Lessons
Watch entertaining videos, get your questions answered with financial coaching assistance, and stay on track with digital tools.
Budget, save and pay off debt.
Get on the same page with your spouse.
Identify which types of insurance you need.
Plan and save for major expenses.
Invest for your future, give generously, and more.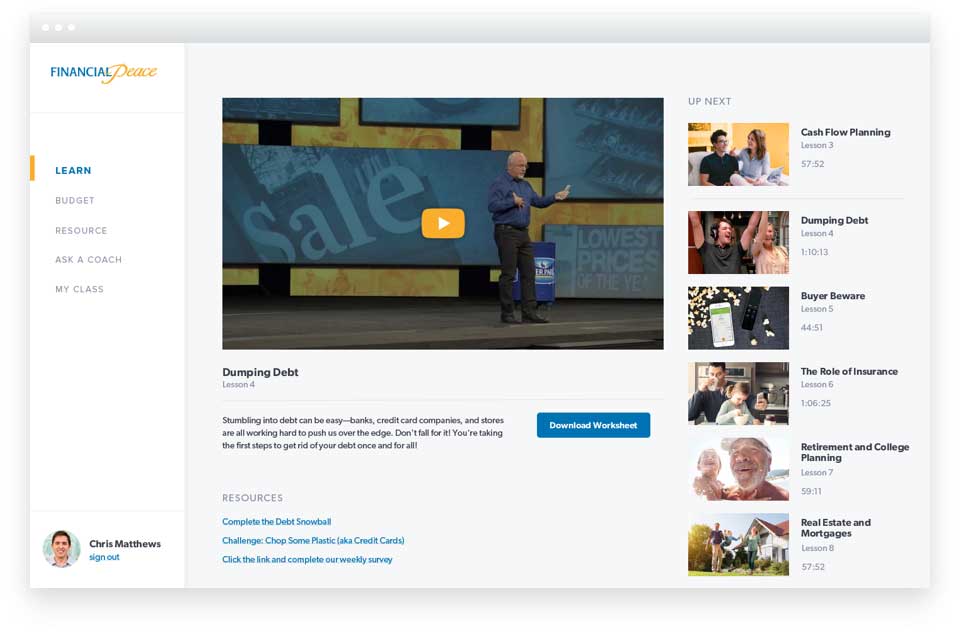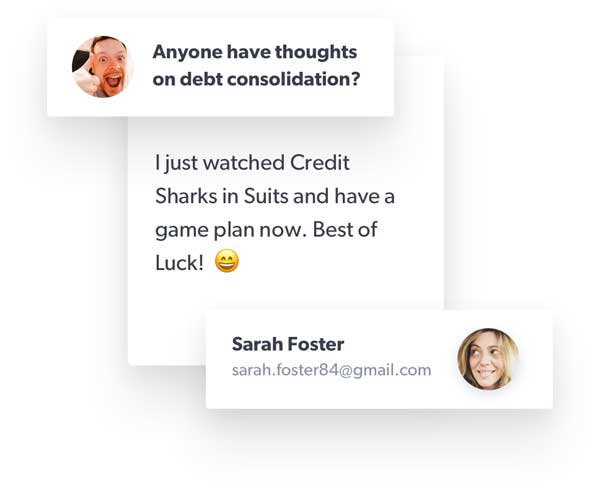 Take With a Group Nearby or Online at Home
Learn at your own pace by watching videos online and keep your progress moving forward with support from online community and financial coaches. Or join a group that meets near you and stay motivated by learning week by week with people just like you.
Did you know...?
Even though there are no groups currently near your location, you'll have access to Financial Peace University for an entire year! Start working the plan today and join a group when one becomes available.
You learn the same principles in the Online experience of Financial Peace University as you do with a group.
After checkout, you can start watching the lessons and using the tools and resources right away.
Dave has been there before. He gets it.
Dave Ramsey created Financial Peace University nearly 25 years ago after learning how to pay off debt, save and spend wisely, and build wealth. Today, millions have used the same principles to transform their lives.
Join the 5 Million People Who Have Taken Control of Their Money
I'm really loving my new kit already! I immediately switched my wallet over to the Designer Envelope System. I love using it! I love all the tools and have been using the budgeting spreadsheet since before I became a member. The only two gripes I have are with the wallet I have: The card slots are way too tight and I could barely get my license in there. I have other membership cards (CostCo, Starbucks, etc) that I put in there, but it's really hard to get them out. Also, there are a few envelopes, and then a plastic pouch and then a few extra places to write on in case you run out of space on the envelopes. It's great, but you can't move them. You'd have to take apart the whole thing, reorder them and then carefully put it back together. It'd be great to have an easier way to reorganize the wallet.
Teka
Santa Cruz, CA
"After the first week of using the money envelope system I could tell I was saving more money. Dave is absolutely right about being more emotionally attached when you pay with cash. I started realizing how much I was actually spending on food and stuff that is not necessary. Listening to the audio was a blast! I looked forward to it every time I got in the car. I would laugh all the way to work. Dave is hilarious! Totally worth every penny!"
Hanh
Houston, TX
I have not finished viewing it but so far its been good.
Bola
Jacksonville, Florida
FPU made me aware of so many things that I thought I understood, but really only understood minimally. Made me look at money handling and investments in a different light. Great product. Has saved me more money already than the program cost. If you are thinking about purchasing...STOP. Buy it NOW, if you are wanting success.
khye04
nine mile falls, wa
My husband and I really enjoyed watching the class online, whenever we were able, vs traveling 20+ miles to a class in the middle of a WI winter! We are both on the same page with our finances now and our future is looking up!
jimmernpickle
Wisconsin
FPU Online course was the solution for my wife and I attending the course. With 5 kids, a busy job and schedules going in every direction, this was the best way to learn at our own pace. The material is affordable, easy to use and comes in several formats so you can read, work online, or listen on the commute. We love it and being able to have a lifetime membership is the ace in the hole!
SpeedThrash
Fort Worth, TX
Because of Dave's direct and energetic approach to a topic such as budgeting, we are finally moving in the right direction! I have read several of Dave's books in the past and always appreciated his advice. Since recently getting married and waking up to lots and lots of debt in our marriage my husband has been overwhelmed. This video series has caught his attention in a way that reading could not. Thanks again Dave! We just scheduled our first live classes to really immerse ourselves in our new budget plan/skills. CCB, The Woodland's TX
CCB36
The Woodlands, TX
Dave is funny - which absolutely goes a long way towards getting my ADD husband to listen! We have completely changed our spending habits & already have paid down some debt - after only 1 month. The advice is sound and makes sense. We are very much looking forward to being debt free.
Swantail
Carlisle, PA
FPU changed our lives and we are on our way to being DEBT FREE!!
Montroy
Fort Worth, TX
We went through the Total Money Makeover after continuously overdrafting our checking account. Overdrafting on my wifes birthday was the final straw. We have had great sucess: Our credit cards are gone and shredded. We said bye-bye to our student loan debt, credit card debt, car loan. We paid off approximately $15,000 in debt. We now have money in the bank with a fully funded 3-6 months expenses. We accomplished all of these things in about 8 months. Its amazing how much money you can save when you stop being childish with you money. We bought this package for my sister who is at a point in her life where she is just staying afloat and is stuck in the debt swamp. She has finally identified that she is not getting ahead and is ready for a change. We hope that this gift will change her life as it has changed ours. Thanks Dave A & G from B-HAM
AGBHAM
Birmingham, AL
You Can Do This.
Start Today!
You shouldn't feel overwhelmed and powerless over your money. You can be in control of your money and your future.
Interested in volunteering to be a Group Leader?