Never Worry About Money Again
Meet up with a local group for community, motivation, and accountability.
Watch the lesson videos in the comfort of your home and on your own schedule.
Meet with a group, enjoy at home, or do both. Switch at any point. It's up to you.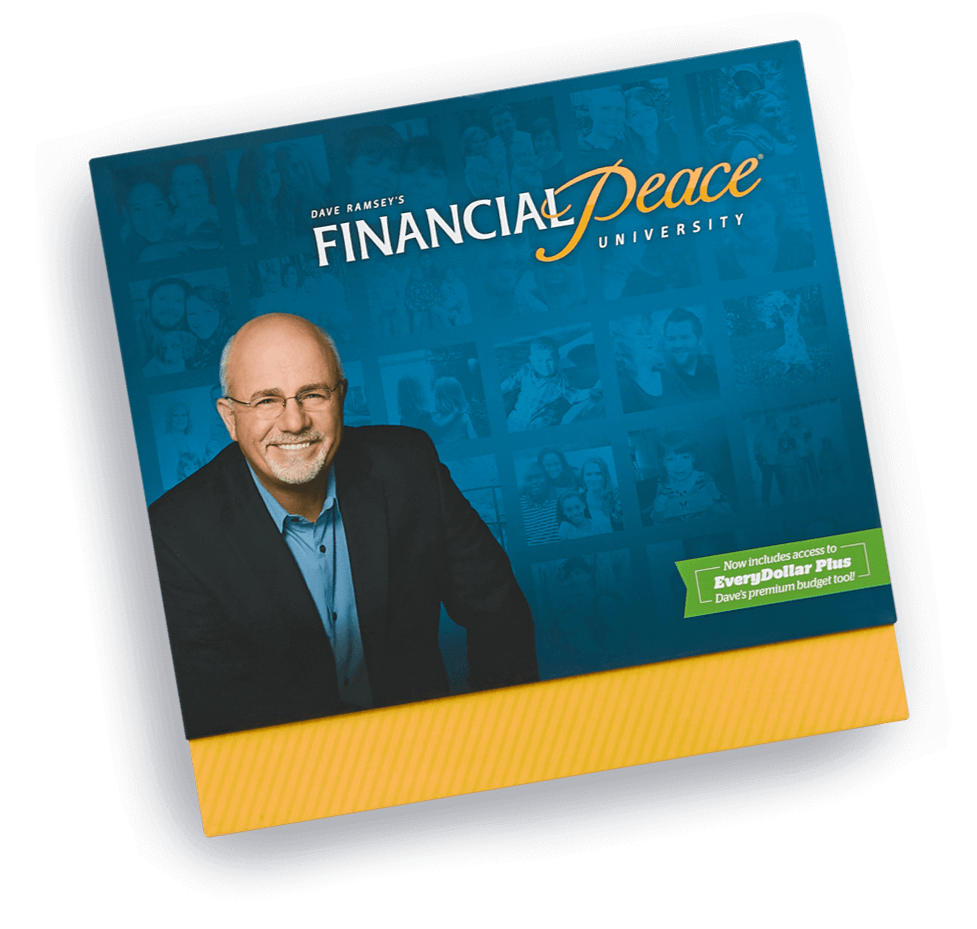 Never Worry About Money Again
Financial Peace University gives you the knowledge you need to take control of your money, plan for your future, and transform your life.
Learn Everything You Need to Take Control of Your Money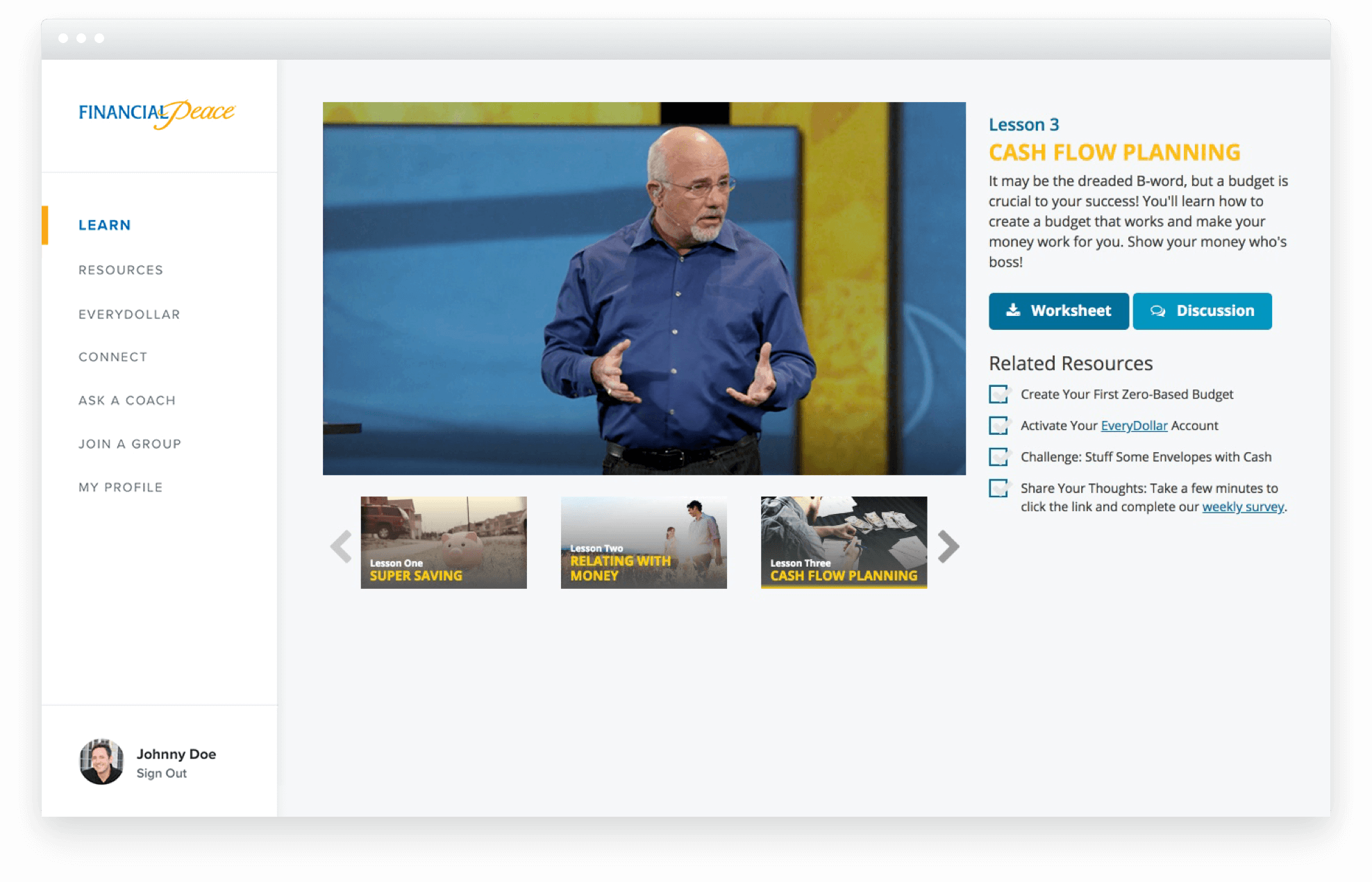 Learn From Life-Changing Lessons
01
Super Saving
You'll learn why it's so important to save, how to prepare for emergencies, and how to start building wealth.
02
Relating With Money
The way we handle money impacts every part of our lives. Learn how to work together with your family and others to be on the same page with money.
Show All 9 Lessons
03
Cash Flow Planning
A budget is crucial to your success! Learn how to create a budget that works and make your money work for you.
04
Dumping Debt
Take the first steps to get rid of your debt once and for all!
05
Buyer Beware
Learn how to get the best deals, avoid scams, and gain power over your purchases.
06
The Role of Insurance
Your insurance plan can make or break your financial future. Learn which kinds you need.
07
Retirement and College Planning
Make sure you're ready with the right plan for every stage of life.
08
Real Estate and Mortgages
Real estate can be the biggest blessing—or the biggest curse—in your financial life. Learn the right way to buy or sell a home, as well as the best (and worst) mortgage options.
09
The Great Misunderstanding
Dave reveals the true key to winning—both in your life and with your money.
Take With a Group Nearby or Online at Home
Meet up with a local group for community, motivation, and accountability.
Watch the lesson videos in the comfort of your home and on your own schedule.
Did you know...?
Even though there are no groups currently near your location, you'll have access to Financial Peace University for an entire year! Start working the plan today and join a group when one becomes available.
You learn the same principles in the Online experience of Financial Peace University as you do with a group.
After checkout, you can start watching the lessons and using the tools and resources right away.
Dave has been there before. He gets it.
Dave Ramsey created Financial Peace University nearly 25 years ago after learning how to pay off debt, save and spend wisely, and build wealth. Today, millions have used the same principles to transform their lives.
Join the 5 Million People Who Have Taken Control of Their Money
I love this program. Everything about it. Wish I knew about this 16 years ago when I joined the Marines. Everything I thought I knew about money, legacy, and budgeting were wrong. Glad I decided to finally see what everyone was saying about "Dave Ramsey". The Every dollar app is on point too. Overall this is a great program. I would like to see more information geared towards military as we live a bit differently than normal civilian life such as the TSP, PCS/PCA, deployments, SGLI, and SDP. The military tries to teach us coming up but it's a measles check mark in the box for them. After learning the Baby step program, I try to teach my guys as much as I can learn from FPU and his daily videos.
Casey
Camp Pendleton, CA
I wish my husband and I did this within the first year of our marriage or even before we got married. It would have prevented some bad financial decisions that we made.
Michelle
Skoikie, IL
I took this class with sincere interest in learning more about finances and hoping to walk away being better with money. As a single, 25 year old finishing up college, I want to build a good foundation for my life as my adulthood is just at the start! I anticipated gaining knowledge and wisdom from this class, but I didn't know I would become so inspired and motivated from it the way I was and still am! This was such a great framework of information and the community aspect of the class was awesome too. I am beyond grateful for this class and Dave Ramsey. It came at such a good time and I've made so much progress in things I didn't even know needed progress! This will impact the rest of my life. Now that's something good.
Becca
Providence, RI
Loved the class. Hubby didn't want to come, but decided to come after I turn into a "screaming emotional woman". I had always been the budget nerd, but after lesson 3, he became the budget nerd! Before the class, we where about to build our retirement home costing over $600,000. Now he agrees with me and we are building a retirement Log cabin costing $150,000 and paying cash for material and any labor we can not do. Now we are on track to actually retire and just work part time.
Frances
Spokane, WA
The class was very informative, relative and incredibly helpful. Our instructor, Dan, brought experience, knowledge and wisdom to the class. He had great ideas and embodied everything we hear Dave say in his radio programs. I appreciated being able to hear the situation that other folks are in and how they are handling it. I think we all were able to help each other. I think we may even keep in touch with some of them. We thank you from the bottom of our hearts for putting this program out there!
Marsha
Pittsburgh, PA
All Reviews
You Can Do This.
Start Today!
You shouldn't feel overwhelmed and powerless over your money. You can be in control of your money and your future.
Interested in volunteering to be a Group Leader?