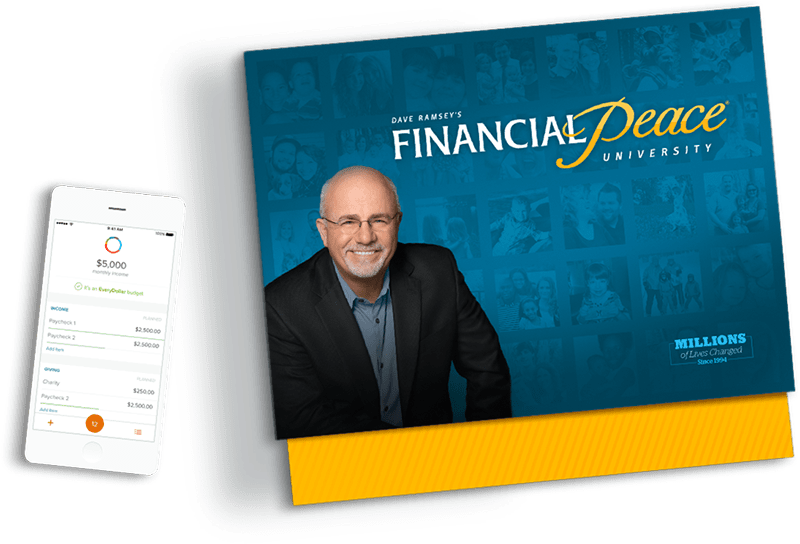 Never Worry About Money Again
Financial Peace University will help you take control of your money, plan for your future, and transform your life.
9 Lessons That Teach You How To Win With Money
Everything You Need to
Take Control of Your Money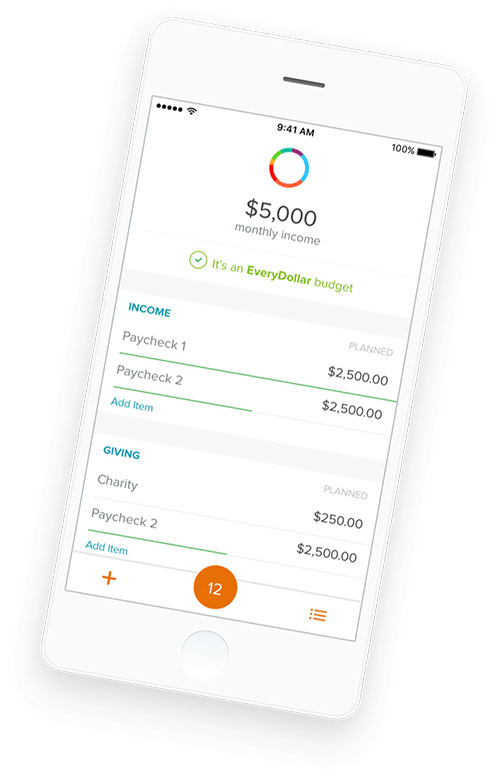 Track Spending
With Our Budgeting Tool
Connect your budget straight to your bank, sync across multiple devices, and enjoy anytime, anywhere access.
Learn From
Life-Changing Lessons
Watch entertaining videos, get your questions answered with financial coaching assistance, and stay on track with digital tools.
Budget, save and pay off debt.
Get on the same page with your spouse.
Identify which types of insurance you need.
Plan and save for major expenses.
Invest for your future, give generously, and more.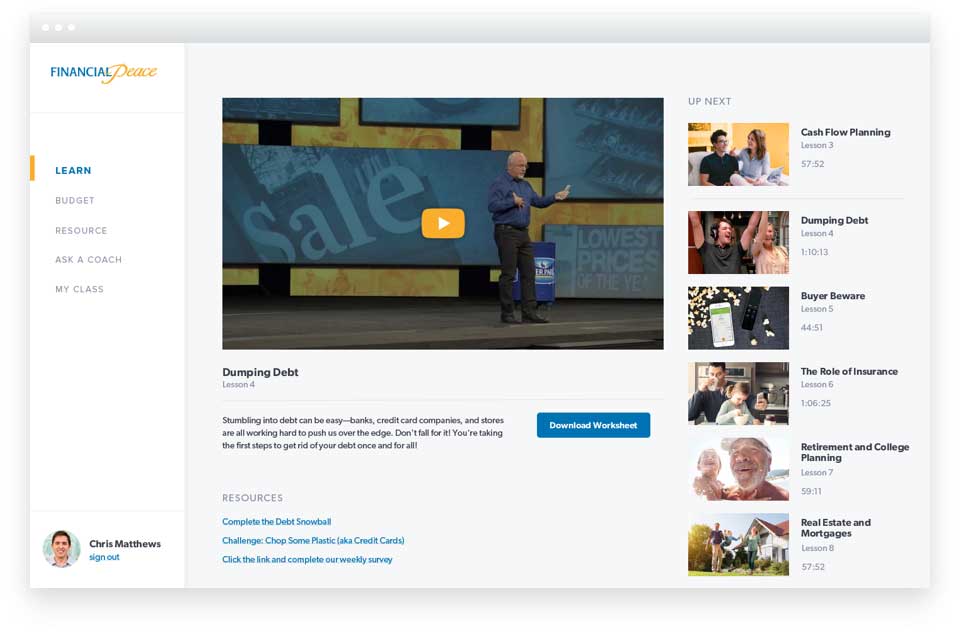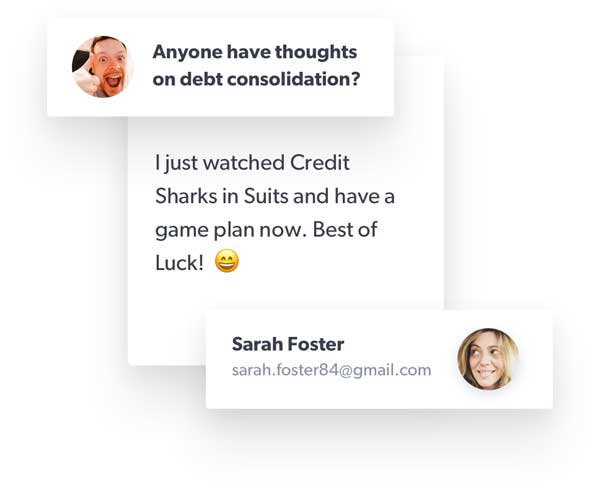 Take With a Group Nearby or Online at Home
Learn at your own pace by watching videos online and keep your progress moving forward with support from online community and financial coaches. Or join a group that meets near you and stay motivated by learning week by week with people just like you.
Did you know...?
Even though there are no groups currently near your location, you'll have access to Financial Peace University for an entire year! Start working the plan today and join a group when one becomes available.
You learn the same principles in the Online experience of Financial Peace University as you do with a group.
After checkout, you can start watching the lessons and using the tools and resources right away.
Dave has been there before. He gets it.
Dave Ramsey created Financial Peace University nearly 25 years ago after learning how to pay off debt, save and spend wisely, and build wealth. Today, millions have used the same principles to transform their lives.
Join the 5 Million People Who Have Taken Control of Their Money
This is an amazing product. Thank you so much for putting developing. And putting out such a great product.
Paramagic
Winnemucca, NV
Luckily, my wife and I had saved well in our 401 k's for retirement but, learning how to build an emergency fund and make the correct Insurance decisions too was just a great help in changing our families way of thinking about money. I bought extra sets to give as gifts to family members. I think there are so many useful tools in the cd's and videos that everyone can change their family tree for generations!
PinnicleMan
Indianapolis, In
Tried to present it to pastor for church he had a problem with the wealth building part which got into a slight disagreement.
ShellyO
Chicago, IL
This product is one of the best investments that I have made in a long time. I call it an investment, not a purchase, because the knowledge and tools provided in the Financial Peace University will help you with all of your financial decisions and planning throughout your life. It will pay for itself ten folds within the first few months of reading and applying the lessons learned. Highly recommended.
AlanPun
Clermont, FL
I have not finished viewing it but so far its been good.
Bola
Jacksonville, Florida
My husband and I have really enjoyed this online course. The lessons we have learned together are helping us get out of debt and move down the path toward financial freedom. Dave presents realistic, practical, valuable, and compelling concepts and supporting facts for his perspective on how to handle money, and what it takes to walk the path to financial freedom.
PrisKelly
Houston, TX
My husband and I are in health care and work erratic hours. It's never the same days of the week making attending a FPU a difficulty. We are enjoying going through this as we have time. We will definitely pass along to others or our church.
jmgeb
dayton ohio
This program has made a huge difference in my life. I am still working through it, and I am not yet debt free, but I have hope that one day I will be and I know the changes that I have to make to get there. Dave has motivated me, educated me, and provided me with the tools to change my financial future. For that I am grateful!
nseais
Pennsylvania
Absolutely wonderful. My husband and I did FPU online and can't believe the changes we have made. We thought how hard it would be to change our spending habits, but once you watch Dave and see some of the statistics it's not hard at all. It is so helpful and inspiring to hear Dave speak and to read words of inspiration from someone that has been there. Go for it you will be glad you did.
debtfreefamily2012
Colorado Springs, CO
Actually, I am a big big believer in this program. It is something that my corporation recommends and many people have benefitted from it. Unfortunately, I still cannot get signed in. I sent a request to support shortly after I purchased the program, and was told that they needed to reset my username/password because of a change in the required number of characters needed in a password. That was before Christmas.....i'm still waiting. I'm sure that I will be thrilled to death once I get to actually begin the program....please, please, please, get me so I can sign in!
mn10
north carolina
You Can Do This.
Start Today!
You shouldn't feel overwhelmed and powerless over your money. You can be in control of your money and your future.
Interested in volunteering to be a Group Leader?