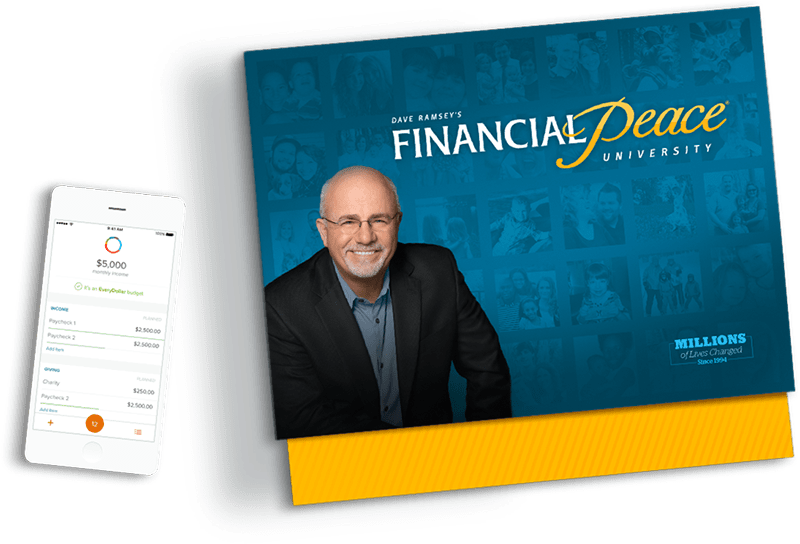 Never Worry About Money Again
Financial Peace University will help you take control of your money, plan for your future, and transform your life.
9 Lessons That Teach You How To Win With Money
Everything You Need to
Take Control of Your Money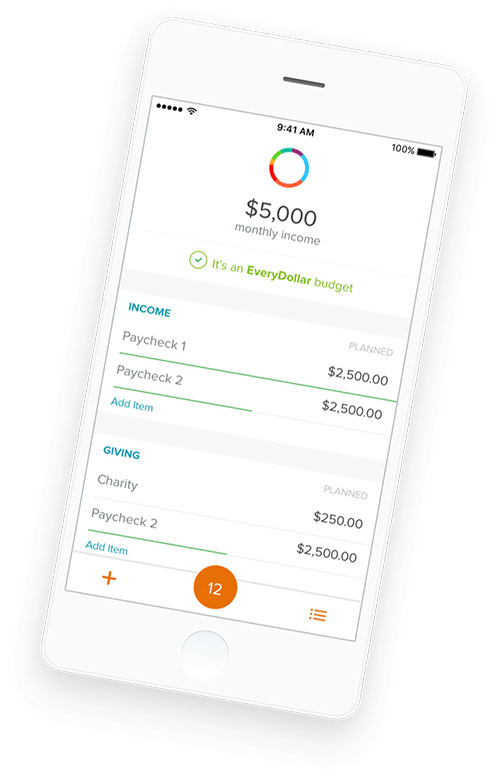 Track Spending
With Our Budgeting Tool
Connect your budget straight to your bank, sync across multiple devices, and enjoy anytime, anywhere access.
Learn From
Life-Changing Lessons
Watch entertaining videos, get your questions answered with financial coaching assistance, and stay on track with digital tools.
Budget, save and pay off debt.
Get on the same page with your spouse.
Identify which types of insurance you need.
Plan and save for major expenses.
Invest for your future, give generously, and more.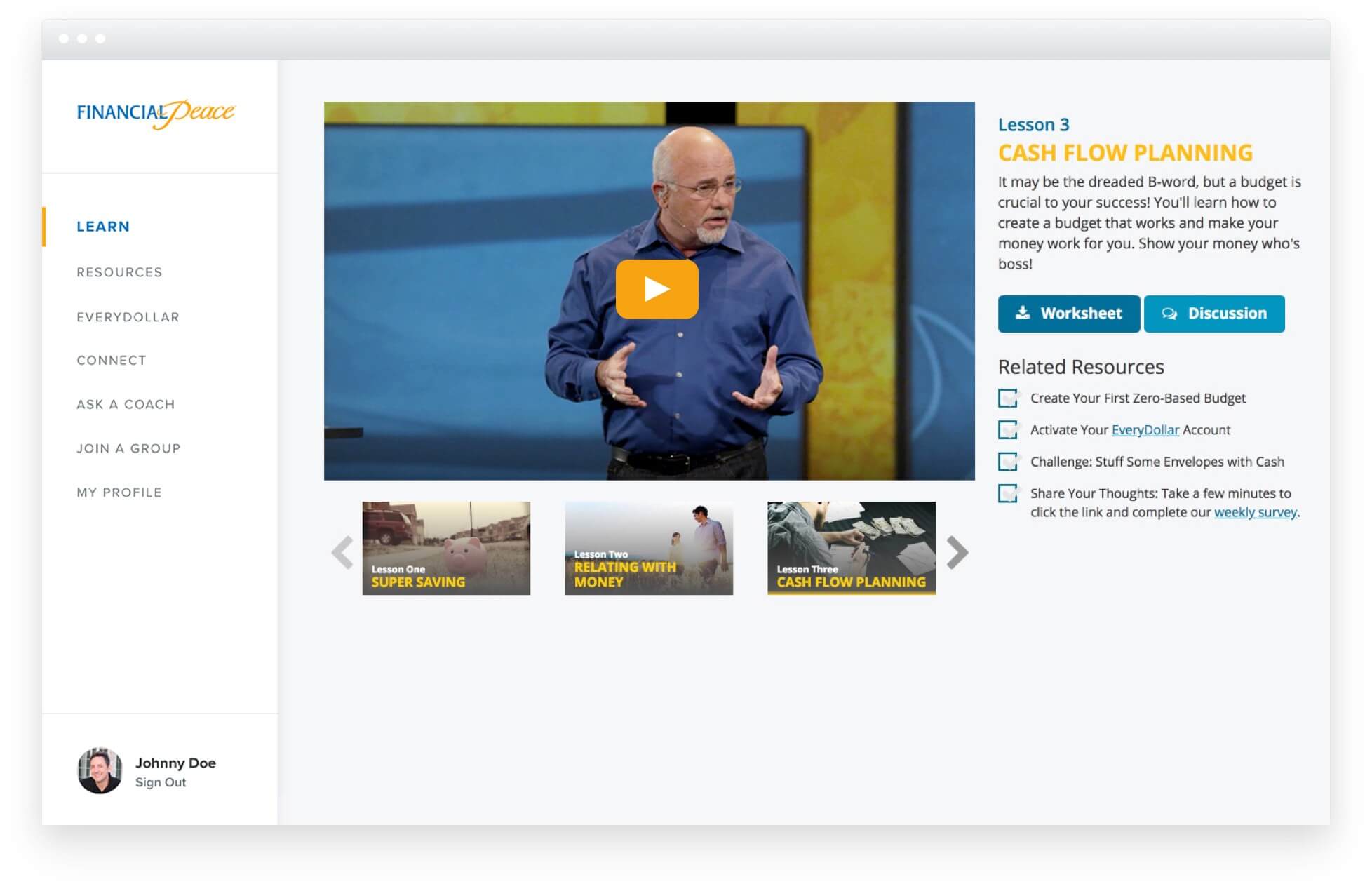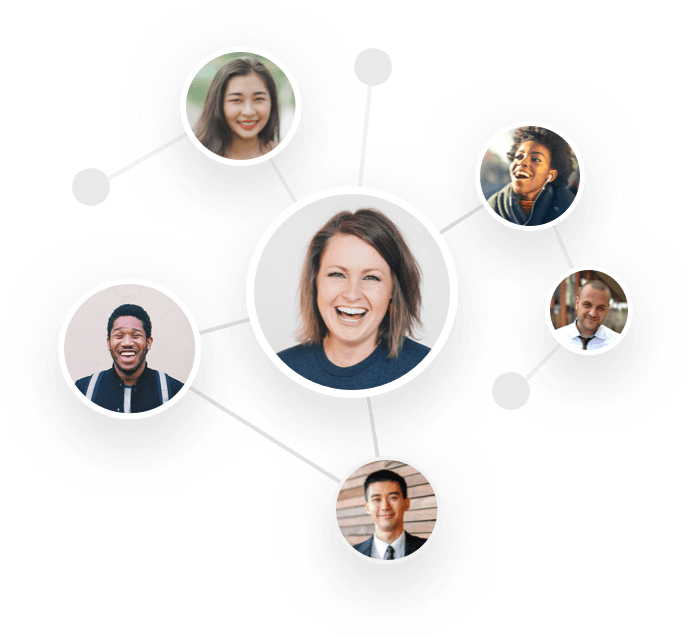 Take With a Group Nearby or Online at Home
Learn at your own pace by watching videos online and keep your progress moving forward with support from online community and financial coaches. Or join a group that meets near you and stay motivated by learning week by week with people just like you.
Did you know...?
Even though there are no groups currently near your location, you'll have access to Financial Peace University for an entire year! Start working the plan today and join a group when one becomes available.
You learn the same principles in the Online experience of Financial Peace University as you do with a group.
After checkout, you can start watching the lessons and using the tools and resources right away.
Dave has been there before. He gets it.
Dave Ramsey created Financial Peace University nearly 25 years ago after learning how to pay off debt, save and spend wisely, and build wealth. Today, millions have used the same principles to transform their lives.
Join the 5 Million People Who Have Taken Control of Their Money
I love this stuff and look forward to the future. Now I just have to persuade my free spirit husband. He does like the online classes because Dave is funny and entertaining!
TexasNerd
Texas
We are so pleased to be taking the online FPU course. There is no way we could attend a class together any other way because of my husband's work schedule. This has given us the chance to spend the time together, at our own pace, to learn and apply Dave's teachings. It is giving us hope that someday we will be able to pay back our school debt...hopefully sooner rather than later!
drwifemomof2
Omaha, NE
The program is very educational and life changing. It has changed the way I see money and spend it.
Amynewbie
Queens , NY
I love this system, i was raised to save money for a rainy day. But when i recently moved to a new city i went through my savings so quickly and realized it was time to buckle down on my budget. After, taking FPU at a local church I've been saving so much money and God has blessed me so much financially! Budgeting was difficult at first but after telling my money where to go it's getting easier. I encourage anyone and everyone to have Financial Peace it will change your life for the better!
bspellmon
Oklahoma City, OK
fix web site to get around it better have a hard time singing in to web site
jacklgott
az
While the Home Study was not my first choice for FPU, not being able to attend class this was a perfect fit. I am able to view the DVD's at my convenience. So far, the program is very informative and entertaining. I enjoy the practical and down to earth approach of this program, especially the careful injection of biblical reference. I feel, ultimately, that this program will help me to change my financial life and to influence those around me in a positive way.
pglegs
Marrero, LA
FPU has brought hope to my family. Although we have been working on the goal to become debt free for years, it always felt like we were not making any progress. The Debt Snowball tool opened our eyes to the reality that it IS possible to get out of debt. We are so excited to be teaching these principles to our children so that they don't fall into the same debt trap we did. The videos are insightful and entertaining, the tools are easy to use, and the entire program is easy to understand. A heartfelt THANK YOU to Dave Ramsey and his standout team for executing such a life altering line of products.
Dynamic
Sanford, FL
We went through the Total Money Makeover after continuously overdrafting our checking account. Overdrafting on my wifes birthday was the final straw. We have had great sucess: Our credit cards are gone and shredded. We said bye-bye to our student loan debt, credit card debt, car loan. We paid off approximately $15,000 in debt. We now have money in the bank with a fully funded 3-6 months expenses. We accomplished all of these things in about 8 months. Its amazing how much money you can save when you stop being childish with you money. We bought this package for my sister who is at a point in her life where she is just staying afloat and is stuck in the debt swamp. She has finally identified that she is not getting ahead and is ready for a change. We hope that this gift will change her life as it has changed ours. Thanks Dave A & G from B-HAM
AGBHAM
Birmingham, AL
52 years of greed and big payments, now bankrupt, broke, and starting over. Your financial plan is just what I needed, provided hope, gave my family a plan and possible future. The only negitive is I wish I did this years ago I would be set by now instead of starting completly over.
raz1226
boyne city, Mi
I had the Total Money Makeover Book back in January 2013. My Wife and I had been trying to fin an FPU class nearby, but the closest one was over an hour away. We decided to do the FPU online. I am proud to say becuse of Dave Ramsey's course not only are we debt free, we have a financial roadmap for the rest of our lives. I cannot thank Dave Ramsey enough for giving us the tools we needed to succeed.
SteveinWY
Thermopolis, WY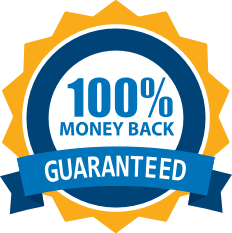 Our 100% Money Back Guarantee
Complete all nine lessons. Give it a real shot by following Dave's plan. If you aren't happy with your purchase within the first 90 days, we'll give you your money back.
You Can Do This.
Start Today!
You shouldn't feel overwhelmed and powerless over your money. You can be in control of your money and your future.
Interested in volunteering to be a Group Leader?