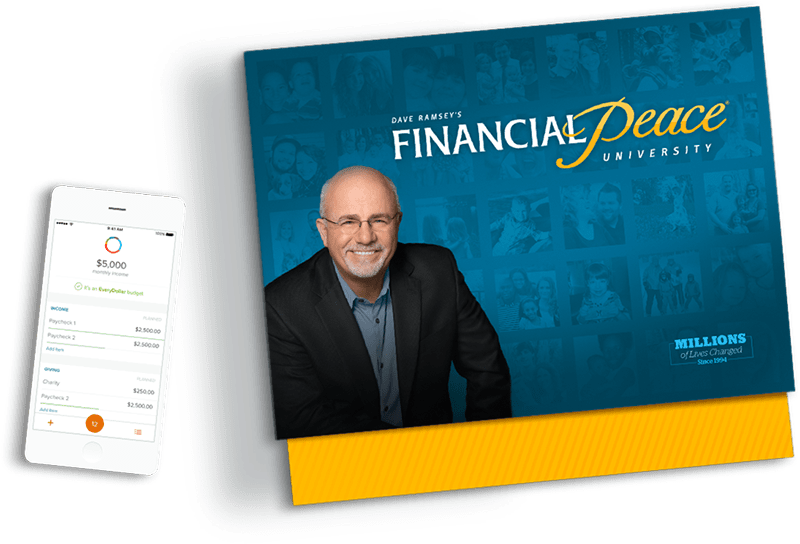 Never Worry About Money Again
Financial Peace University will help you take control of your money, plan for your future, and transform your life.
9 Lessons That Teach You How To Win With Money
Everything You Need to
Take Control of Your Money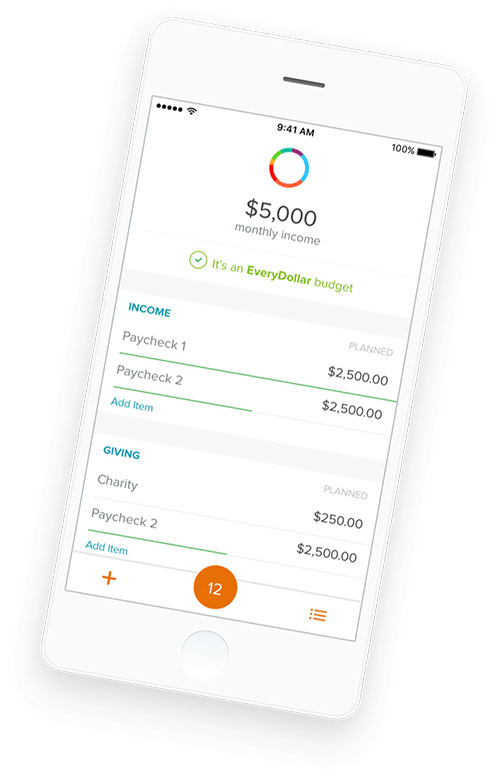 Track Spending
With Our Budgeting Tool
Connect your budget straight to your bank, sync across multiple devices, and enjoy anytime, anywhere access.
Learn From
Life-Changing Lessons
Watch entertaining videos, get your questions answered with financial coaching assistance, and stay on track with digital tools.
Budget, save and pay off debt.
Get on the same page with your spouse.
Identify which types of insurance you need.
Plan and save for major expenses.
Invest for your future, give generously, and more.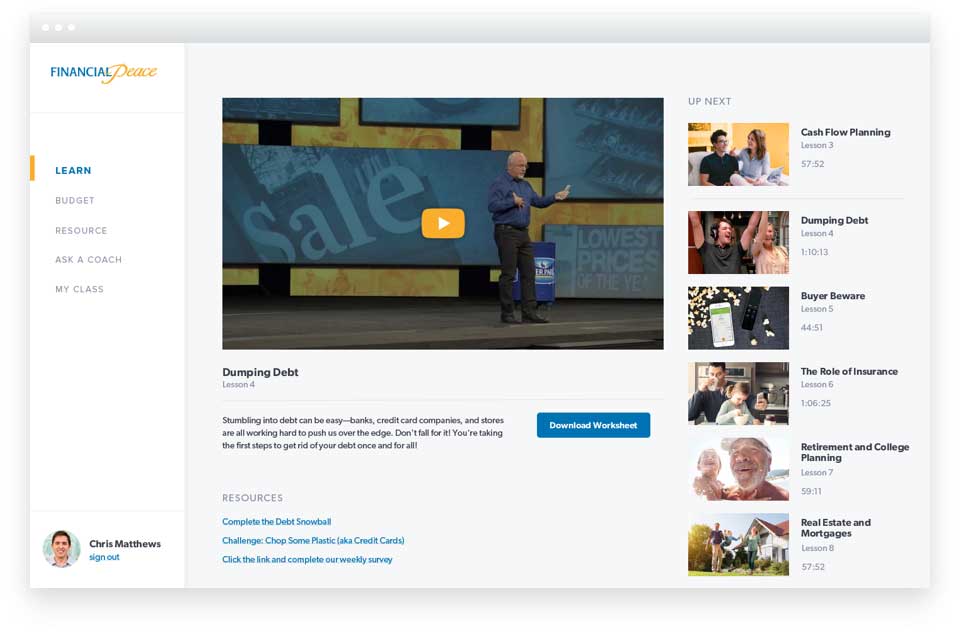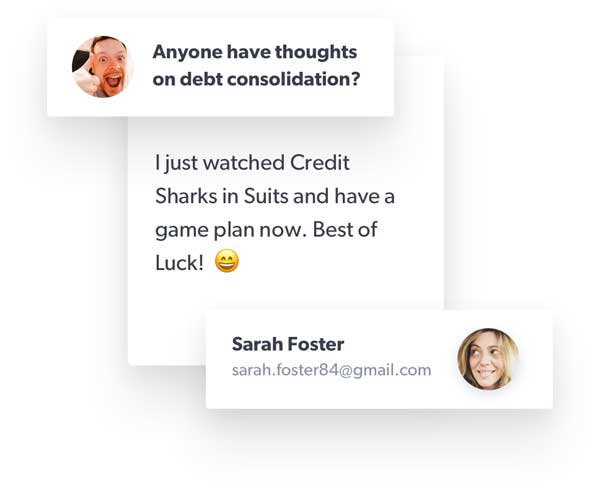 Take With a Group Nearby or Online at Home
Learn at your own pace by watching videos online and keep your progress moving forward with support from online community and financial coaches. Or join a group that meets near you and stay motivated by learning week by week with people just like you.
Did you know...?
Even though there are no groups currently near your location, you'll have access to Financial Peace University for an entire year! Start working the plan today and join a group when one becomes available.
You learn the same principles in the Online experience of Financial Peace University as you do with a group.
After checkout, you can start watching the lessons and using the tools and resources right away.
Dave has been there before. He gets it.
Dave Ramsey created Financial Peace University nearly 25 years ago after learning how to pay off debt, save and spend wisely, and build wealth. Today, millions have used the same principles to transform their lives.
Join the 5 Million People Who Have Taken Control of Their Money
It has been said before, I know, but Financial Peace University has changed our lives! Starting the program has obviously not increased our income, but it has helped us do things with the money we make that we never thought possible. I would NEVER have believed we could eliminate almost $4000 worth of debt in 5 weeks! For once in our lives, we look forward to payday not because we NEED the money, but because we are excited to see what we will be able to do with it for the next 2 weeks!
Cajacajo
Roscommon, MI
Since 2007 my husband and I have been working on reducing debt and we managed to pay off about $21K. The Total Money Makeover gives the basics but Financial Peace University gives more indepth informaton needed to become Debt Free and Live Like No One Else. The lessons on DVD and CD are great because we can listen to them in the car going to/from work and later watch them. The online resources are very helpful especially for those who have never done any personal financial work. Our goal is to retire debt free and FPU will set us on the right track to do that. Thank you for a great product.
Burnadebt
Western NY
After not being able to afford our house anymore we knew we needed a change. We tried to look at a budget ourselves but didn't really follow it. Something had to change if we want to keep being self employed. Our family needed a big change. This program has made uslook at everything and realize we needed help. Our almost 5 year old has started the giving/saving/spending jars and is so excited to save his own money. We are excited for the change in life and will hopefully be debt free by June 2014. It makes a lot of difference when we work together :-)
mctbct
We knew about the product before we purchased it and I had even read one of Dave's books. I guess what I didn't expect or was thrilled to discover, is that Dave is a great teacher. He's funny and intelligent and just easy to watch. We're learning a lot and enjoying the process. Thanks!
mkyoung
Cincinnati, OH
My wife and I have been half heartedly trying The Total Money Makeover. After purchasing FPU we were reluctant to get started. We finally got started, and it opened our eyes to where all the income is going. Now we both look forward to our weekly "date night" watching the lessons. Just after 3 weeks, our marriage is stronger, and we are behaving with money. Never would have thought how fun this could be. Thanks Dave!
Greenhead
Sioux Falls, SD
I am an advisor and have gone through about 1/2 of the program in just 4 weeks. I find the information is presented in a concise and easy to understand format. Very useful with real life examples. I encourage my adult children to go through the program and find it pays for itself very quickly. I wish all of my clients had gone through this program years ago as they would then have a lot more money for us to help them manage!
TimAdvisor
New Hampshire
I'm really loving my new kit already! I immediately switched my wallet over to the Designer Envelope System. I love using it! I love all the tools and have been using the budgeting spreadsheet since before I became a member. The only two gripes I have are with the wallet I have: The card slots are way too tight and I could barely get my license in there. I have other membership cards (CostCo, Starbucks, etc) that I put in there, but it's really hard to get them out. Also, there are a few envelopes, and then a plastic pouch and then a few extra places to write on in case you run out of space on the envelopes. It's great, but you can't move them. You'd have to take apart the whole thing, reorder them and then carefully put it back together. It'd be great to have an easier way to reorganize the wallet.
Teka
Santa Cruz, CA
I waited to do my review until i had completed the course. I bought FPU home edition because with 10 boys it is difficult to cut the time out of our week. The course probably would have been more fun with a group, but the material is life changing. I began as the free spirit in our relationship. Now she teases me and says I'm a bigger nerd than she ever was. We are taking control of our finances. Thank God for your calling and ministry Dave!
thunderbolt
little rock, arkansas
"After the first week of using the money envelope system I could tell I was saving more money. Dave is absolutely right about being more emotionally attached when you pay with cash. I started realizing how much I was actually spending on food and stuff that is not necessary. Listening to the audio was a blast! I looked forward to it every time I got in the car. I would laugh all the way to work. Dave is hilarious! Totally worth every penny!"
Hanh
Houston, TX
It's hard when you start and it can cause you to panic a little but knowing that the end result is worth it keeps you going even if it is the hardest thing you've had to do.
THyatt
Milwaukee,WI
You Can Do This.
Start Today!
You shouldn't feel overwhelmed and powerless over your money. You can be in control of your money and your future.
Interested in volunteering to be a Group Leader?