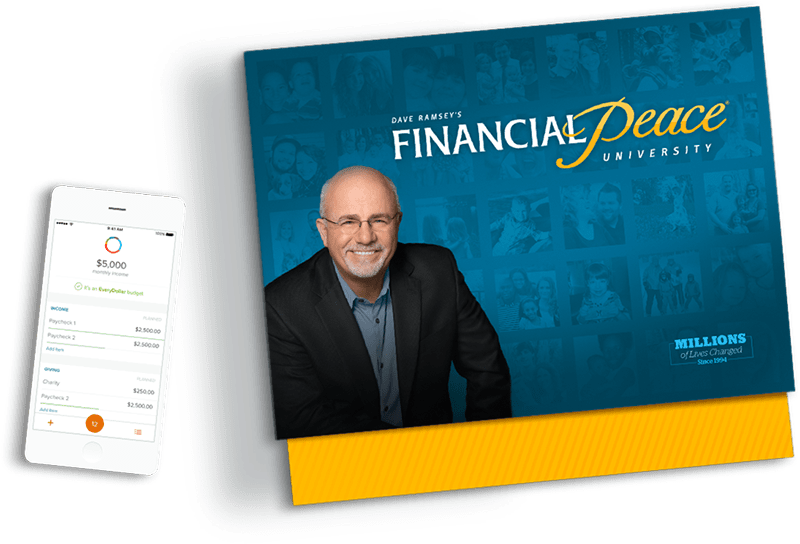 Never Worry About Money Again
Financial Peace University will help you take control of your money, plan for your future, and transform your life.
9 Lessons That Teach You How To Win With Money
Everything You Need to
Take Control of Your Money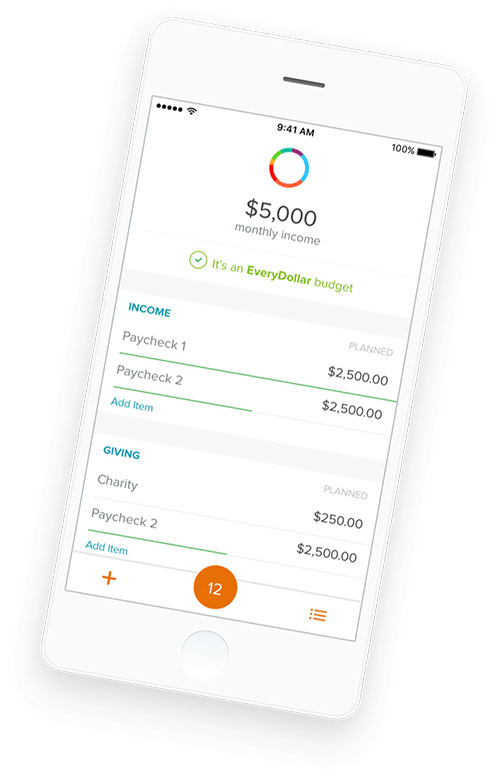 Track Spending
With Our Budgeting Tool
Connect your budget straight to your bank, sync across multiple devices, and enjoy anytime, anywhere access.
Learn From
Life-Changing Lessons
Watch entertaining videos, get your questions answered with financial coaching assistance, and stay on track with digital tools.
Budget, save and pay off debt.
Get on the same page with your spouse.
Identify which types of insurance you need.
Plan and save for major expenses.
Invest for your future, give generously, and more.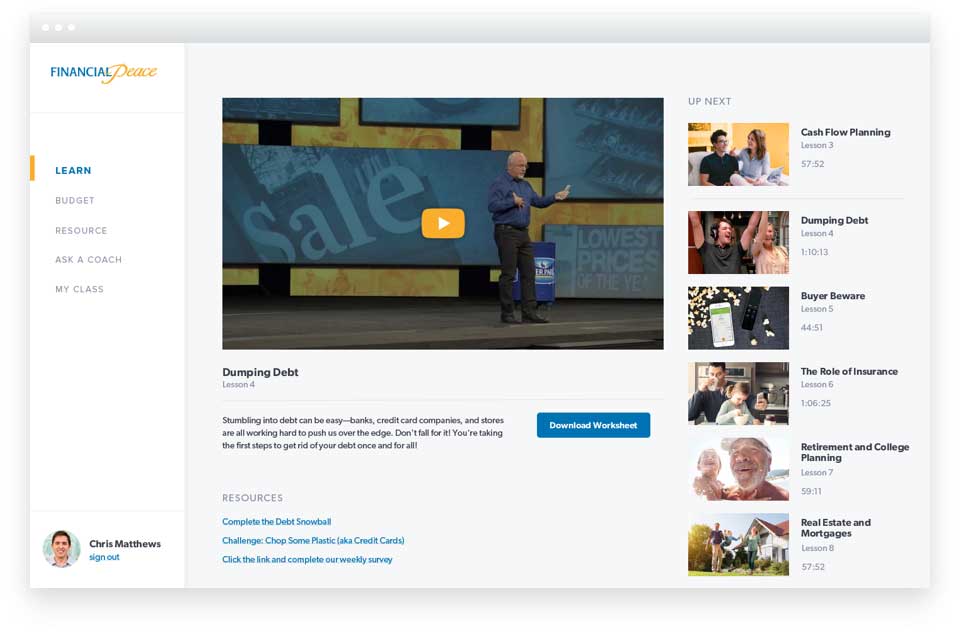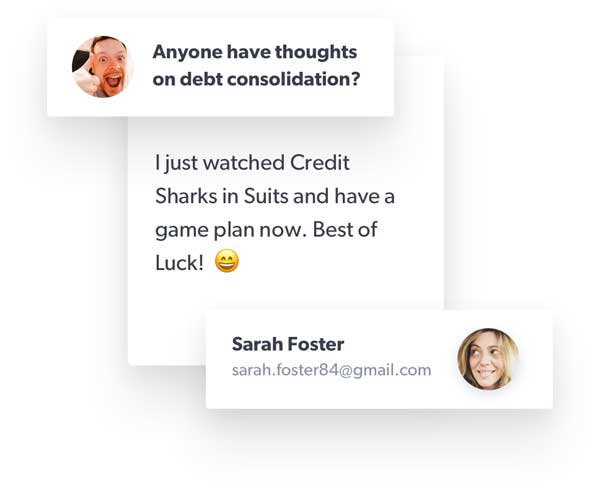 Take With a Group Nearby or Online at Home
Learn at your own pace by watching videos online and keep your progress moving forward with support from online community and financial coaches. Or join a group that meets near you and stay motivated by learning week by week with people just like you.
Did you know...?
Even though there are no groups currently near your location, you'll have access to Financial Peace University for an entire year! Start working the plan today and join a group when one becomes available.
You learn the same principles in the Online experience of Financial Peace University as you do with a group.
After checkout, you can start watching the lessons and using the tools and resources right away.
Dave has been there before. He gets it.
Dave Ramsey created Financial Peace University nearly 25 years ago after learning how to pay off debt, save and spend wisely, and build wealth. Today, millions have used the same principles to transform their lives.
Join the 5 Million People Who Have Taken Control of Their Money
FPU has brought hope to my family. Although we have been working on the goal to become debt free for years, it always felt like we were not making any progress. The Debt Snowball tool opened our eyes to the reality that it IS possible to get out of debt. We are so excited to be teaching these principles to our children so that they don't fall into the same debt trap we did. The videos are insightful and entertaining, the tools are easy to use, and the entire program is easy to understand. A heartfelt THANK YOU to Dave Ramsey and his standout team for executing such a life altering line of products.
Dynamic
Sanford, FL
I am already using the things explained in financial peace and have the first baby step taken care of! I am working toward the next steps and cannot wait to have financial peace!
Jayron
Muskegon, MI
We have struggled for years. I had been telling my husband he needs to get involved. ( I also needed to be accountable to someone). But we never got on the same page. Not long ago I asked him how much our house payment was he had no clue. I was annoyed and frankly mad that he had left all the finances to me for all these years. I felt like the bad guy all the time. He always wondered where the money went. It was like swimming upstream all the time. I got tired of it. So now we are on a budget, and I love it. I think it will help us and I want our 3 boys to learn how to live within their means. jThanks so much!!!!
Nandor
Montgomery, Alabama
Our grown children recommended we do this thing called Financial Peace University. They had completed the course with their future spouses as a condition they had set prior to marriage. So my spouse and I are doing this. Taking this course has done a number of things. Dave says spouses will fight about the budget. Well, we haven't. Yet. This course has created almost a laser focus on our budget that we never have had. We now know where every penny goes because we tell it to go there versus it slipping through our fingers. I gave the sample disc to my office mate at work. She's 40-ish and single. She watched it last weekend and came to work fired up. Thanks, Dave.
rosie1
Frydek, TX
This plan is incredible! i have been challenged on so many levels, not just financially but more so how i think in general about making decisions. For the price i paid to purchase this kit (about $150 dollars) i have already put aside $1,000 dollars that was slipping out of my hands every month. Finance is really 20% head knowledge and 80% behavior. None of what Dave says is new he just puts it in practical, charismatic, funny, and real terms. This is an excellent purchase!!
jamaleast
brooklyn,ny
I purchased this even though we are already on baby steps 4, 5 and 6. I need the extra motivation to keep going and planning for the future and am really glad I purchased this. I hope to also use the knowledge to help others.
ddart
Price, UT
52 years of greed and big payments, now bankrupt, broke, and starting over. Your financial plan is just what I needed, provided hope, gave my family a plan and possible future. The only negitive is I wish I did this years ago I would be set by now instead of starting completly over.
raz1226
boyne city, Mi
The FPU program has not only changed our financial problem, but has also made us realize where we lacked on other Biblical areas. Thanks Dave.
EasyCreditFailure2
Blackfoot, ID
I am so thankful for my children for they are the ones that introduced me to Dave Ramsey. I am newly divorced after 39 years and I can attribute part of our problems to finiancial infidelity. I have learned so much that I am ashamed to say I was a big part of the problem, I used to hide the money I spent, he was the one who used to give me the $14.00 to buy groceries for four, so I made due, made sure the kids would have what they needed and me, I let go... I love Dave Ramsey, just wished I had him in my life 39 years ago, so much would have been different. FPU is the greatest, Just baby steps now but look out world Georgia is on her way:)
1948glw
Lancaster, Ca
We took the class several years ago and reduced our debt by $50,000 and then fell off the horse. We are ready to get back on track with gazelle intensity and knock out the remaining debt and change our family tree!
curtis9023
Kearney, MO
You Can Do This.
Start Today!
You shouldn't feel overwhelmed and powerless over your money. You can be in control of your money and your future.
Interested in volunteering to be a Group Leader?