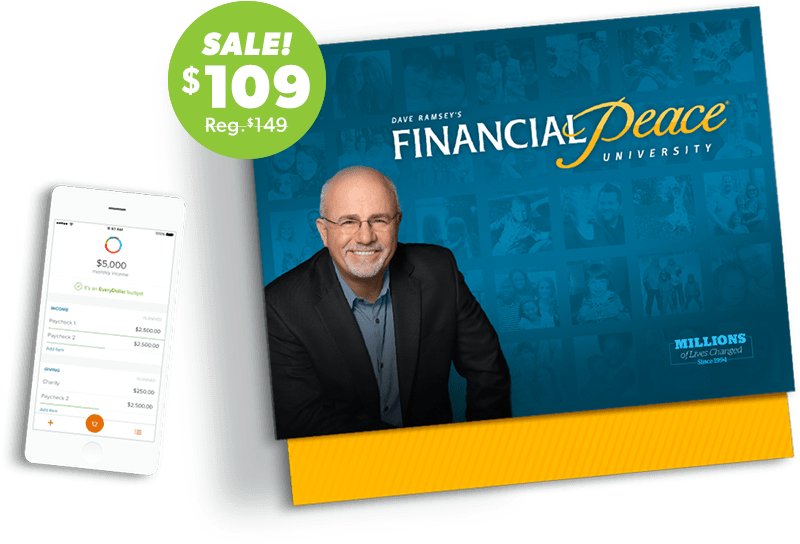 Never Worry About Money Again
Financial Peace University will help you take control of your money, plan for your future, and transform your life.
9 Lessons That Teach You How To Win With Money
Everything You Need to
Take Control of Your Money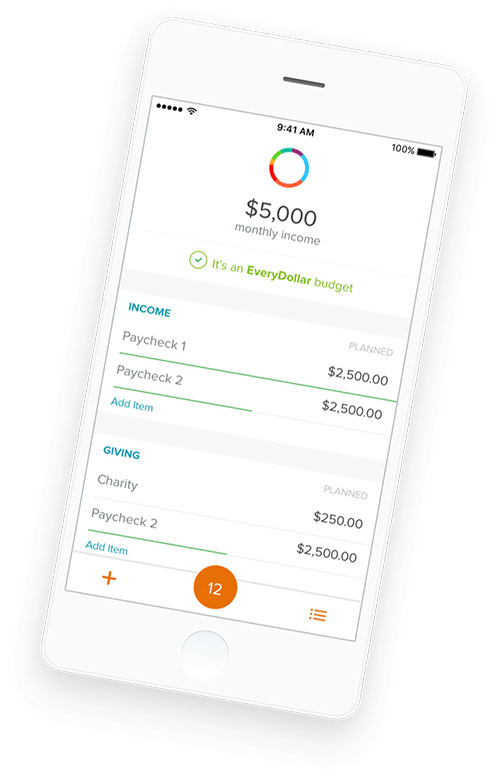 Track Spending
With Our Budgeting Tool
Connect your budget straight to your bank, sync across multiple devices, and enjoy anytime, anywhere access.
Learn From
Life-Changing Lessons
Watch entertaining videos, get your questions answered with financial coaching assistance, and stay on track with digital tools.
Budget, save and pay off debt.
Get on the same page with your spouse.
Identify which types of insurance you need.
Plan and save for major expenses.
Invest for your future, give generously, and more.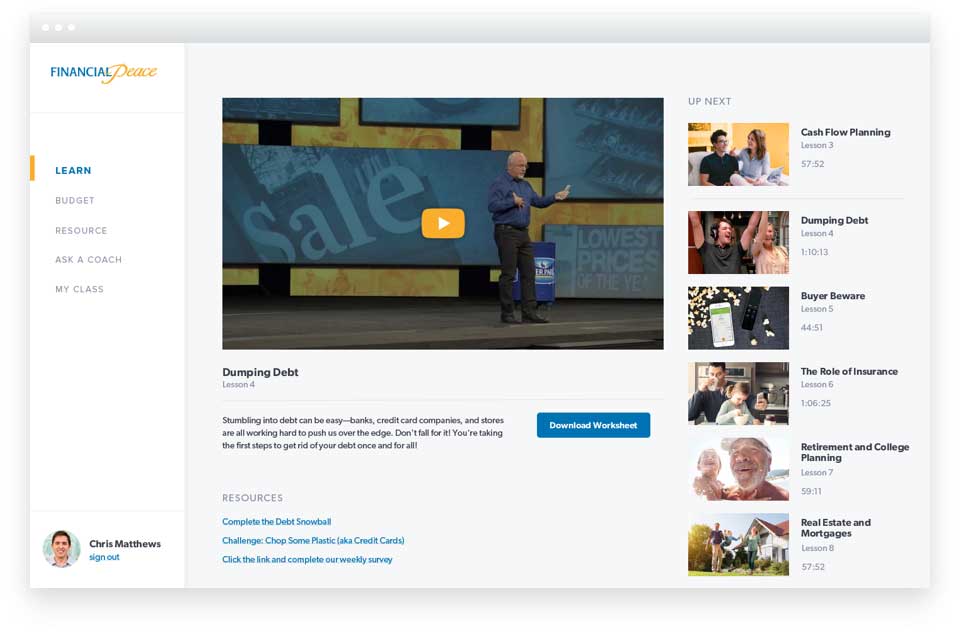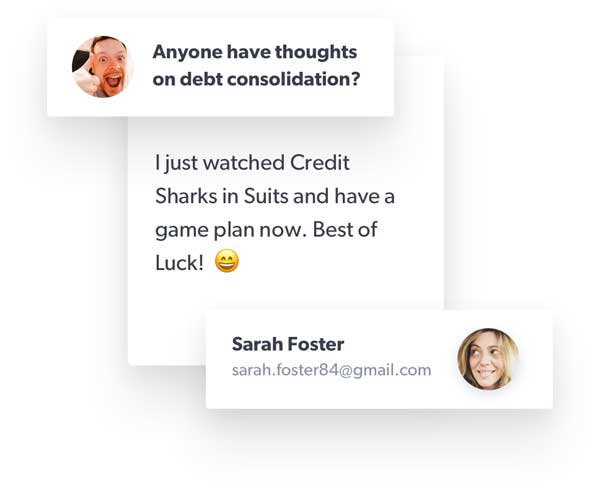 Take With a Group Nearby or Online at Home
Learn at your own pace by watching videos online and keep your progress moving forward with support from online community and financial coaches. Or join a group that meets near you and stay motivated by learning week by week with people just like you.
Did you know...?
Even though there are no groups currently near your location, you'll have access to Financial Peace University for an entire year! Start working the plan today and join a group when one becomes available.
You learn the same principles in the Online experience of Financial Peace University as you do with a group.
After checkout, you can start watching the lessons and using the tools and resources right away.
Dave has been there before. He gets it.
Dave Ramsey created Financial Peace University nearly 25 years ago after learning how to pay off debt, save and spend wisely, and build wealth. Today, millions have used the same principles to transform their lives.
Join the 5 Million People Who Have Taken Control of Their Money
It's not education - though it is. It's not studying - though it is. It's really opportunity. I've got three (count 'em - three!) college degrees and through all that study no one ever taught me how to handle money. I'm in my 50's and just learning this! I needed this DECADES ago. Don't miss this opportunity! It doesn't cost - it PAYS!
BoltUpright
Okemos, MI
My wife and I decided we needed to take control of our spending, and we had several friends and family members that were raving about Dave Ramsey's FPU. We decided to take the plunge. There were no local classes that we could squeeze into our busy schedules, so we opted for the online class with the option to attend in person later. So far, we could not be happier! The quality of the streaming media in excellent, and we have viewed a few of the segments several times for better understanding. I am quite happy at this point that there were no local classes because we a delighted with the online Combo class option. My only regrets at this point is that we did not do this 15 years ago when we were first married. DO IT NOW!
WJTech
Birmingham, AL
We are only in our 3rd week and we are half way through baby step one. It had given us hope for the future and peace. We are so excited for the rest of this journey.
Rebeccainls
Kansas City, Mo
I was a little skeptical before taking this class about some of the principles taught, especially about student loans and credit score. Me and my wife are still in lesson 3 and baby step 2 and my attitude is slowly changing towards debt (all debt). Praying to God for perseverance, strength and courage to implement the plan.
KevinnNisy
Huntingdon Valley PA
Tried to present it to pastor for church he had a problem with the wealth building part which got into a slight disagreement.
ShellyO
Chicago, IL
This purchase was a dynamic one for me. I have gained so much knowledge from it. It has taught me so much about managing my finances, about getting control of the money. It brought to the forefront graphically just how much we waste each month when we had no map to follow.
Pouls
Hurricane, Utah
I have implimented all of of Dave ramseys ideas and will be debt free including house in 36 months, I have shared the strategies with my kids and set up a meeting with our financial planner to engage early savings. I am glad that Dave Ramsey and the group engages a love for the Savior and as a small boy I have always been a strong believer in his saving grace and have resolved to share his love forever. True happiness is measured by how we love our family (foremost the Savior). and to be happy!! As a family we are grateful for the financial guidance to help our family.
raisethebar
Salt lake city
My husband, myself and 3 of our children (ages 14, 17, 25) went thru the course last fall. We were so impressed with the material that we purchased the home series to do with our 22 year old who was away at school and couldn't attend previously. We have only started with the 22 year old but I have high hopes it will do wonders for him as it did for us. Like Dave, we were swinging high on the real estate bubble with leveraging everything after we made a few million. We had hoped to make many more millions but the bubble burst and we quickly went thru our 2 years of living expenses in savings (which seemed very reasonable at the time....but we didn't realize the big bucks would come to a screeching halt for years!). Our monthly bills totalled about $25,000.00. Unfortunately, we did have to file bankruptcy but still our monthly debt was around $12,000.00. Since going thru Dave's class our monthy bills are now down to $6,000.00! Still higher than we would like but we are keepin' on keepin' to lower that even further. Thank you Dave for giving the financial lessons we all should have been taught in childhood!
Nikayla
Alabama
This past year has been the hardest and if it weren't for Dave Ramsey, I would be insane, depressed and unmotivated. Everything Dave Ramsey does has had a positive influence in my life!
argfusion99
Phoenix, AZ
It has been said before, I know, but Financial Peace University has changed our lives! Starting the program has obviously not increased our income, but it has helped us do things with the money we make that we never thought possible. I would NEVER have believed we could eliminate almost $4000 worth of debt in 5 weeks! For once in our lives, we look forward to payday not because we NEED the money, but because we are excited to see what we will be able to do with it for the next 2 weeks!
Cajacajo
Roscommon, MI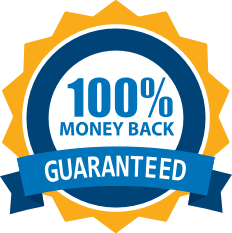 Our 100% Money Back Guarantee
Complete all nine lessons. Give it a real shot by following Dave's plan. If you aren't happy with your purchase within the first 90 days, we'll give you your money back.
You Can Do This.
Start Today!
You shouldn't feel overwhelmed and powerless over your money. You can be in control of your money and your future.
Interested in volunteering to be a Group Leader?