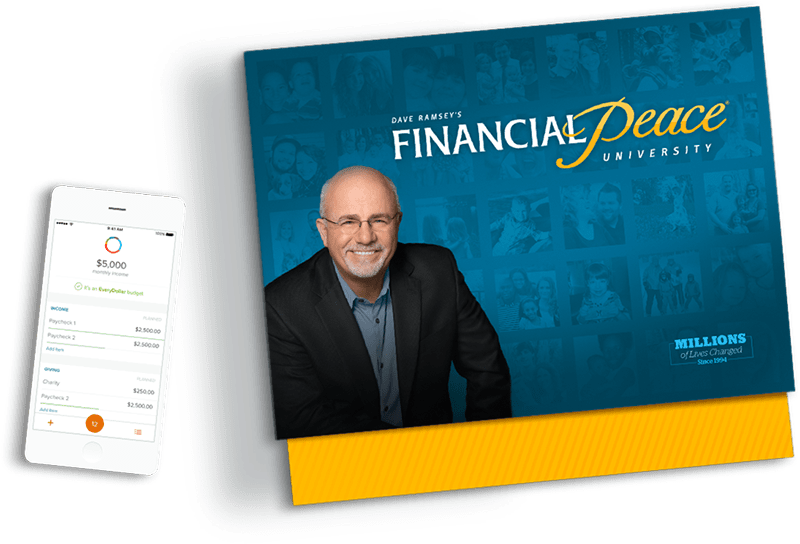 Never Worry About Money Again
Financial Peace University will help you take control of your money, plan for your future, and transform your life.
9 Lessons That Teach You How To Win With Money
Everything You Need to
Take Control of Your Money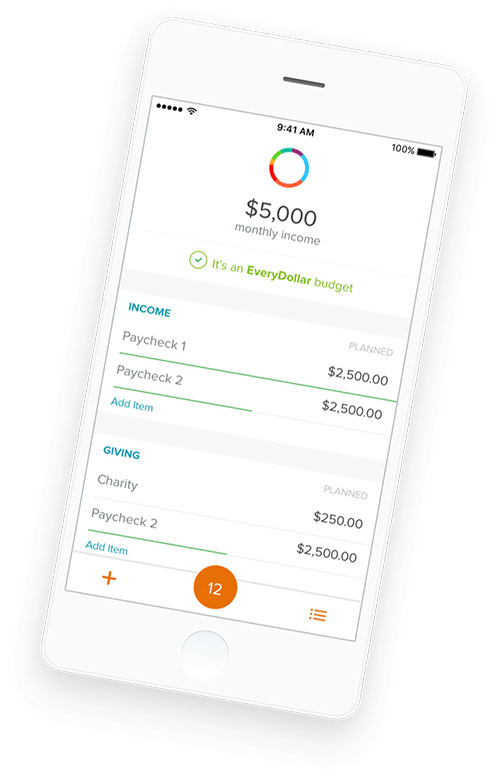 Track Spending
With Our Budgeting Tool
Connect your budget straight to your bank, sync across multiple devices, and enjoy anytime, anywhere access.
Learn From
Life-Changing Lessons
Watch entertaining videos, get your questions answered with financial coaching assistance, and stay on track with digital tools.
Budget, save and pay off debt.
Get on the same page with your spouse.
Identify which types of insurance you need.
Plan and save for major expenses.
Invest for your future, give generously, and more.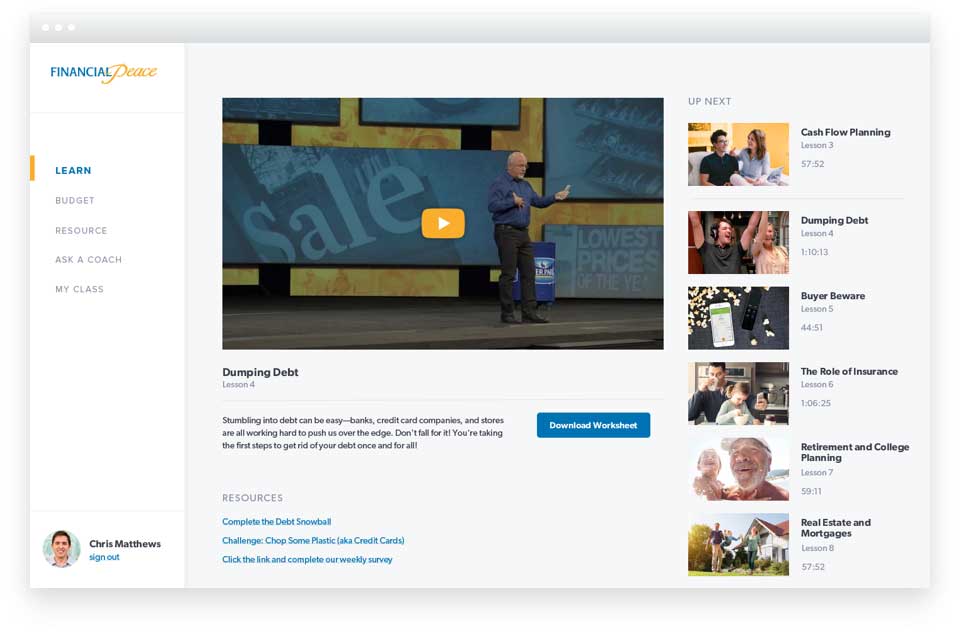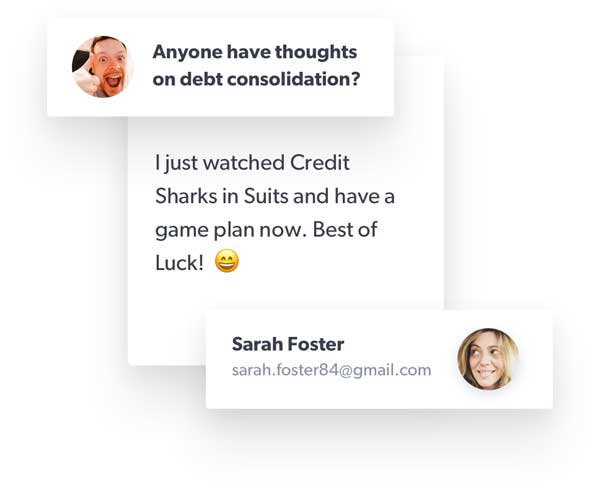 Take With a Group Nearby or Online at Home
Learn at your own pace by watching videos online and keep your progress moving forward with support from online community and financial coaches. Or join a group that meets near you and stay motivated by learning week by week with people just like you.
Did you know...?
Even though there are no groups currently near your location, you'll have access to Financial Peace University for an entire year! Start working the plan today and join a group when one becomes available.
You learn the same principles in the Online experience of Financial Peace University as you do with a group.
After checkout, you can start watching the lessons and using the tools and resources right away.
Dave has been there before. He gets it.
Dave Ramsey created Financial Peace University nearly 25 years ago after learning how to pay off debt, save and spend wisely, and build wealth. Today, millions have used the same principles to transform their lives.
Join the 5 Million People Who Have Taken Control of Their Money
This program has made a huge difference in my life. I am still working through it, and I am not yet debt free, but I have hope that one day I will be and I know the changes that I have to make to get there. Dave has motivated me, educated me, and provided me with the tools to change my financial future. For that I am grateful!
nseais
Pennsylvania
I got caught up in the credit card rewards life. Yes, I have lots of airline miles, but through Dave's teaching I now live in the world of no credit card debt. Cash or debit card is my new way! It makes sticking to my budget a whole lot easier, and I know longer have questions, as to where the money is going. Thanks Dave!!!
Hercules
San Antonio, Texas
Financial Peace University changed our life : ) It came as a gift when needed the most and has put us on the track to success!!
Smithmama
Port Huron, MI
Luckily, my wife and I had saved well in our 401 k's for retirement but, learning how to build an emergency fund and make the correct Insurance decisions too was just a great help in changing our families way of thinking about money. I bought extra sets to give as gifts to family members. I think there are so many useful tools in the cd's and videos that everyone can change their family tree for generations!
PinnicleMan
Indianapolis, In
My husband and I have really enjoyed this online course. The lessons we have learned together are helping us get out of debt and move down the path toward financial freedom. Dave presents realistic, practical, valuable, and compelling concepts and supporting facts for his perspective on how to handle money, and what it takes to walk the path to financial freedom.
PrisKelly
Houston, TX
If you know you need to get started, get started!!! This is a great tool. Lots to learn. Gives you a plan - a road map of how to move forward and leave your bad habits and debt behind. We are at the beginning of the process, but Dave's coaching and tools give us the confidence that we can do it!
Marti
Hershey, PA
One of my siblings gifted FPU to my wife and me when we were engaged. My wife thought it was going to be a bunch of boring lectures, but she ended up really liking the class. FPU also became a great date night - after each class we went and got ice cream and talked about what we had learned. We have never had an argument over money, and soon we will both be debt free college graduates.
samara
Utah
We took the class several years ago and reduced our debt by $50,000 and then fell off the horse. We are ready to get back on track with gazelle intensity and knock out the remaining debt and change our family tree!
curtis9023
Kearney, MO
Great program. I have totally turned my finances around. I'm amazed how quick things happen during Baby Step 2. I would and do recommend this to anyone.
ramseyfan2010
Illinois
We are just into the 4th Lesson but we can already see that FPU is transforming our lives, finances and marriage. We live in a very sparse and rural area, so the on-line course is perfect for us. It is simple to do and you are given plenty of time to complete it. I love the way the lessons are broken down so you feel you are accomplishing something. We highly recommend Financial Peace University to everyone.
kwcook
Valentine, TX
You Can Do This.
Start Today!
You shouldn't feel overwhelmed and powerless over your money. You can be in control of your money and your future.
Interested in volunteering to be a Group Leader?