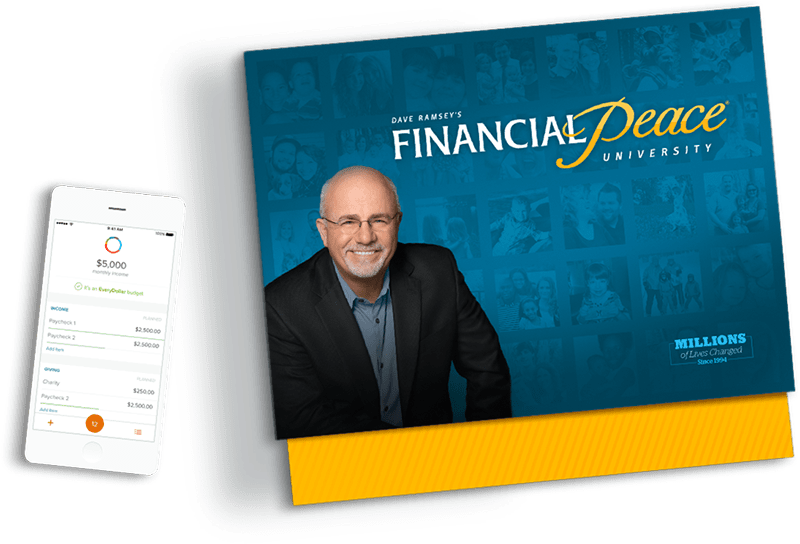 Never Worry About Money Again
Financial Peace University will help you take control of your money, plan for your future, and transform your life.
9 Lessons That Teach You How To Win With Money
Everything You Need to
Take Control of Your Money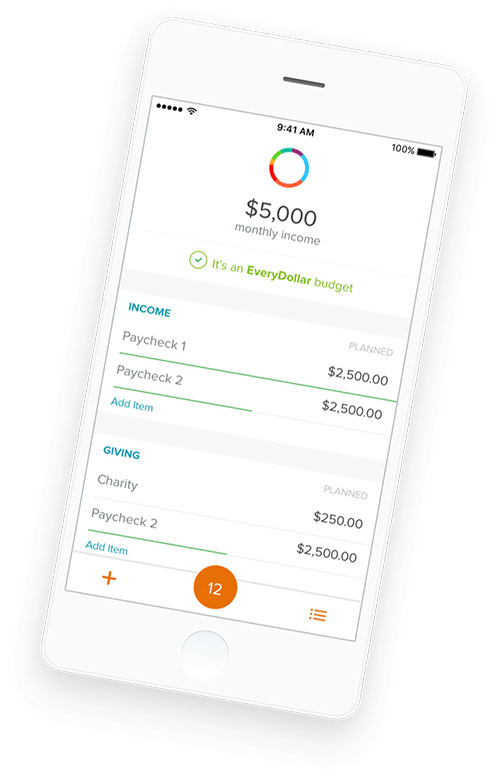 Track Spending
With Our Budgeting Tool
Connect your budget straight to your bank, sync across multiple devices, and enjoy anytime, anywhere access.
Learn From
Life-Changing Lessons
Watch entertaining videos, get your questions answered with financial coaching assistance, and stay on track with digital tools.
Budget, save and pay off debt.
Get on the same page with your spouse.
Identify which types of insurance you need.
Plan and save for major expenses.
Invest for your future, give generously, and more.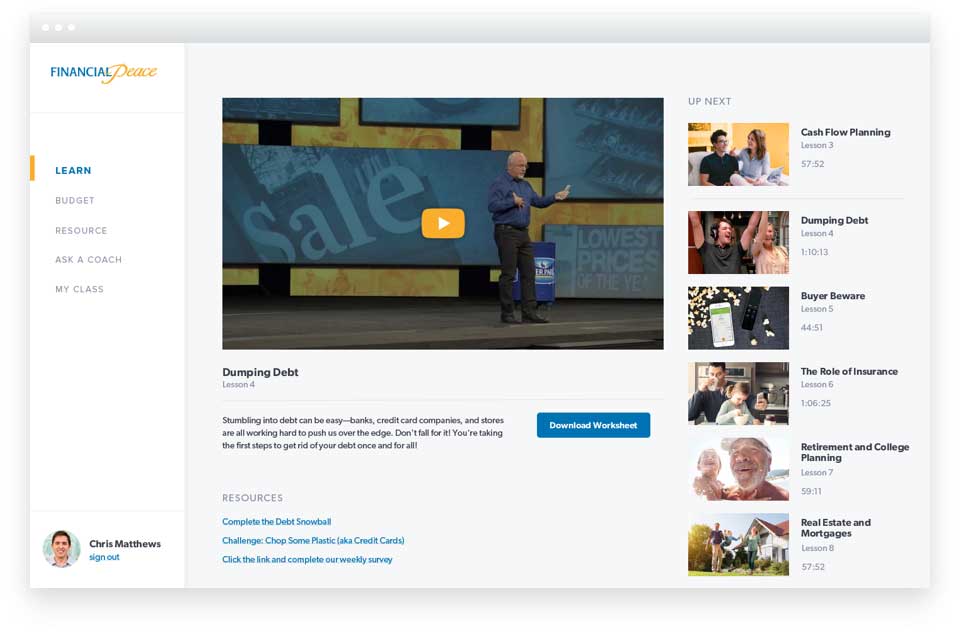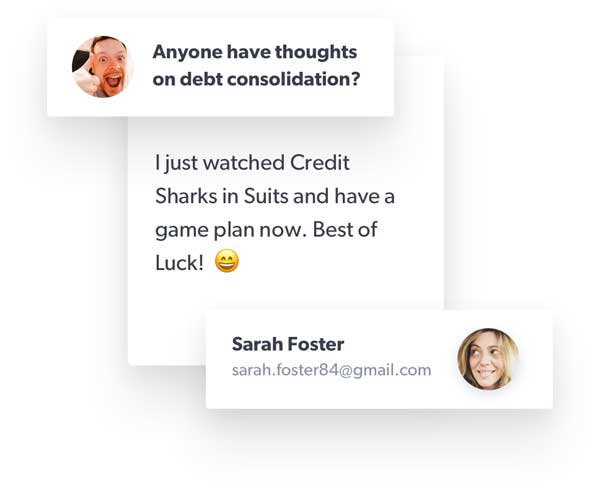 Take With a Group Nearby or Online at Home
Learn at your own pace by watching videos online and keep your progress moving forward with support from online community and financial coaches. Or join a group that meets near you and stay motivated by learning week by week with people just like you.
Did you know...?
Even though there are no groups currently near your location, you'll have access to Financial Peace University for an entire year! Start working the plan today and join a group when one becomes available.
You learn the same principles in the Online experience of Financial Peace University as you do with a group.
After checkout, you can start watching the lessons and using the tools and resources right away.
Dave has been there before. He gets it.
Dave Ramsey created Financial Peace University nearly 25 years ago after learning how to pay off debt, save and spend wisely, and build wealth. Today, millions have used the same principles to transform their lives.
Join the 5 Million People Who Have Taken Control of Their Money
My husband, myself and 3 of our children (ages 14, 17, 25) went thru the course last fall. We were so impressed with the material that we purchased the home series to do with our 22 year old who was away at school and couldn't attend previously. We have only started with the 22 year old but I have high hopes it will do wonders for him as it did for us. Like Dave, we were swinging high on the real estate bubble with leveraging everything after we made a few million. We had hoped to make many more millions but the bubble burst and we quickly went thru our 2 years of living expenses in savings (which seemed very reasonable at the time....but we didn't realize the big bucks would come to a screeching halt for years!). Our monthly bills totalled about $25,000.00. Unfortunately, we did have to file bankruptcy but still our monthly debt was around $12,000.00. Since going thru Dave's class our monthy bills are now down to $6,000.00! Still higher than we would like but we are keepin' on keepin' to lower that even further. Thank you Dave for giving the financial lessons we all should have been taught in childhood!
Nikayla
Alabama
I have not finished viewing it but so far its been good.
Bola
Jacksonville, Florida
The best thing about this program is being urged to take Baby Steps. I am the type of person who wants this done yesterday...but I didn't get to this position overnight and it is going to take me time to get out of this hole I've dug. The class is showing me how to get out and stay out of the Debt Hole with Baby Steps. Thanks for breaking this monster down into tiny parts so we can overcome it!
BabySteps2010
Everett, WA
My son requested this for his birthday. He and his family are going through the class and give great reviews. I pray it will be able to help him to gain financial security.
ConnieGG
Lexington
My wife and I started the Christian based FPU course a little over 4 weeks ago. We made the decision to at least try to apply the techniques that Dave lays out in his book and course. I have read the book from cover to cover and I'm even contemplating reading it again. Since beginning the course, we have found that we have more money to pay off those wicked credit cards than what we ever dreamed. Thus far, we have paid off almost $6,000 of our $37,000 debt. FPU's online applications say we should be able to be debt free in roughly 2 ½ years. As long as we stick to this genius of a plan, we will achieve our goal to be DEBT FREE! This program REALLY works, but you have to be willing to change. Awesome book and course, Dave! Thank you for opening our eyes! What I am writing is true – please email me at emailmsims@gmail.com if you have any questions.
sims8115
Brule, WI
OH MY!!! This program was put together so well and in such an order that I was amazed. The information and it's delivery was educating, inspiring, motivating, funny, complete and total truth. Yes, I am telling anybody that will listen and those who won't. BUY THIS PROGRAM AND FOLLOW IT!!! And stay pumped while follwing by listening to the Dave on iheartradio. This stuff works!!!
DebtGoneFREEDOM
Columbus, OH
My wife and I have been half heartedly trying The Total Money Makeover. After purchasing FPU we were reluctant to get started. We finally got started, and it opened our eyes to where all the income is going. Now we both look forward to our weekly "date night" watching the lessons. Just after 3 weeks, our marriage is stronger, and we are behaving with money. Never would have thought how fun this could be. Thanks Dave!
Greenhead
Sioux Falls, SD
Dave has help me get out of debt, stay out of debt & save, save save! I bought the financial peach dvd set for a young couple on the island. I am passing it forward. I highly recommend Dave to all. Everyone can benefit from his knowledge (the school of hard knocks). Thanks Dave.
Beachcombers
Edisto Beach, SC
Absolutely wonderful. My husband and I did FPU online and can't believe the changes we have made. We thought how hard it would be to change our spending habits, but once you watch Dave and see some of the statistics it's not hard at all. It is so helpful and inspiring to hear Dave speak and to read words of inspiration from someone that has been there. Go for it you will be glad you did.
debtfreefamily2012
Colorado Springs, CO
I debated over a week to order the at home kit. I am so glad I finally bought it. I wanted the at home kit because I wanted to go at it at my own pace. We have 3 children so it would also be easier to fit it into our schedule. Plus, I thought it would be easier to get my hubby on board. WOW! I LOVE this kit!! The DVD's are so great. Not only are they informative, but Dave is so funny too! He is so entertaining at the way he teaches. It is not boring to watch at all! We are only on week 2 but it has definitly made an impact already on how we are looking at money. We always had some kind of budget, but now I know that we should budget EVERYTHING. It makes so much sense. The CDs are great for the car I love to review the lesson and listen it to them on the way to work. If you don't think you will ever be able to attend an FPU class live then don't hesitate to buy this kit. It is well worth the money. Thank you Dave for all you do!
kaybeebo
Boston, MA
You Can Do This.
Start Today!
You shouldn't feel overwhelmed and powerless over your money. You can be in control of your money and your future.
Interested in volunteering to be a Group Leader?