Never Worry About Money Again
Meet up with a local group for community, motivation, and accountability.
Watch the lesson videos in the comfort of your home and on your own schedule.
Meet with a group, enjoy at home, or do both. Switch at any point. It's up to you.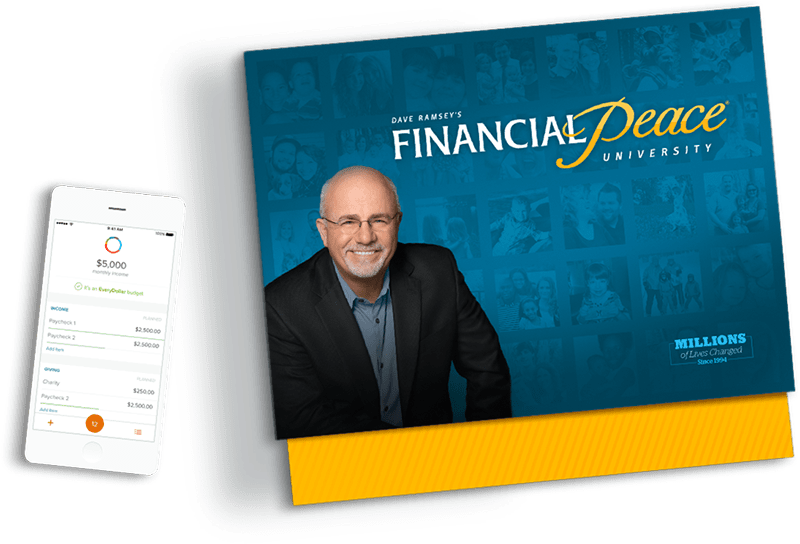 Financial Peace University
Never Worry About Money Again
Financial Peace University will help you take control of your money, plan for your future, and transform your life.
9 Lessons That Teach You How To Win With Money
Everything You Need to
Take Control of Your Money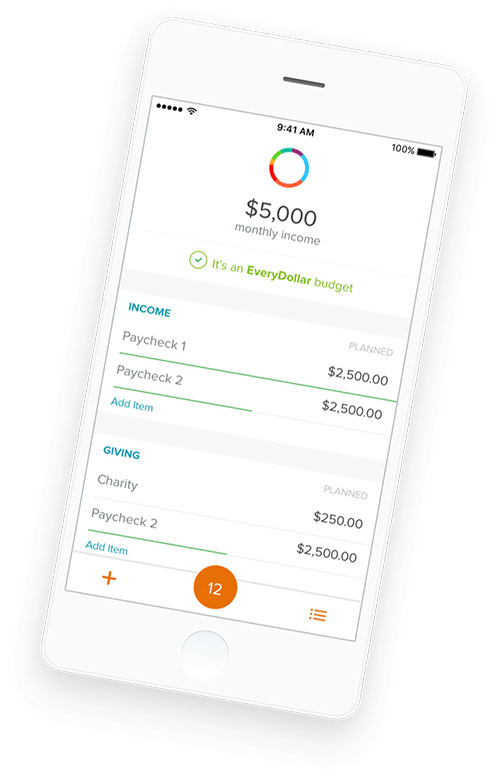 Track Spending
With Our Budgeting Tool
Connect your budget straight to your bank, sync across multiple devices, and enjoy anytime, anywhere access.
Learn From
Life-Changing Lessons
Watch entertaining videos, get your questions answered with financial coaching assistance, and stay on track with digital tools.
Budget, save and pay off debt.
Get on the same page with your spouse.
Identify which types of insurance you need.
Plan and save for major expenses.
Invest for your future, give generously, and more.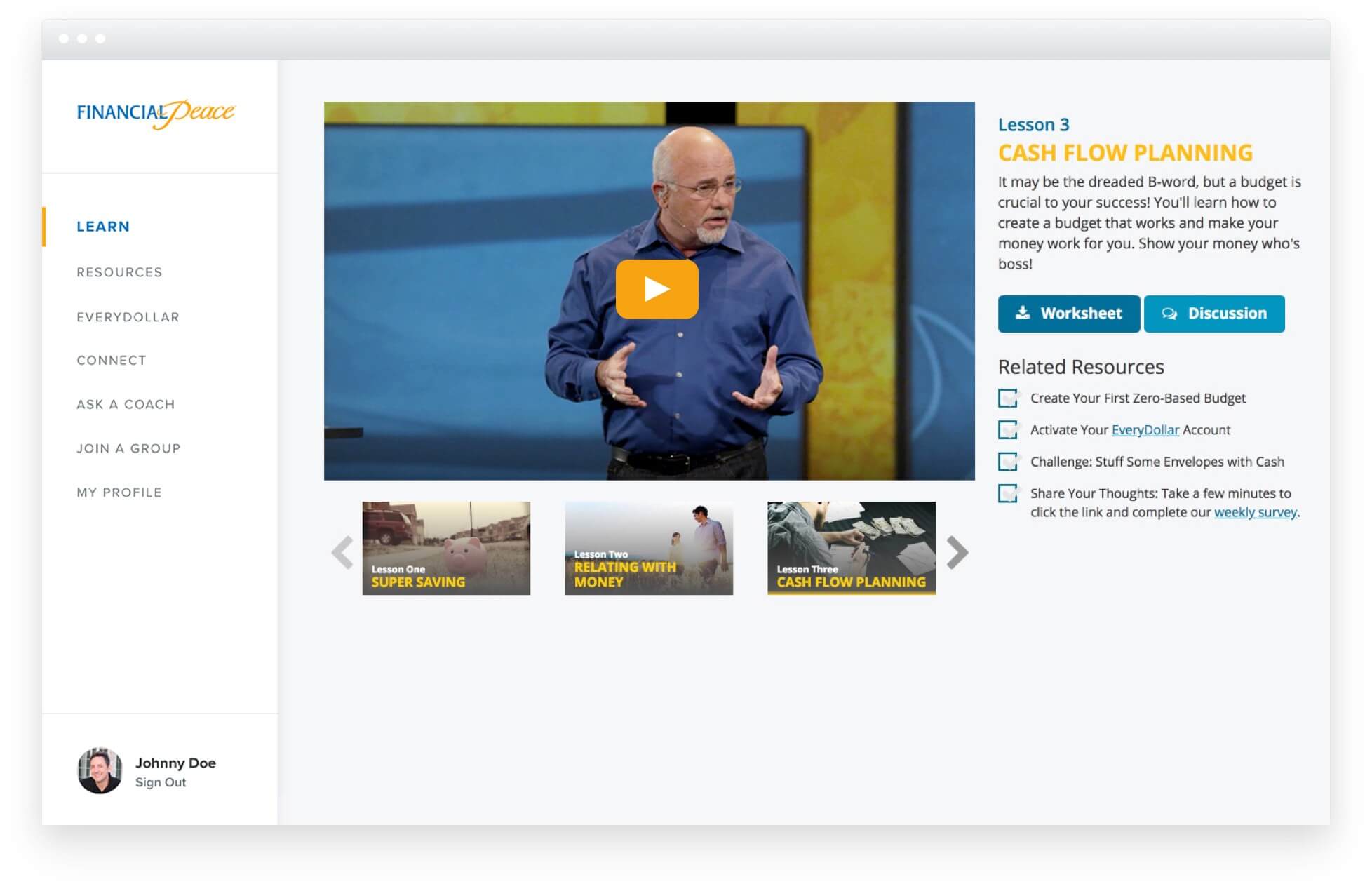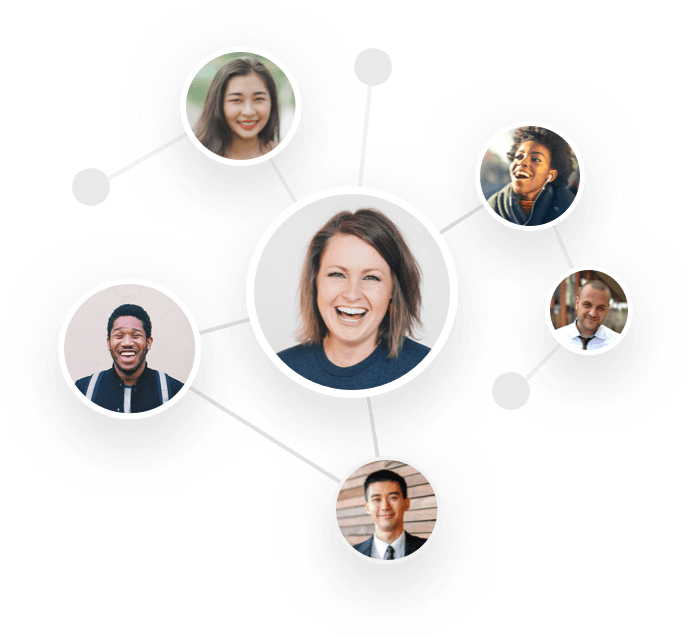 Take With a Group Nearby or Online at Home
Learn at your own pace by watching videos online and keep your progress moving forward with support from online community and financial coaches. Or join a group that meets near you and stay motivated by learning week by week with people just like you.
Did you know...?
Even though there are no groups currently near your location, you'll have access to Financial Peace University for an entire year! Start working the plan today and join a group when one becomes available.
You learn the same principles in the Online experience of Financial Peace University as you do with a group.
After checkout, you can start watching the lessons and using the tools and resources right away.
Dave has been there before. He gets it.
Dave Ramsey created Financial Peace University nearly 25 years ago after learning how to pay off debt, save and spend wisely, and build wealth. Today, millions have used the same principles to transform their lives.
Join the 5 Million People Who Have Taken Control of Their Money
We are only in our 3rd week and we are half way through baby step one. It had given us hope for the future and peace. We are so excited for the rest of this journey.
Rebeccainls
Kansas City, Mo
Purchasing the online program has been life changing for not only my husband and I, but all of our kids. We were credit card crazy and now we have none. It makes us think about the importance of purchases and if they are needed.
Carol0327
Omaha, NE
My husband and I took the FPU class 5 years ago and thankfully have paid off /saved over $50,000. God placed it on my heart to purchase the kit for some friends who were getting married and much to my surprise it was on sale for an amazing price. I am thankful for the class and all of the information we have learned and lived by, we are so grateful to be able to bless others because of it.
linzleigh3
Alton, IL
This course is well constructed and presented in an interesting manner. It gives an elderly person like me hope that I can at last get control over my financial life and not feel as though I am on a runaway train! I am encouraged by the hope I can become debt free. FPU is easy to follow and I especially like doing it on line because I can do the lessons at any time and go back over them as needed..Thank you Dave.
annienat
Concord, NC
We knew about the product before we purchased it and I had even read one of Dave's books. I guess what I didn't expect or was thrilled to discover, is that Dave is a great teacher. He's funny and intelligent and just easy to watch. We're learning a lot and enjoying the process. Thanks!
mkyoung
Cincinnati, OH
My husband and I have really enjoyed this online course. The lessons we have learned together are helping us get out of debt and move down the path toward financial freedom. Dave presents realistic, practical, valuable, and compelling concepts and supporting facts for his perspective on how to handle money, and what it takes to walk the path to financial freedom.
PrisKelly
Houston, TX
One of my siblings gifted FPU to my wife and me when we were engaged. My wife thought it was going to be a bunch of boring lectures, but she ended up really liking the class. FPU also became a great date night - after each class we went and got ice cream and talked about what we had learned. We have never had an argument over money, and soon we will both be debt free college graduates.
samara
Utah
It's hard when you start and it can cause you to panic a little but knowing that the end result is worth it keeps you going even if it is the hardest thing you've had to do.
THyatt
Milwaukee,WI
We were already out of debt except for our house because of previous life lessons, Larry Burkett and church teachings, but this program is helping us take our financial health to a whole new level. We are learning that we can pay our house off quicker than we thought when we eliminate sneaky credit card fees and overspending, and have a plan for total financial freedom, retirement and leaving an inheritance for our children! Thank you Dave Ramsey and Financial Peace!
Hilltrain
Eagle Point, OR
This information is excellent. I was sad though to not be able to see the presenters. I tend to learn best with the visual reinforcements. It was my mistake and I just don't want others to go through the initial disappointment that I did. Though we are not in a financial bind, this program is driving an important organization process and has provided a detailed knowledge of where our resources go. We can now be more purposeful with them. Thank you.
HappyCouple2
Michigan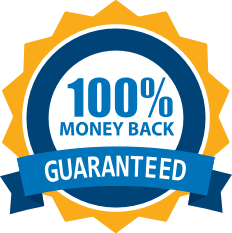 Our 100% Money Back Guarantee
Complete all nine lessons. Give it a real shot by following Dave's plan. If you aren't happy with your purchase within the first 90 days, we'll give you your money back.
You Can Do This.
Start Today!
You shouldn't feel overwhelmed and powerless over your money. You can be in control of your money and your future.
Interested in volunteering to be a Group Leader?