Never Worry About Money Again
Meet up with a local group for community, motivation, and accountability.
Watch the lesson videos in the comfort of your home and on your own schedule.
Meet with a group, enjoy at home, or do both. Switch at any point. It's up to you.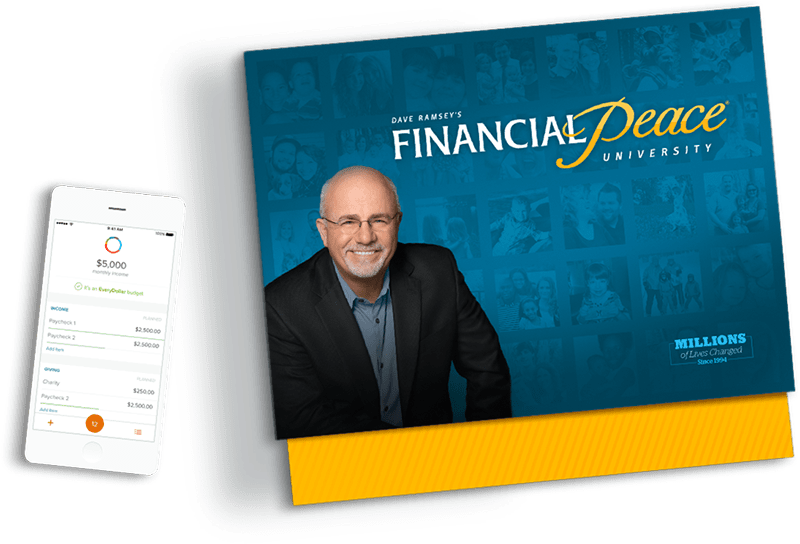 Financial Peace University
Never Worry About Money Again
Financial Peace University will help you take control of your money, plan for your future, and transform your life.
9 Lessons That Teach You How To Win With Money
Everything You Need to
Take Control of Your Money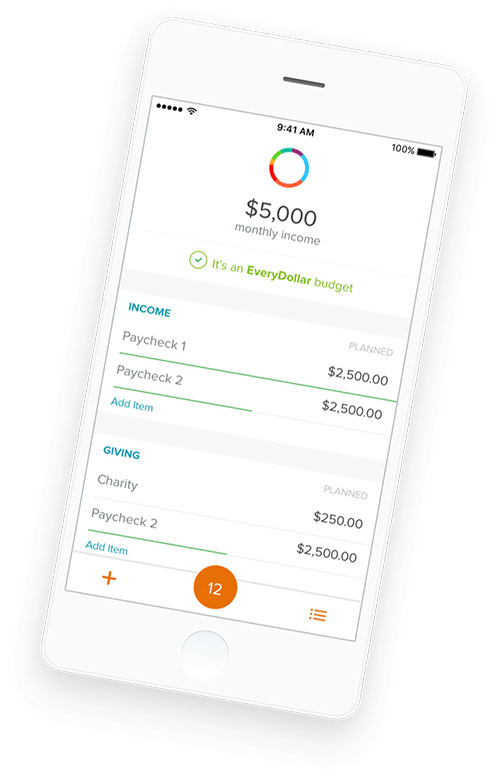 Track Spending
With Our Budgeting Tool
Connect your budget straight to your bank, sync across multiple devices, and enjoy anytime, anywhere access.
Learn From
Life-Changing Lessons
Watch entertaining videos, get your questions answered with financial coaching assistance, and stay on track with digital tools.
Budget, save and pay off debt.
Get on the same page with your spouse.
Identify which types of insurance you need.
Plan and save for major expenses.
Invest for your future, give generously, and more.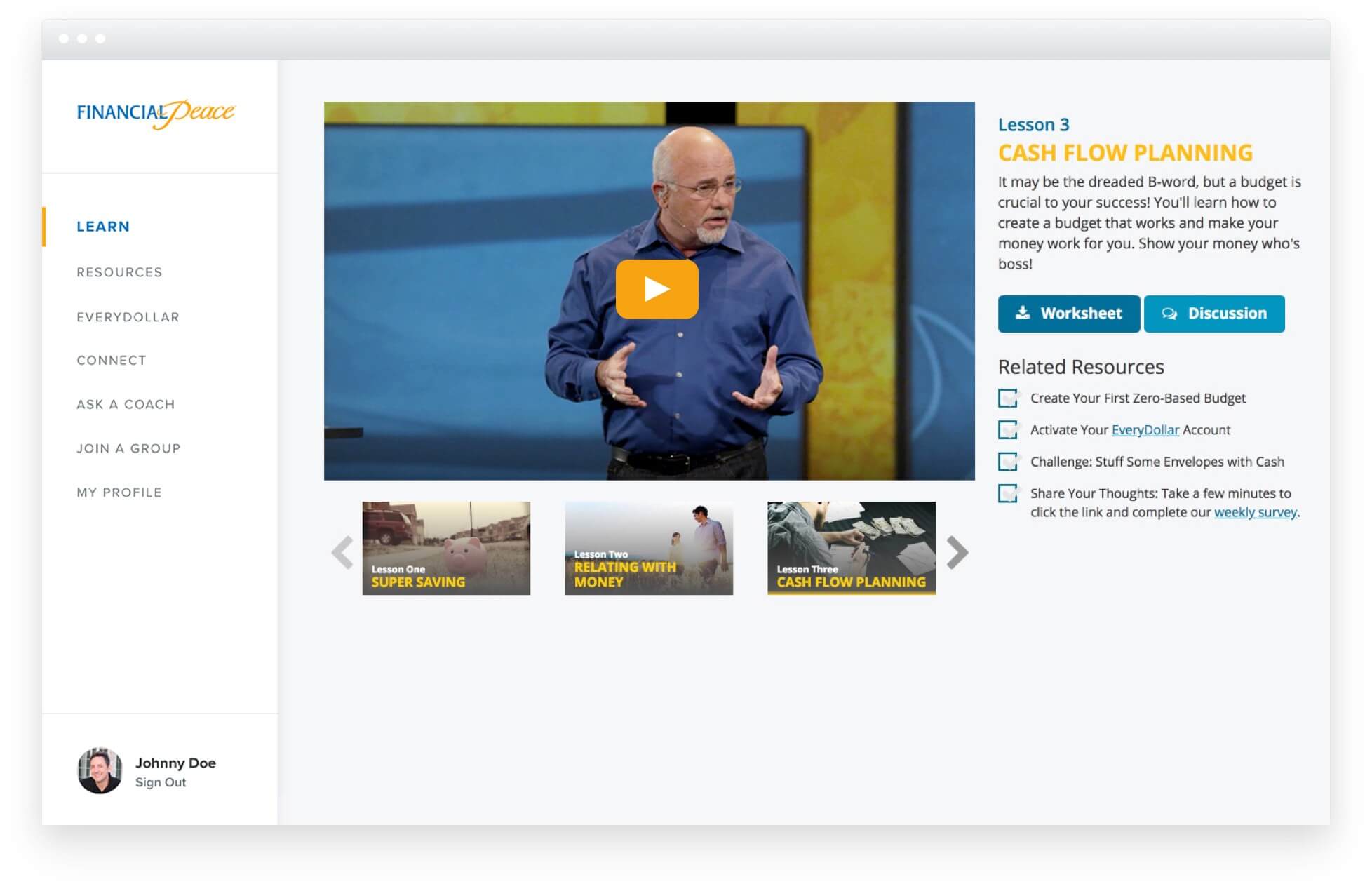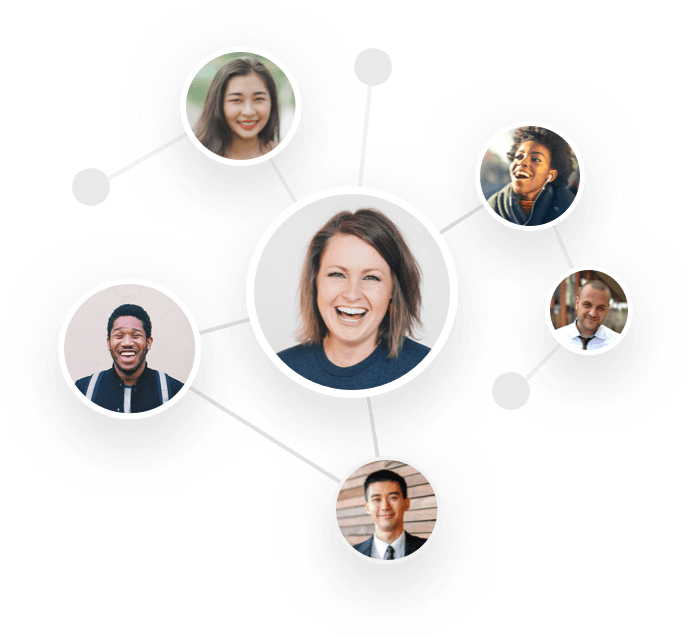 Take With a Group Nearby or Online at Home
Learn at your own pace by watching videos online and keep your progress moving forward with support from online community and financial coaches. Or join a group that meets near you and stay motivated by learning week by week with people just like you.
Did you know...?
Even though there are no groups currently near your location, you'll have access to Financial Peace University for an entire year! Start working the plan today and join a group when one becomes available.
You learn the same principles in the Online experience of Financial Peace University as you do with a group.
After checkout, you can start watching the lessons and using the tools and resources right away.
Dave has been there before. He gets it.
Dave Ramsey created Financial Peace University nearly 25 years ago after learning how to pay off debt, save and spend wisely, and build wealth. Today, millions have used the same principles to transform their lives.
Join the 5 Million People Who Have Taken Control of Their Money
My wife and I have been through Financial Peace. Our youngest daughter took a class in school and she an I saw Dave live. Now its time to spend Sunday evenings together as the rest of the family watch the videos and discuss them at home. What better family time could we have than Financial Peace?
DSones
Orlando, FL
I am so thankful for my children for they are the ones that introduced me to Dave Ramsey. I am newly divorced after 39 years and I can attribute part of our problems to finiancial infidelity. I have learned so much that I am ashamed to say I was a big part of the problem, I used to hide the money I spent, he was the one who used to give me the $14.00 to buy groceries for four, so I made due, made sure the kids would have what they needed and me, I let go... I love Dave Ramsey, just wished I had him in my life 39 years ago, so much would have been different. FPU is the greatest, Just baby steps now but look out world Georgia is on her way:)
1948glw
Lancaster, Ca
Thank you so much!!! Your product is SO amazing and is helping my family!!
christiG
Clyde, OH
No matter what you think you know about finances, if you watch this series I guarantee you'll learn something.
Normaltraffic
Lagrange, KY
We have been changed by FPU! We went from no plan and no clue to having financial goals and seeing the path to real financial peace. We have been called crazy by friends and family for living without credit cards, a mortgage and without a car payment. I think that they are crazy for living with debt. This online course is a great way to do FPU on your own schedule or if you can't find a class in your area. You will be changed by this!
ProfessorB
Ocala, Fl
We knew about the product before we purchased it and I had even read one of Dave's books. I guess what I didn't expect or was thrilled to discover, is that Dave is a great teacher. He's funny and intelligent and just easy to watch. We're learning a lot and enjoying the process. Thanks!
mkyoung
Cincinnati, OH
I love this stuff and look forward to the future. Now I just have to persuade my free spirit husband. He does like the online classes because Dave is funny and entertaining!
TexasNerd
Texas
FPU is the best investment my husband and I have made in ourselves this year! I grew up with a mother who worked in the financial industry so I knew how money worked, however, I had no clue how to set a proper budget. I always had bills paid, however never had any extra. Now, my husband and I are fully equipped to have a strong financial future! This program works, you just have to work the program!! So thankful for FPU, and Dave Ramsey!
Coley
Jefferson City, MO
Single mom, widowed with 2 kids, 11 and 15. Only debt is $16,000 in student loans. Home is paid for and college loans are my only debt. Started on Jan. 3 2010 and by end of Jan, paid down loan to 13,600 and by end of February, I will pay down an additional $2,000. My debt snowball will have me paid off by no later than July 2010. These loans would have taken me until Sept. 2019, had I paid the minimum payment. I should be debt-free by late summer of this year, having paid $16,000 off in about 8 months. My income totals $4,500 per month. What I love about the envelope system is that I have scrutinized my spending and whittled away excess waste. I did the plastectomy on my few credit cards and it felt awesome. I finally feel like I have a clear cut plan for my future and my childrens. I was doing everything backwards, funding the IRA and kids college instead of snowballing the debt. I started college mutual funds for my girls when they were just weeks old...and I've funded the IRA. I was just doing everything scatterbrained and without a concrete plan. I love FPU Revisited as well as Total Money Makeover. The quality of the FPU home kit is outstanding. This is the most valuable investment I have ever purchased. Now, I can't wait to whittle away at unnecessary spending, go crazy with yard sales and soon, be completely debt free. What a great lesson to get my girls involved in the whole budget process. Thank you and God Bless!!!
Jozee
Mogadore, OH
I debated over a week to order the at home kit. I am so glad I finally bought it. I wanted the at home kit because I wanted to go at it at my own pace. We have 3 children so it would also be easier to fit it into our schedule. Plus, I thought it would be easier to get my hubby on board. WOW! I LOVE this kit!! The DVD's are so great. Not only are they informative, but Dave is so funny too! He is so entertaining at the way he teaches. It is not boring to watch at all! We are only on week 2 but it has definitly made an impact already on how we are looking at money. We always had some kind of budget, but now I know that we should budget EVERYTHING. It makes so much sense. The CDs are great for the car I love to review the lesson and listen it to them on the way to work. If you don't think you will ever be able to attend an FPU class live then don't hesitate to buy this kit. It is well worth the money. Thank you Dave for all you do!
kaybeebo
Boston, MA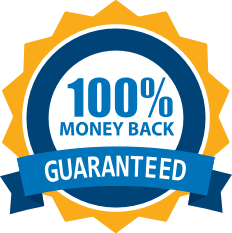 Our 100% Money Back Guarantee
Complete all nine lessons. Give it a real shot by following Dave's plan. If you aren't happy with your purchase within the first 90 days, we'll give you your money back.
You Can Do This.
Start Today!
You shouldn't feel overwhelmed and powerless over your money. You can be in control of your money and your future.
Interested in volunteering to be a Group Leader?