Never Worry About Money Again
Meet up with a local group for community, motivation, and accountability.
Watch the lesson videos in the comfort of your home and on your own schedule.
Meet with a group, enjoy at home, or do both. Switch at any point. It's up to you.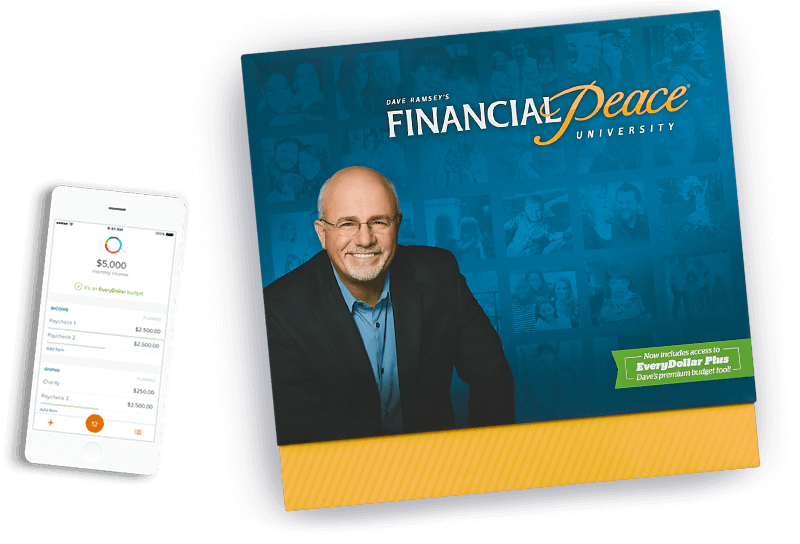 Financial Peace University
Never Worry About Money Again
Financial Peace University will help you take control of your money, plan for your future, and transform your life.
9 Lessons That Teach You How To Win With Money
Everything You Need to
Take Control of Your Money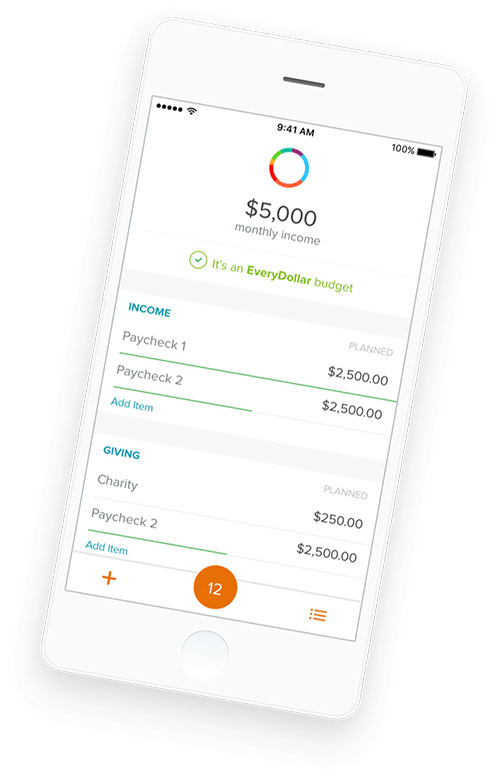 Track Spending
With Our Budgeting Tool
Connect your budget straight to your bank, sync across multiple devices, and enjoy anytime, anywhere access.
Learn From
Life-Changing Lessons
Watch entertaining videos, get your questions answered with financial coaching assistance, and stay on track with digital tools.
Budget, save and pay off debt.
Get on the same page with your spouse.
Identify which types of insurance you need.
Plan and save for major expenses.
Invest for your future, give generously, and more.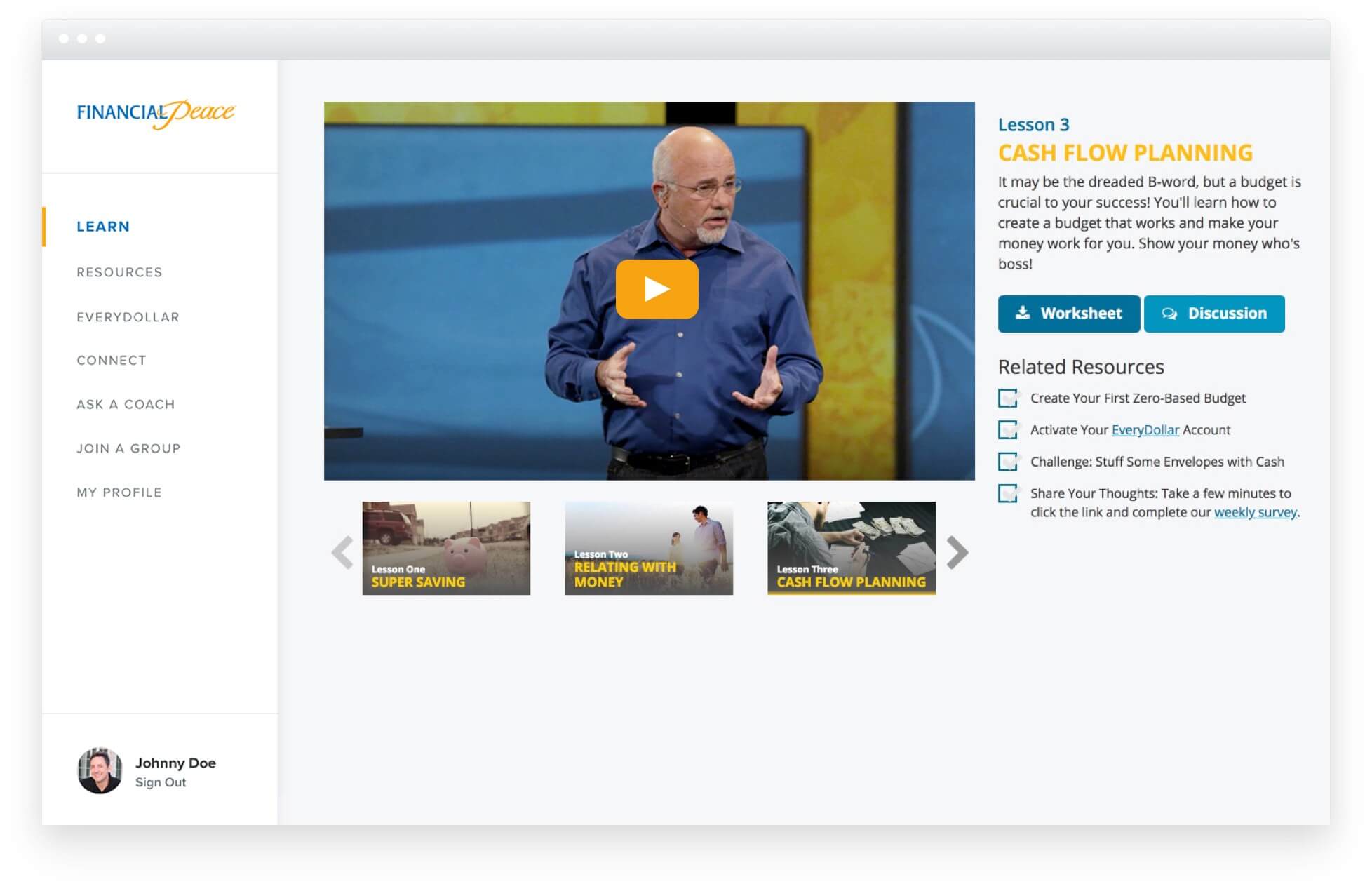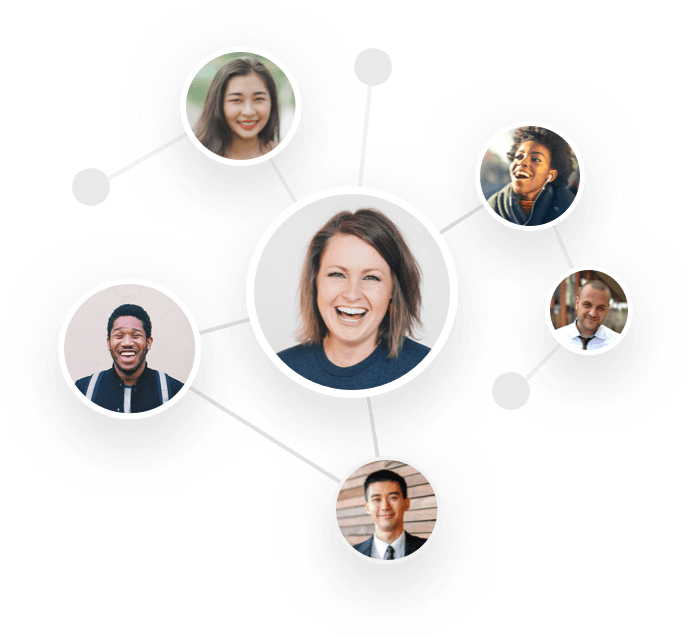 Take With a Group Nearby or Online at Home
Learn at your own pace by watching videos online and keep your progress moving forward with support from online community and financial coaches. Or join a group that meets near you and stay motivated by learning week by week with people just like you.
Did you know...?
Even though there are no groups currently near your location, you'll have access to Financial Peace University for an entire year! Start working the plan today and join a group when one becomes available.
You learn the same principles in the Online experience of Financial Peace University as you do with a group.
After checkout, you can start watching the lessons and using the tools and resources right away.
Dave has been there before. He gets it.
Dave Ramsey created Financial Peace University nearly 25 years ago after learning how to pay off debt, save and spend wisely, and build wealth. Today, millions have used the same principles to transform their lives.
Join the 5 Million People Who Have Taken Control of Their Money
I am a 2nd time Financial Peace University Graduate. I did learn all I needed to learn the first round but started another class purely for the motivation! The tools that Dave gives are so simple & it really sets you up for your financial best life! I think that it will really equip me with the tools I need as a future partner/mother/etc. My goal is to be debt free and build generational wealth. Thank you Dave!
Erika
Arlington, VA
I love this program. Everything about it. Wish I knew about this 16 years ago when I joined the Marines. Everything I thought I knew about money, legacy, and budgeting were wrong. Glad I decided to finally see what everyone was saying about "Dave Ramsey". The Every dollar app is on point too. Overall this is a great program. I would like to see more information geared towards military as we live a bit differently than normal civilian life such as the TSP, PCS/PCA, deployments, SGLI, and SDP. The military tries to teach us coming up but it's a measles check mark in the box for them. After learning the Baby step program, I try to teach my guys as much as I can learn from FPU and his daily videos.
Casey
Camp Pendleton, CA
I am totally obsessed with the program! Our teacher was amazing!
Lacy
ANTHONY, KS
Going through FPU and having the privilege of coordinating a few groups has been a life changing experience. I am extremely grateful for Dave and his team.
Wilfredo
Miramar, FL
This course will do more than give you the knowledge you need to gain Financial Peace, you will also find that it will help you with strengthening your marriage and help you to attain mutual goals. It will help you gain a margin in your life that will let you breathe easier and find that what used to be financial emergencies are now simply speed bumps or detours that can be managed. If you want to win with money AND deepen your spiritual life AND strengthen your marriage AND change your family tree - take this 9 week course. YOU will win.
Robert
AUBURN, CA
I wish my husband and I did this within the first year of our marriage or even before we got married. It would have prevented some bad financial decisions that we made.
Michelle
Skoikie, IL
All Reviews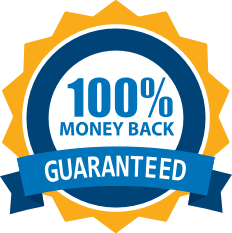 Our 100% Money Back Guarantee
Complete all nine lessons. Give it a real shot by following Dave's plan. If you aren't happy with your purchase within the first 90 days, we'll give you your money back.
You Can Do This.
Start Today!
You shouldn't feel overwhelmed and powerless over your money. You can be in control of your money and your future.
Interested in volunteering to be a Group Leader?