Never Worry About Money Again
Meet up with a local group for community, motivation, and accountability.
Watch the lesson videos in the comfort of your home and on your own schedule.
Meet with a group, enjoy at home, or do both. Switch at any point. It's up to you.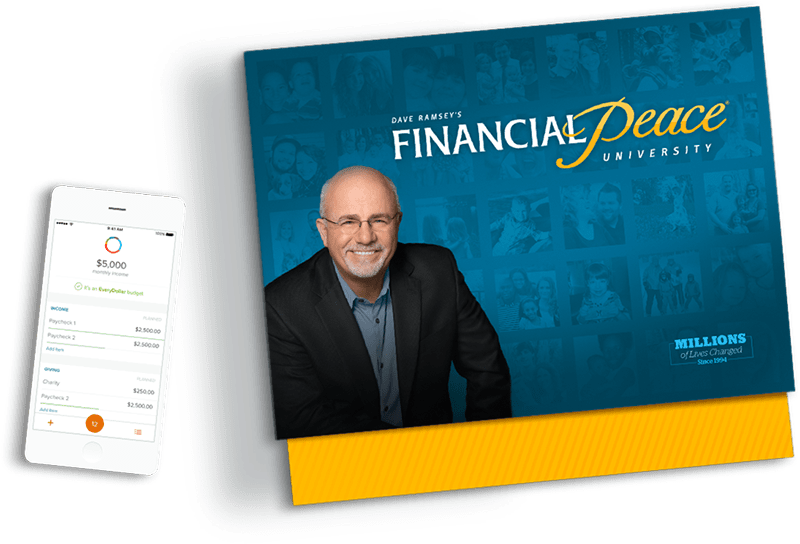 Financial Peace University
Never Worry About Money Again
Financial Peace University will help you take control of your money, plan for your future, and transform your life.
9 Lessons That Teach You How To Win With Money
Everything You Need to
Take Control of Your Money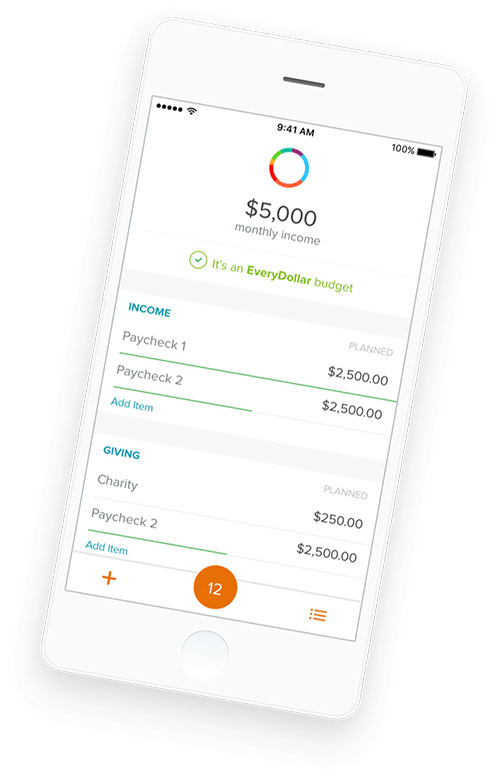 Track Spending
With Our Budgeting Tool
Connect your budget straight to your bank, sync across multiple devices, and enjoy anytime, anywhere access.
Learn From
Life-Changing Lessons
Watch entertaining videos, get your questions answered with financial coaching assistance, and stay on track with digital tools.
Budget, save and pay off debt.
Get on the same page with your spouse.
Identify which types of insurance you need.
Plan and save for major expenses.
Invest for your future, give generously, and more.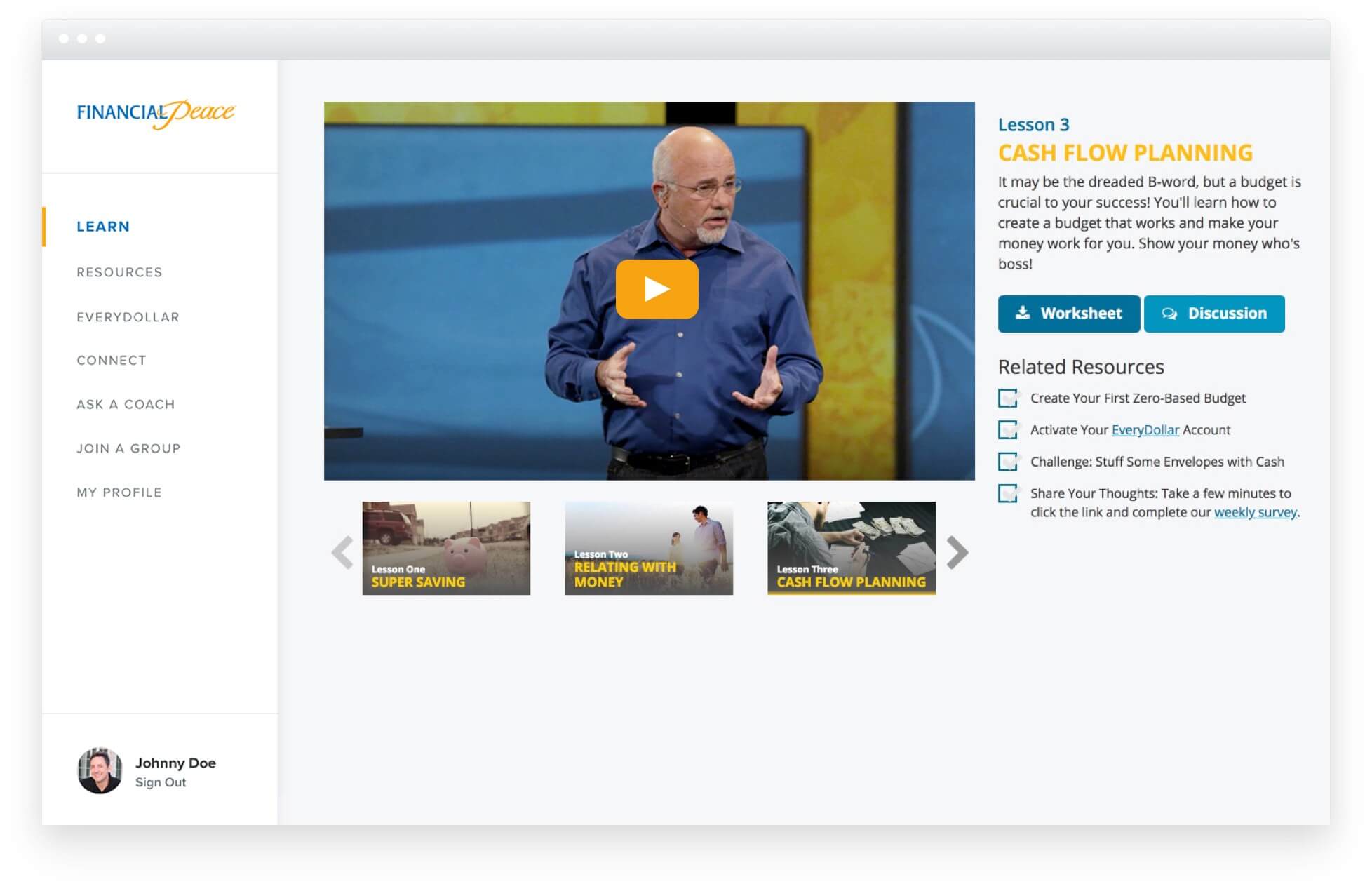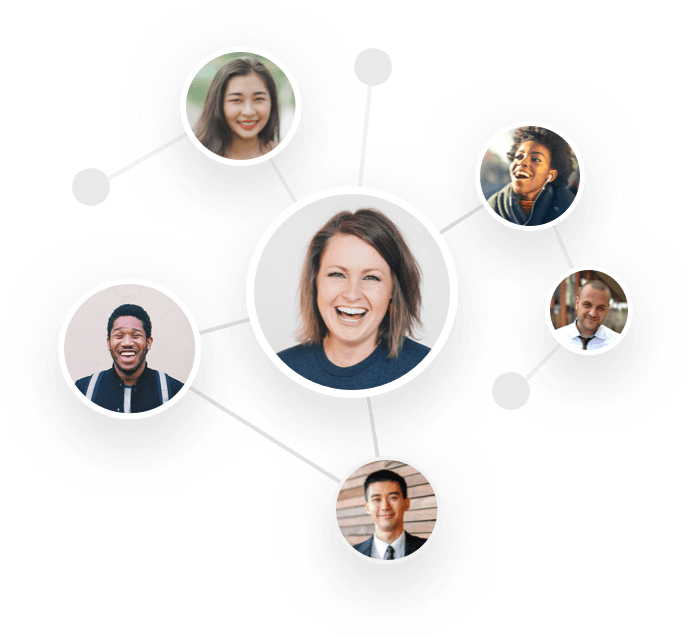 Take With a Group Nearby or Online at Home
Learn at your own pace by watching videos online and keep your progress moving forward with support from online community and financial coaches. Or join a group that meets near you and stay motivated by learning week by week with people just like you.
Did you know...?
Even though there are no groups currently near your location, you'll have access to Financial Peace University for an entire year! Start working the plan today and join a group when one becomes available.
You learn the same principles in the Online experience of Financial Peace University as you do with a group.
After checkout, you can start watching the lessons and using the tools and resources right away.
Dave has been there before. He gets it.
Dave Ramsey created Financial Peace University nearly 25 years ago after learning how to pay off debt, save and spend wisely, and build wealth. Today, millions have used the same principles to transform their lives.
Join the 5 Million People Who Have Taken Control of Their Money
The FPU program has not only changed our financial problem, but has also made us realize where we lacked on other Biblical areas. Thanks Dave.
EasyCreditFailure2
Blackfoot, ID
My wife and I started the Christian based FPU course a little over 4 weeks ago. We made the decision to at least try to apply the techniques that Dave lays out in his book and course. I have read the book from cover to cover and I'm even contemplating reading it again. Since beginning the course, we have found that we have more money to pay off those wicked credit cards than what we ever dreamed. Thus far, we have paid off almost $6,000 of our $37,000 debt. FPU's online applications say we should be able to be debt free in roughly 2 ½ years. As long as we stick to this genius of a plan, we will achieve our goal to be DEBT FREE! This program REALLY works, but you have to be willing to change. Awesome book and course, Dave! Thank you for opening our eyes! What I am writing is true – please email me at emailmsims@gmail.com if you have any questions.
sims8115
Brule, WI
We have struggled for years. I had been telling my husband he needs to get involved. ( I also needed to be accountable to someone). But we never got on the same page. Not long ago I asked him how much our house payment was he had no clue. I was annoyed and frankly mad that he had left all the finances to me for all these years. I felt like the bad guy all the time. He always wondered where the money went. It was like swimming upstream all the time. I got tired of it. So now we are on a budget, and I love it. I think it will help us and I want our 3 boys to learn how to live within their means. jThanks so much!!!!
Nandor
Montgomery, Alabama
AT FIRST I HAVE TO ADMIT I WONDERED. BUT THE MESS I WAS ALREADY IN, I FIGURED I SPENT MONEY ON STUFF BEFORE. SO I WENT AND THE FIRST CLASS, OPENED MY EYES TO SO MUCH. I LEARNED THAT LEARNING WHERE YOUR MONEY GOES EACH MONTH IS THE BEST WAY TO LEARN HOW TO BUDGET. I LEARNED THAT HAVING OTHER PEOPLE TO BE ACCOUNTABLE TO TILL YOU COULD LEARN WAS GREAT! DAVE'S PLAN WORKS IF YOU WORK IT. IT IS THE BEST MONEY EVER SPENT!
theeeyoreguy1963
cotulla, texas
It has been said before, I know, but Financial Peace University has changed our lives! Starting the program has obviously not increased our income, but it has helped us do things with the money we make that we never thought possible. I would NEVER have believed we could eliminate almost $4000 worth of debt in 5 weeks! For once in our lives, we look forward to payday not because we NEED the money, but because we are excited to see what we will be able to do with it for the next 2 weeks!
Cajacajo
Roscommon, MI
52 years of greed and big payments, now bankrupt, broke, and starting over. Your financial plan is just what I needed, provided hope, gave my family a plan and possible future. The only negitive is I wish I did this years ago I would be set by now instead of starting completly over.
raz1226
boyne city, Mi
Since 2007 my husband and I have been working on reducing debt and we managed to pay off about $21K. The Total Money Makeover gives the basics but Financial Peace University gives more indepth informaton needed to become Debt Free and Live Like No One Else. The lessons on DVD and CD are great because we can listen to them in the car going to/from work and later watch them. The online resources are very helpful especially for those who have never done any personal financial work. Our goal is to retire debt free and FPU will set us on the right track to do that. Thank you for a great product.
Burnadebt
Western NY
My wife and I have been through Financial Peace. Our youngest daughter took a class in school and she an I saw Dave live. Now its time to spend Sunday evenings together as the rest of the family watch the videos and discuss them at home. What better family time could we have than Financial Peace?
DSones
Orlando, FL
We bought the FPU materials to refresh our minds from Larry Burkett teachings we did years ago. Great to see how we can take modern ideas to make better stewards of our money. And, now we can pass along this information to our adult children and their familys. thank you
FrannyVan
Oregon
My wife and I have been half heartedly trying The Total Money Makeover. After purchasing FPU we were reluctant to get started. We finally got started, and it opened our eyes to where all the income is going. Now we both look forward to our weekly "date night" watching the lessons. Just after 3 weeks, our marriage is stronger, and we are behaving with money. Never would have thought how fun this could be. Thanks Dave!
Greenhead
Sioux Falls, SD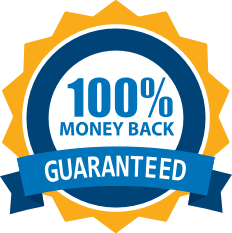 Our 100% Money Back Guarantee
Complete all nine lessons. Give it a real shot by following Dave's plan. If you aren't happy with your purchase within the first 90 days, we'll give you your money back.
You Can Do This.
Start Today!
You shouldn't feel overwhelmed and powerless over your money. You can be in control of your money and your future.
Interested in volunteering to be a Group Leader?