Never Worry About Money Again
Meet up with a local group for community, motivation, and accountability.
Watch the lesson videos in the comfort of your home and on your own schedule.
Meet with a group, enjoy at home, or do both. Switch at any point. It's up to you.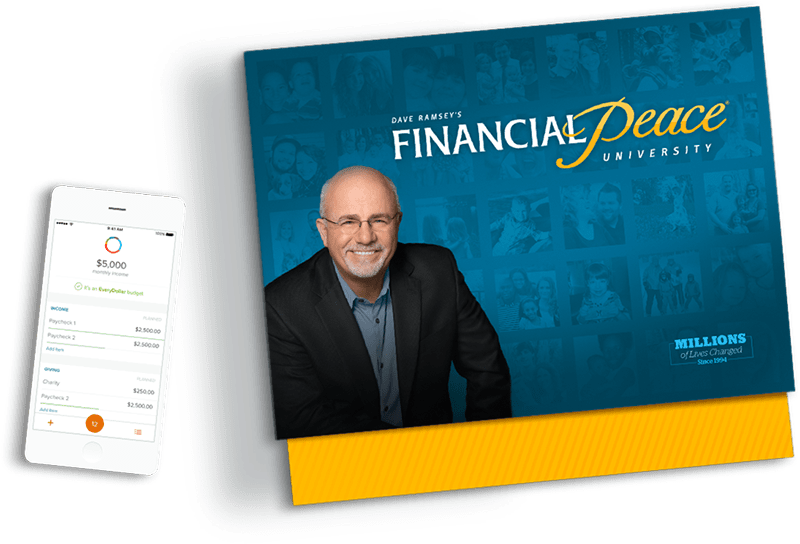 Financial Peace University
Never Worry About Money Again
Financial Peace University will help you take control of your money, plan for your future, and transform your life.
9 Lessons That Teach You How To Win With Money
Everything You Need to
Take Control of Your Money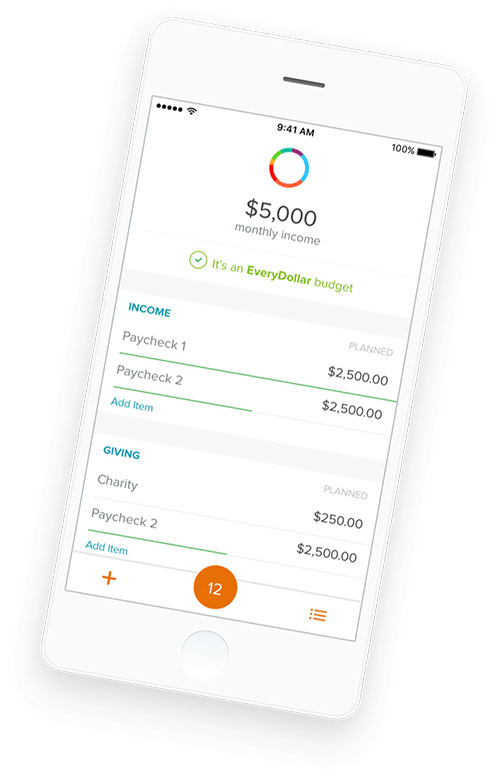 Track Spending
With Our Budgeting Tool
Connect your budget straight to your bank, sync across multiple devices, and enjoy anytime, anywhere access.
Learn From
Life-Changing Lessons
Watch entertaining videos, get your questions answered with financial coaching assistance, and stay on track with digital tools.
Budget, save and pay off debt.
Get on the same page with your spouse.
Identify which types of insurance you need.
Plan and save for major expenses.
Invest for your future, give generously, and more.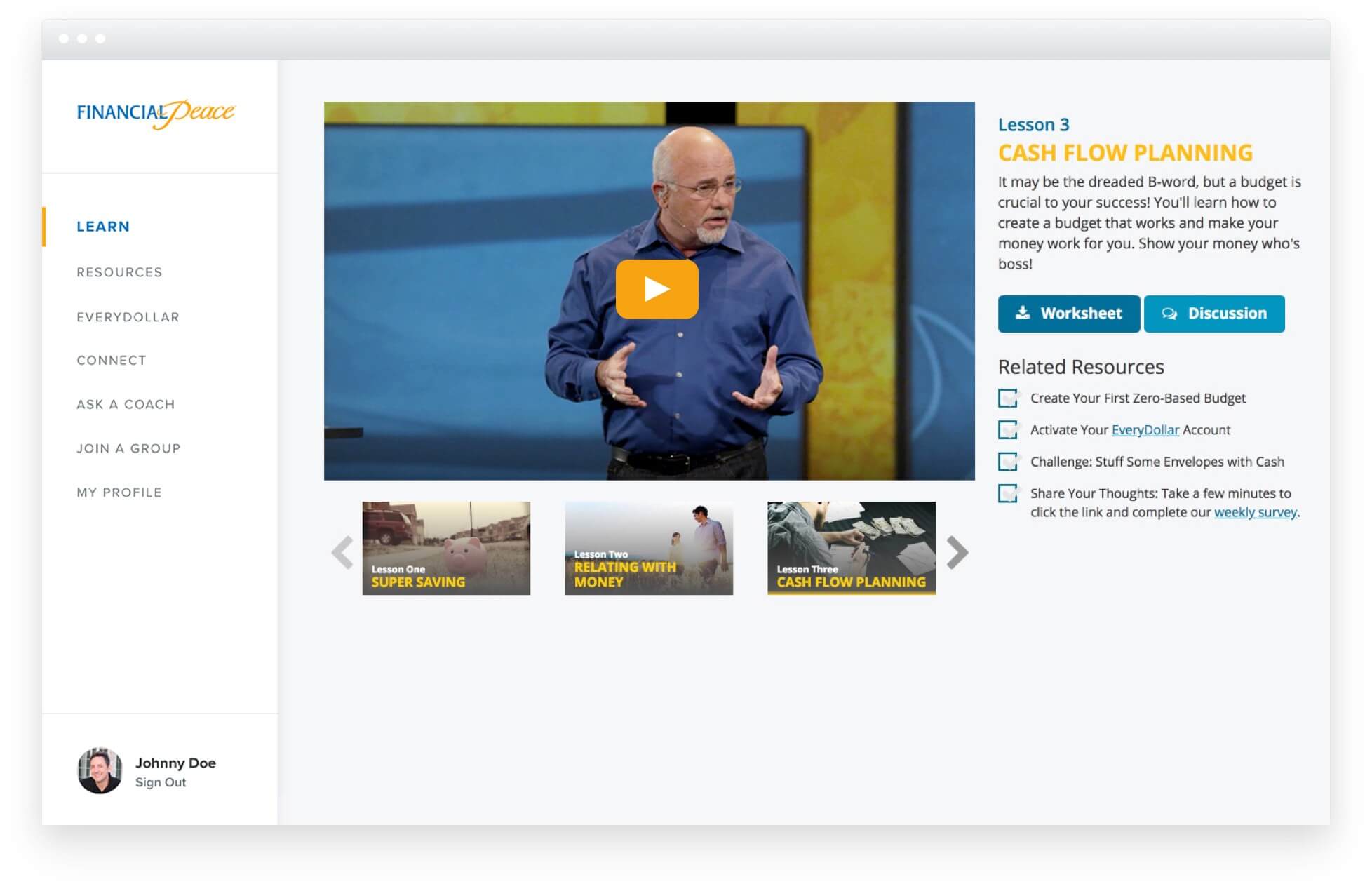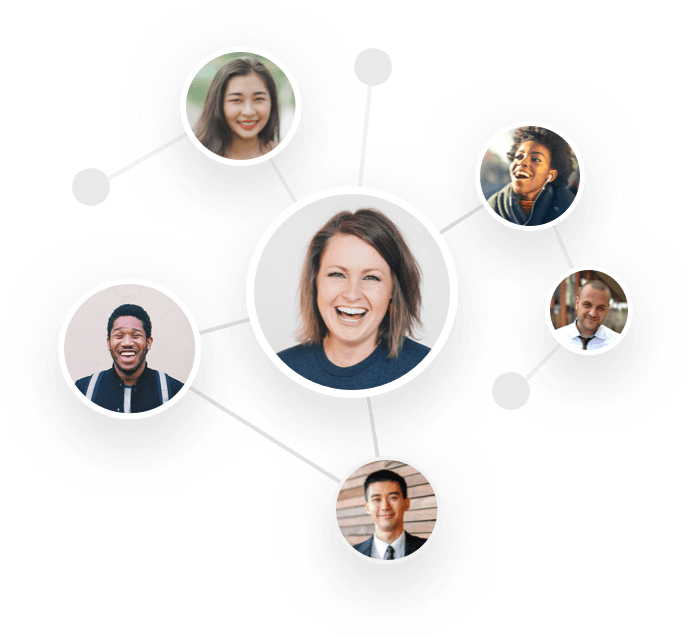 Take With a Group Nearby or Online at Home
Learn at your own pace by watching videos online and keep your progress moving forward with support from online community and financial coaches. Or join a group that meets near you and stay motivated by learning week by week with people just like you.
Did you know...?
Even though there are no groups currently near your location, you'll have access to Financial Peace University for an entire year! Start working the plan today and join a group when one becomes available.
You learn the same principles in the Online experience of Financial Peace University as you do with a group.
After checkout, you can start watching the lessons and using the tools and resources right away.
Dave has been there before. He gets it.
Dave Ramsey created Financial Peace University nearly 25 years ago after learning how to pay off debt, save and spend wisely, and build wealth. Today, millions have used the same principles to transform their lives.
Join the 5 Million People Who Have Taken Control of Their Money
This is the 3rd FPU I have bought as a wedding gift. I am greatfull for Dave's teachings. The lucky couples have ALL been very impressed with the knowledge and are working though the baby steps. Thank you, Wink
Wink
Chandler , AZ
Dave Ramsey is entertaining whle he shows you, step by step, how to gwt out of debt, why you want to be out of debt and how good things will happen to you when you get out from under the debt monster. It is nothing short of wonderful!!
lisadparker
granada hills, california
Back in 2006, my net worth is -$500K, with house underwater coupled with housing market in a mess, home payment is 75% of my take home pay. I was too broke and struggling with our expenses as I'm the only one working and my wife staying home taking care of our 2 kids. I prayed to God for wisdom and guidance and later heard about Financial Peace University from our local church. We wanted to attend but couldn't afford the $100 sign up fee for the class. A family in the church sponsored 5 families and we were one of the blessed ones to avail and attend it. We attended the whole class, followed the baby steps, budgeting, worked double jobs and paid off all debts. Fast forward 10 years to now, our net worth is $1M with 2 properties (1 is rental and self paying w/ income), no debt except house (we're in California) 5-6 months emergency fund in place and working on the final steps of our financial steps. Still not there but slowly but surely we'll get there still in late our 30s. With the principles learned from Dave Ramsey it has given us peace, knowledge and stability with our finances. I've read other finance books they're ok but Dave Ramsey's FPU is hands down the best out there and covers everything you need to know to get your finances in a row. If ever our current church would do this program, we would gladly sponsor 5 families who need to learn about FPU.
rexb
Hayward, CA
Helpful and Easy to follow and apply to real life!
LeahMarie5324
Grand Rapids, Mi
The best thing about this program is being urged to take Baby Steps. I am the type of person who wants this done yesterday...but I didn't get to this position overnight and it is going to take me time to get out of this hole I've dug. The class is showing me how to get out and stay out of the Debt Hole with Baby Steps. Thanks for breaking this monster down into tiny parts so we can overcome it!
BabySteps2010
Everett, WA
We are only in our 3rd week and we are half way through baby step one. It had given us hope for the future and peace. We are so excited for the rest of this journey.
Rebeccainls
Kansas City, Mo
"Even though my husband and I have just started, it's taken a while to get him here. Now that we are here we are both so excited to be on our way to PEACE - financially, and spiritually together. Thank you so much Mr. Ramsey for listening to God's call on your heart to help so many. <<>><"
Bluelapiz
El Lago, TX
While the Home Study was not my first choice for FPU, not being able to attend class this was a perfect fit. I am able to view the DVD's at my convenience. So far, the program is very informative and entertaining. I enjoy the practical and down to earth approach of this program, especially the careful injection of biblical reference. I feel, ultimately, that this program will help me to change my financial life and to influence those around me in a positive way.
pglegs
Marrero, LA
These teachings are the most essential and effective life lessons ever!
rellatsni
Pleasanton, CA
I have learned so much through Dave Ramsey. He is realistic, puts things in plain simple English and makes it very easy to follow. I would tell anyone with financial troubles to hop on board with Dave, or if you just want to save more money.
canadian63
South Bend, IN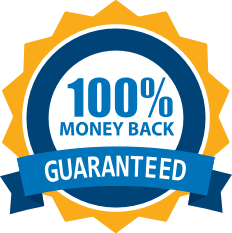 Our 100% Money Back Guarantee
Complete all nine lessons. Give it a real shot by following Dave's plan. If you aren't happy with your purchase within the first 90 days, we'll give you your money back.
You Can Do This.
Start Today!
You shouldn't feel overwhelmed and powerless over your money. You can be in control of your money and your future.
Interested in volunteering to be a Group Leader?