Never Worry About Money Again
Meet up with a local group for community, motivation, and accountability.
Watch the lesson videos in the comfort of your home and on your own schedule.
Meet with a group, enjoy at home, or do both. Switch at any point. It's up to you.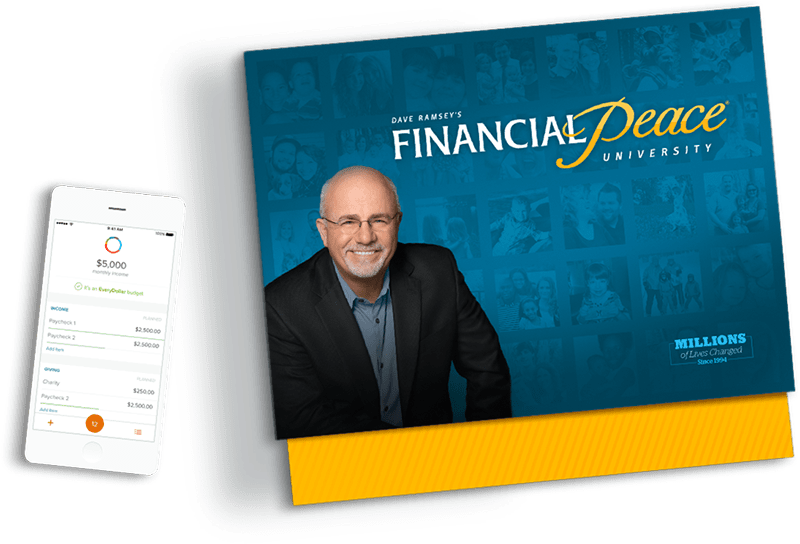 Financial Peace University
Never Worry About Money Again
Financial Peace University will help you take control of your money, plan for your future, and transform your life.
9 Lessons That Teach You How To Win With Money
Everything You Need to
Take Control of Your Money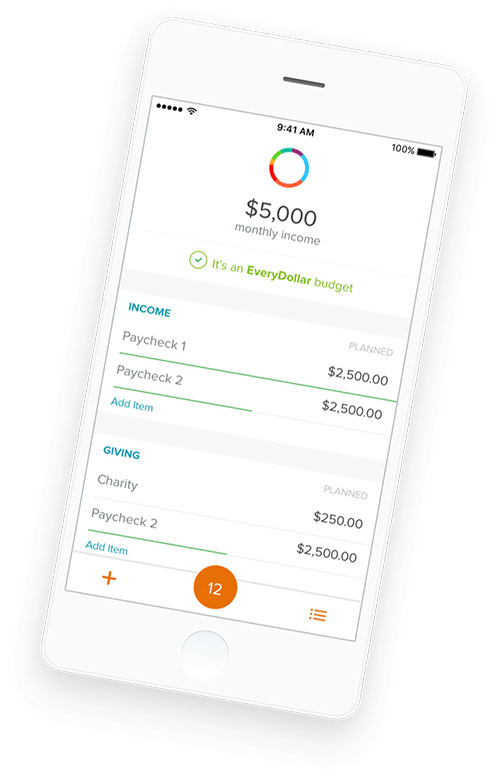 Track Spending
With Our Budgeting Tool
Connect your budget straight to your bank, sync across multiple devices, and enjoy anytime, anywhere access.
Learn From
Life-Changing Lessons
Watch entertaining videos, get your questions answered with financial coaching assistance, and stay on track with digital tools.
Budget, save and pay off debt.
Get on the same page with your spouse.
Identify which types of insurance you need.
Plan and save for major expenses.
Invest for your future, give generously, and more.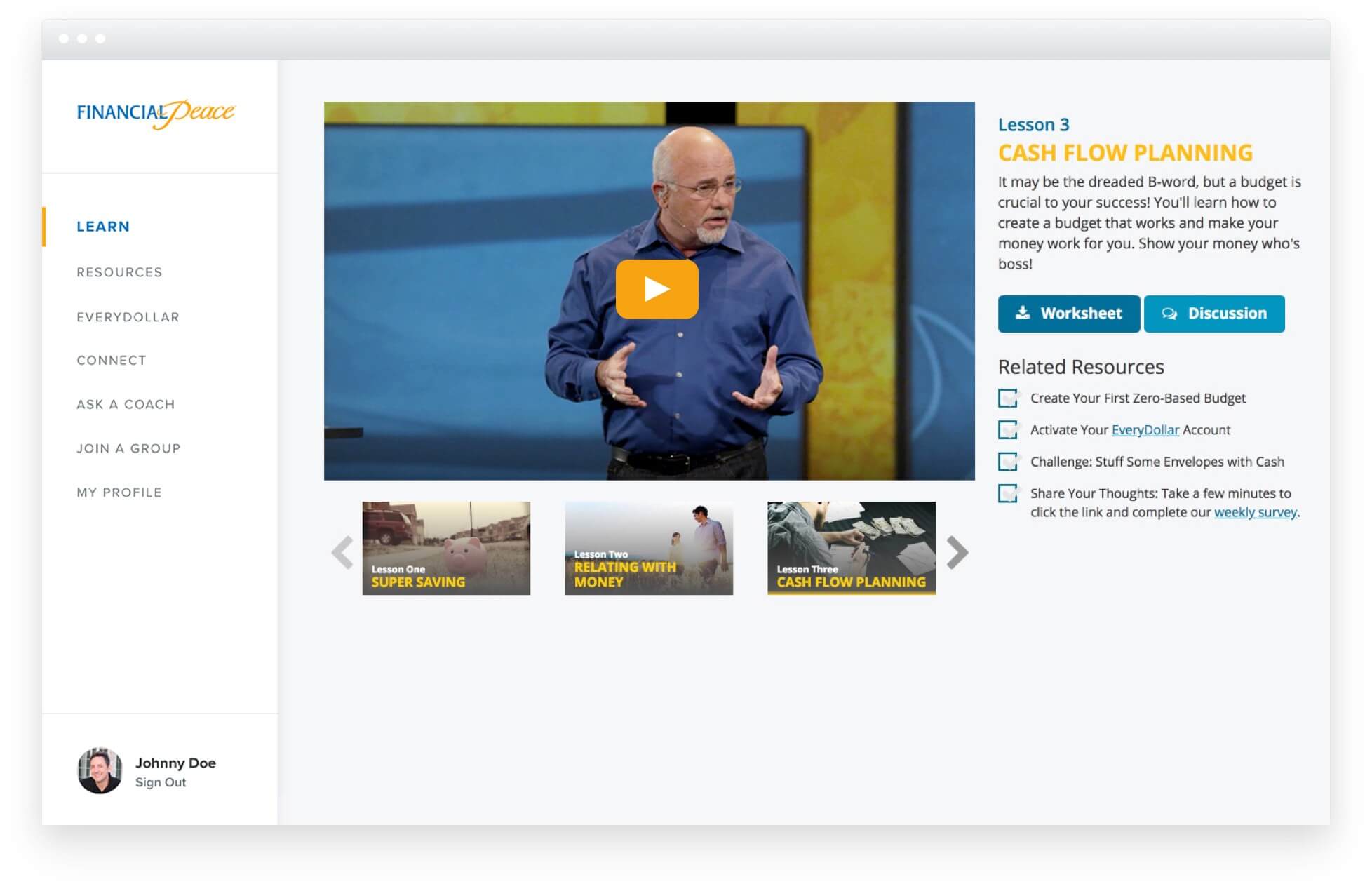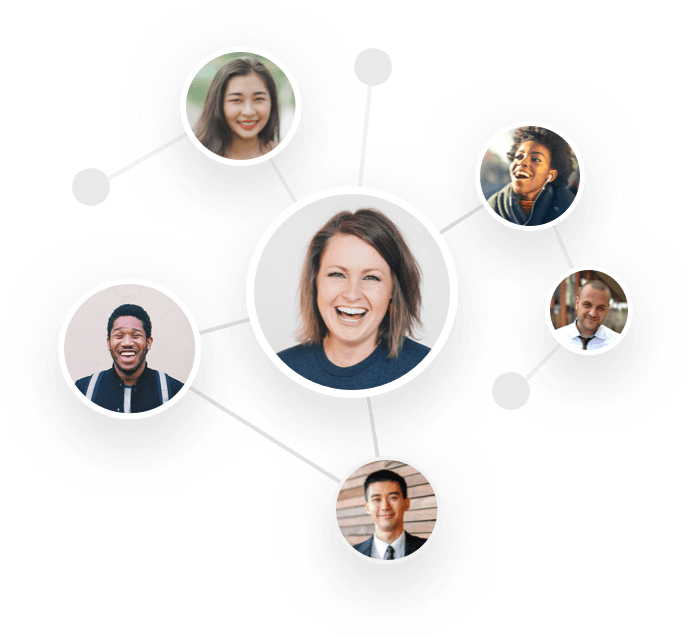 Take With a Group Nearby or Online at Home
Learn at your own pace by watching videos online and keep your progress moving forward with support from online community and financial coaches. Or join a group that meets near you and stay motivated by learning week by week with people just like you.
Did you know...?
Even though there are no groups currently near your location, you'll have access to Financial Peace University for an entire year! Start working the plan today and join a group when one becomes available.
You learn the same principles in the Online experience of Financial Peace University as you do with a group.
After checkout, you can start watching the lessons and using the tools and resources right away.
Dave has been there before. He gets it.
Dave Ramsey created Financial Peace University nearly 25 years ago after learning how to pay off debt, save and spend wisely, and build wealth. Today, millions have used the same principles to transform their lives.
Join the 5 Million People Who Have Taken Control of Their Money
I have implimented all of of Dave ramseys ideas and will be debt free including house in 36 months, I have shared the strategies with my kids and set up a meeting with our financial planner to engage early savings. I am glad that Dave Ramsey and the group engages a love for the Savior and as a small boy I have always been a strong believer in his saving grace and have resolved to share his love forever. True happiness is measured by how we love our family (foremost the Savior). and to be happy!! As a family we are grateful for the financial guidance to help our family.
raisethebar
Salt lake city
This product is one of the best investments that I have made in a long time. I call it an investment, not a purchase, because the knowledge and tools provided in the Financial Peace University will help you with all of your financial decisions and planning throughout your life. It will pay for itself ten folds within the first few months of reading and applying the lessons learned. Highly recommended.
AlanPun
Clermont, FL
This Program is full of great Ideas and information maybe the government should purchase the program and use it as a guideline for creating a budget and getting out of debt
Jer1
Eagle Mountain Utah
I have battled with debt for my entire life, and have taught my bad habits to my children. Through the Financial Peace University online, I have now learned to have a better relationship with my money. As a Christian, I love that this course is based on the Bible. There is so much wisdom to be learned from the Bible. I hope that I can pass the lessons on to my children, so they can experience the peace of winning the battle against debt! Thank you Dave Ramsey for showing me the path to peace!! I strongly recommend this course to everyone!
Mwhite
New Hampshire
I waited to do my review until i had completed the course. I bought FPU home edition because with 10 boys it is difficult to cut the time out of our week. The course probably would have been more fun with a group, but the material is life changing. I began as the free spirit in our relationship. Now she teases me and says I'm a bigger nerd than she ever was. We are taking control of our finances. Thank God for your calling and ministry Dave!
thunderbolt
little rock, arkansas
We have struggled for years. I had been telling my husband he needs to get involved. ( I also needed to be accountable to someone). But we never got on the same page. Not long ago I asked him how much our house payment was he had no clue. I was annoyed and frankly mad that he had left all the finances to me for all these years. I felt like the bad guy all the time. He always wondered where the money went. It was like swimming upstream all the time. I got tired of it. So now we are on a budget, and I love it. I think it will help us and I want our 3 boys to learn how to live within their means. jThanks so much!!!!
Nandor
Montgomery, Alabama
It's not education - though it is. It's not studying - though it is. It's really opportunity. I've got three (count 'em - three!) college degrees and through all that study no one ever taught me how to handle money. I'm in my 50's and just learning this! I needed this DECADES ago. Don't miss this opportunity! It doesn't cost - it PAYS!
BoltUpright
Okemos, MI
I husband and I worked FPU online together. We enjoyed the lessons and were able to understand and implement the lessons taught. I believe in Dave Ramsey so strongly, that I purchased the online FPU for my daughter and her fiance. I hope that they will begin their life together without debt and a plan for their future.
njost123
Edmond, OK
FPU is the best financial advice ever. It will change the way you think and respond to life. It will teach you all the myths out there and the truth about them. Furthermore, it will help you devise a plan no matter where you are at in your financial life. Warning: This product will change your life! If you do not want to change, do not purchase it.
FPUUnited
Frederick, MD
daves program works it is amazing how fast it could change your life. we were able to pay off our dept in 12 month and our house will be payed in 7 years instead of 30 years. and thanks to one of daves financial advisers we can retire 5 years earlier. awesome program sammy
Sammy66
Atlanta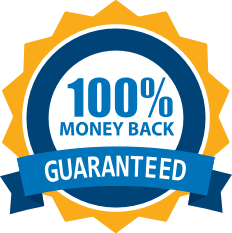 Our 100% Money Back Guarantee
Complete all nine lessons. Give it a real shot by following Dave's plan. If you aren't happy with your purchase within the first 90 days, we'll give you your money back.
You Can Do This.
Start Today!
You shouldn't feel overwhelmed and powerless over your money. You can be in control of your money and your future.
Interested in volunteering to be a Group Leader?