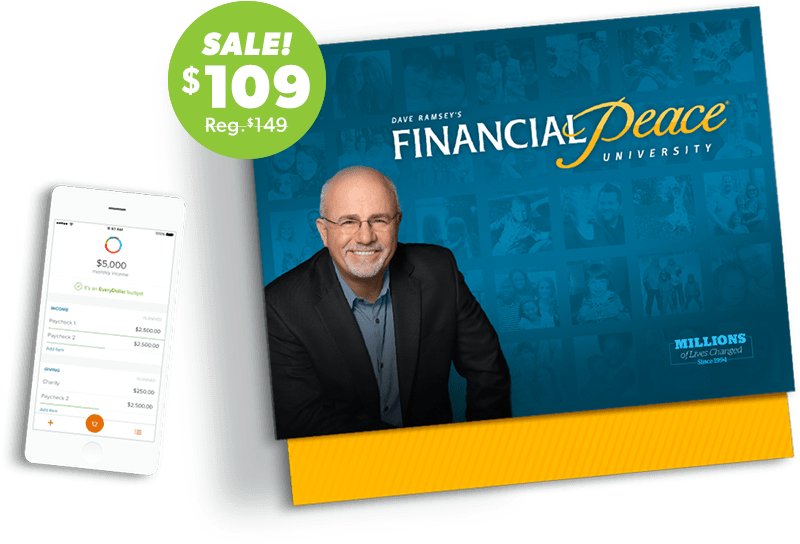 Never Worry About Money Again
Financial Peace University will help you take control of your money, plan for your future, and transform your life.
9 Lessons That Teach You How To Win With Money
Everything You Need to
Take Control of Your Money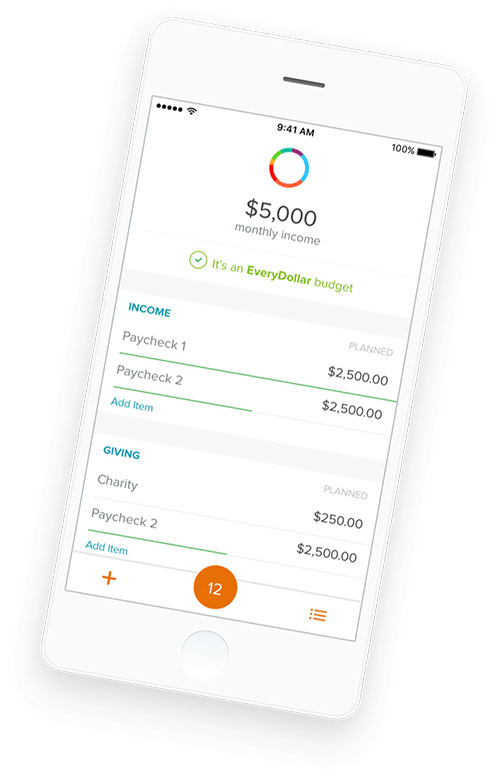 Track Spending
With Our Budgeting Tool
Connect your budget straight to your bank, sync across multiple devices, and enjoy anytime, anywhere access.
Learn From
Life-Changing Lessons
Watch entertaining videos, get your questions answered with financial coaching assistance, and stay on track with digital tools.
Budget, save and pay off debt.
Get on the same page with your spouse.
Identify which types of insurance you need.
Plan and save for major expenses.
Invest for your future, give generously, and more.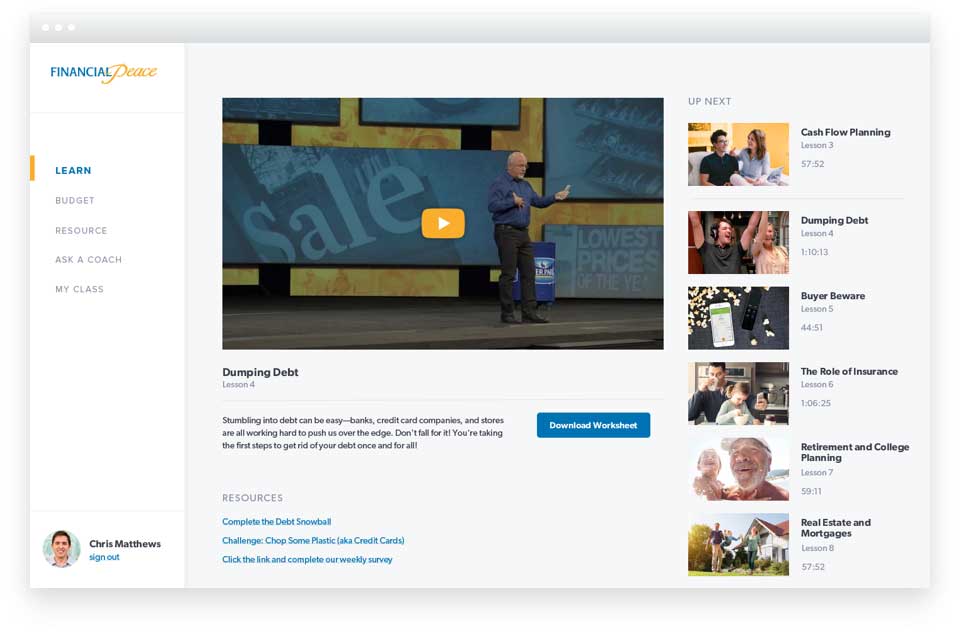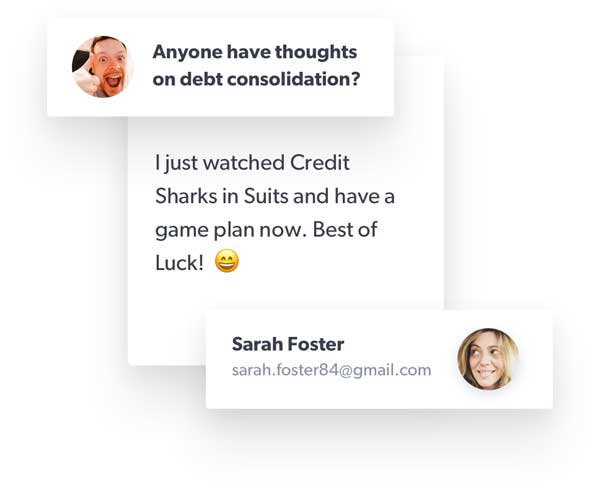 Take With a Group Nearby or Online at Home
Learn at your own pace by watching videos online and keep your progress moving forward with support from online community and financial coaches. Or join a group that meets near you and stay motivated by learning week by week with people just like you.
Did you know...?
Even though there are no groups currently near your location, you'll have access to Financial Peace University for an entire year! Start working the plan today and join a group when one becomes available.
You learn the same principles in the Online experience of Financial Peace University as you do with a group.
After checkout, you can start watching the lessons and using the tools and resources right away.
Dave has been there before. He gets it.
Dave Ramsey created Financial Peace University nearly 25 years ago after learning how to pay off debt, save and spend wisely, and build wealth. Today, millions have used the same principles to transform their lives.
Join the 5 Million People Who Have Taken Control of Their Money
This information is excellent. I was sad though to not be able to see the presenters. I tend to learn best with the visual reinforcements. It was my mistake and I just don't want others to go through the initial disappointment that I did. Though we are not in a financial bind, this program is driving an important organization process and has provided a detailed knowledge of where our resources go. We can now be more purposeful with them. Thank you.
HappyCouple2
Michigan
Dave Ramsey's program has changed my life. In just over one month I managed to pay off all my credit card debt and am now working towards my car and student loans. I was so exited about this program I have shared it with my friends and family. First the first time, my mom has finally gained control of her money and has built up her emergency fund. Thank you Dave.
DreamsofParis
Orlando,FL
FPU is the best financial advice ever. It will change the way you think and respond to life. It will teach you all the myths out there and the truth about them. Furthermore, it will help you devise a plan no matter where you are at in your financial life. Warning: This product will change your life! If you do not want to change, do not purchase it.
FPUUnited
Frederick, MD
I have recently started Financial Peace University with my husband. I also purchased a kit for my son and his girlfriend. We are all taking the class together. What better way to build a family bond. Thank you Dave!
KarenK
Guyton, Georgia
I debated over a week to order the at home kit. I am so glad I finally bought it. I wanted the at home kit because I wanted to go at it at my own pace. We have 3 children so it would also be easier to fit it into our schedule. Plus, I thought it would be easier to get my hubby on board. WOW! I LOVE this kit!! The DVD's are so great. Not only are they informative, but Dave is so funny too! He is so entertaining at the way he teaches. It is not boring to watch at all! We are only on week 2 but it has definitly made an impact already on how we are looking at money. We always had some kind of budget, but now I know that we should budget EVERYTHING. It makes so much sense. The CDs are great for the car I love to review the lesson and listen it to them on the way to work. If you don't think you will ever be able to attend an FPU class live then don't hesitate to buy this kit. It is well worth the money. Thank you Dave for all you do!
kaybeebo
Boston, MA
FPU changed our lives and we are on our way to being DEBT FREE!!
Montroy
Fort Worth, TX
FPU made me aware of so many things that I thought I understood, but really only understood minimally. Made me look at money handling and investments in a different light. Great product. Has saved me more money already than the program cost. If you are thinking about purchasing...STOP. Buy it NOW, if you are wanting success.
khye04
nine mile falls, wa
Tried to present it to pastor for church he had a problem with the wealth building part which got into a slight disagreement.
ShellyO
Chicago, IL
We are pleased with the speed of delivery and the tools we have learned already about how to manage our money. We are just beginning...but the future looks bright!
ondria
troy,IL
I am an advisor and have gone through about 1/2 of the program in just 4 weeks. I find the information is presented in a concise and easy to understand format. Very useful with real life examples. I encourage my adult children to go through the program and find it pays for itself very quickly. I wish all of my clients had gone through this program years ago as they would then have a lot more money for us to help them manage!
TimAdvisor
New Hampshire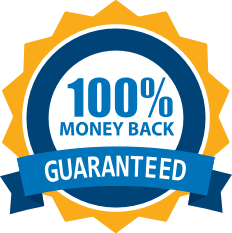 Our 100% Money Back Guarantee
Complete all nine lessons. Give it a real shot by following Dave's plan. If you aren't happy with your purchase within the first 90 days, we'll give you your money back.
You Can Do This.
Start Today!
You shouldn't feel overwhelmed and powerless over your money. You can be in control of your money and your future.
Interested in volunteering to be a Group Leader?