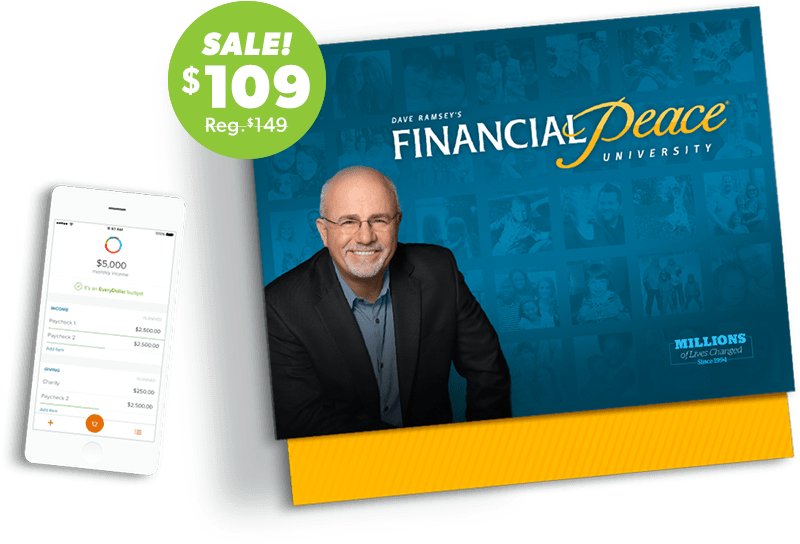 Never Worry About Money Again
Financial Peace University will help you take control of your money, plan for your future, and transform your life.
9 Lessons That Teach You How To Win With Money
Everything You Need to
Take Control of Your Money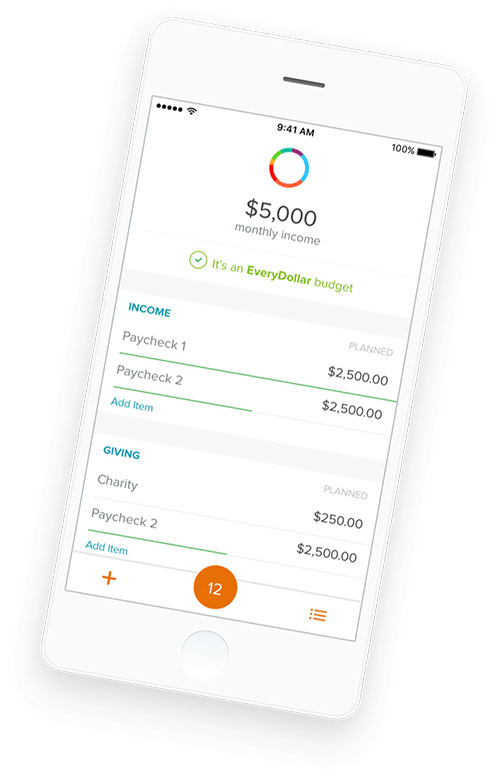 Track Spending
With Our Budgeting Tool
Connect your budget straight to your bank, sync across multiple devices, and enjoy anytime, anywhere access.
Learn From
Life-Changing Lessons
Watch entertaining videos, get your questions answered with financial coaching assistance, and stay on track with digital tools.
Budget, save and pay off debt.
Get on the same page with your spouse.
Identify which types of insurance you need.
Plan and save for major expenses.
Invest for your future, give generously, and more.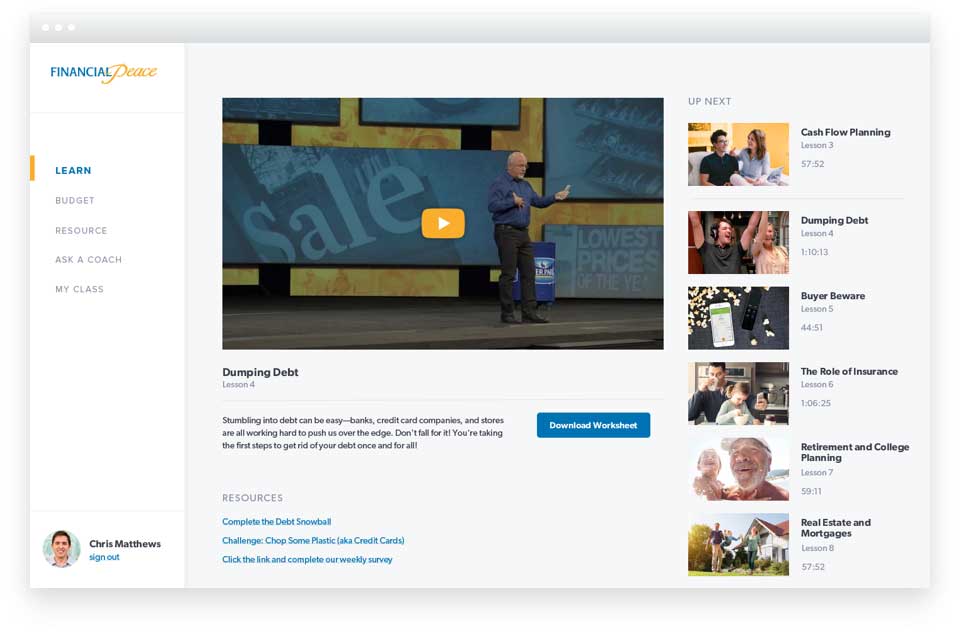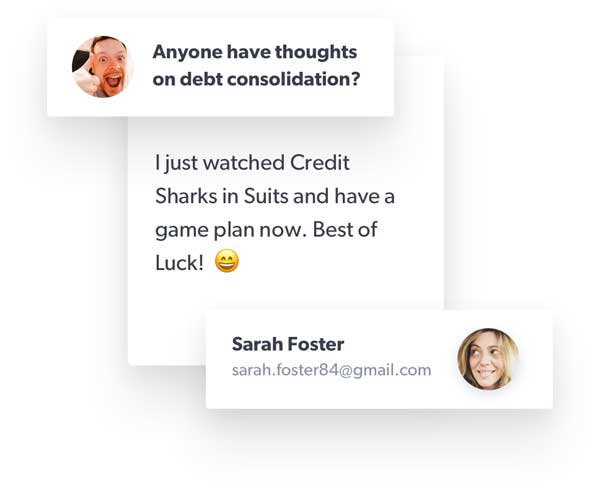 Take With a Group Nearby or Online at Home
Learn at your own pace by watching videos online and keep your progress moving forward with support from online community and financial coaches. Or join a group that meets near you and stay motivated by learning week by week with people just like you.
Did you know...?
Even though there are no groups currently near your location, you'll have access to Financial Peace University for an entire year! Start working the plan today and join a group when one becomes available.
You learn the same principles in the Online experience of Financial Peace University as you do with a group.
After checkout, you can start watching the lessons and using the tools and resources right away.
Dave has been there before. He gets it.
Dave Ramsey created Financial Peace University nearly 25 years ago after learning how to pay off debt, save and spend wisely, and build wealth. Today, millions have used the same principles to transform their lives.
Join the 5 Million People Who Have Taken Control of Their Money
AT FIRST I HAVE TO ADMIT I WONDERED. BUT THE MESS I WAS ALREADY IN, I FIGURED I SPENT MONEY ON STUFF BEFORE. SO I WENT AND THE FIRST CLASS, OPENED MY EYES TO SO MUCH. I LEARNED THAT LEARNING WHERE YOUR MONEY GOES EACH MONTH IS THE BEST WAY TO LEARN HOW TO BUDGET. I LEARNED THAT HAVING OTHER PEOPLE TO BE ACCOUNTABLE TO TILL YOU COULD LEARN WAS GREAT! DAVE'S PLAN WORKS IF YOU WORK IT. IT IS THE BEST MONEY EVER SPENT!
theeeyoreguy1963
cotulla, texas
I have recently started Financial Peace University with my husband. I also purchased a kit for my son and his girlfriend. We are all taking the class together. What better way to build a family bond. Thank you Dave!
KarenK
Guyton, Georgia
Dave Ramsay is a financial genius! I wish I would have heard about him 10 years ago when I had a lot of money to invest. I am left now with 2K and would have had 10s of thousands had I applied these principals then. This course should be MANDATORY in all 50 states to take as a graduation requirement. The world would be full of happier, less stressed people who get a taste of what kind of person applies Biblical principals to live a financially free life and can leave something for his children and children's children. Well deserved praises for Dave and his hard working staff! You are chaning the world one person at a time!! Kudos to you for all you do:)
Carie
Elgin, IL
We are just into the 4th Lesson but we can already see that FPU is transforming our lives, finances and marriage. We live in a very sparse and rural area, so the on-line course is perfect for us. It is simple to do and you are given plenty of time to complete it. I love the way the lessons are broken down so you feel you are accomplishing something. We highly recommend Financial Peace University to everyone.
kwcook
Valentine, TX
It's hard when you start and it can cause you to panic a little but knowing that the end result is worth it keeps you going even if it is the hardest thing you've had to do.
THyatt
Milwaukee,WI
Dave Ramsey's Financial Peace University is amazing. My wife and I have changed the way we spend money. We are $75k in debt excluding our house and plan on repaying all of it back within 3 years (we have already paid off 1 credit card in only a few months). Dave's class changed our lives forever, Tomas
Tomas
Colorado Springs, CO
Thank you so much!!! Your product is SO amazing and is helping my family!!
christiG
Clyde, OH
Best purchase anyone can make! Especially if you work odd hours and cannot attend the class.
Lerns37
Richmond va
My wife and I decided we needed to take control of our spending, and we had several friends and family members that were raving about Dave Ramsey's FPU. We decided to take the plunge. There were no local classes that we could squeeze into our busy schedules, so we opted for the online class with the option to attend in person later. So far, we could not be happier! The quality of the streaming media in excellent, and we have viewed a few of the segments several times for better understanding. I am quite happy at this point that there were no local classes because we a delighted with the online Combo class option. My only regrets at this point is that we did not do this 15 years ago when we were first married. DO IT NOW!
WJTech
Birmingham, AL
Still working through the first video. Like the fact we can do it at home on our own time!!
kjo528
South Carolina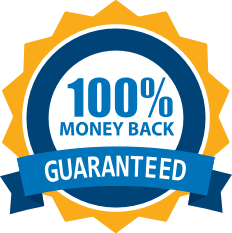 Our 100% Money Back Guarantee
Complete all nine lessons. Give it a real shot by following Dave's plan. If you aren't happy with your purchase within the first 90 days, we'll give you your money back.
You Can Do This.
Start Today!
You shouldn't feel overwhelmed and powerless over your money. You can be in control of your money and your future.
Interested in volunteering to be a Group Leader?