Never Worry About Money Again
Meet up with a local group for community, motivation, and accountability.
Watch the lesson videos in the comfort of your home and on your own schedule.
Meet with a group, enjoy at home, or do both. Switch at any point. It's up to you.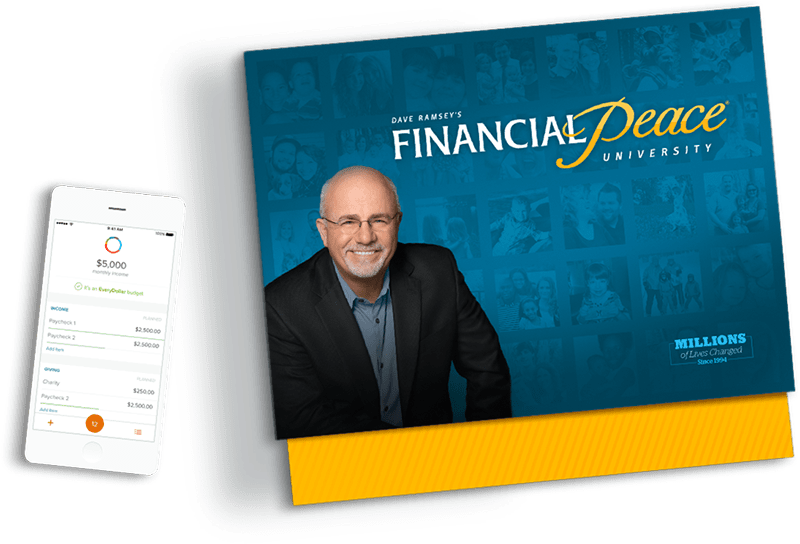 Financial Peace University
Never Worry About Money Again
Financial Peace University will help you take control of your money, plan for your future, and transform your life.
9 Lessons That Teach You How To Win With Money
Everything You Need to
Take Control of Your Money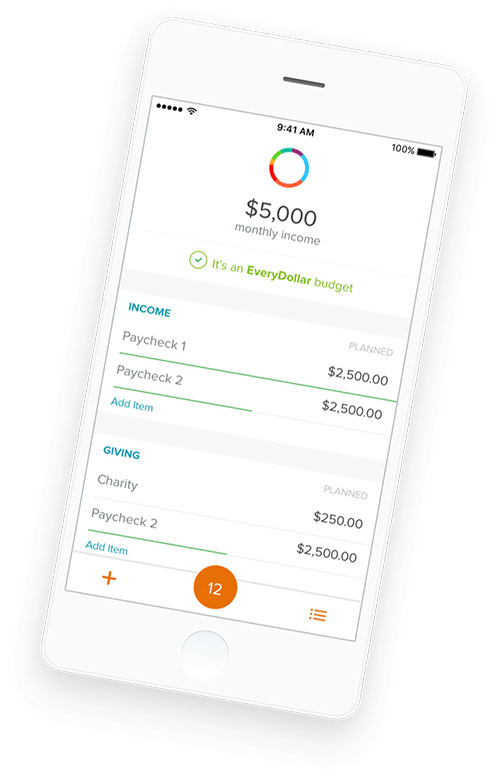 Track Spending
With Our Budgeting Tool
Connect your budget straight to your bank, sync across multiple devices, and enjoy anytime, anywhere access.
Learn From
Life-Changing Lessons
Watch entertaining videos, get your questions answered with financial coaching assistance, and stay on track with digital tools.
Budget, save and pay off debt.
Get on the same page with your spouse.
Identify which types of insurance you need.
Plan and save for major expenses.
Invest for your future, give generously, and more.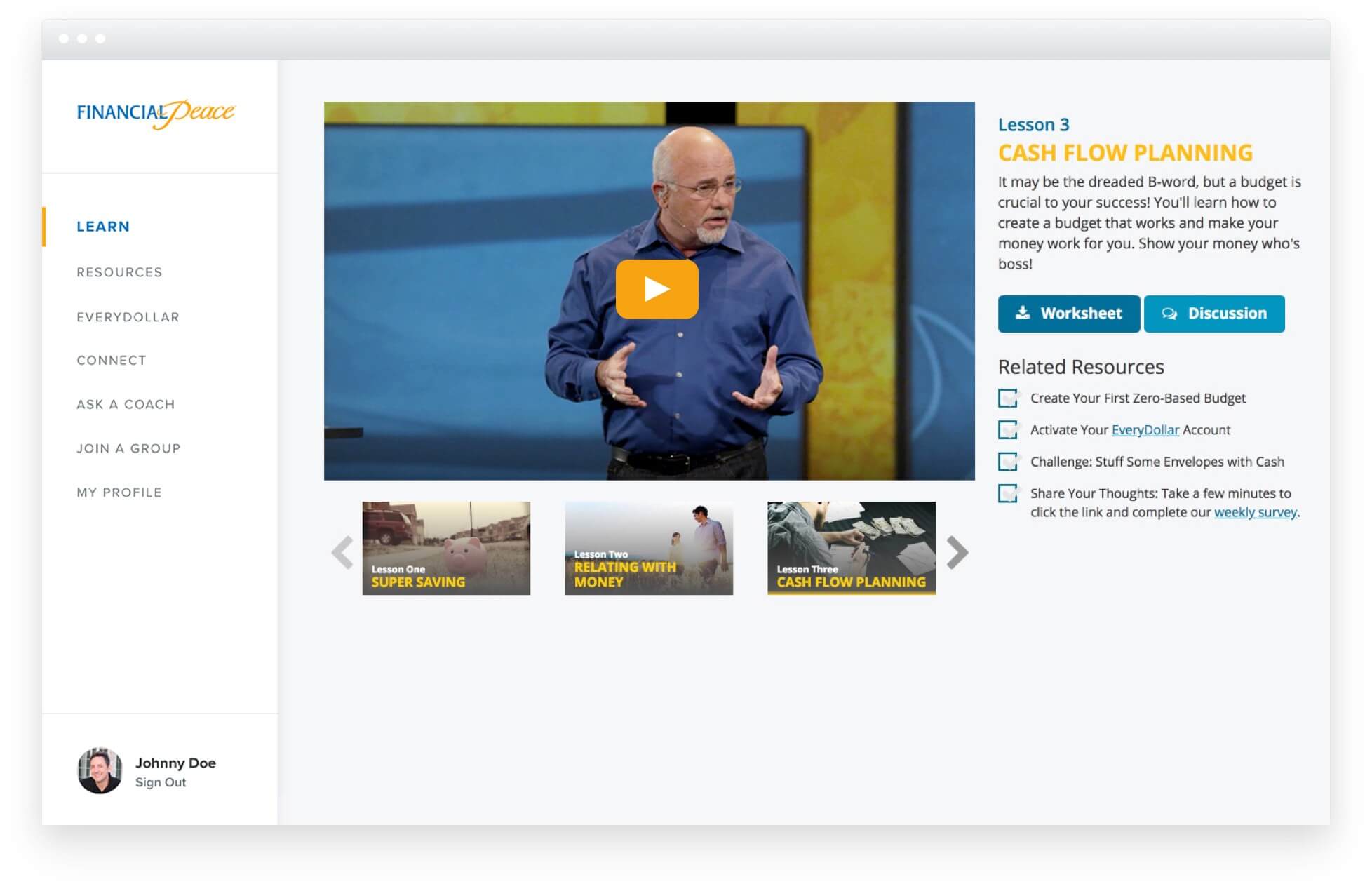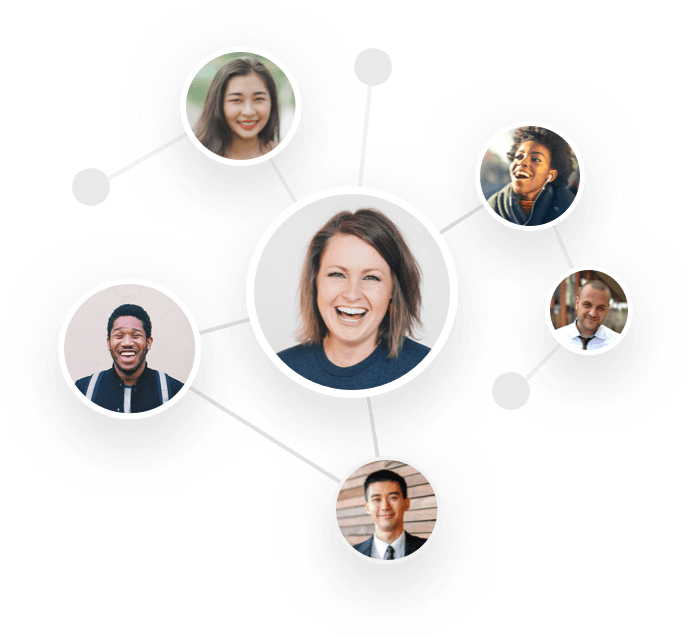 Take With a Group Nearby or Online at Home
Learn at your own pace by watching videos online and keep your progress moving forward with support from online community and financial coaches. Or join a group that meets near you and stay motivated by learning week by week with people just like you.
Did you know...?
Even though there are no groups currently near your location, you'll have access to Financial Peace University for an entire year! Start working the plan today and join a group when one becomes available.
You learn the same principles in the Online experience of Financial Peace University as you do with a group.
After checkout, you can start watching the lessons and using the tools and resources right away.
Dave has been there before. He gets it.
Dave Ramsey created Financial Peace University nearly 25 years ago after learning how to pay off debt, save and spend wisely, and build wealth. Today, millions have used the same principles to transform their lives.
Join the 5 Million People Who Have Taken Control of Their Money
this was the greatest and best value i have ever spent. it changed my life. i went from 70k in debt down to under 5k in a few short years. this plan will work if you follow it! no exceptions. be committed to it you and your spouse or if your single it works just as well. take my word on faith and buy this! and attend the class. it gives strength to take as a class. it helps to see others working at it too. have faith in God and faith in Dave!
theeeyoreguy
cotulla, texas
I have recently started Financial Peace University with my husband. I also purchased a kit for my son and his girlfriend. We are all taking the class together. What better way to build a family bond. Thank you Dave!
KarenK
Guyton, Georgia
The lessons learned so far (I'm about halfway) are lifelong lessons that should be taught to EVERY teenager. This should be a requirement to graduate high school in this country as part of Economics. The only problems I have are with the technology. I'm not sure why you can only watch a lesson 3 times. The course lasts 16 weeks, and I should be able to watch them as many times as I need to during that span. I would also like to see a Full Screen option for the videos. I watch these on my TV hooked up to my laptop and have to cheat to make it watchable by changing the resolution on the TV. The seek features are also cumbersome, at best. Fast forward and rewind are finicky and don't work well. But I really enjoy the content and am willing to put up with some technical issues to watch the lessons.
HateTaxesCA
Sacramento, CA
I was a little skeptical before taking this class about some of the principles taught, especially about student loans and credit score. Me and my wife are still in lesson 3 and baby step 2 and my attitude is slowly changing towards debt (all debt). Praying to God for perseverance, strength and courage to implement the plan.
KevinnNisy
Huntingdon Valley PA
I am an advisor and have gone through about 1/2 of the program in just 4 weeks. I find the information is presented in a concise and easy to understand format. Very useful with real life examples. I encourage my adult children to go through the program and find it pays for itself very quickly. I wish all of my clients had gone through this program years ago as they would then have a lot more money for us to help them manage!
TimAdvisor
New Hampshire
This past year has been the hardest and if it weren't for Dave Ramsey, I would be insane, depressed and unmotivated. Everything Dave Ramsey does has had a positive influence in my life!
argfusion99
Phoenix, AZ
Everyone should have to learn this before getting out of High school.
Buck
Dallas
It has been said before, I know, but Financial Peace University has changed our lives! Starting the program has obviously not increased our income, but it has helped us do things with the money we make that we never thought possible. I would NEVER have believed we could eliminate almost $4000 worth of debt in 5 weeks! For once in our lives, we look forward to payday not because we NEED the money, but because we are excited to see what we will be able to do with it for the next 2 weeks!
Cajacajo
Roscommon, MI
daves program works it is amazing how fast it could change your life. we were able to pay off our dept in 12 month and our house will be payed in 7 years instead of 30 years. and thanks to one of daves financial advisers we can retire 5 years earlier. awesome program sammy
Sammy66
Atlanta
My husband has always made a nice salary, but we never saved money. I started my own business a few years ago and I came to the realization of money. Some of my clients started sharing how Dave Ramsey had help. I bought the program and made my son's participate. For the first time the family is now more money conscious. We have a budget and I am looking forward to saving and paying for a vacation cash next year and for the retirement and beyond. Thanks
LisaGG1
Houston, TX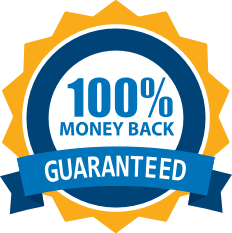 Our 100% Money Back Guarantee
Complete all nine lessons. Give it a real shot by following Dave's plan. If you aren't happy with your purchase within the first 90 days, we'll give you your money back.
You Can Do This.
Start Today!
You shouldn't feel overwhelmed and powerless over your money. You can be in control of your money and your future.
Interested in volunteering to be a Group Leader?