The Smart Financial Wellness Solution
No matter your industry or size, help your employees take control of their money once and for all.
Money problems don't stay at home—they follow your team to work.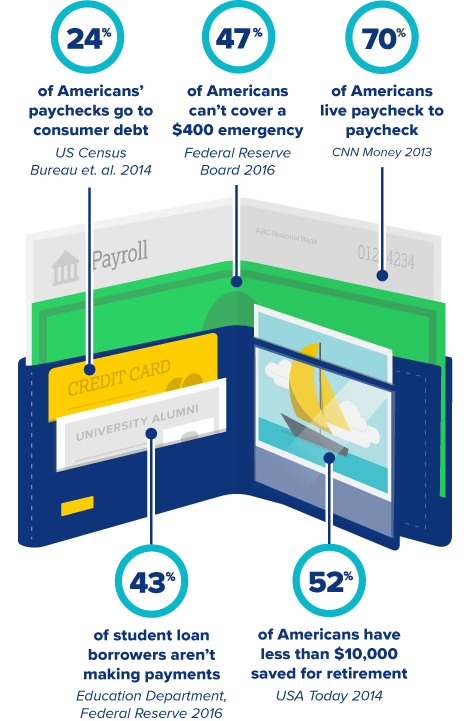 Real financial wellness is about
behavior change.
Money Problems Infographic
70% of Americans live paycheck to paycheck
24% of Americans' paychecks go to consumer debt
43% of student loan borrowers aren't making payments
47% of Americans can't cover a $400 emergency
52% of Americans have less than $10,000 saved for retirement
SmartDollar makes
change

happen.

SmartDollar is the only holistic financial wellness program that leads to lasting behavior change. We don't just treat the symptoms—SmartDollar gets to the root of why people aren't financially healthy and on track for retirement. Over the past 25 years, we've helped millions of people change the way they handle money.

Connect With Our Team
With SmartDollar, your employees will learn to…
Get on a budget

Build emergency savings

Pay off debt

Buy a home and pay for college

Protect their assets

Invest for the future
Step-by-Step, Proven Plan

Following our seven Baby Steps leads to small, quick wins, building momentum and changing behaviors for a lifetime.

World-Class Content

Financial experts Dave Ramsey, Chris Hogan and Rachel Cruze bring personal finance to life with entertaining and motivating video content.

Easy-to-Use Tools

Employees can give every dollar a name, create easy budgeting categories, and track their expenses with our best-in-class budget app, EveryDollar.
Other Key Features of SmartDollar
24/7 Online Mobile Access
Form & Audio Downloads
Engagement Points
No Solicitations
Personalized Content Communications
Request a Demo
Turnkey Implementation
Our extensive promotional materials, marketing tools and customized communication plans will help you reach your employees with ease, no matter your industry or company size.
Comprehensive Reporting
Measuring success is easy with aggregate behavior-change reporting and individual engagement points that can be used for incentive programs or integrated with existing wellness programs.
Dedicated Support
Your dedicated relationship manager will work with you every step of the way to ensure you and your team get the most out of SmartDollar. We will help you launch and promote the program, and we'll help you monitor progress to be sure it is a success.
Pricing Options
We serve organizations of all sizes and would love to talk to you about pricing options. Also, SmartDollar is a qualified retirement plan expense. Many customers pay the cost of the program out of ERISA budgets.
Are you a retirement or benefits provider? Learn how true financial wellness can impact your clients. Connect with our team.
Let's Connect
Fill out the form to learn more about how SmartDollar can help your employees or to schedule a demo.