Taking Charge of Your Money Shouldn't Be Hard
That's why we created the plan that has helped nearly six million people take charge of their money—and you could be next!

We've All Done Stupid Things With Money
Whether you've got your money tied up in credit cards, student loans, that massive car payment, or even those unwanted medical bills, it all adds up—and fast. We get it.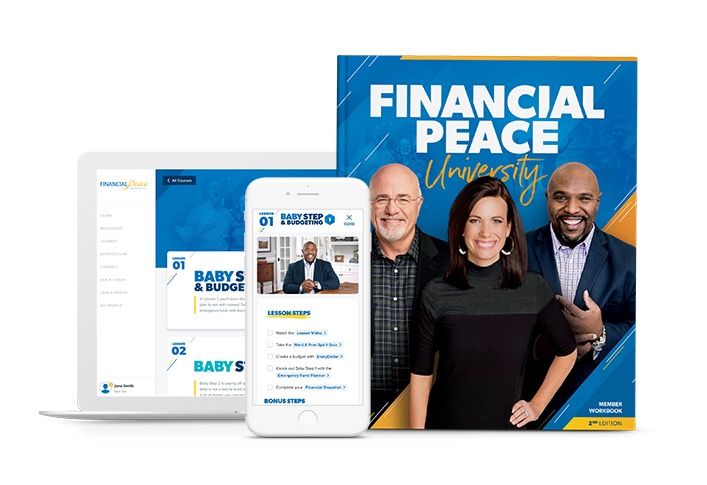 Accelerate Your Progress With The Proven Plan
Say goodbye to money stress and hello to confidence in your financial future. Beat debt, plan for emergencies, and learn how to budget like a boss with Financial Peace University.

You Can Do This. Start Today
for $129.99
Take Financial Peace University Online
Does Financial Peace University Actually Work?
Have taken Financial Peace University and said goodbye to money stress

Average amount of debt per household pay off within first 90 days of taking the class

Average amount of money saved per household within first 90 days of taking the class
Take Financial Peace University Online
What Do I Get With Financial Peace University?
9 Video Lessons

You can watch these online anytime, or with a group in your area. These videos teach you about saving money, getting out of debt, budgeting, and more.

Workbook

This book will walk with you through each lesson, offer extra deep dives into the lesson, and keep track of where you are in the course. Shipped to you for free!

1-year Subscription Including EveryDollar Plus

We won't leave you hanging after the nine lessons. Get exclusive tools on FinancialPeace.com and in EveryDollar Plus ($129.99 value)!

"This will be a moment in our life that I will be able to point to and say, 'That was a turning point.' My wife and I have made more positive moves with money in the past 9 weeks than we did in the previous 15 years."

Kevin from Wisconsin

"My wife and I have paid almost $90,000 in 36 months. That's an average of $2,500 per month. I often think about what we will be able to accomplish with that money once it's no longer going into someone else's account."

Brent from Pennsylvania

"The amount spent for this course is the best investment we've ever made so far… we have clarity regarding our financial goals."

Beulah from California
Save Money Without Losing Coverage
Our Endorsed Local Providers (ELP) program is a nationwide service that helps you find local experts you can trust. The certified professionals we recommend are in excellent standing in their industry and provide top-notch customer service.

Stop Living With Money Stress
Start taking charge of your money.
Take Financial Peace University Online