+ Learn the why behind your money habits.

+ Discover four red flags to avoid in your marriage.

+ Get three tools to use to combat anxiety.

+ Learn how to get out of a job you hate and into one you love.

+ Discover four habits of everyday millionaires.

+ Learn how to set goals you'll actually achieve in 2021.
One Day Can Change Everything
We get it, 2020 has left many of us feeling off-balance, stressed out, and discouraged. It's time to take a deep breath and hit the reset button. This year is not lost—you can get back on track now. All you need to do is make the decision to begin the journey to a smarter life. If living a more balanced, intentional and fulfilled life is a goal of yours, then this one-of-a-kind event is for you.
It's Time to Make an Impact in the Key Areas of Your Life
Livestream
General Access

Main Stage Livestream

Replay through November 14

Digital Workbook
What Others Are Saying
"EVERYBODY should attend the Smart Conference! I learned something from everyone! It was very entertaining. I cried five times—in a good way ;) and I would recommend it 100 times over."

Melissa — Aptos, CA
"This was truly a life-changing event! There is something here for every single person to take away. Secure your financial needs, your marriage, your relationship with your children, and your future."


Harper — San Jose, CA
"My first Dave Ramsey event, and it was well worth it. I have been to many conferences, and this was BY FAR the most engaging one I've ever been to."

Brian – Roseville, CA
The Lineup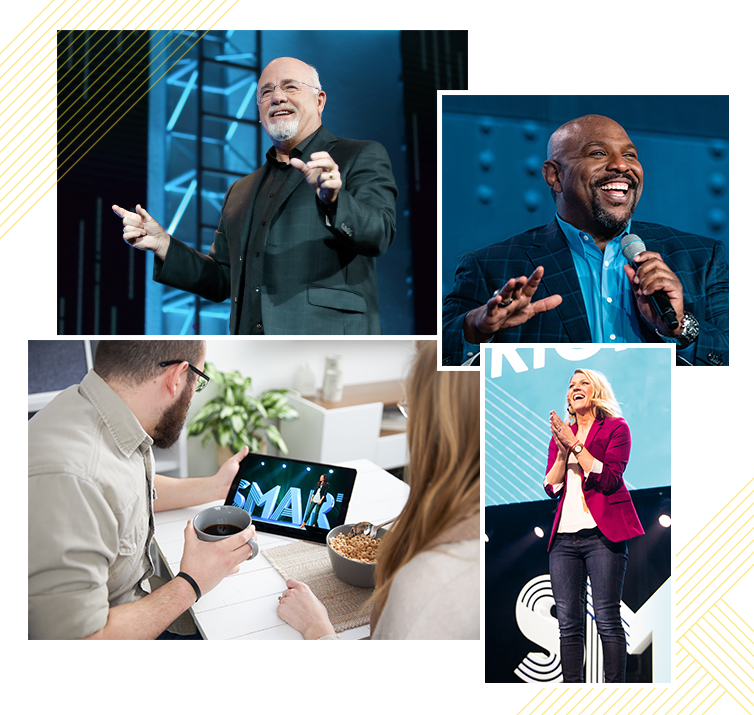 Event Schedule
9:00 AM – Day Begins

Dave Ramsey – Welcome and Kickoff
Dr. Les Parrott – Navigating Conflict in Marriage
Anthony ONeal – The Mindset You Need for Lifelong Success

10:55 AM – 10-Minute Break

Dr. John Delony – Mental and Relational Wellness
Rachel Cruze – Know Yourself, Know Your Money
Dave Ramsey & Rachel Cruze – A Conversation About Money Tendencies and Fears

12:40 PM – 45-Minute Lunch

Ken Coleman – Discovering Your Talents, Passions and Mission
Ken Coleman – Audience Q&A
Christy Wright – Finding and Maintaining a Healthy, Balanced Life

3:15 PM – 10-Minute Break

Dr. Meg Meeker, Dr. John Delony, and Ken Coleman – A Conversation on Parenting
Chris Hogan – How to Become an Everyday Millionaire
Dave Ramsey – The Power of Intentionality

6:00 PM – Day Concludes
All times in CT. • Schedule subject to change.
Event Sponsors

Interested in becoming a sponsor for one of our events?