Starting at $149

Fewer than 50 VIP tickets remain!

Nashville, TN

Cornerstone Church
726 W. Old Hickory Blvd.

October 22–24, 2020

Three-Day Event

About the Conference
What is the Business Boutique Conference?

The Business Boutique Conference is a three-day event in Nashville where thousands of women gather to learn how to launch and grow their own business. Come and make new friends on the same journey you're on—while gaining the knowledge and inspiration you need to get to work.

Who is the conference for?

If you've ever dreamed about working from home, earning an extra income for your family, or starting a business to make a difference, this conference is for you. No matter what stage of business you're in—dreamer, starter or builder—we'll give you a step-by-step plan you can implement immediately.

What will you leave with?

• An actionable plan for your unique goals
• Simple and effective ways to connect with, serve, and sell to your customers
• Fundamentals in business finance like budgeting and setting prices
• Inspiration to answer God's calling, overcome fear, and turn your idea into income
Event Pricing
Early Bird General Admission

Be among the first to get your ticket for Christy Wright's 2020 Business Boutique Conference with this deal!

Premier Seating

These reserved and guaranteed seats are located on the floor of the venue near the stage.

VIP Package

The VIP package includes priority registration, front-row seating, access to an exclusive VIP lounge during breaks, and an exclusive speaker-panel lunch.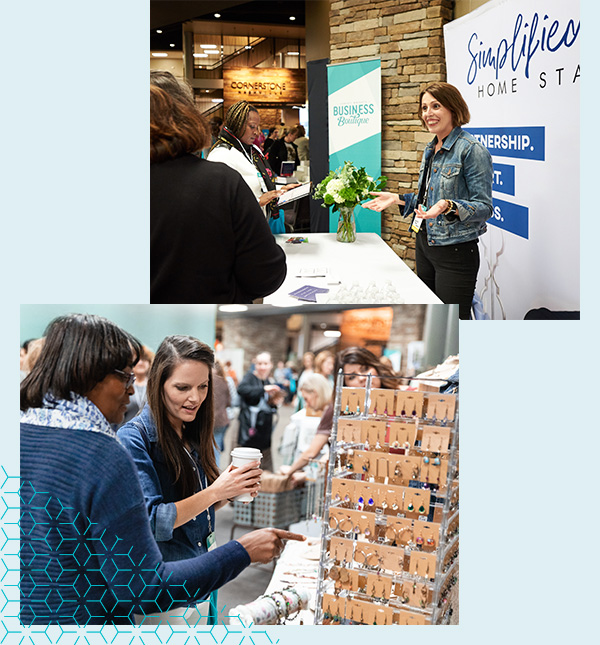 Marketplace Booths
Do you have a small business that makes a product or provides a service to business owners? If so, we have a unique opportunity for you to showcase your business with a marketplace booth! Sell your product or service to 3,000 women at this year's event. Inquire and apply today!

Conference Schedule
Thursday, October 22

7:00 p.m. – 9:00 p.m.

Friday, October 23

8:30 a.m. – 6:15 p.m.

Saturday, October 24

8:30 a.m. – 1:00 p.m.
Registrations are transferable, but not refundable.
All speakers are subject to change. We reserve the right, in our sole discretion, to substitute another qualified speaker of our choosing due to illness, close family birth or death, natural disaster, or force majeure. In the event we cannot secure a qualified substitute, we retain the right to cancel the event and issue a refund as your sole remedy. To ensure that this event is an enjoyable experience for all attendees, no children under the age of 13 will be allowed in the auditorium.
Unauthorized duplication or sale of this pass may prevent you admittance to the event. The Lampo Group, Inc. is not responsible for any inconvenience caused by unauthorized duplication. In the event that duplicate copies are presented for verification, The Lampo Group, Inc. reserves the right to refuse entry to all event pass holders and may credit the original purchasers the face value which will constitute full remuneration.