Find a Real Estate Agent or a REALTOR®
The Difference Between Ramsey ELPs and REALTORS®
Here's the thing: ELPs and REALTORS® are not worlds apart. In fact, the majority of our ELPs are also top REALTORS®. Whether or not you choose a REALTOR®, you just want the best for you, right? Well, that's what you get when you choose one of our endorsed local real estate agents.
ELPs Are Rigorously Vetted

It's no secret: Our agents go through an in-depth assessment. If they pass, they earn Dave Ramsey's endorsement.

ELPs Are Held to High Standards

Our agents are either in the top 10% of the agents in their area or they sell at least 35 homes per year to remain in the program. REALTORS® sell a median of 11 homes per year.(

1

)

ELPs Share Your Values

You'll never feel like you're sweet-talked into a deal you don't agree with. Our agents respect you and offer guidance with your best interests in mind.


What Is the Endorsed Local Provider (ELP) Program?

The ELP program is a nationwide service connecting people like you with agents in the top 10% of their area for help with home buying and home selling. We only endorse trustworthy, high-caliber real estate agents who are well-respected in their communities. Through the ELP program, you will get instant access to the right real estate professional for your family.
Real Testimonials From Real People
Thousands of people a month use our top-rated real estate agents; here's why:
The best part of our entire experience was that he sold our house on the day it went on the market for more than the asking price. We can't thank you enough for providing this valuable service.

John & Geri
Within 2 weeks Larry had a cash offer for my home at full list price and we closed another two weeks later! He made me a real believer in using an ELP for real estate!

Matt
I follow the Ramsey podcast each day and decided to try an ELP in our home search. We couldn't have been happier, they were wonderful to work with throughout the whole process.

Lindsay
Find Your Agent Now!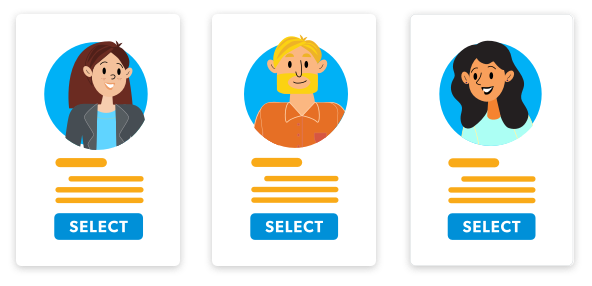 Instantly see trusted agents in your area.
Up to three of them will contact you within 24 hours.