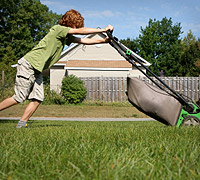 Most teens looking for summer work head to the local mall or fast food joint. Even though these jobs give you a paycheck, why not find work that you are passionate about? You're never too young to develop your talents and, in turn, make money from your skills. If flipping burgers or hanging up clothes is not for you, look for a way to make money doing something you love.
When we asked Dave's Facebook friends to share stories about young entrepreneurs, we were flooded with responses. Seems like there are quite a few creative kids out there!
Take, for example, Teressa's son. "My nine-year-old son purchased items at garage sales and then resold them on eBay. His best deal was a pair of Waterford Crystal toasting flutes that he bought for $15. He sold them on eBay for $70!"
Naomi's neighbor is an innovative 10-year-old boy. "He comes to my house after school and reads books to my kids for $5 an hour. I use him on Tuesdays for one hour and, in turn, get all my laundry and emails done."

Going to college debt-free is possible! Find out how.
Another young entrepreneur is Frances' 18-year-old daughter who grew tired of her mall job. "Working retail wasn't working out in this economy, so she used her talents and started teaching piano lessons. She's making more money now than when she was working for someone. Now she's in control of her schedule and whom she teaches—plus she enjoys it!"
Quyann's 11-year-old son found his passion through the 4-H Fair. "He raises a pig and sells it at the fair. He made $600 in the past two years and keeps financial records. He shops for the best feed at the lowest price. The kid is a penny pincher, and I love it!"
Another great example is Marc's 12-year-old daughter. "She has a kid's birthday party planning business. She interviews the mom, then she organizes the activities like games, crafts, face painting, piñata smashing, cakes and gifts. She also makes cakes. Recently, she made 24 cupcakes to look like Van Gogh's Starry Night."
Being a young entrepreneur doesn't mean you have to think of a new idea to make money. It just means you need to find a way to make money doing something you love. You have to think out of the box a little. Here are some tips to help you brainstorm ways to become a young entrepreneur.
Find something you enjoy and figure out a way to make money from it.
Become good at what you are trying to do. Practice makes perfect!
Have a plan for your business. Do a budget and start a savings account.
Get the word out! Word of mouth is the best way to advertise.
Work hard and don't forget to tithe or give away some of your profits.
Have fun! You're doing something you love, so enjoy it!
There are thousands of ways to make money doing something you love. Get creative and work hard. Before you know it, you'll find yourself becoming an entrepreneur, too!
Read more: How teens can become millionaires