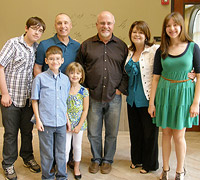 Thanks, FPU!
Even during two overseas deployments, the Shaw family has clarified family goals, improved communication, grown closer together and gotten out of debt.
Is it possible for a couple to straighten out their money, even when one of them is 7,000 miles away in a war zone? If the course is Dave Ramsey's Financial Peace University (FPU), the answer is "yes!"
LTC John Shaw, a U.S. Army Reservist and his wife, Melissa, are two proud FPU graduates. John attended the course in Kandahar, Afghanistan, sponsored by the U.S. Army, while Melissa attended at their home church in Ohio. They read Financial Peace Revisited and The Total Money Makeover and used Dave's program to pay off debts of $212,816 in four years!
John says, "I have been mobilized three times since 2005. Melissa and I have four children, so we have a busy family life and limited opportunities to be together for the 13-week class. When this class came along, we knew it was the right time to attend. FPU lays out step by step those concepts taught in Dave's books." John was deployed by the Army Reserves twice once they started paying off debt.
To celebrate this huge milestone of paying off more than $210,000, the whole family traveled from Ohio to Financial Peace Plaza to do their Debt-Free Friday scream!
Melissa and the kids waited to scream with John in the lobby while Dave asked some questions about their amazing journey:
What kind of debt was this?
John: We both have law degrees, so student loans were about $150,000. The remainder was a couple of vehicles, and we had taken a second mortgage on our home right after we purchased it. We started the journey with an income of about $90,000 in 2005, and now we're north of that to about $110,000.
Four years is a long trek! How did you hang on that long?
John: Being deployed made it difficult, so we really had to be consistent in communication with each other and set the right expectations for the kids.
How do you feel now that the debt is gone?
John: It's just such a huge relief off of my mind after having to manage payments, especially when I was overseas. When I was talking to my wife, wanting to ask how she and the kids were, we had to talk about payments and what goes out when to avoid late fees. I wanted to stop those silly conversations.
Wow! The whole gang screamed in freedom at the top of their lungs to celebrate dumping $212,000! Listen to their call.
Melissa says, "FPU has been a blessing to our family and our relationship. It has helped us to clarify goals for our family, improve communication about our money, and given us an opportunity to grow together, instead of apart, during this latest deployment. We're on the same 'financial page' now, using the same vocabulary, and moving in the same direction. As a couple, we've gained a 'united FPU mindset,' and we're determined to pass it along to our kids."
If this family can buckle down and pay off more than $210,000 with two deployments in the mix, you can become debt-free too! What's been holding you back? If you're on the journey now, hang in there! As the Shaws would tell you, the sacrifices you're making are worth it—not just for you but for future generations!