By Martha Thompson, Director of Guest Relations
From cheering on a big game to simply catching up with family and friends, there are plenty of reasons to host a get-together this fall! To keep your hungry football fans happy, consider serving these hearty game-day sandwiches with a side of un-fried French fries. Then finish the game off with a delicious root beer chocolate cake. Believe me, you'll be voted MVP of the day!
Philly Cheesesteak Sandwiches
The Philly cheesesteak sandwich first originated in Philadelphia in the 1930s. Since I don't live near the City of Brotherly Love, I've come up with a recipe of my own. It's a meal on a bun, sure to please your hungry football fans on game day!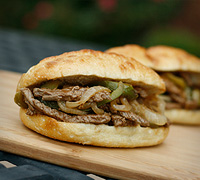 3 pounds top round steak, trimmed and thinly sliced*
4 tablespoons Worcestershire sauce, divided
2–3 Vidalia or other sweet onions, thinly sliced
2–3 green bell peppers (core, remove seeds and slice into thin strips)
2 tablespoons olive oil
2 teaspoons salt
2 teaspoons ground black pepper
1 teaspoon garlic powder
12 slices provolone cheese, cut/torn into small pieces
8 Italian sandwich rolls or kaiser rolls
*Most stores package top round sliced thin. If I can't find it, I ask my butcher to slice the steak thin for me when I purchase it. If you can only get a thick cut, partially freeze the steak for about 45 minutes. This makes it easier to slice the beef into paper-thin strips using an electric knife or sharp butcher knife.
In a nonstick skillet, heat 2 tablespoons of olive oil over medium-high heat. Add steak strips and 2 tablespoons of Worcestershire sauce; cook until steak is browned. Remove steak from pan; set aside.
Add thin slices of onions and bell pepper along with remaining 2 tablespoons of Worcestershire sauce to skillet. Cook on medium heat for 8–10 minutes or until onion slices are translucent and peppers are tender.
Return cooked steak to skillet with onion mixture. Sprinkle with salt, pepper, and garlic powder. Reduce heat to low; add provolone cheese to steak mixture. Cook for 4 minutes over low heat, stirring constantly, until cheese melts.
Divide steak mixture among rolls and serve hot. Makes 8 servings
Un-Fried French Fries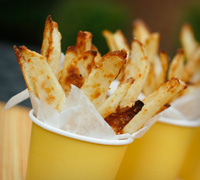 Here is a tasty version of baked French fries that is easy to make, loaded with flavor and better for you than deep fried. Italian salad dressing and grated Parmesan cheese boost the flavor and add a "wow" factor to these fries. Prepare your potatoes and let them bake while you are preparing your cheesesteak sandwiches. Serve both hot!
8 large Russet baking potatoes
1/2 cup Italian dressing (regular or reduced fat)
1/2 cup Parmesan style grated topping
Salt and pepper to taste (I use kosher salt and fresh ground pepper)
Preheat oven to 425 F. Scrub potatoes and pat dry with paper towels. Peel and slice potato in half lengthwise so it lies flat on your cutting board. This will hold it in place as you cut 1/4-inch thick strips. Transfer to a large bowl. Add dressing and grated topping; toss well until all strips are coated.
Spray two large baking sheets with cooking spray. Carefully arrange potatoes in a single layer and then spray top of potatoes with cooking spray.
Bake approximately 20 minutes or until potatoes begin to turn golden brown. Carefully turn potatoes over with large spatula. Continue baking additional 20 minutes or until golden brown and crisp to your liking. Keep in mind timing will be determined by how thick you slice your fries. You want them to be done in the middle and crisp and golden brown on the outside. Serve hot! Makes 8 servings.
Top off this game day feast with a Root Beer Chocolate Bundt Cake.
Get more recipes and goodies by following Martha on Twitter @Marthas_Place.